Cyntact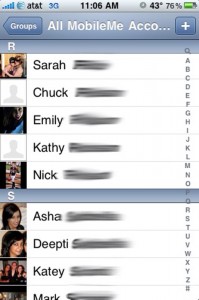 Cyntact is a small "app-mod" in which is simply adds some new functionality to an existing iPhone app. In this case, it's the Contacts app which gaines a new feature — the addition of the contact's profile pic in the scrolling list of names, which in my iPhone's case it's their Facebook pic thanks to the newest Facebook app feature. This makes is much easier to flick through 100+ contacts looking for a particular person by their profile picture which I'm already familiar with and will recognize.
Cost: $0.99
tlert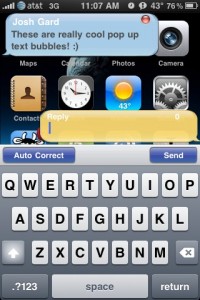 tlert is a neat little jailbreak app that modifies the text message (SMS/MMS) popup style to be less intrusive and more functional. Rather than a focus-stealing popup message that must be dismissed, marking the message as read, before I can do anything else, tlert replaces this behavior with an iChat-like bubble that slids out from the left side, without stealing focus. I can choose to just ignore the chat bubble and after a few seconds it will slide back off the screen, the message remaining in an unread status.
If I want to respond right then and there, I just tap on the chat bubble that has appeared, and another one slides out from the right side of the screen, along with a keyboard that slides up from the bottom. This takes place over the top of whatever app I was currently in, and I can fire off a quick response and once sent, both bubbles slide off the screen and I'm back to whatever app I was working in. This is so slick I'm surprised it wasn't created by Apple.
Cost: $4.99 (available only on Rock)
Winterboard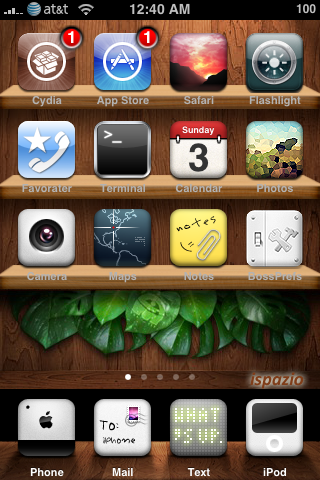 Winterboard lets me tweak various features of the iPhone's springboard, including the status bar, the dock, as well as activate various themes. I've enabled the features to display my iPhone's wallpaper behind the icons on the home screen, which allows me to enjoy my picture much more often than from just the lock screen. I've also enabled a transparent dock, which hides the grey background to the dock, and I've also added a Matte UI Graphite Theme, which replaces the glossy, shiny look of the iPhone's UI with a soft matte look. It's just a minor change, but immediately striking.
Cost: free
Infinidock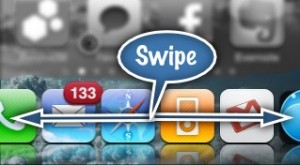 Infinidock is a new app that modifies my dock to let me put as many icons as I want in it, and simply swipe the icons side to side to reveal more, similar to swiping the apps' pages side to side. I've also set it to display a five icon dock, which lets me get one more app onto my primary home screen, while still looking pretty damn nice! This is a more recent addition to my jailbroken iPhone so I'm still trying to get the hang of using it, but so far I do like it.
Cost: free