6. Splashup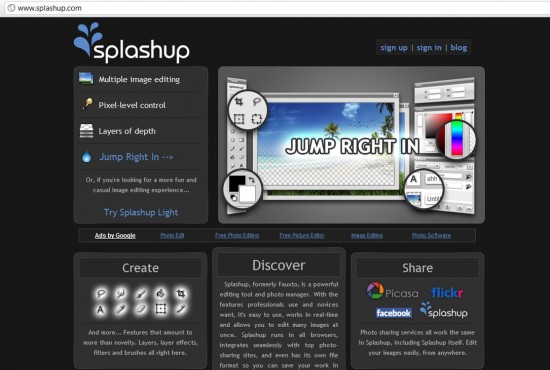 Splashup offers a paint palette complete with traditional tools like paint bucket, magic wand, dropper, freehand crop, move, extract, pencil, paintbrush, erase and others. Really, Splashup's paint features are its greatest strength aside from its customizable interface.
Though Splashup has a dozen or so filters and effects to choose from, their results are hardly as precise as simple level controls, which offer scrollbar functionality, allowing users to make precise changes.
5. Sumo Paint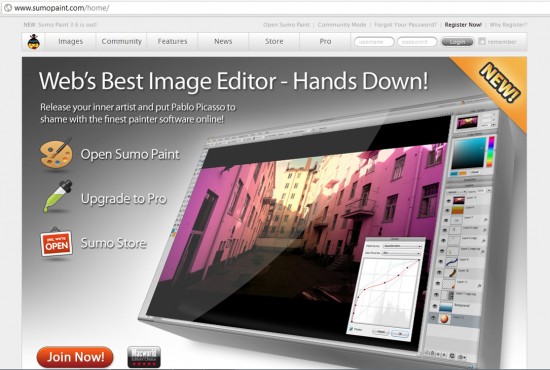 Sumo Paint is an online image editing application that offers an interactive platform to image enthusiasts to play with images. It serves as an expressive outlet where individuals can utilize their creativity in producing stunning images. The application is rich in a number of handy features that help users in creating and editing images magnificently. With its whole bunch of useful tools, the website looks after almost every aspect in creating, editing and commenting images online. Whether it's about creating impressive shapes, eye-catchy text, adding hues, mixing colors, or anything, the website proves to be praiseworthy in all such facets related with creating astonishing images. The Magic Wand feature of the application helps users in displaying the selections feather worth. It also lets users top add or subtract region in an already existing selection. Users can brighten or darken their images with the help of integrated Smudge tool
4. FlauntR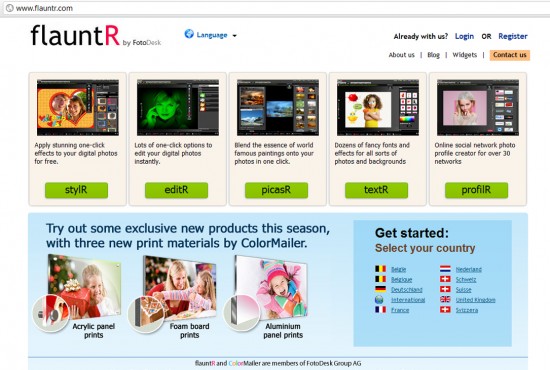 FlauntR is online photo and effect editor. Their goal is simple, provide an easy to use interface to manage, modify and enhance images without any outside software. They do this with and Adobe Flash driven interface that allows a user to use editR, stylR, textR, mobilR, picasR, and profilR — all flauntR specific enhancements. In addition to allowing the modification of images, flauntR also allows users to post directly to most of their favorite social networking services (such as MySpace, Facebook and WordPress) as well as have the pictures professionally printed by some of the main online printers.