4. Claw (Terex RH400)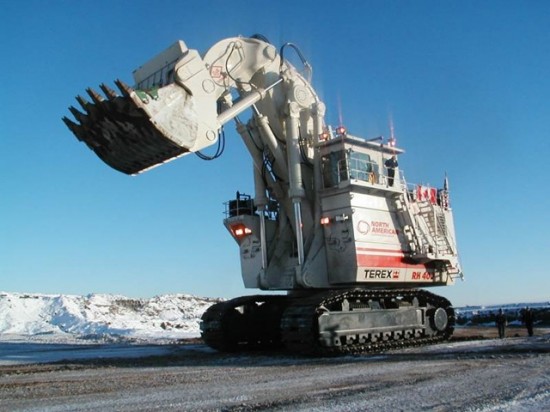 People used shovels to excavate and it took them a lot of time. Excavation is a part of almost every construction project and "The Claw" does this job without sweating. Terex RH400 is the worlds largest hydraulic shovel. It has the working ability of scooping up about 9900 tons of material ever hour which is a world record for any vehicle in its class. Hydraulic system of this machine holds 3400 Gallons of fluid, and because it can work in extreme conditions there are several devices to pre-heat the engine oil. There is a 1000 liter capacity pump holding grease for the regular automatic joint greasing. Too much friction on can damage the machine.
The shovel can hold 85 tons of material in a single scoop and its own weight is 80 tons and the hydraulic arm that lifts the combined weight of 165 tons is held in by a strong metal pin, the metal pin weighs a mere 3 tons. It only takes between 3 to 5 scoops to fill up 240 to 400 ton mining trucks.
[youtube]http://www.youtube.com/watch?v=bYbT1s0wqvk[/youtube]
Attributes
| | |
| --- | --- |
| Working ability | 9900 tons of material |
| Weight | 1078 Tons |
| Single scoop | 94 tons |
3.Behemoth (Leibherr T 282 B Haul Truck)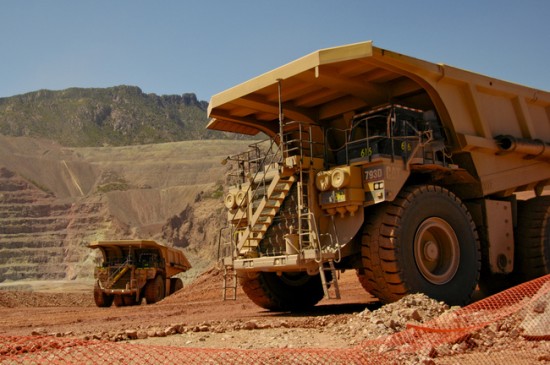 If you are looking to carry a whole lot material from one site to another and need it to be done quick then look no further because Behemoth is the best at it. It is currently carrying 360 tons of iron ore from blast site to crushers at Sishen Mine. Under harsh hot climate it makes your journey from site to site easy as it is the biggest AC drive truck. The T 282 B is the world's biggest diesel-electric truck on two axles and six wheels.
Attributes
| | |
| --- | --- |
| Max payload | 400 tons |
| Max speed | 68 km/h |
| Cost | $6 million |
| Wheel height | 4 m |