No 8 Dell XPS M1530
| | |
| --- | --- |
| Display | 15.4 inch |
| Processor | 2.4GHz Intel Core 2 Duo T8300 |
| RAM | 4GB DDR3 |
| Hard Disk | 160GB |
| Graphics card | GeForce 8600M GT |
| Weight | 5.9 pounds |
| Price | $2300 |
With its stylish design the Dell XPS M1350 comes in at number 8. Its 6-cell battery gives 3 hours and 30 minutes of computing time. Its negative points are noisy hard drive, noisy slot-loading drive and limited screen options. Apart from the just mentioned, the graphics card it possesses also is a mid-range one giving only average performances.
No 7. AVADirect D901C
| | |
| --- | --- |
| Display | 17 inch |
| Processor | 3.3GHz Intel Core Duo E8600 Processor |
| RAM | 4GB DDR3 |
| Hard Disk | 500GB |
| Graphics card | Dual GeForce 9800M GTX |
| Weight | 13 pounds |
| Price | $4000 |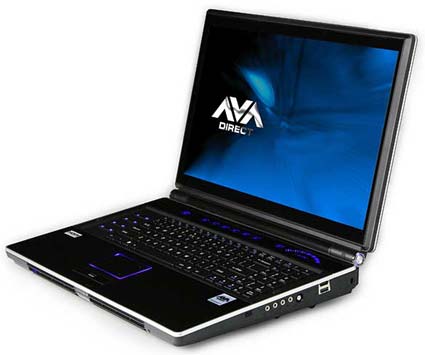 A definite option for those looking to extreme –game and having the pocket to afford.  A battery life of 1 hour might be a problem with this one as well as the pre –installed Windows Vista, so for those who have the pocket for this should definitely consider the extra cost upgrading the battery and of upgrading to Windows 7 for Vista is definitely not most people's choice  when it comes to gaming, or for that matter even computing.