No. 3 1954 300 SL Gullwing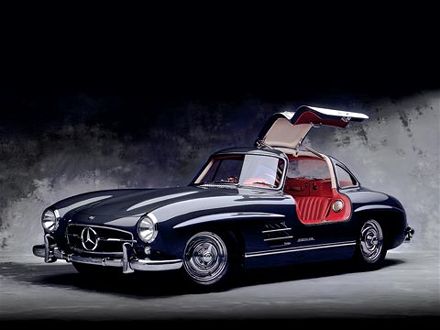 The 300 SL Gullwing is the car that changed it all for Mercedes-Benz in the U.S. Prior to the introduction of  this model, Americans believed Mercedes to be the maker of classic, high-quality, but boring cars. The Gullwing made people look at MB as the maker of luxury sports cars for the rich and beautiful, despite only 1,400 Gullwings being produced. On top of its trademark upward opening doors, the 300 SL was the first-ever gasoline-powered car equipped with fuel injection directly into the combustion chamber. The Gullwing was recently ranked the No.5 sports car of all time, and it is nothing short of an icon.
[youtube]http://www.youtube.com/watch?v=k8WxR8Jtdqc[/youtube]
No. 2 1970 C111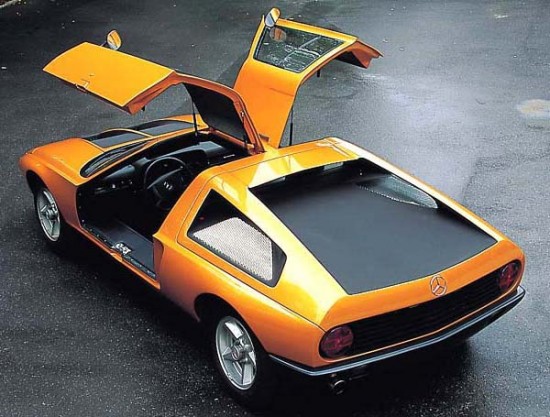 The C111-II made its emergence at the 1970 Geneva Motor Show prompting interested parties to send blank checks to Stuttgart to secure one of these cars for themselves. The C111-II of 1970 was powered by a large four rotor Wankel engine which urbanized 350 hp and gave the car a top speed of 186 mph. The C111-II accelerated from a standstill to 62 mph in a highly respectable 4.8 seconds. The four-rotor engine was equipped with a single ignition and direction injection.
[youtube]http://www.youtube.com/watch?v=5LXk2yTLiQk[/youtube]
No. 1 1955 300 SLR Racer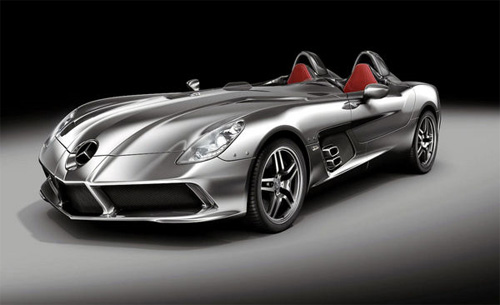 The expansion of the 300 SLR racing sports car was greatly influenced by the Mercedes 300 SL with prominent gullwing doors, which first creased up at the start of the Mille Miglia in 1952 and a road-going edition of which made its first appearance in February 1954. The racing sports car developed provided far superior output than its 'little brother' the SL – The specifications included an eight-cylinder engine with petrol direct injection and dual ignition, fundamentally the same unit which powered the 1954 Formula 1 racing car.
[youtube]http://www.youtube.com/watch?v=KPReNjnF-zw[/youtube]