WEEK 16, APRIL, 2012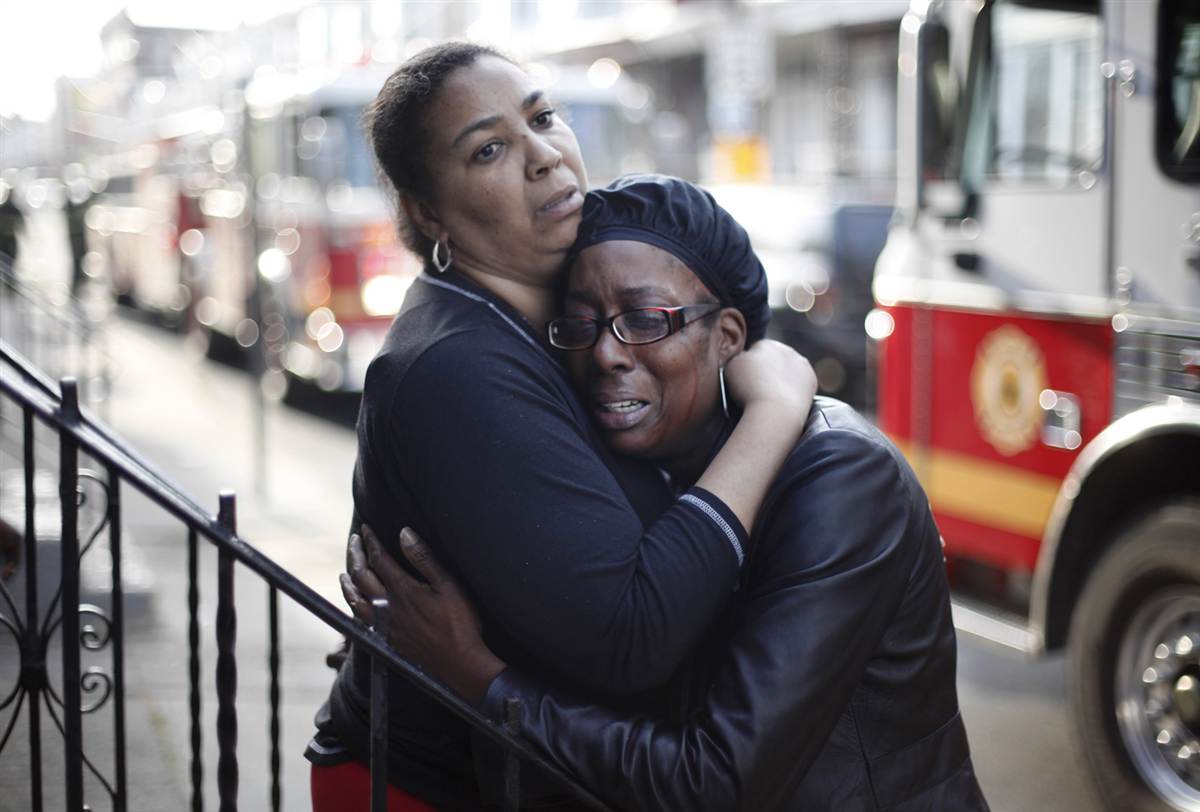 Debra Forrest, right, is consoled in the aftermath of a fire that claimed family members' lives on April 16 in Philadelphia. Officials say four people, including two children, were killed in the early-morning house fire. It was the city's third fatal blaze in a week.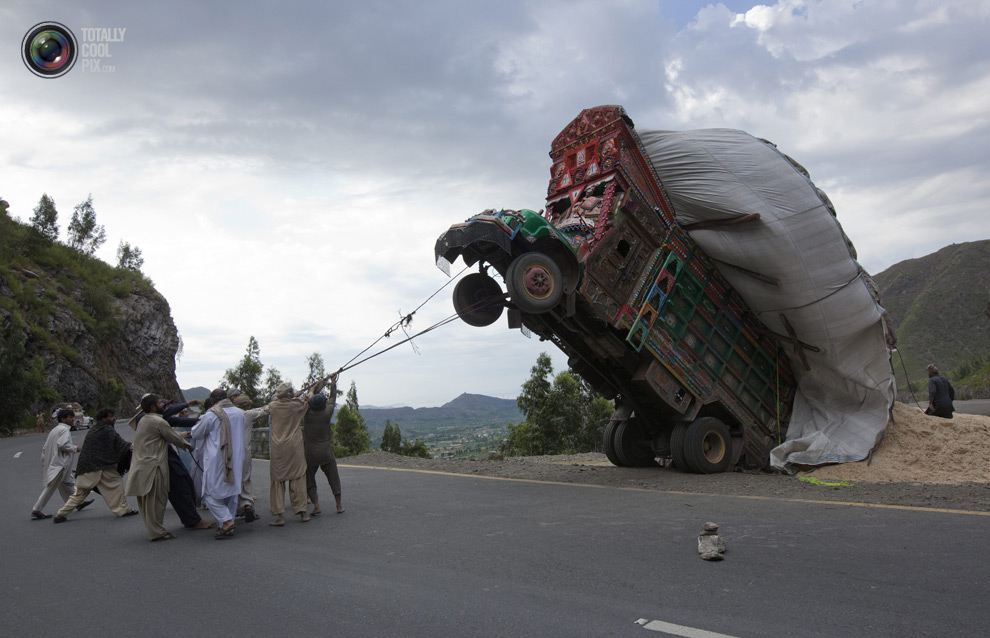 Men use ropes to try and right a supply truck overloaded with wheat straw along a road in Dargai, in the Malakand district, about 100 miles northwest of Pakistan's capital Islamabad, on April 13.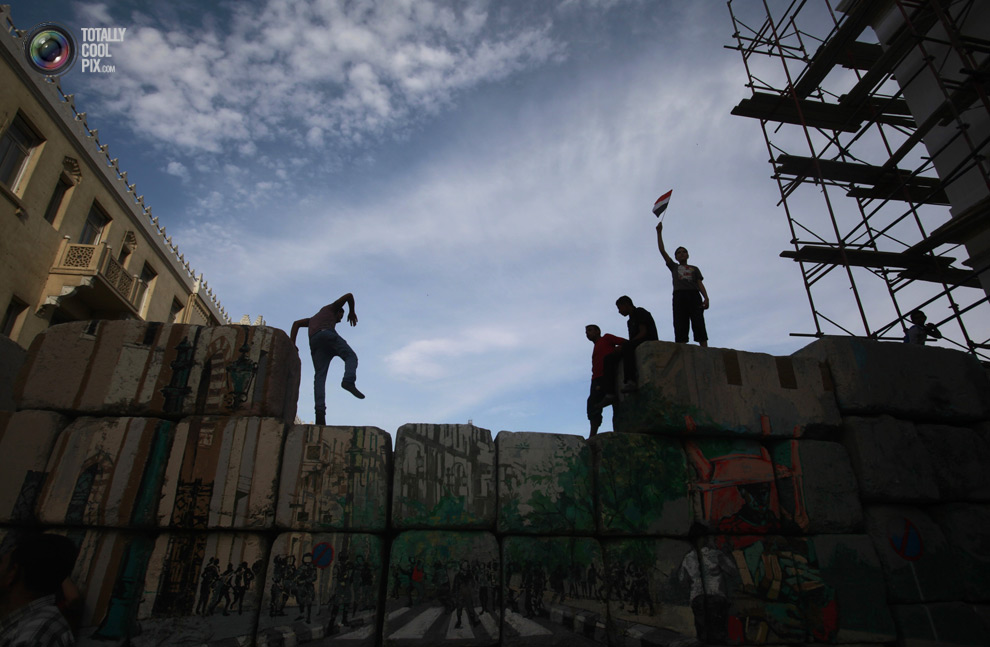 A protester waves the Egyptian flag as others walk on a wall near Tahrir square in Cairo. ASMAA WAGUIH/REUTERS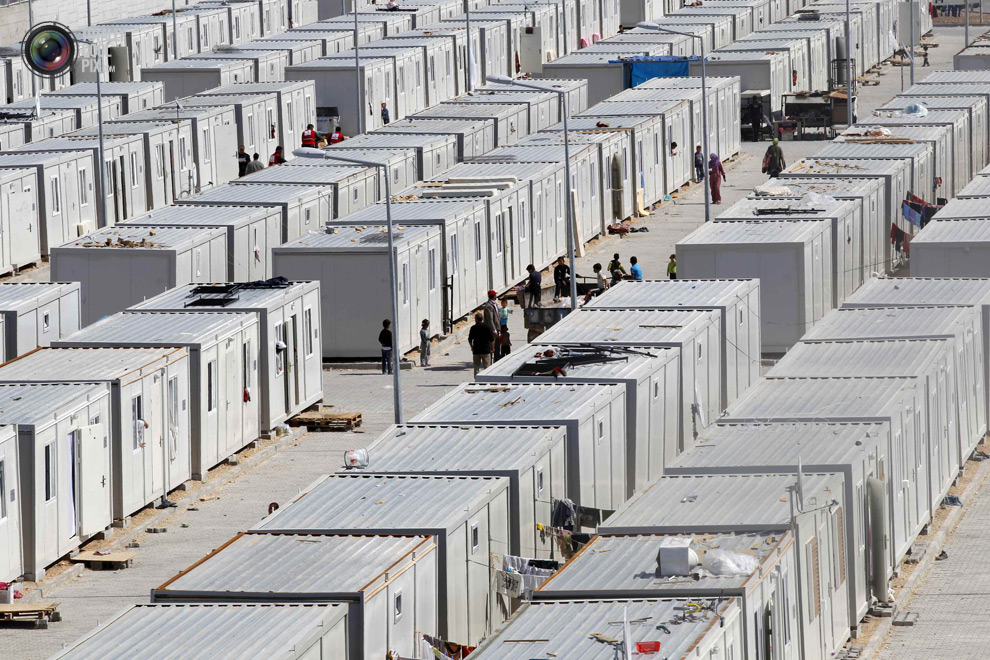 People walk between containers at refugee camp named Container City in the province of Kilis. UMIT BEKTAS/REUTERS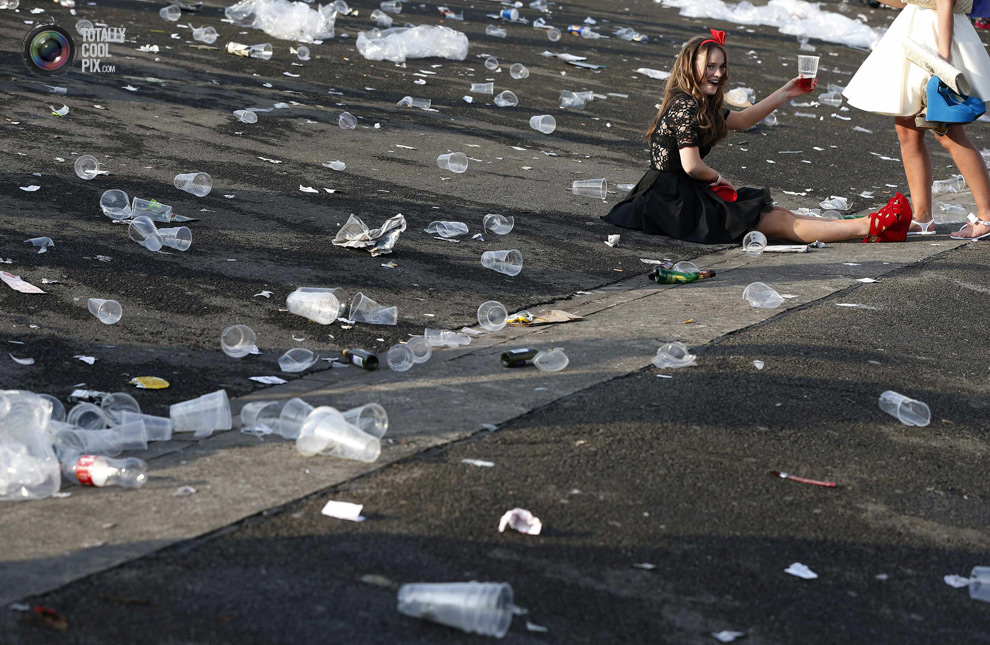 Racegoer sits amidst litter at the end of the second day of the Grand National meeting at Aintree in Liverpool. PHIL NOBLE/REUTERS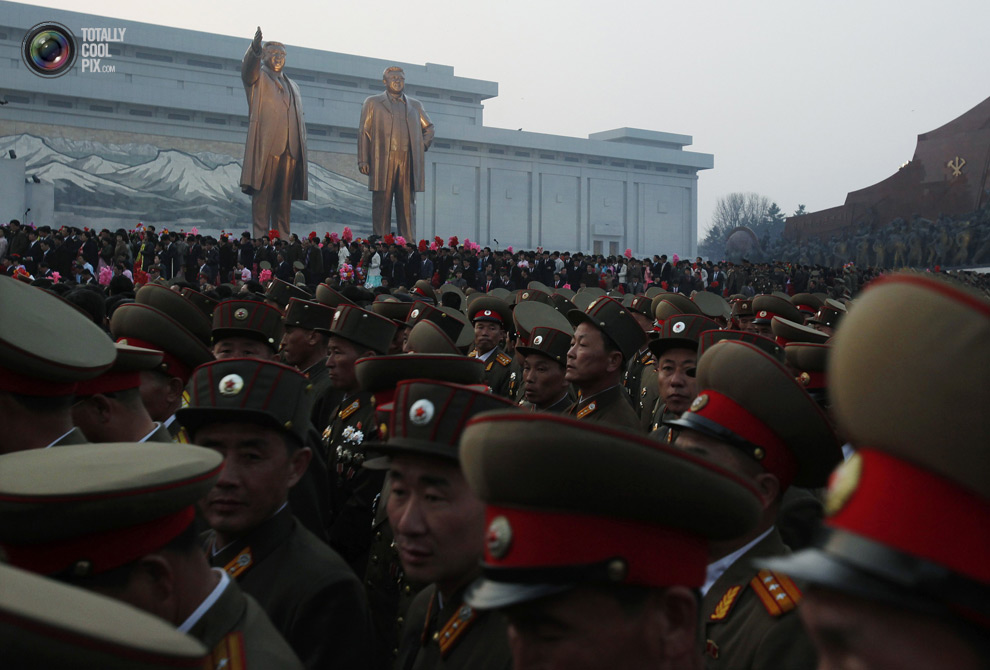 North Korean military personnal walk past the bronze statues of the late North Korean founder Kim Il-sung and Leader Kim Jong-il in Pyongyang. BOBBY YIP/REUTERS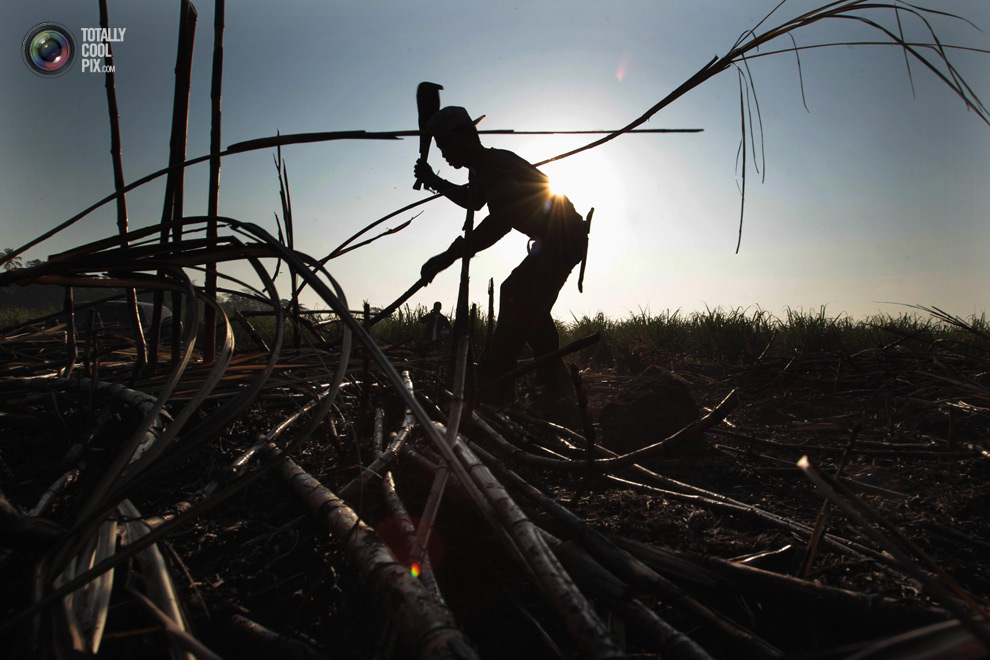 A worker cuts sugarcane at the Montelimar sugar mill in El Apante, southwest of Managua. OSWALDO RIVAS/REUTERS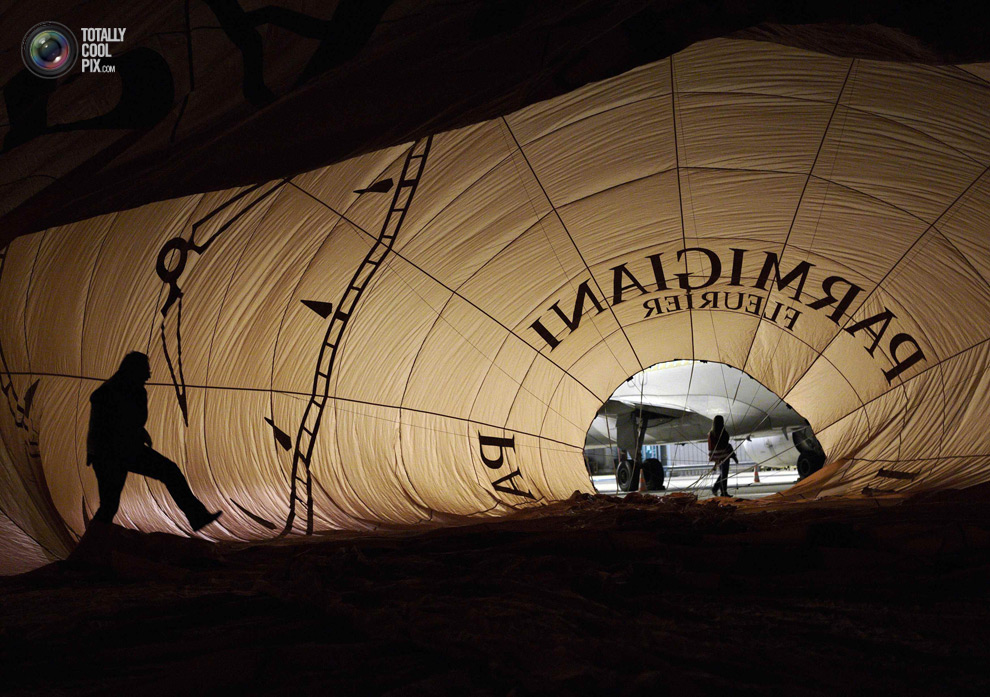 A balloonist prepares his hot air balloon before the night glow event of the sixth Montgolfiades Festival at Cointrin International airport in Geneva. DENIS BALIBOUSE/REUTERS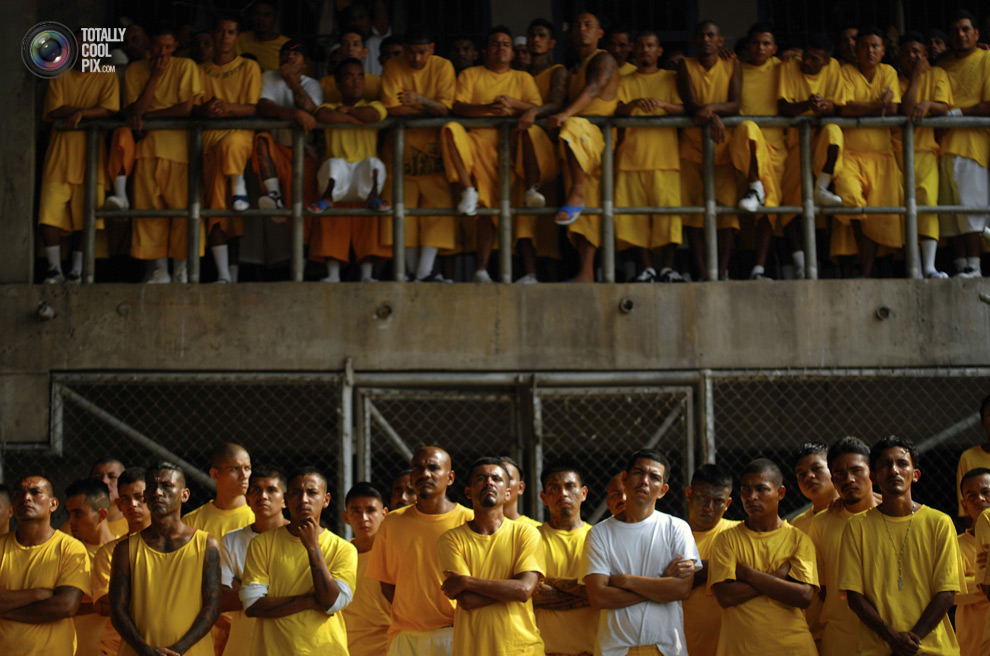 Members of the 18th Street gang attend a mass at the prison of Izalco. STRINGER/EL SALVADOR/REUTERS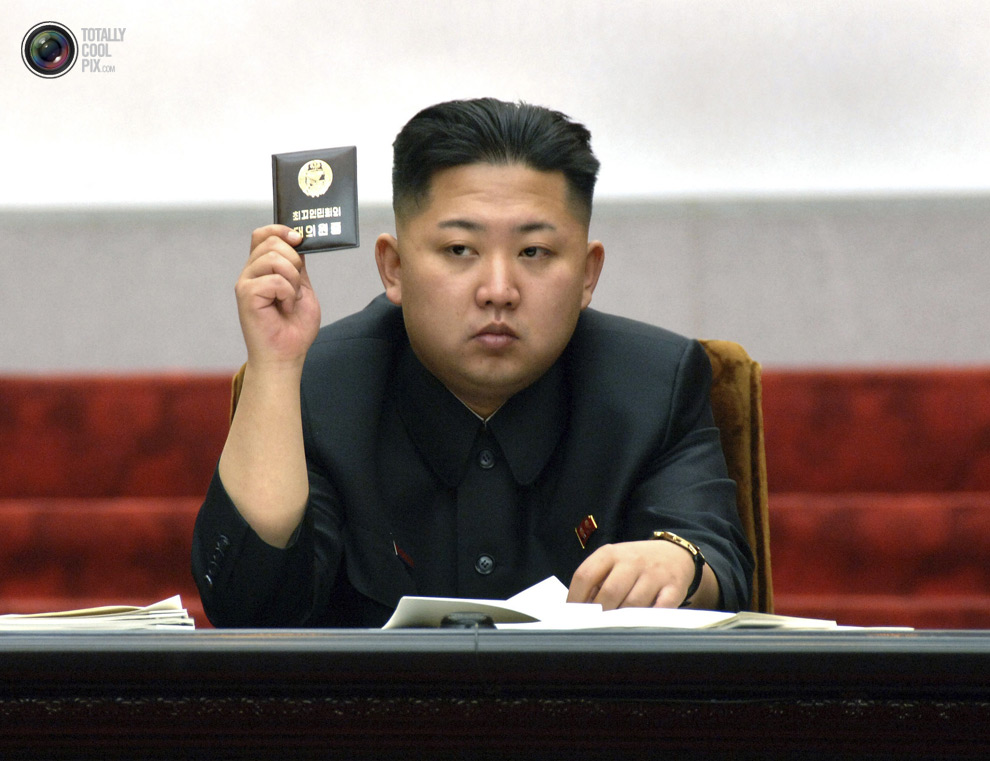 North Korean leader Kim Jong-Un holds up his ballot during the fifth session of the 12th Supreme People's Assembly of North Korea in Pyongyang. KCNA/REUTERS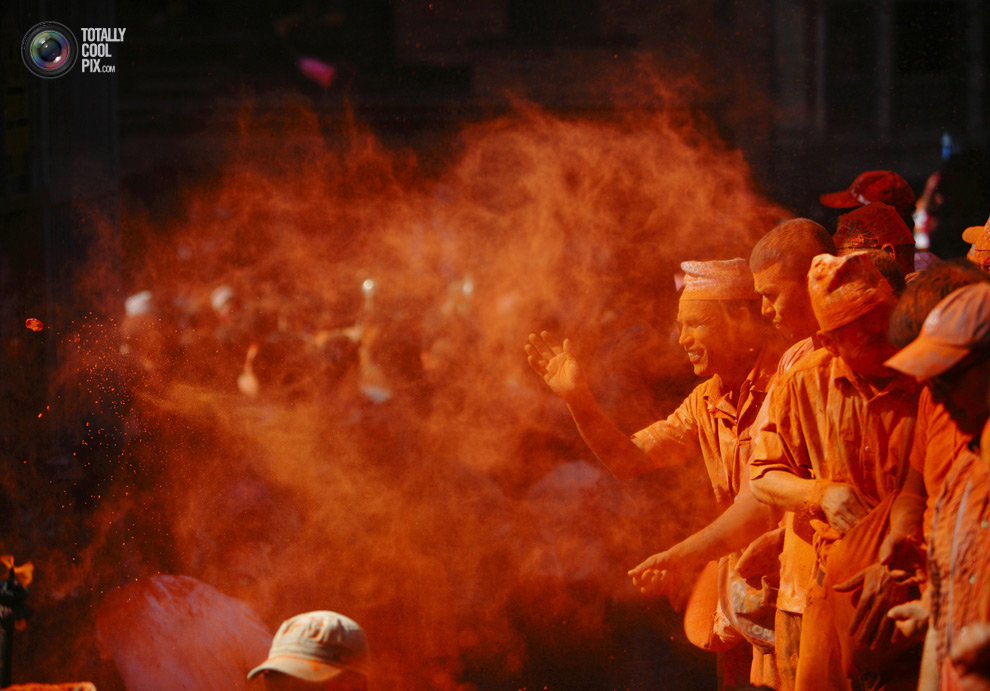 People throw vermillion powder on one another to celebrate the Nepali New Year, also known as Sindoor Jatra at Bal Kumari in Thimi. NAVESH CHITRAKAR/REUTERS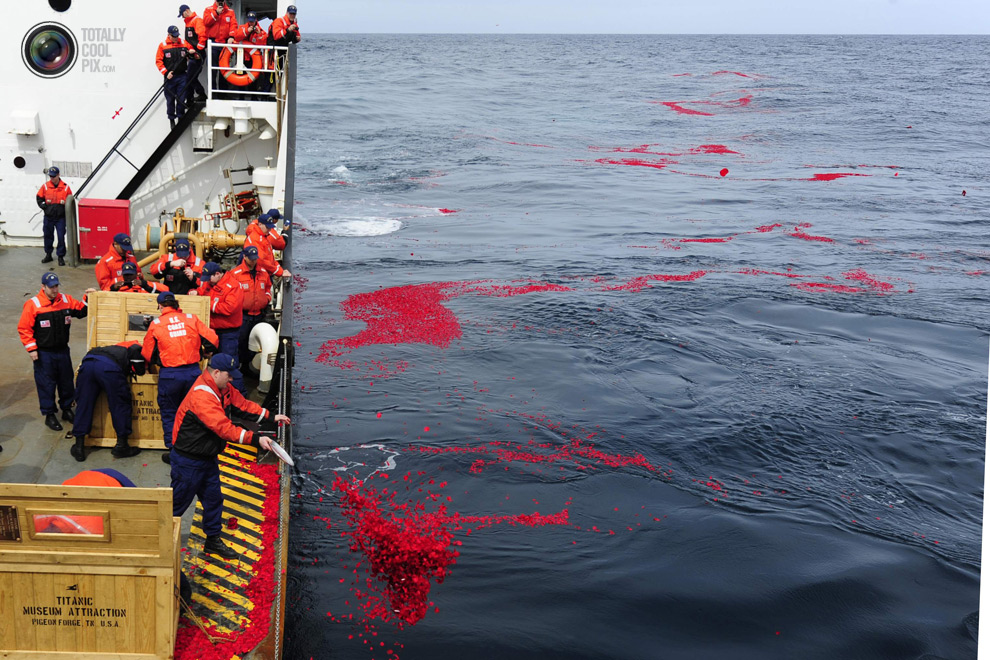 U.S. Coast Guard Cutter Juniper crew members lay 1.5 million dried rose petals over the RMS Titanic's resting site in the north Atlantic Ocean. HANDOUT/REUTERS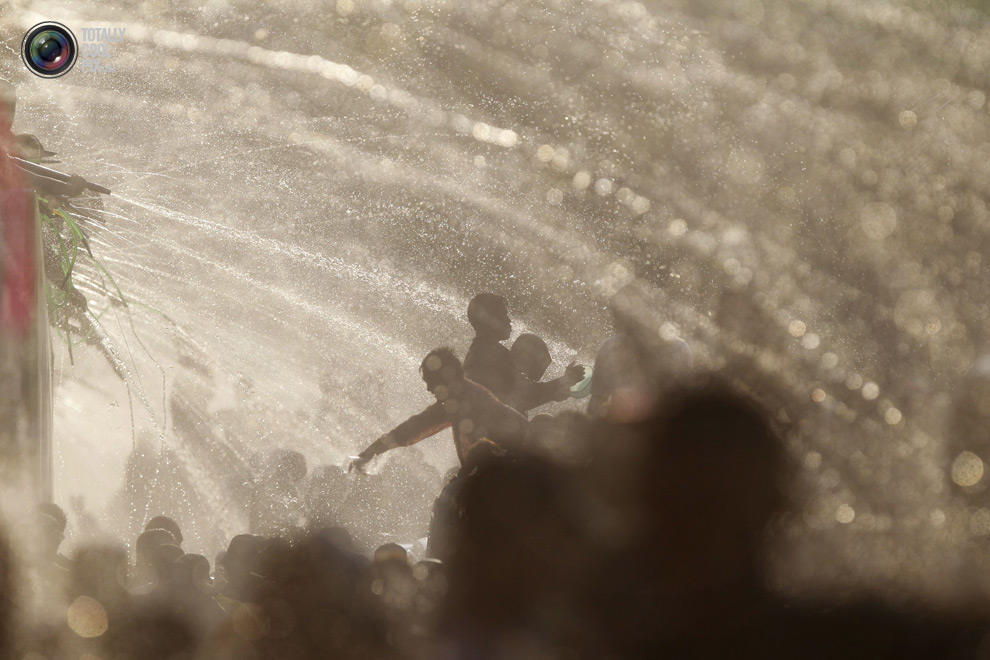 Locals get sprayed with water while celebrating Thingyan, Myanmar's new year water festival, in central Yangon. Soe Zeya Tun/REUTERS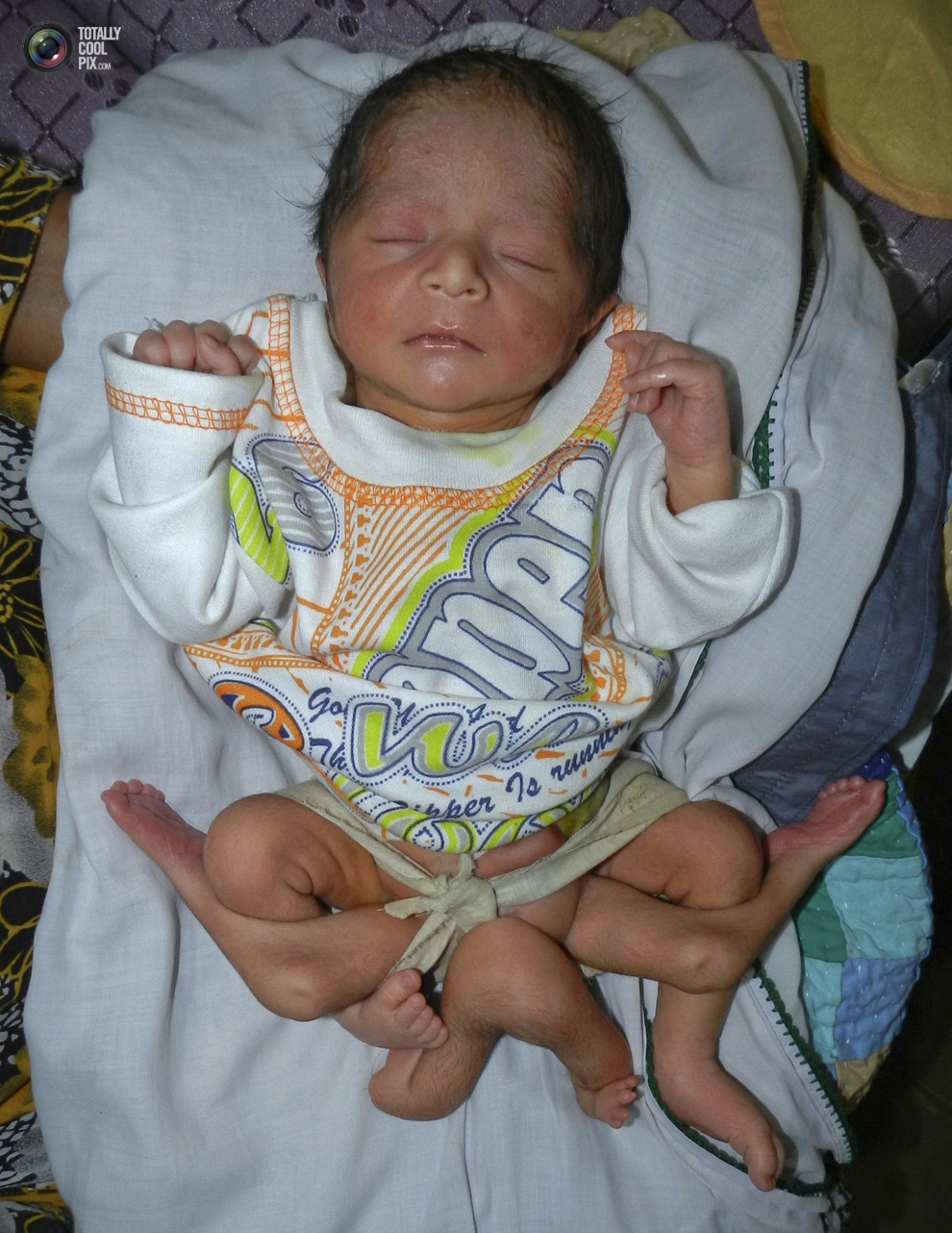 A newly-born child, who has six legs, rests on his grandmother's lap at his family home in Sukkur in Pakistan's Sindh province. STRINGER/PAKISTAN/REUTERS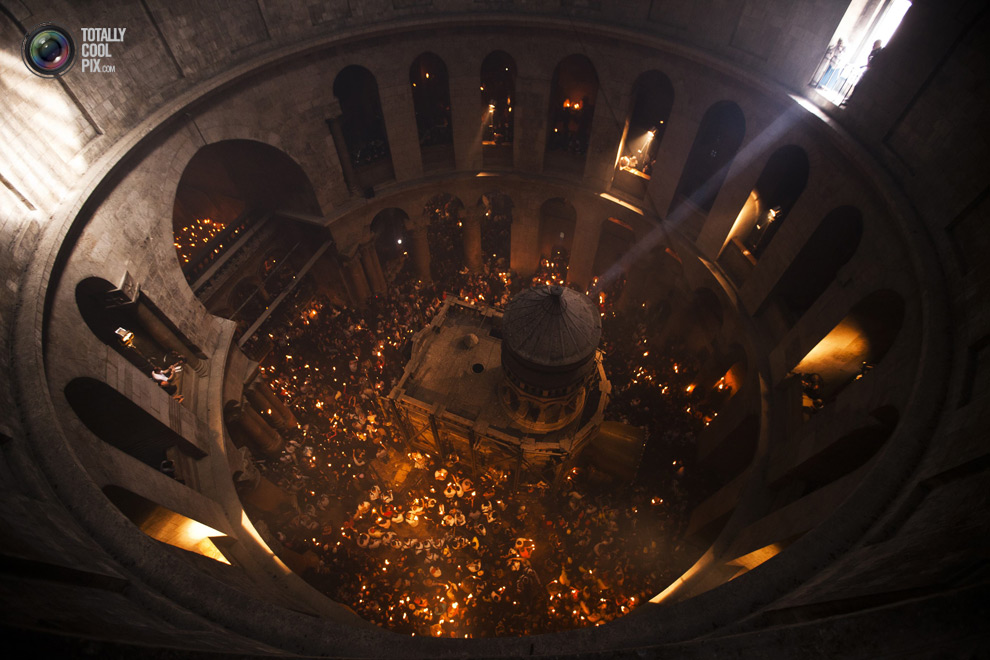 Worshippers hold candles as they take part in the Christian Orthodox Holy Fire ceremony at the Church of the Holy Sepulchre in Jerusalem's Old city. NIR ELIAS/REUTERS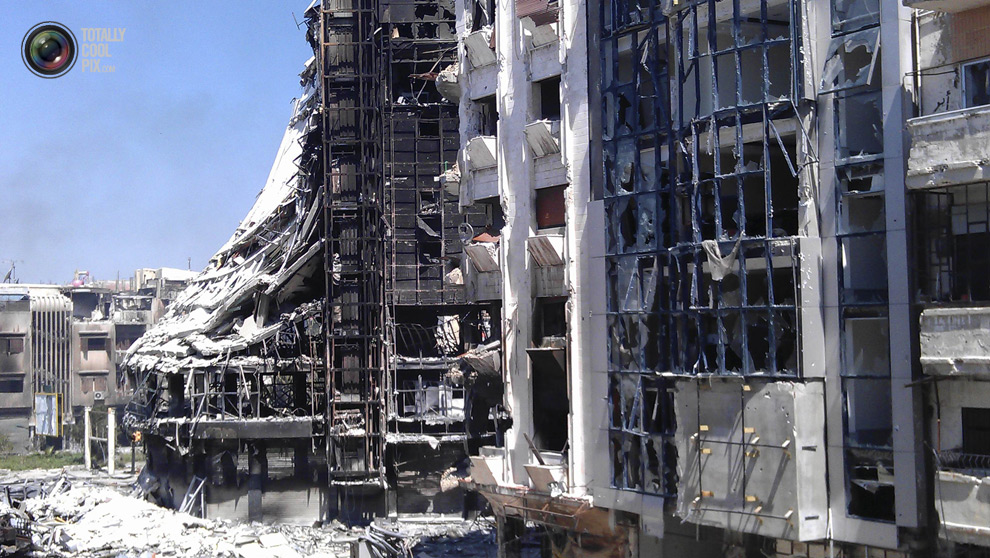 A general view of buildings, which according to the opposition were damaged by the government's army, at Juret al-Shayah in Homs. HANDOUT/REUTERS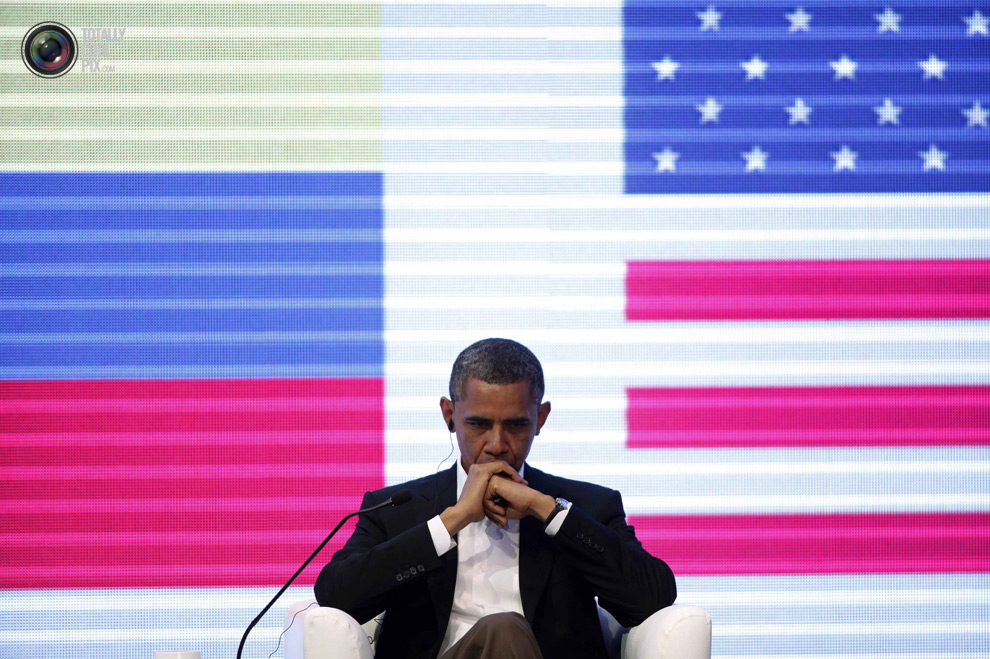 U.S. President Barack Obama listens during the CEO Summit as part of the Americas Summit in Cartagena. JOHN VIZCAINO/REUTERS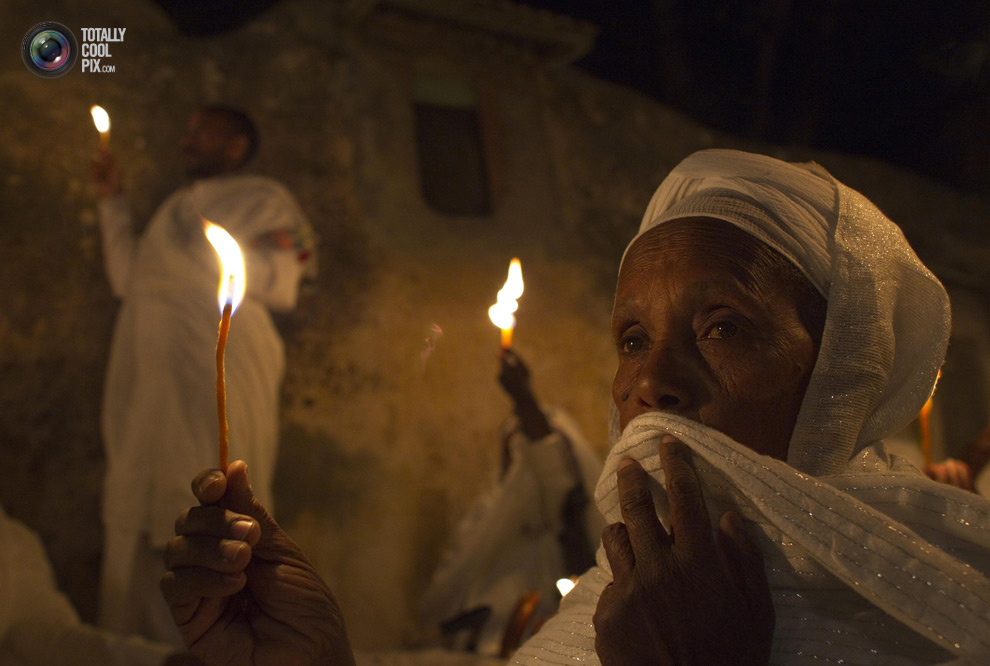 Ethiopian Orthodox worshippers hold candles during the Holy Fire ceremony at the Ethiopian section of the Church of the Holy Sepulchre in Jerusalem's Old City. DARREN WHITESIDE/REUTERS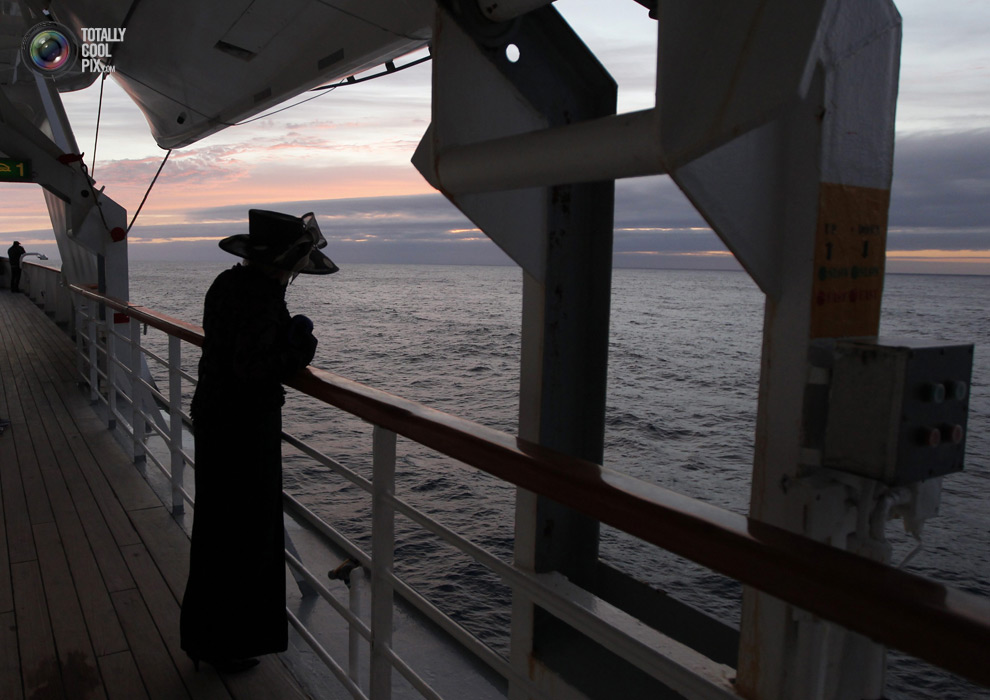 Australian woman views the passing sea at sunset as the Titanic Memorial Cruise continues to the Titanic disaster site in the mid-Atlantic Ocean. CHRIS HELGREN/REUTERS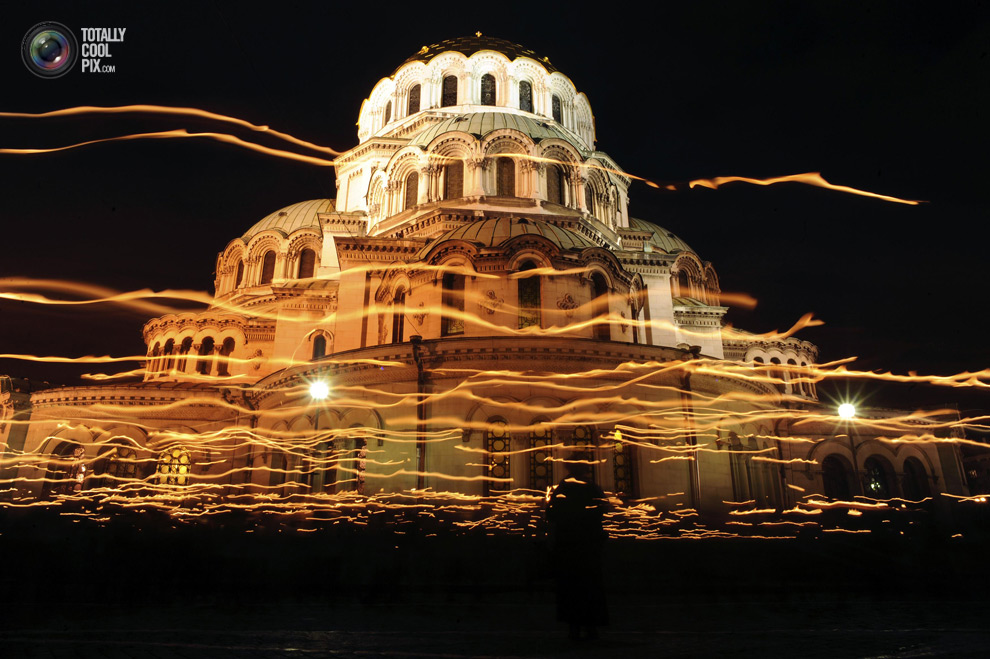 Worshippers walk with candles around the golden-domed Alexander Nevski cathedral during the Orthodox Easter service in Sofia. STRINGER/REUTERS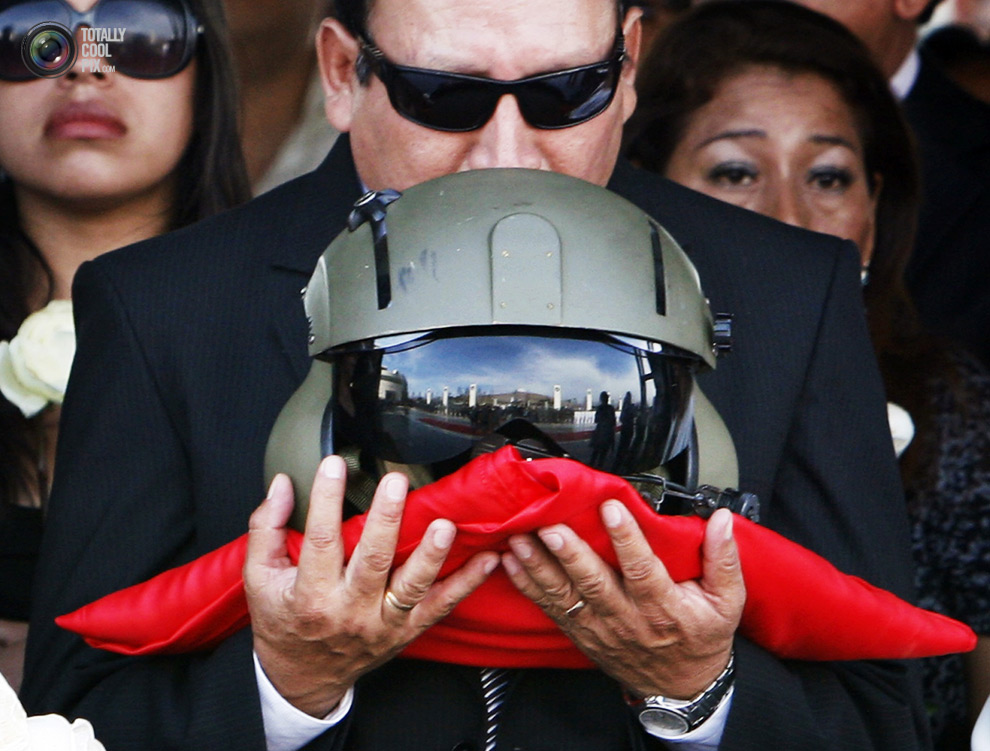 The father of Captain Nancy Flores kiss her pilot helmet during her funeral in Lima. STRINGER/REUTERS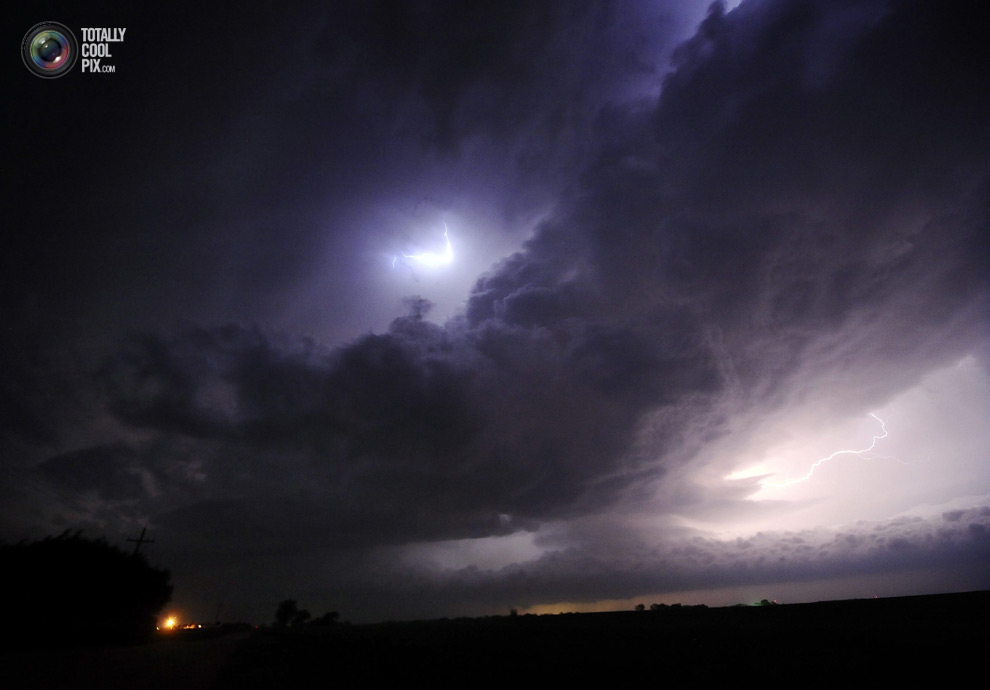 A huge tornadic supercell lights up the night skies over Salina. GENE BLEVINS/REUTERS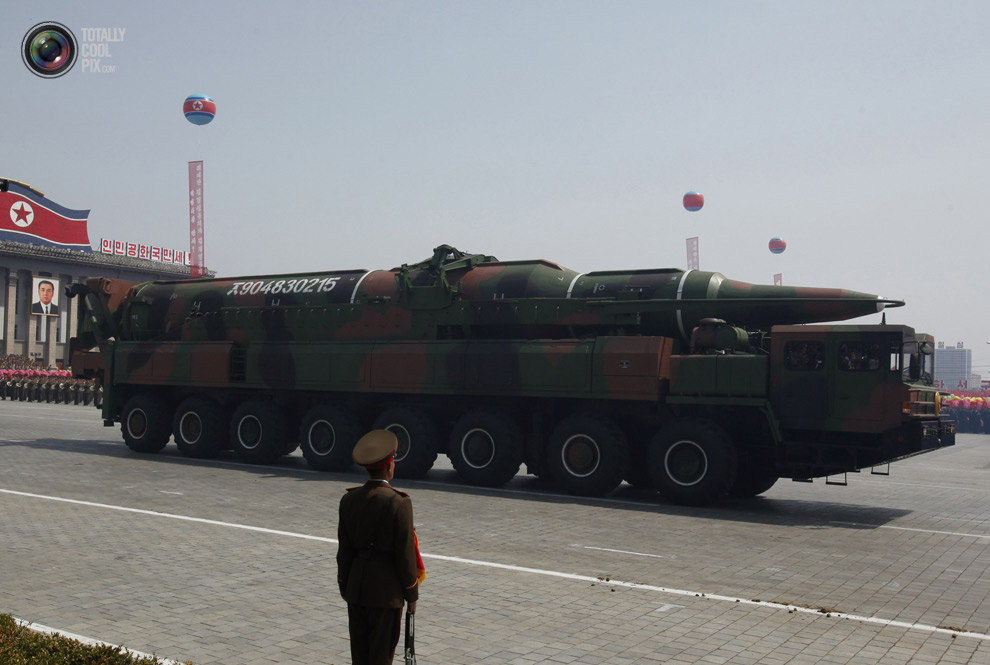 A rocket is carried by a military vehicle during a military parade in Pyongyang. BOBBY YIP/REUTERS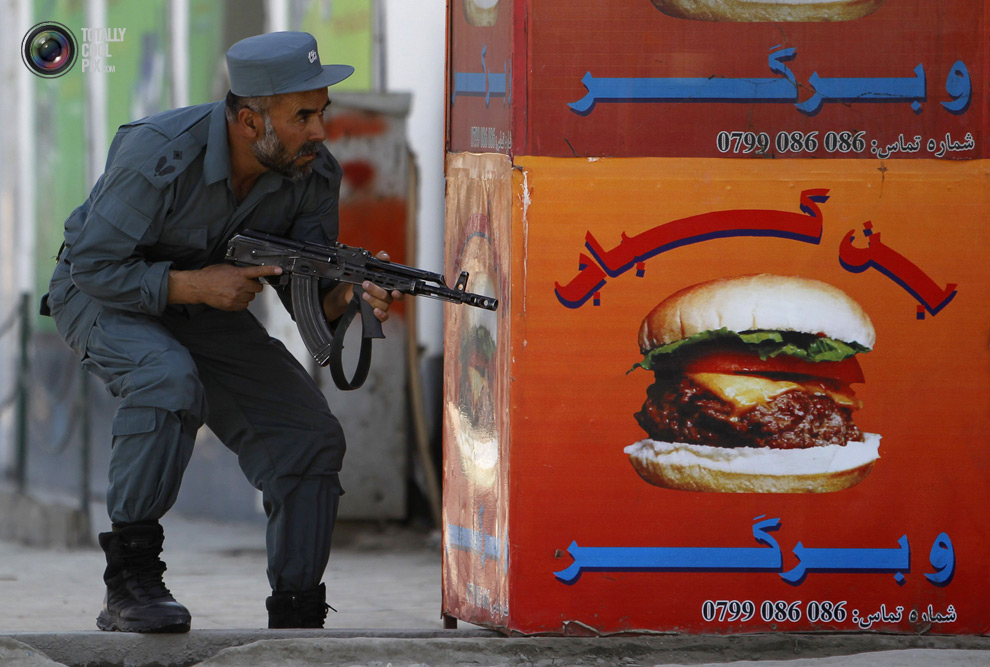 An Afghan policeman takes position at the site of an attack in Kabul. OMAR SOBHANI/REUTERS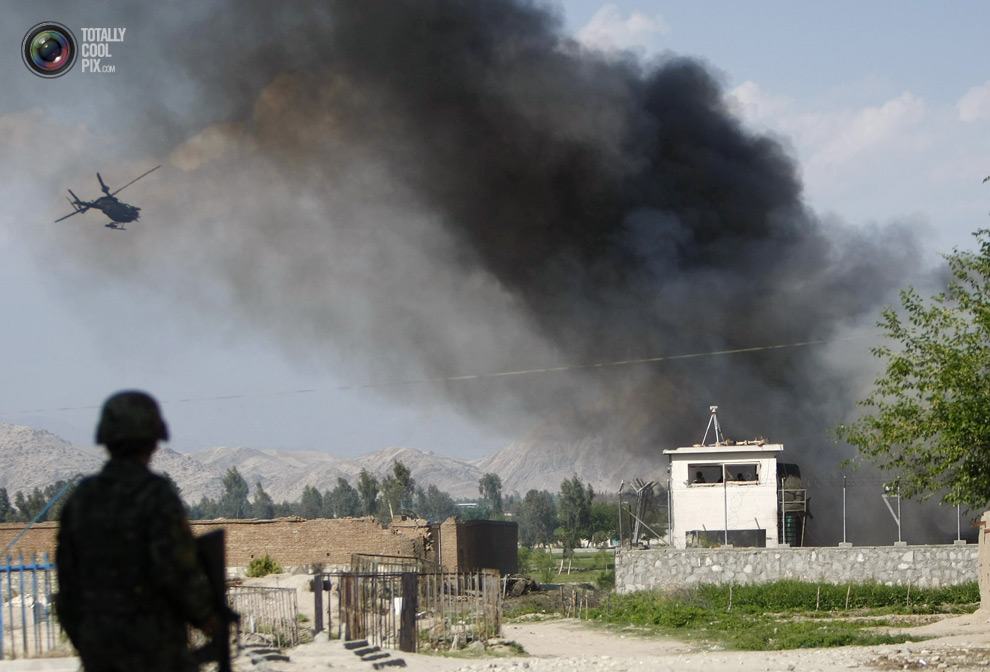 An Afghan National Army soldier keeps watch near PRT as a NATO helicopter flies over the site of an attack in Jalalabad province. PARWIZ/REUTERS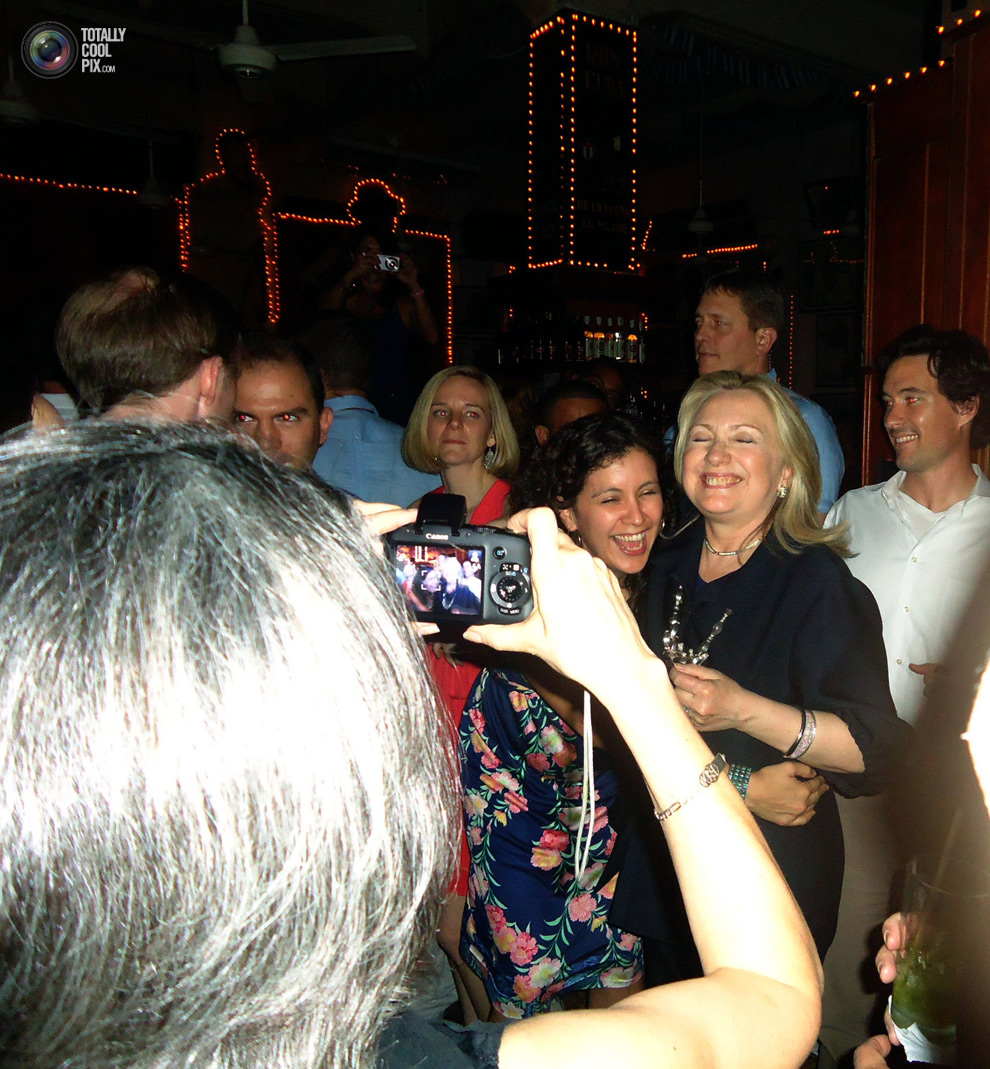 U.S. Secretary of State Hillary Clinton dances with members of her delegation in the Cafe Havana salsa bar in Cartagena. STRINGER/COLOMBIA/REUTERS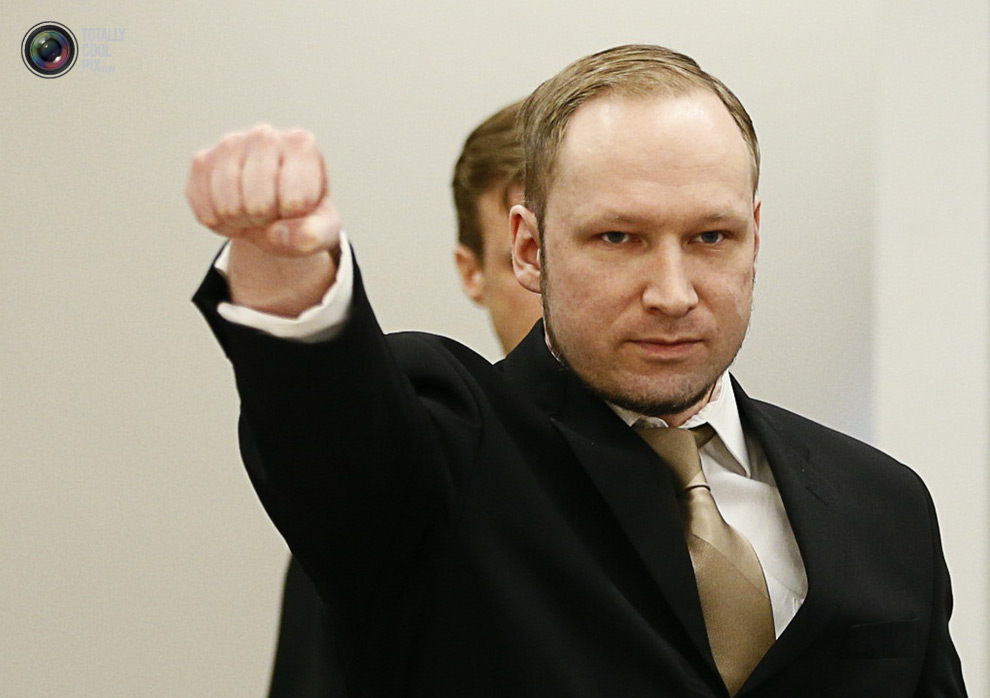 Breivik raises his fist as he arrives to courtroom for the first day of his trial in Oslo. FABRIZIO BENSCH/REUTERS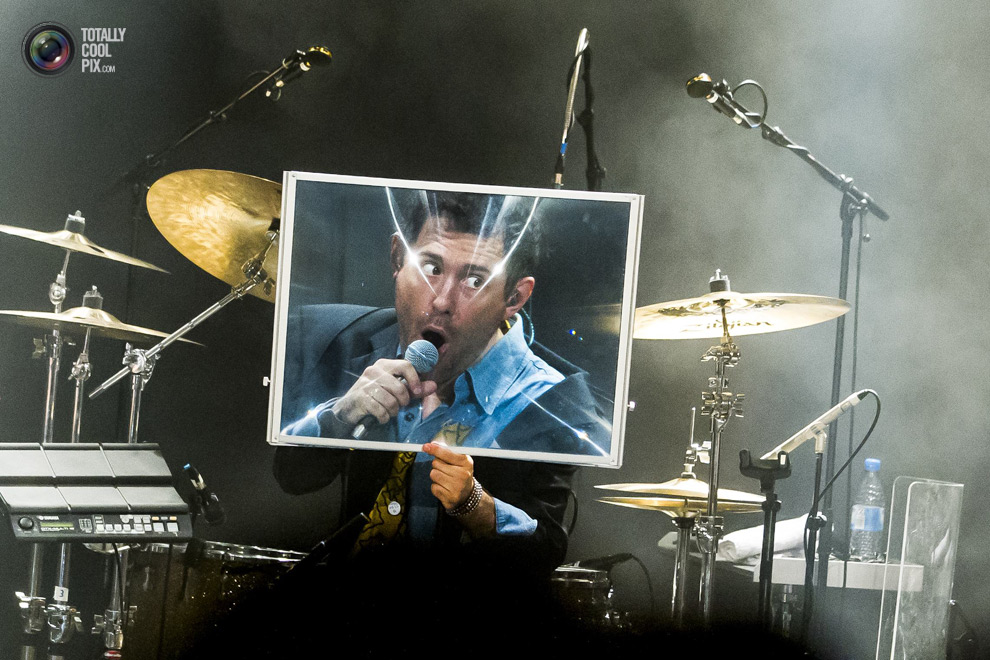 English musician Charlie Winston performs during concert in Cologne. THOMAS PETER/REUTERS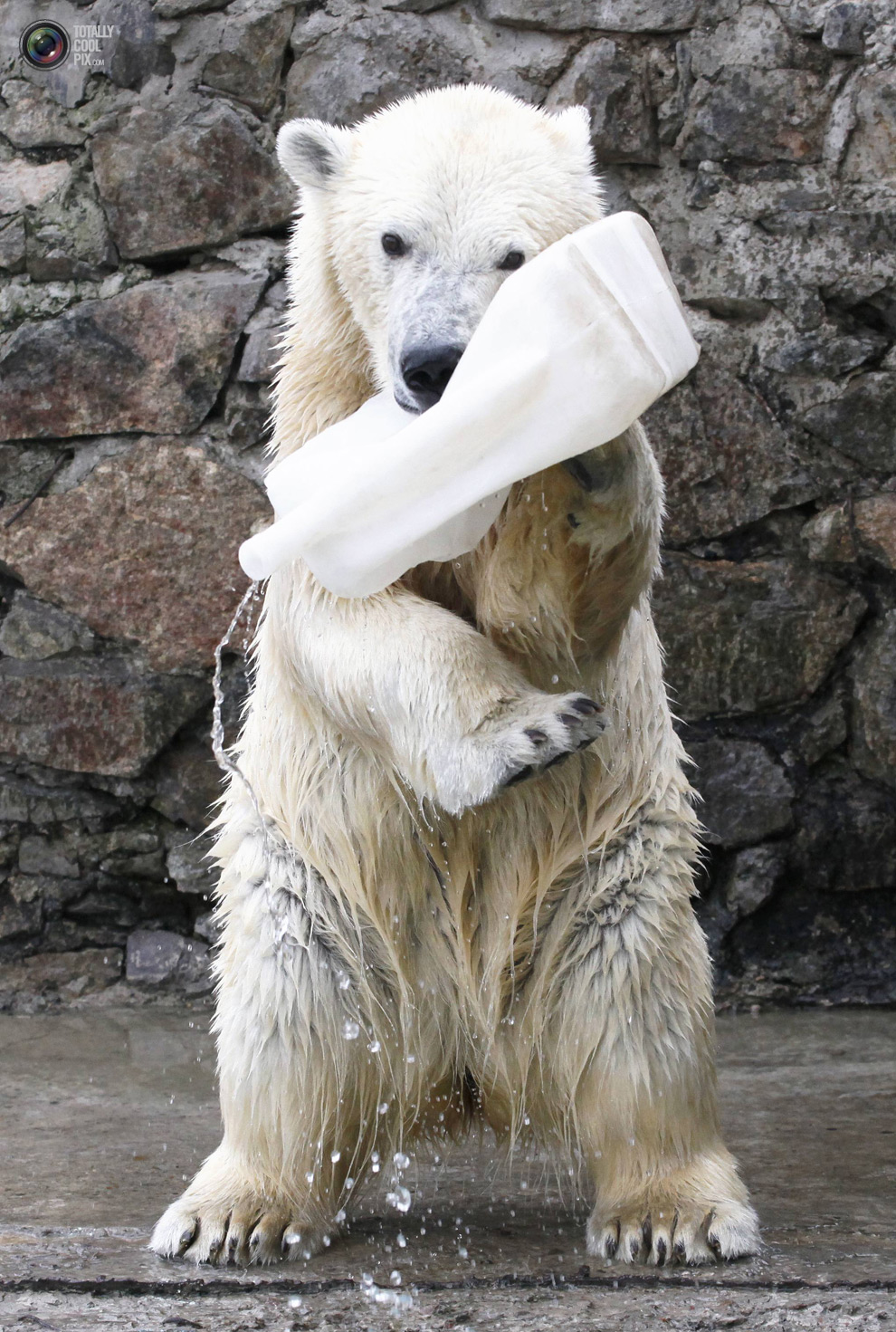 Aurora plays with a plastic flask at the Royev Ruchey Zoo in Krasnoyarsk. ILYA NAYMUSHIN/REUTERS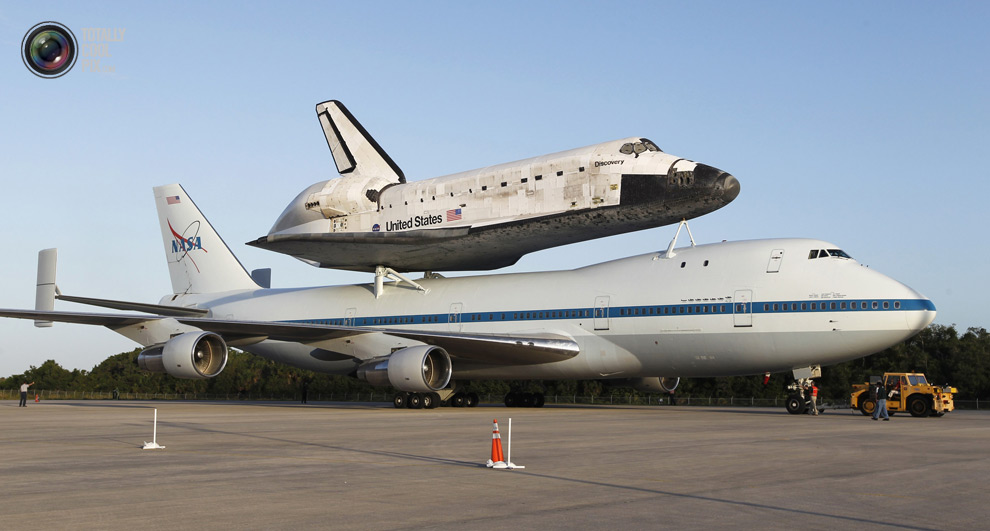 Space shuttle Discovery is shown attached to a modified NASA 747 aircraft at Kennedy Space Center in Cape Canaveral. JOE SKIPPER/REUTERS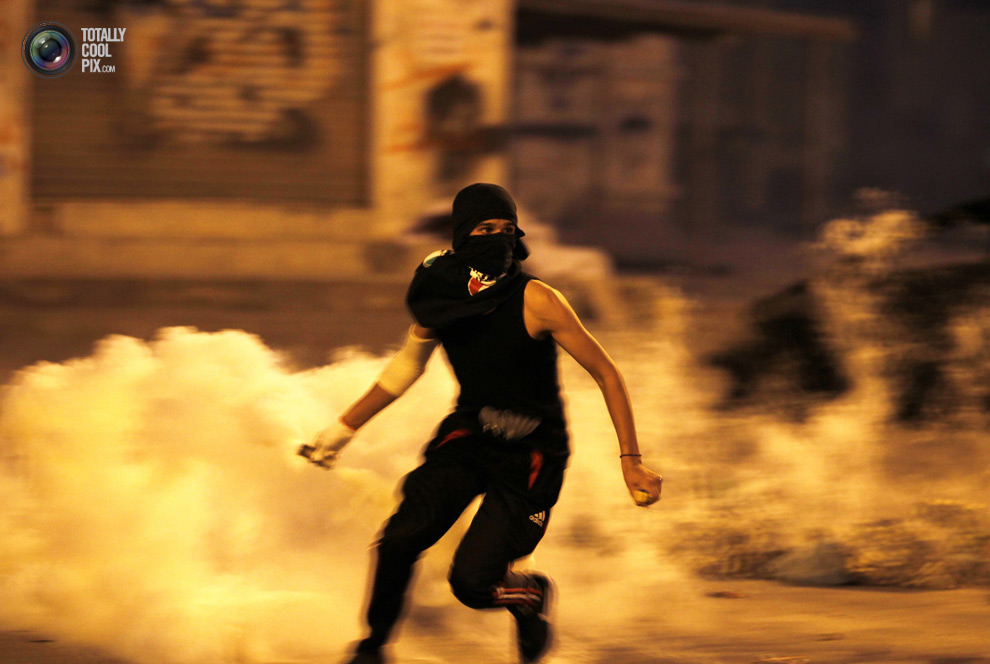 Anti-government protester runs holding teargas canister fired by riot police during clashes after procession to visit grave of Abdulsamad in Salmabad. HAMAD I MOHAMMED/REUTERS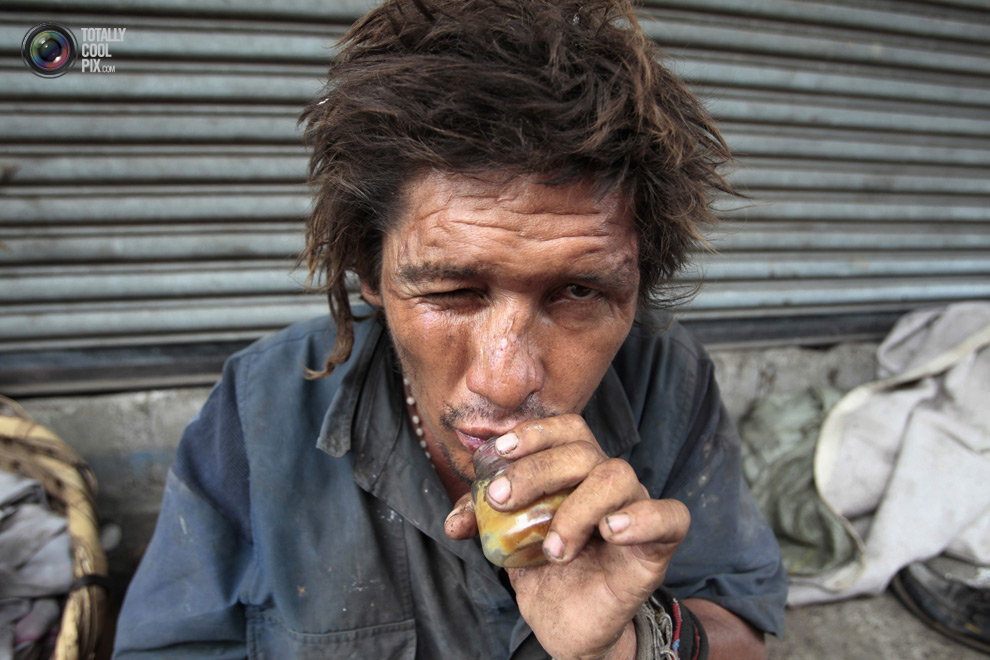 A man sniffs glue at the Oriental Market. OSWALDO RIVAS/REUTERS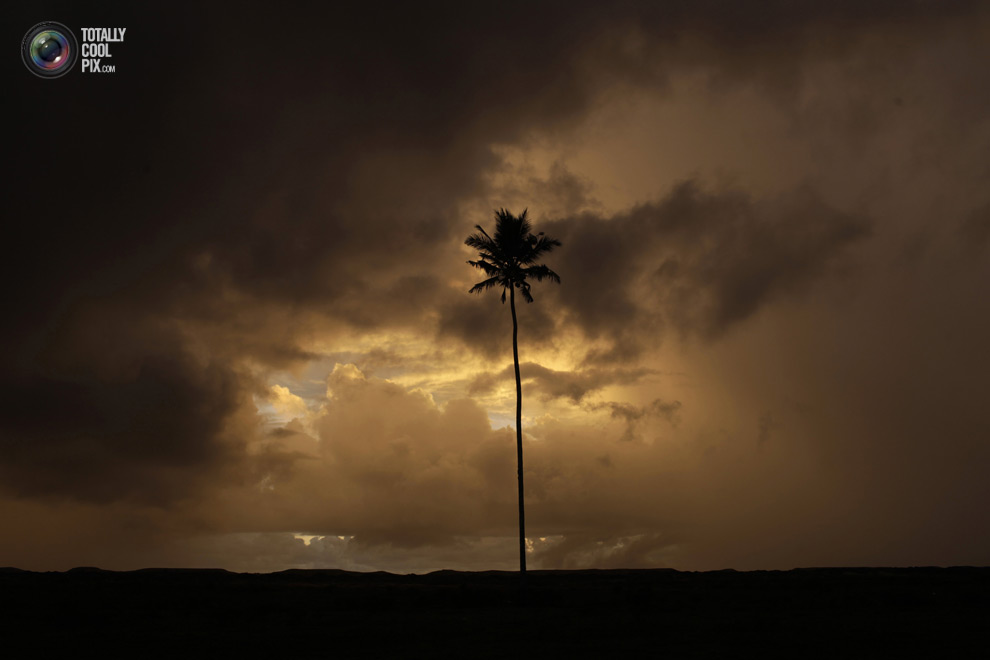 A coconut tree is seen against the backdrop of a sunset at Lamno beach, in Aceh Besar. BEAWIHARTA/REUTERS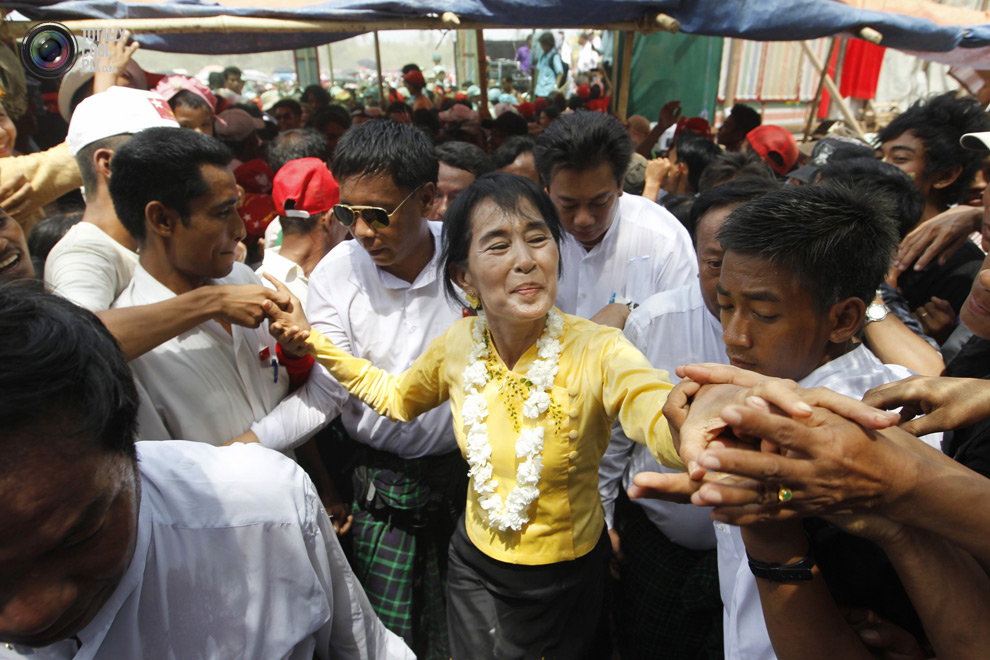 Myanmar pro-democracy leader Aung San Suu Kyi shakes hand with supporters at a ceremony to mark Myanmar New Year Day in her constituency of Kawhmu township. Soe Zeya Tun/REUTERS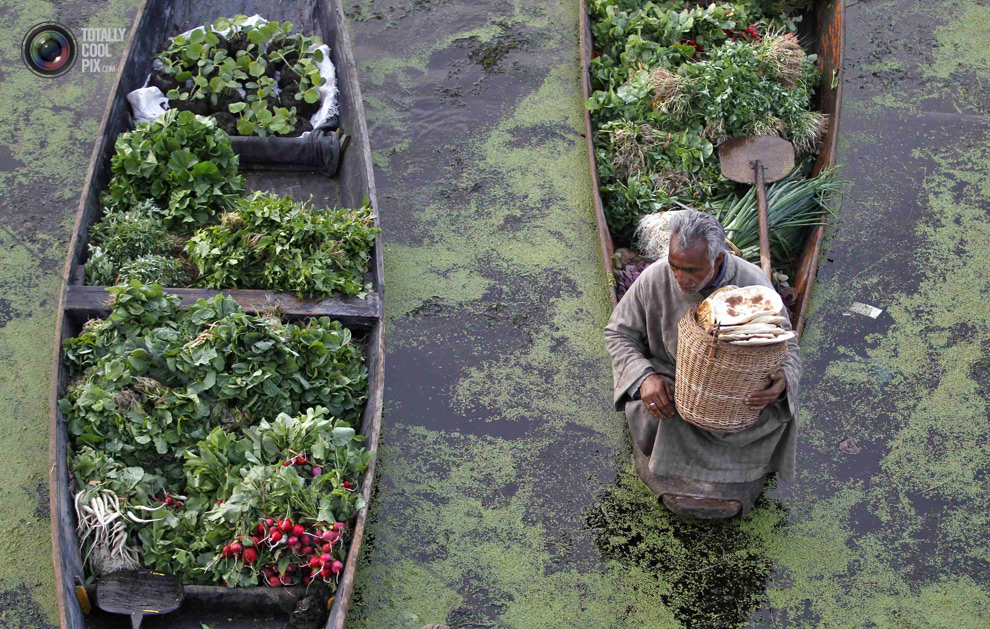 A Kashmiri vegetable vendor holds a basket of bread at a floating market in the interiors of the Dal Lake in Srinagar. DANISH ISMAIL/REUTERS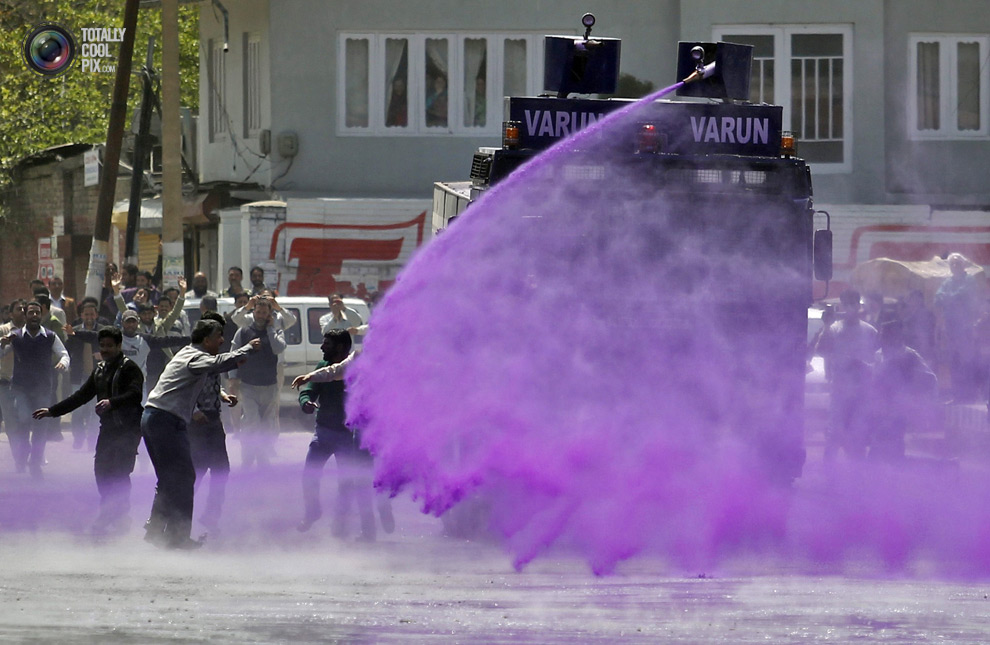 Dyed water is sprayed by Indian police on Kashmiri government employees to disperse a protest by the employees in Srinagar. FAYAZ KABLI/REUTERS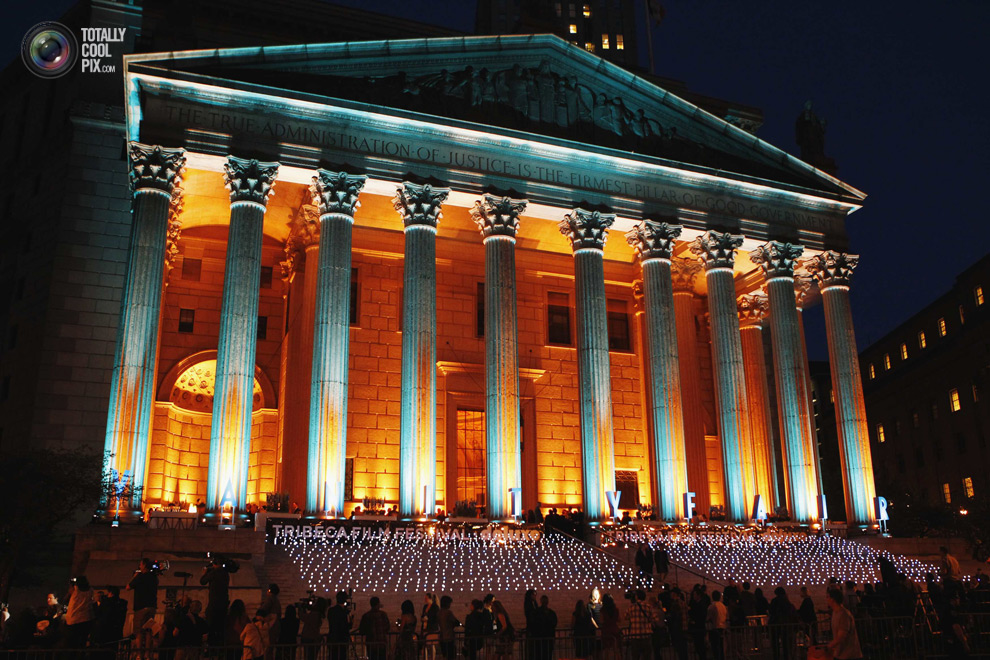 The outside of the New York State Supreme Courthouse is lit for a Vanity Fair party marking the beginning of the 2012 Tribeca Film Festival in New York. LUCAS JACKSON/REUTERS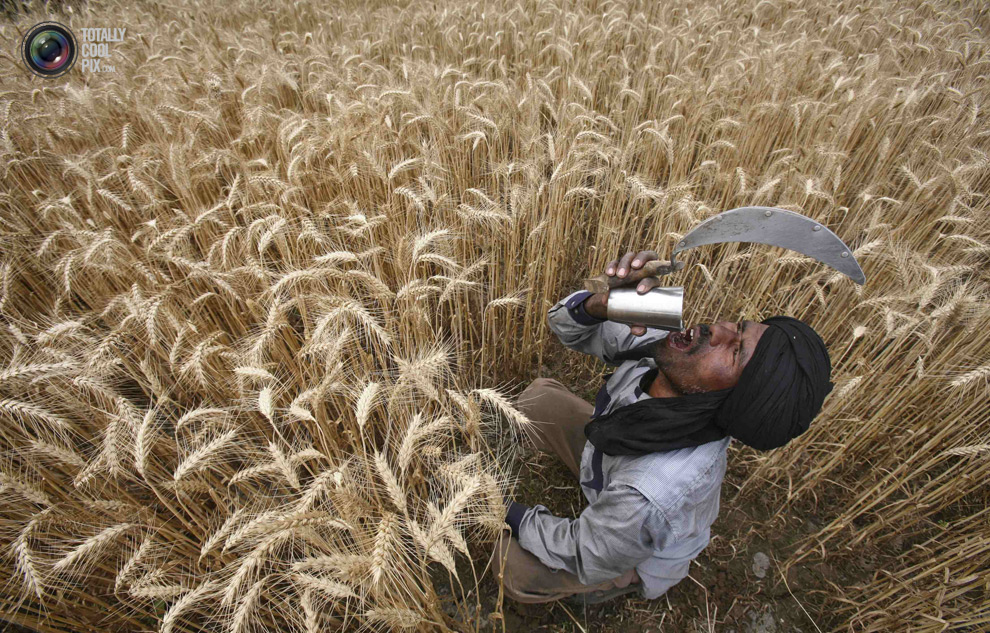 A labourer drinks water while harvesting wheat crop at a field in Jhanpur village. AJAY VERMA/REUTERS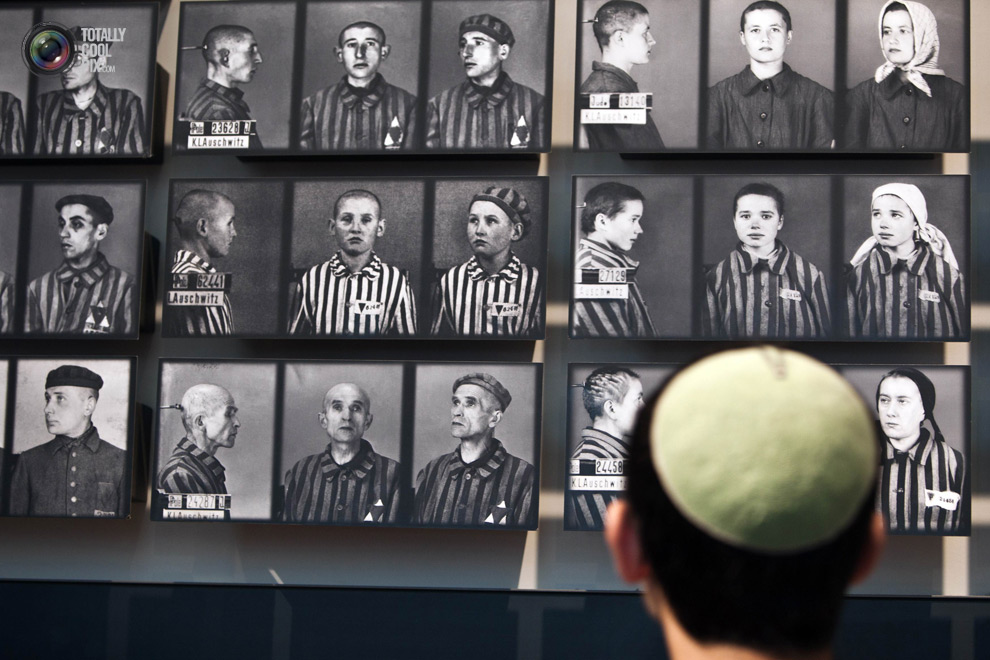 A visitor looks at pictures of Holocaust victims at Yad Vashem's Holocaust History Museum in Jerusalem. NIR ELIAS/REUTERS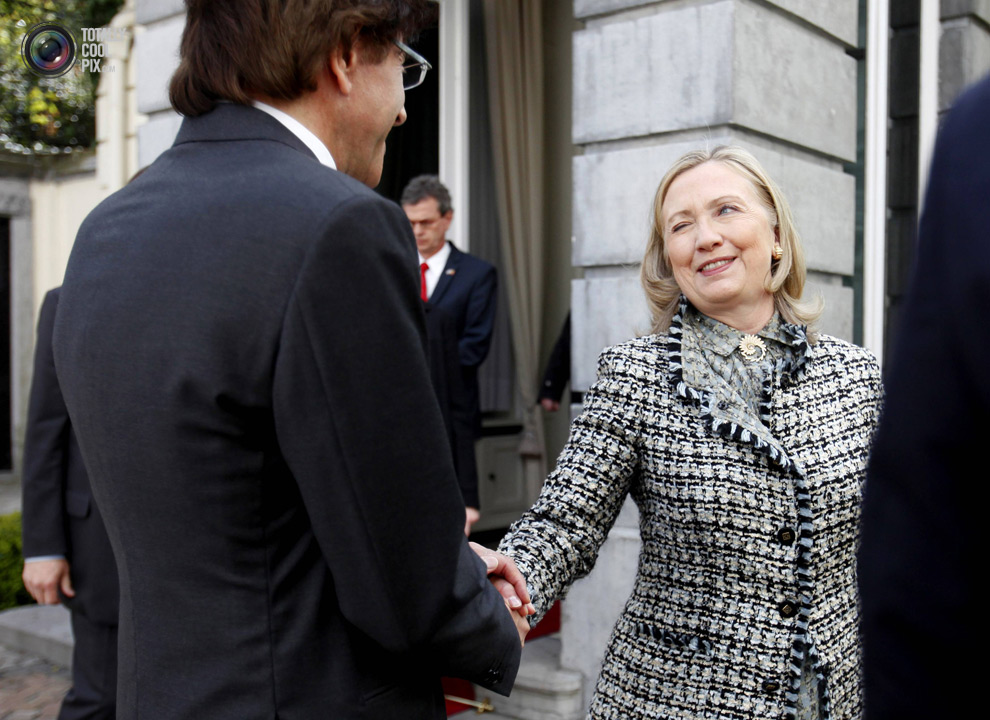 U.S. Secretary of State Hillary Rodham Clinton winks at Belgium's Prime Minister Elio Di Rupo as they say goodbye after a meeting at the prime minister's residence in Brussels. POOL/REUTERS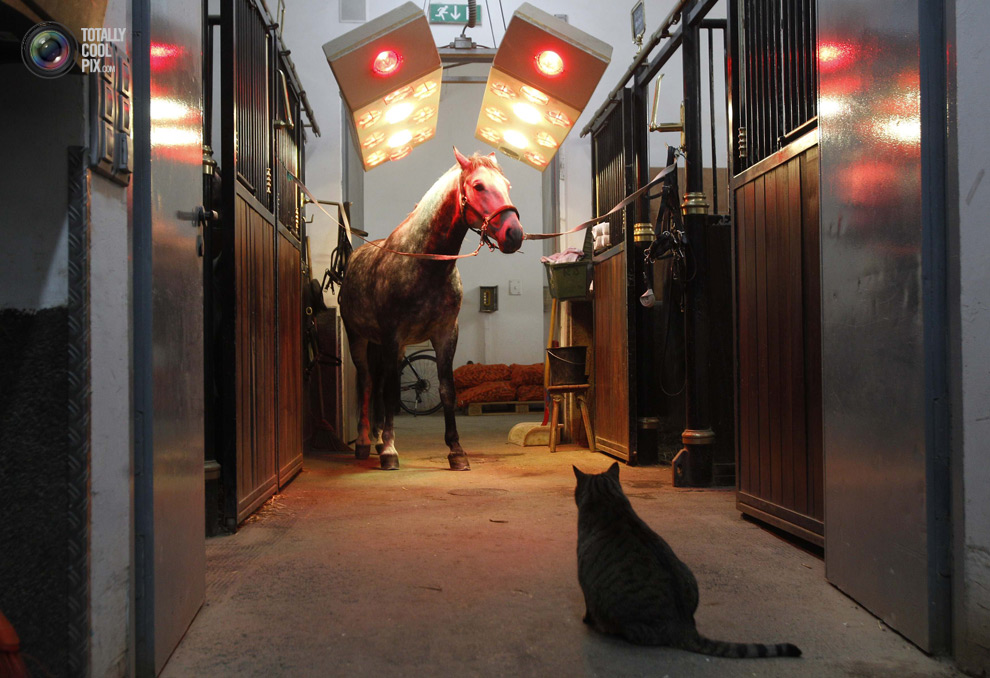 A cat looks at Lipizzaner horse Alea as it stands under a solarium at the stables of the Spanish Riding School in Vienna. LISI NIESNER/REUTERS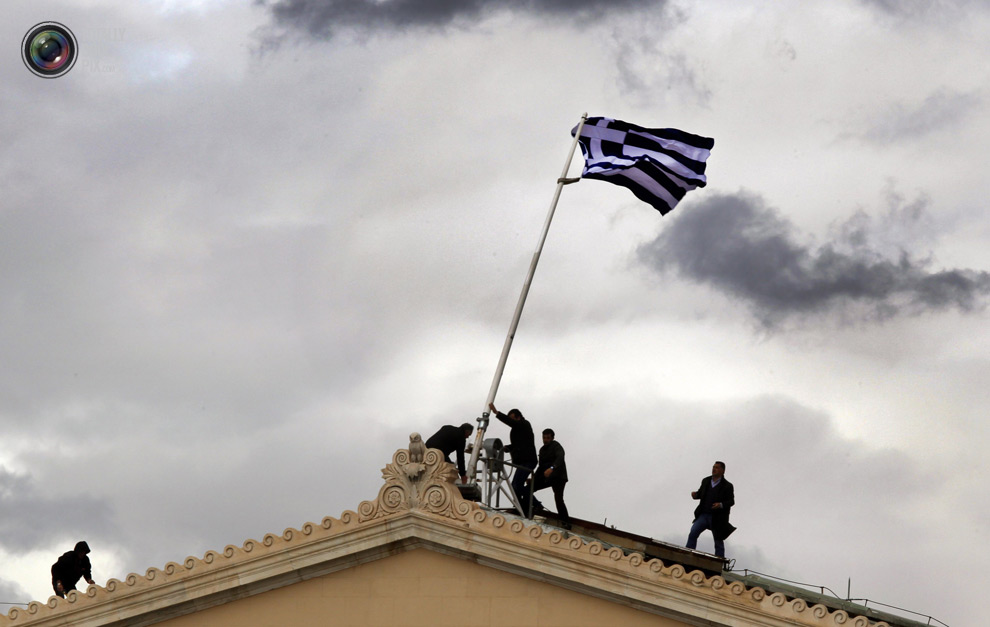 Parliament employees raise flag atop the parliament in Athens. YANNIS BEHRAKIS/REUTERS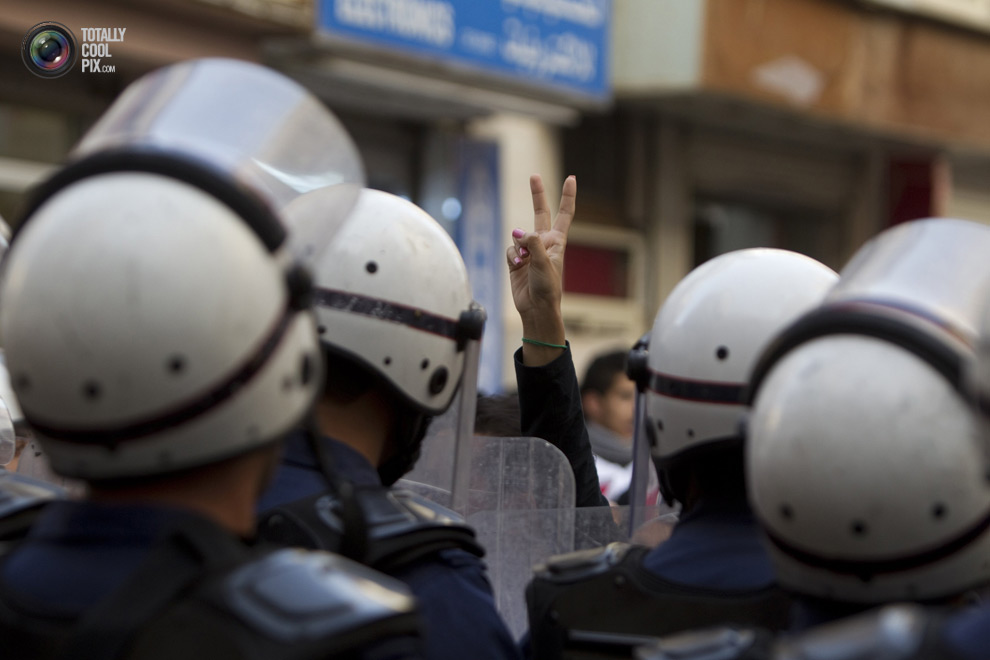 The daughter of Bahrain human rights activist Abdulhadi al-Khawaja makes the victory sign during an anti-government rally demanding for her father's release in Manama. DARREN WHITESIDE/REUTERS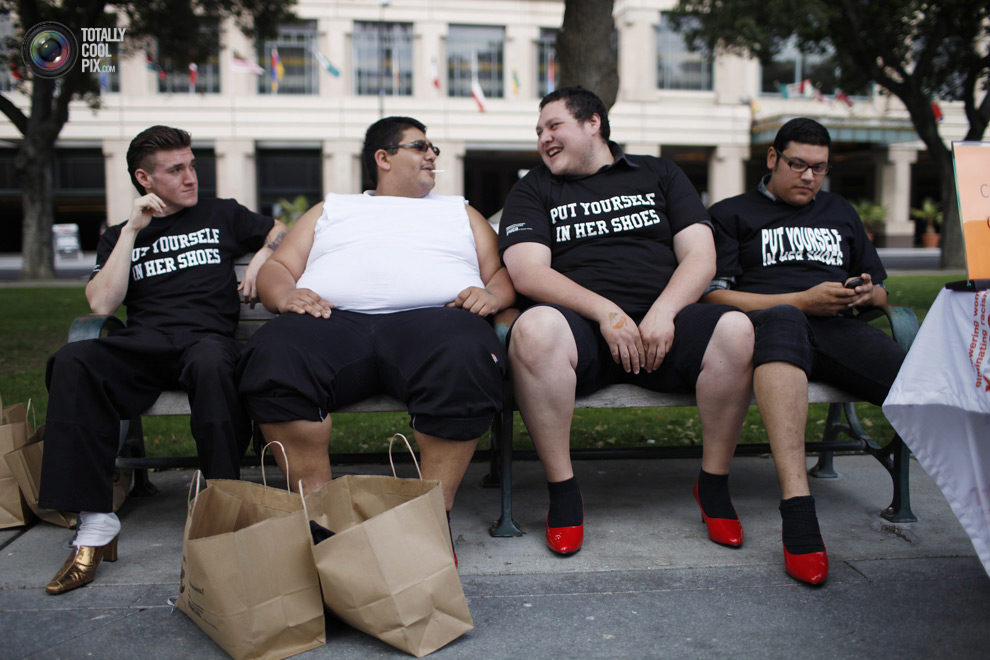 People share a bench while wearing women's high heels during he 10th annual Walk A Mile In Her Shoes in Plaza De Cesar Chavez in San Jose. STEPHEN LAM/REUTERS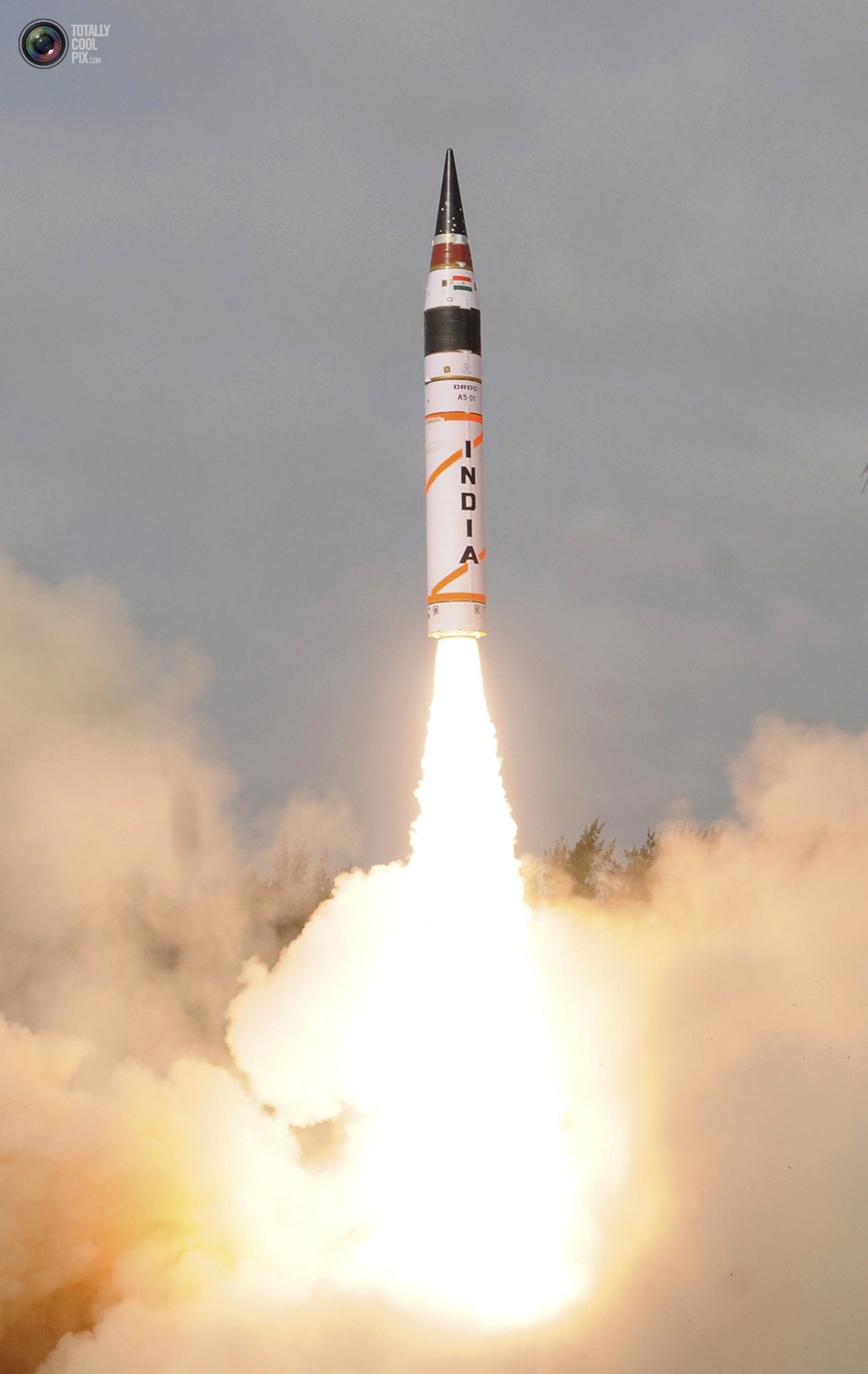 A surface-to-surface Agni V missile is launched from the Wheeler Island off the eastern Indian state of Odisha. HANDOUT/REUTERS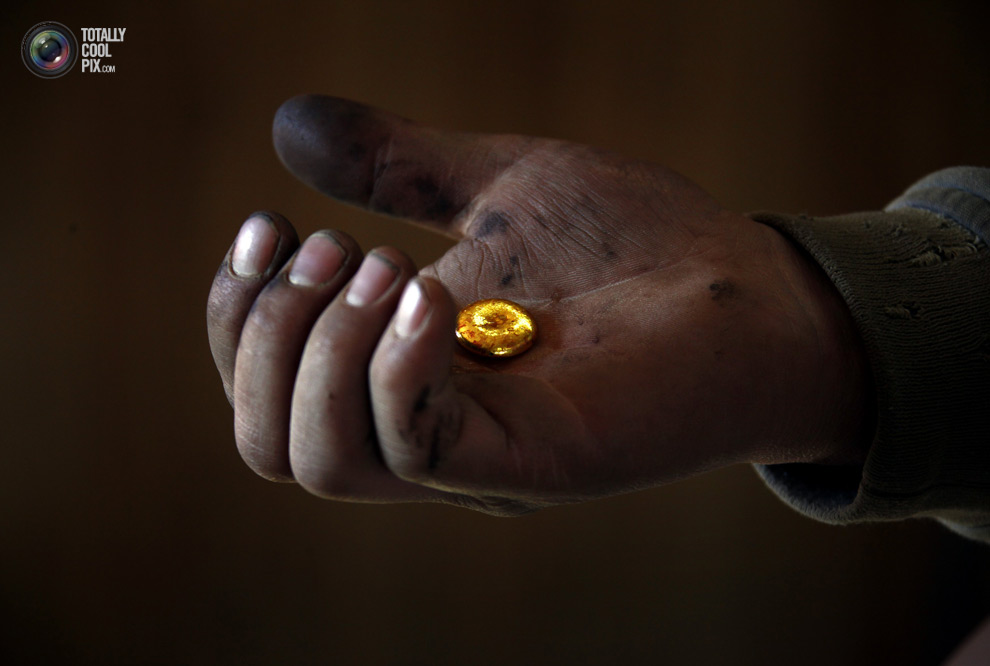 Small-scale miner holds his gold that was melted together at a processing plant north of the Mongolian capital city Ulan Bator. DAVID GRAY/REUTERS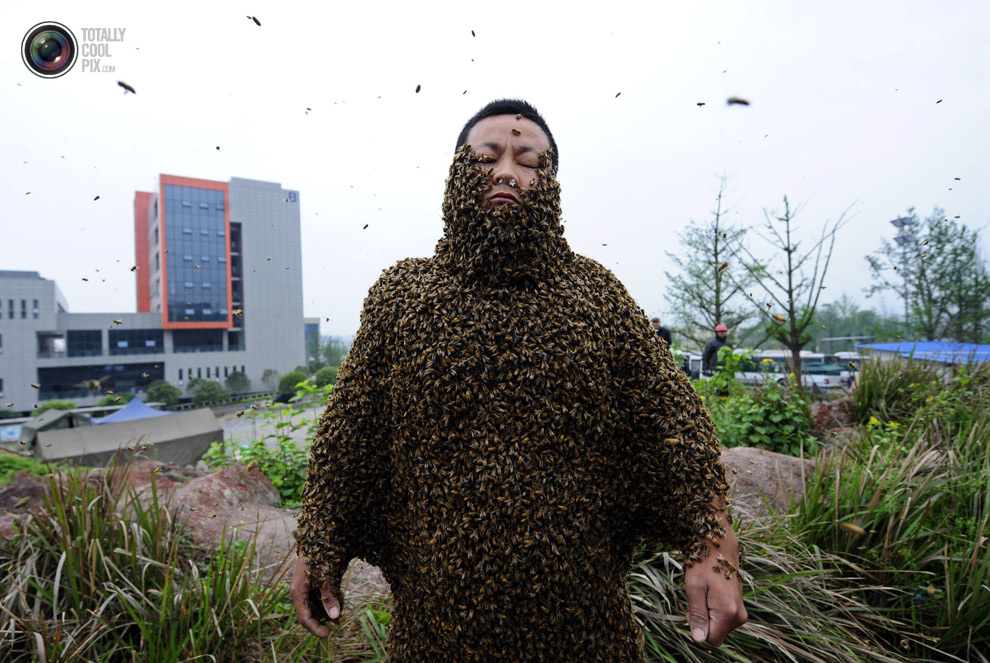 Beekeeper She Ping is covered with bees during a challenge to break the world record in Chongqing Municipality. CHINA DAILY/REUTERS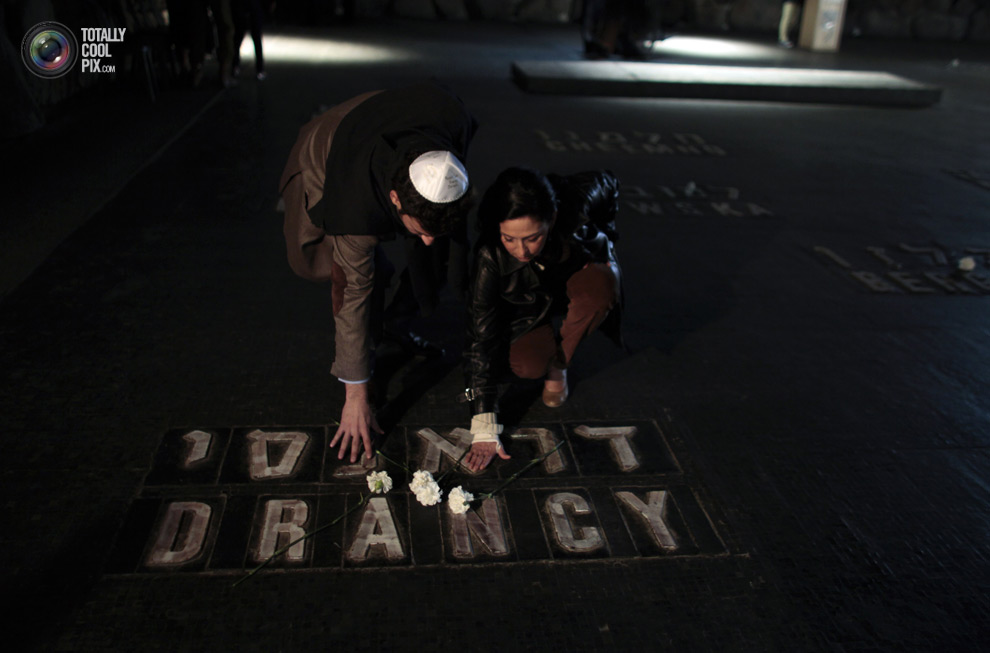 People lay flowers during a ceremony at Yad Vashem Holocaust Memorial in Jerusalem. AMMAR AWAD/REUTERS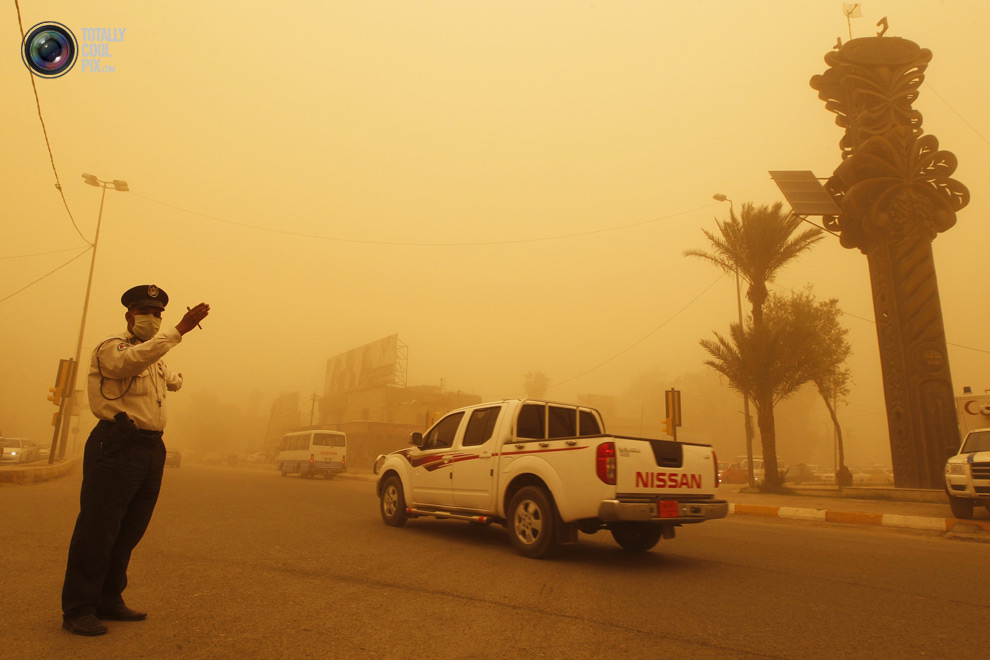 A traffic policeman directs vehicles during a sandstorm in Baghdad's Karrada district. THAIER AL-SUDANI/REUTERS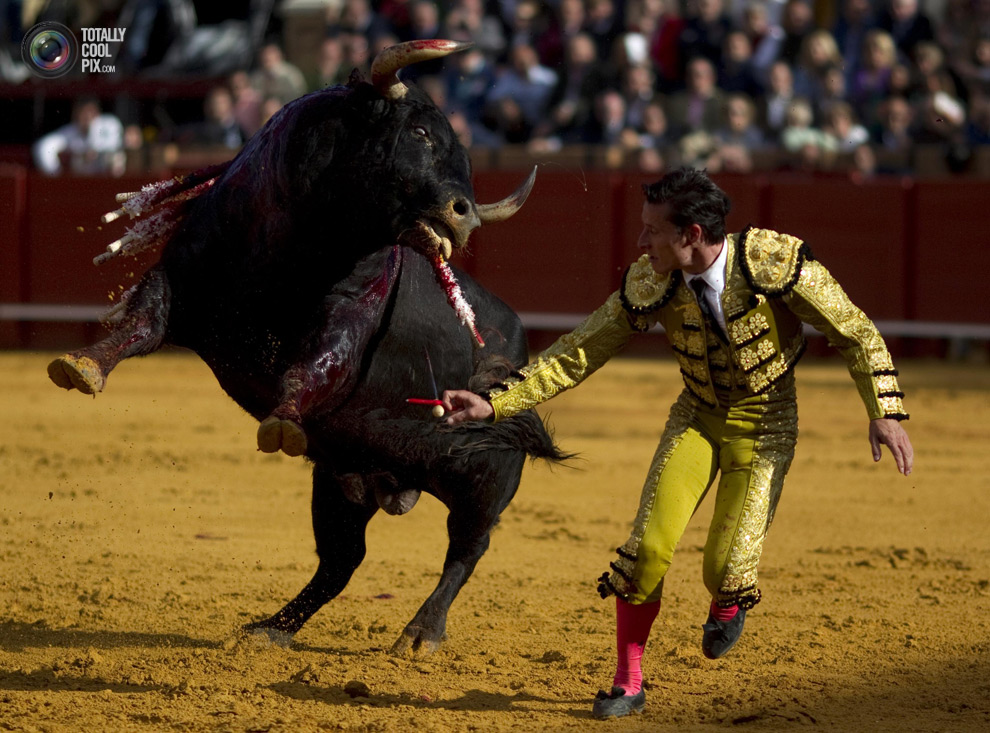 Spanish matador Diego Urdiales runs away from the bull during a bullfight in Seville. Marcelo del Pozo/REUTERS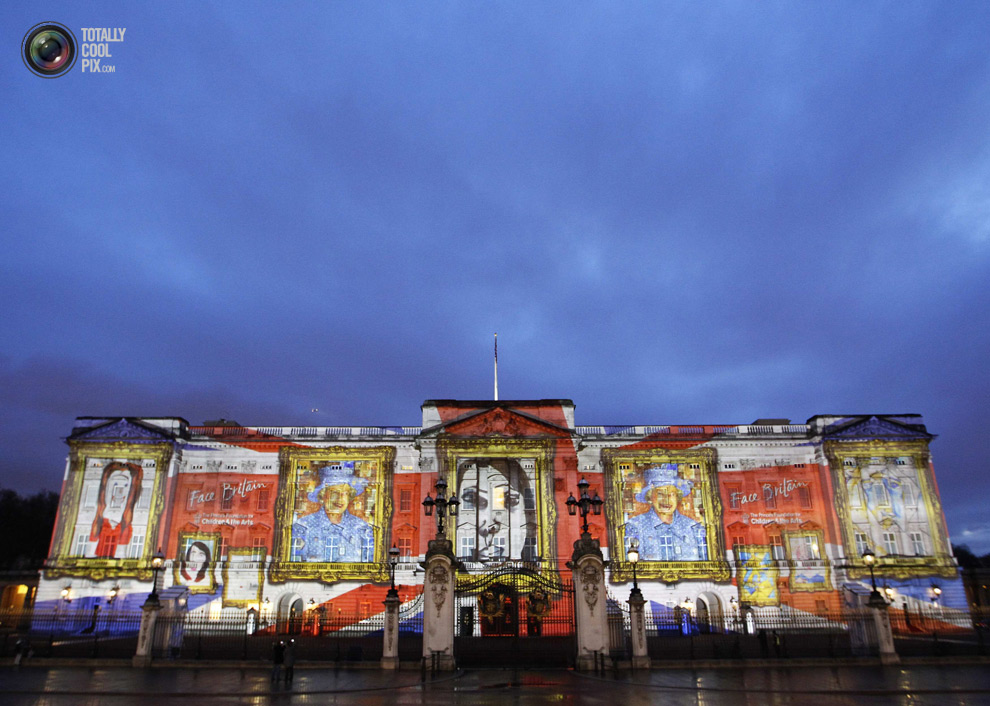 Self portraits by 200,000 children are projected onto Buckingham Palace to form portraits of Queen Eliz