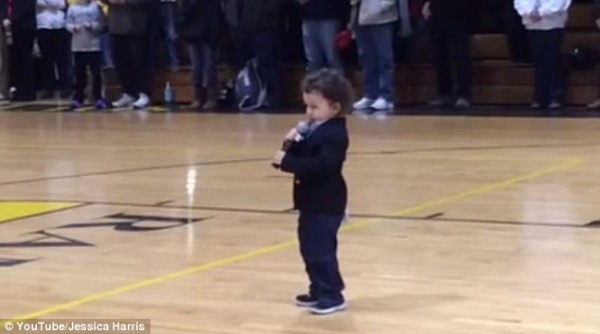 Like huge stars that have presented themselves on stage to sing the national anthem with command, this little boy did just the same, and boy, did he blew us away. While his vocal skill may not have been the "blow away factor" and he fumbled with both the lyrics and the tune, two-year-old Trent Harris' brought down the house with his bravery, stance and patriotism which was all his performance needed to be regarded as "the cutest version of the U.S. National Anthem ever done".
[youtube]https://www.youtube.com/watch?v=vhFTFzSaouA[/youtube]
In an email that was exclusively sent to Huffington Post, Trent's mom Jessica Harris said that the endearing event that occurred prior to a high school basketball game in New Jersey on Wednesday night of last week was possible as she used to sing "The Star-Spangled Banner" to Trent before bedtime. It in truth explains his talent, especially because he skipped the rehearsals to practice for his Wednesday performance and it was instead saved for a couple of rounds on a karaoke machine he had received for Christmas from his aunt and uncle.
As around that time of the year hailed as the NFL season, the national anthem became Trent's favourite song, solidified by watching so many Cincinnati Bengals games. Trent's dad, Clark Harris, happens to be a long snapper for the Bengals. Thanks to social media, Trent took to fame when Mrs. Harris shared a video of him singing the national anthem on Facebook. His life then changed for celebrity when a friend who helps to manage a local high school basketball team asked if he'd be interested in performing the U.S. song of loyalty at their next game.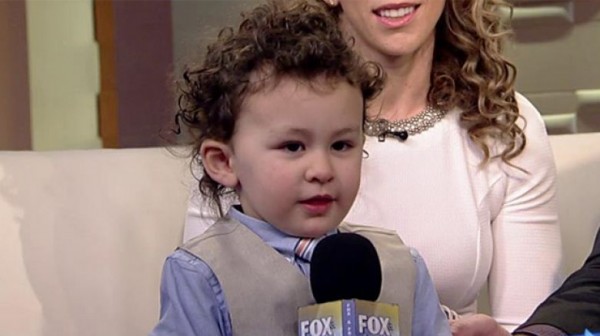 "I said, 'Sure, with no expectations!'" said Harris who then explained that there was a backup plan in place in case Trent became timid. The adorable toddler was nothing close to nervous when the time came for him to take the stage, followed by his dad. Harris, on the other hand, shared that she "was shaking like a leaf," then "cried a little bit when he strutted off the court."
"We are just so crazy proud of him," she ended.