The story is as interesting as the title. Few months ago, a Canadian Samsung fan Shane Bennett contacted Samsung Canada on their Facebook page. He asked them to send him a free Galaxy S3 since he has been a loyal customer to the brand for the past many years. Along with his request he sent a drawing that he made himself, A fire breathing dragon.
Now ofcourse you can't get a phone in return of a drawing, so Samsung Canada politely declined the request but returned a gesture of appreciation with a drawing of their own. The drawing had a kangaroo with a unicycle. This led to a lot of positive publicity for Samsung.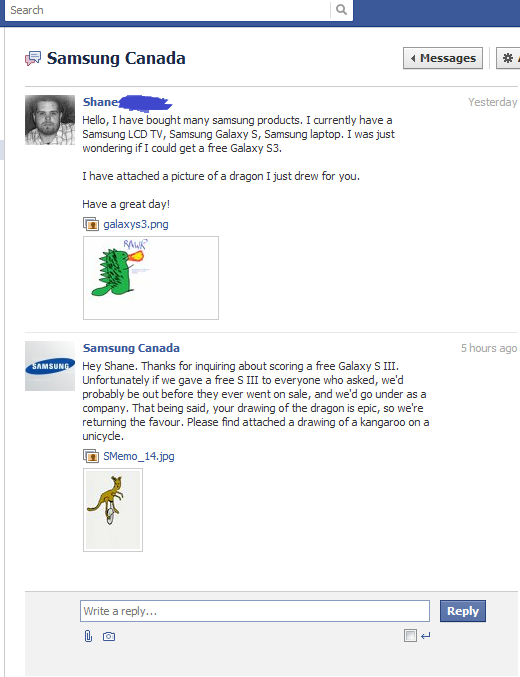 Eventually Samsung decided to call Shane Bennett on exclusive launch party of Galaxy S3 and after that they sent him a customized GS3 phone too. Now its a bit crazy just how the phone was customized. The box had the same drawing of a dragon over it. On opening the box there was a special thanks letter for Bennett from Samsung. And then inside there was a phone with a same drawing of dragon on back and front. The drawing at rear was understandable but the drawing at the front was confusing until the phone was turned on and the first default wallpaper completed it.
Its one of a kind device, so there is no chance that anyone could ever get their hands on these. There are some of the pictures of that device below