The hottest phone of the year and the award winning best mobile phone of era was Samsung Galaxy s2. More than 20 Million phones sold and still counting! The sleek, slim, super fast and super amazing phone took the interest of the mobile market. Even the predecessor of S2 was a big success for Samsung but on arrival of S2 they set record breaking sales. Now talking about the Samsung Galaxy S3, we rounded up a few specs and rumours.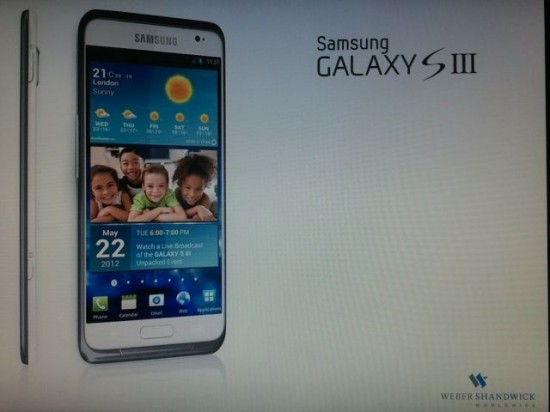 Release Date
The biggest talk of the mobile industry is questioning Galaxy S3's release date. Not only the mobile industry but the  anxious android fans are also waiting for the Samsung to release their new hot cake. Confirmed by many sources we got to know that it was priorly planned to launch in May but recently some news followed telling the mobile industry that Samsung has pull the date to April. So that means that  S3 will be launching in coming month
Processor
The next rumour was about the processor of S3. Galaxy S3 is simply bound to have a Dual-core processor since it was in its predecessor but the rumours tell us that Samsung has planned to boost it with Quad-core processor, this will definitely be the first of its kind phone to have Quad-core in it.
Memory
Presence of of 1 GB RAM will be a obvious thing. We heard that a 2 GB RAM would be followed in GS3 but this isnt a reliable news since we can't claim the phone builders to give more RAM, as 1 GB would be a good enough memory to run Quad-Core. But if any thing more than 1 GB comes up than surely it would be the first ever phone to cross 1 GB title.
Asking about the SD card slot, we are pretty sure that Samsung will be giving the SD card slot in S3, as many rumours also confirm this and moreover possession of SD card slot in Nexus Prime also supports this rumor.
Display 
We are quite hopeful that Samsung will be putting a screen more than 4.3″ (since its predecessor had it) and after all the next Samsung phones like Galaxy Note and Nexsus Prime were having huge 5.3″ and 4.65″ screen respectively. So we can predict that the rumours may be having justice with telling 4.7″ screen. In addition to the screen size, the display would be Super Amoled + HD Display.
Camera
Confirmed from many sources the new camera in S3 would be of 12 MP built flat on the backside of the handset which means there will be no more bumps for the camera portion like S2.
Wireless Charging
Say bye to old wire charging as the new Galaxy S3 would be coming with wireless charging. This news is confirmed by many sources as well.