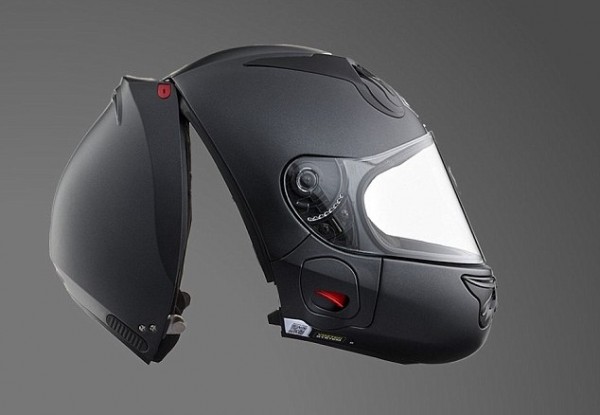 In an attempt to make motorcycle gear safer but sleeker at the same time, a new helmet has been designed. The rear-hinged Vozz Helmet ensures that it is easy to remove at your wish and not during impact with fasteners that click together to close around the head. The 'shell' structure of the helmet can be incorporated into the design of any full-face helmet as its Australian developers say.
[youtube]https://www.youtube.com/watch?v=LoJsU5ZbB8E[/youtube]
Vozz Mark Bryant and Johnny Vozzo are the creators of the radical motorcycle helmet that is utilized with a rear-access system. The website of the helmet shares that the rear-access system allows for the chin bar to hug your jaw closely, rolling at the lower edge to form a rounder shape. The helmet also features directional visor stability (DVS), which is created through a three-point locking system when the helmet is closed. This is how security is ensured. Wind is also prevented from making its way inside to lift the helmet off with a lower-edge guard.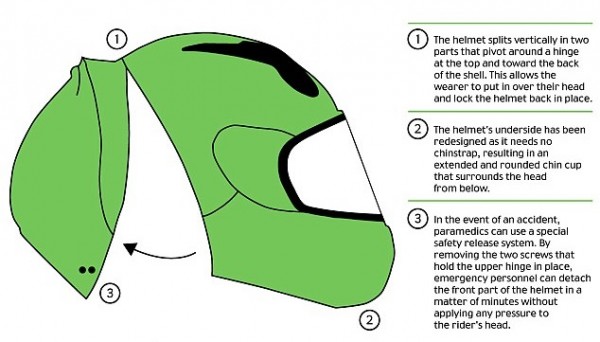 While the traditional helmets are utilized with an opening at the bottom, which may not allow a close fit, the new revolutionary helmet's rear-opening sees to it that the structure snugs to your head when you're out riding your motorcycle. The typical motorcycle helmets tend to present two difficult issues of removal: coming off during impact and no coming off afterwards. This, the company says, is due in large part to the chin straps. As you ride along, the chin strap can loosen, making it vulnerable to undesired removal. In the case of impact, sometimes helmets have to be cut off at the scene for responders to safely access the head. The emergency safety release system of the Vozz Helmet, which clicks open the shell, will solve this. There is also a fully adjustable chin strap that has been designed to prevent strap creep, and roll the lower edge of the helmet and eliminate snag points.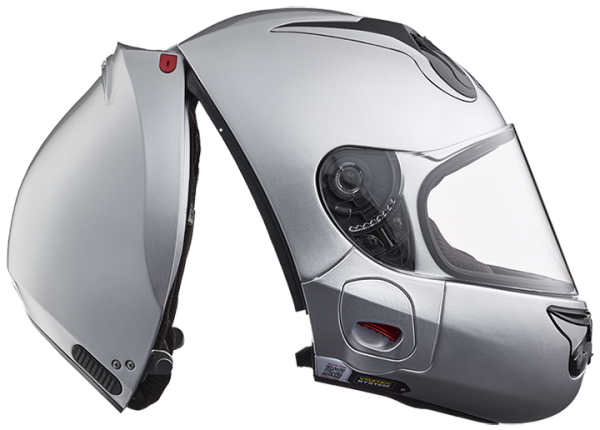 Each helmet produced will undergo a quality assessment, and the creators have partnered with an International Organization for Standardizations (ISO) 9000 certified manufacturer to ensure utmost safety, the website says. The helmet will be available globally, though a dealer is currently only available in Australia. Multiple sizes for the shell and liners make for a more customized fit, and purchasers can choose from a combination of three shell sizes, three ESP liners, and comfort liners.