Dual & Triple Screen Laptops are Real!
I don't know about you, but I have a really hard time being productive on just a single monitor. For me, I need at minimum 2 screens, and ideally 3. This allows me to have my main tasks on the center screen, with my emails/Slack set up on a 2nd screen and finally, the third screen for a secondary task or for reference material. At home, this is not a problem, but whenever I was on the go, my productivity dropped significantly. Thankfully, technology has finally caught up with the Mobile Pixel Trio Max. The portable external monitor of that I have been vying for is finally a reality.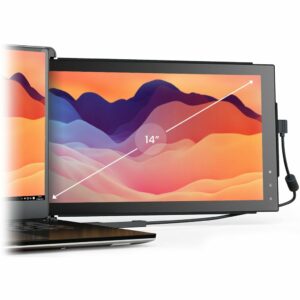 The Mobile Pixel Trio Max (Retail price: $379.99) that we reviewed was the 14-inch model that came in a Metallic Black color.
Trio Max Specs
The specs for the monitor, according to the product page are the following: 
Brightness: 300 Nit

Refresh Rate: 60 Hertz

Resolution: 1920 x 1080

Aspect Ratio 16:9

Weight 2.2 lbs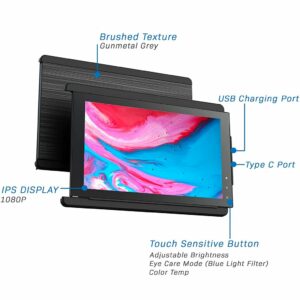 The Trio Max can work in a number of different setups. Whether you just need a 2nd monitor for your laptop or a bigger portable screen for your gaming on the go, the Trio Max works as promised. 
We hooked up the Trio Max to an ASUS – ROG Zephyrus 14" Gaming Laptop with an NVIDIA GeForce RTX 3060 running the show. At no time did we have any issues with the laptop picking up the dual-screen for either gaming or regular computing tasks. 
Trio Max for Gamers
In regards to gaming, we ran a few different scenarios. On one screen we ran a pretty sizeable Excel spreadsheet and on the other, Age of Empires IV. We had no slow down or any downgrade in the gameplay when switching the game from our main laptop screen over to the Trio Max. The only slight difference was in the brightness of the screen, which after a few moments, we were able to ignore and just focus on the game.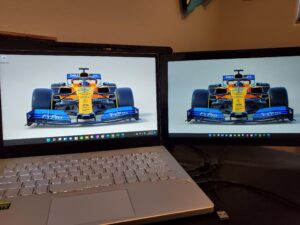 For the other scenario, we hooked up a Nintendo Switch to the screen on its own. At this point, we had removed the Trio Max from our laptop and just had it sitting on the desk with our Nintendo Switch hooked up. My son and I were able to enjoy some Smash Brothers without any issue. This type of scenario would be perfect for those long road trips, with two kids in the back seat who want to game together but wouldn't be able to normally. The Mobile Pixel site references this briefly, but in my opinion, this could be great for parents and should probably be promoted further. I know my kids will be using it during our next road trip. 
The final gaming topic that I would like to address, which I don't think is mentioned anywhere else, is the ability to get a triple-screen experience going on the go. Why is this important? Sure the Mobile Pixel site mentions the ability to add a 2nd Trio Max to your setup, thus getting a triple screen experience, but in terms of gaming, this could be a real game-changer. I am into sim racing big time, and for me having the option to take a portable sim racing rig with me on trips would be amazing. Sure I would need to bring a portable wheel and pedal system with me, but if I were going away from my main racing rig for a few weeks, I would definitely consider this as an option so that I don't miss out on any iRacing league races.
Before we go, there is one fault that needs to be addressed in my opinion and that is the support of the Trio Max's weight when fully extended. The monitor seems to tilt down the farther away from the base, which is not ideal. This is easily fixed by just placing any one-inch-thick item underneath, however, it would have been nice to have some sort of kickstand that drops out from the bottom to help make it feel more secure. Other than that, I have been thoroughly impressed with the Trio Max, and I have already looked into purchasing the 2nd Trio Max so that I can get that triple monitor experience. 
Quick disclaimer: The Trio Max that was reviewed was provided to RealityPod.com by Mobile Pixels. This did not influence our review but we wanted to make sure that you were aware of this so that you could make your own judgment on the validity of this review. Mobile Pixel did not edit this review nor did it make any specific content requests.