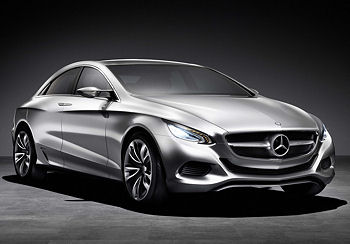 The Mercedes-Benz F800 Concept is bringing its slick silver sleekness to the Geneva Motor Show next month and M-B has animated the concept, showing off the car's various and progressive components. That kind of versatility might still be a ways off, but it's good to see a mass luxury maker designing hot bodies around a variety of green internals.
It is packed with Good Green Stuff and, perhaps more interestingly, hints strongly at Mercedes' future styling direction.
The F800 Style is a four-door coupe that, we're told, features many of the styling cues expected on the next-generation CLS and, perhaps, Mercedes' CLC replacement, expected some time in 2013.
Which means a fairly heady mixture of SLS bits, the somewhat squinty front end from 2008's BlueZero concept and – yeah, you've spotted it too – surface styling with more than a hint of Mr Bangle's work.
As well as doing the design-preview thing, the F800 also shows off Mercedes' green drivetrain developments. It's powered by a plug-in hybrid, which matches a 223kW, 3.0-litre V6 to a 81kW electric motor, integrated into the seven-speed gearbox and drawing power from a lithium ion battery.
Mercedes says the F800 will manage 120km/h and a range of 30km in electric-only mode, but when the petrol engine is running, things become rather more impressive: 0-100km/h in 4.8 seconds and a top speed of 250km/h. Combined economy is quoted at 2.4 litres/100km, with CO2 emissions of 68g/km.
The F800 also features Merc's new 'MFA' architecture, a flexible platform that supports a wide range of wheelbases and configurations. The F800 has also been designed to support a fuel-cell powertrain.
There is, as you'd expect, a multitude of cleverness on board. Those rear doors are sliding affairs, because – well, just because they are, so there – and there's a touchpad centre console to control the car's entertainment system, similar to the unit on the new Audi A8. It outdoes the Audi in one respect, though: Merc's touchpad boasts a camera that monitors your hand as you navigate around the screens.
In short, there's a lot of stuff going on with the F800. We'll have another shot at picking it apart – metaphorically, we mean – when we see it in Geneva. Until then, what do you think of Merc's new style direction?