FEB 21
Mass Production of China in Pictures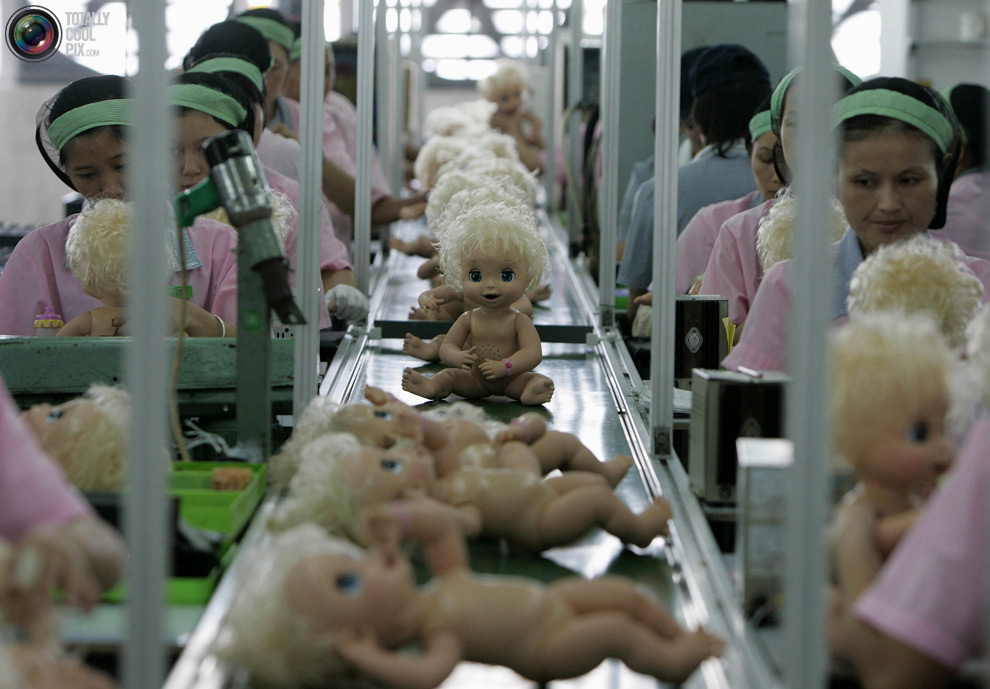 In 2010 China passed Japan as the world second largest economy based on GDP figure. It now only has the United States above it, but it can only be a matter of years (10 to 15) before it reaches the top spot. A combination of cheap labor and a can do attitude has transformed China from a mainly agricultural society to one that has become the world's factory. Everything from cars to toys to highly delicate electronic goods such as your iPhone or Motorola Xoom tablet are made in China.
With its output of relatively cheap products China has enabled many in the world to better their standard of living. Whether it is someone in Brazil, Africa, Europe or America, they've all profited from China's cheap goods. However, there is a downside to this, with consumers voting with their wallets and often buying the cheaper
Made In China
products, local producers have found it increasingly difficult to compete. The end result is less production locally, meaning less work, meaning more unemployment, meaning buying even more cheap goods from China. As a consumer we are happy with these luxury items which have all of a sudden become attainable, but as a worker we should be worried. China's success could mean economies in Africa and South America need to find new ways to stay competitive. And not even Europe and the United States are safe. One dominating player is and has never been good for anyone.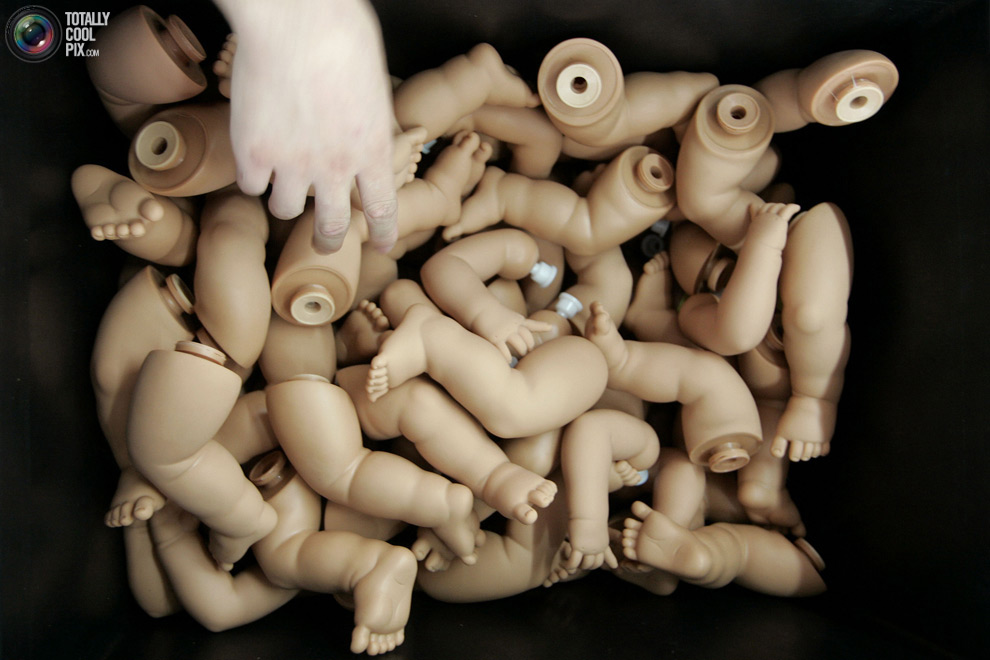 02. A labourer works at a production line at a toy factory in Panyu, south China's Guangdong province, September 4, 2007. Chinese President Hu Jintao, domestically stronger than ever, will have to defend the made-in-China label and is likely to face questions about trade and investment policies at an Asia-Pacific summit this week. REUTERS/Aly Song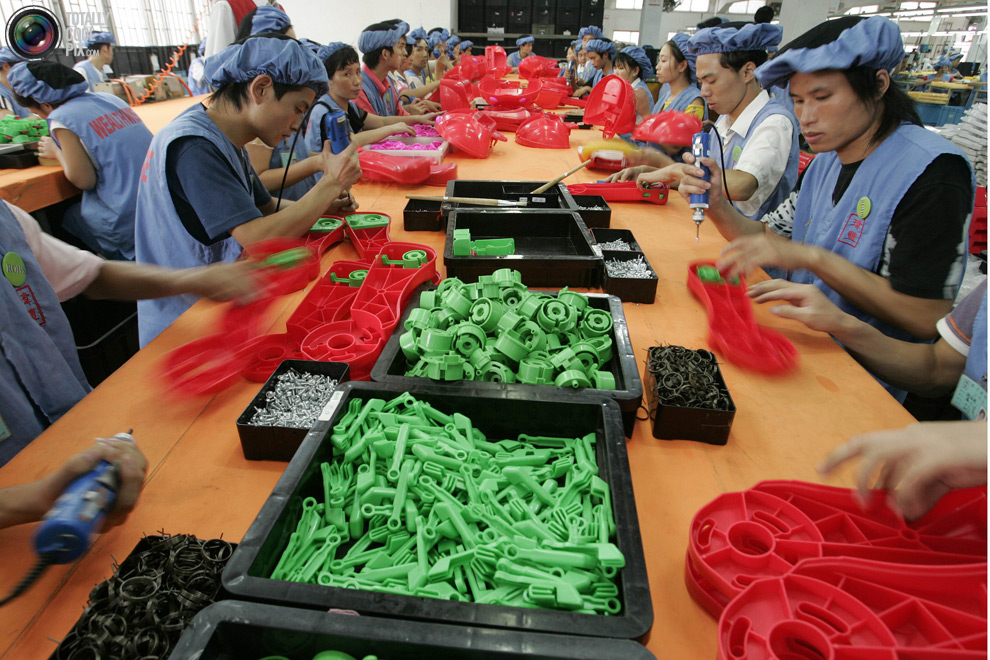 03. Labourers work at a production line at a toy factory in Panyu, south China's Guangdong province, September 4, 2007. Chinese President Hu Jintao, domestically stronger than ever, will have to defend the made-in-China label and is likely to face questions about trade and investment policies at an Asia-Pacific summit this week. REUTERS/Aly Song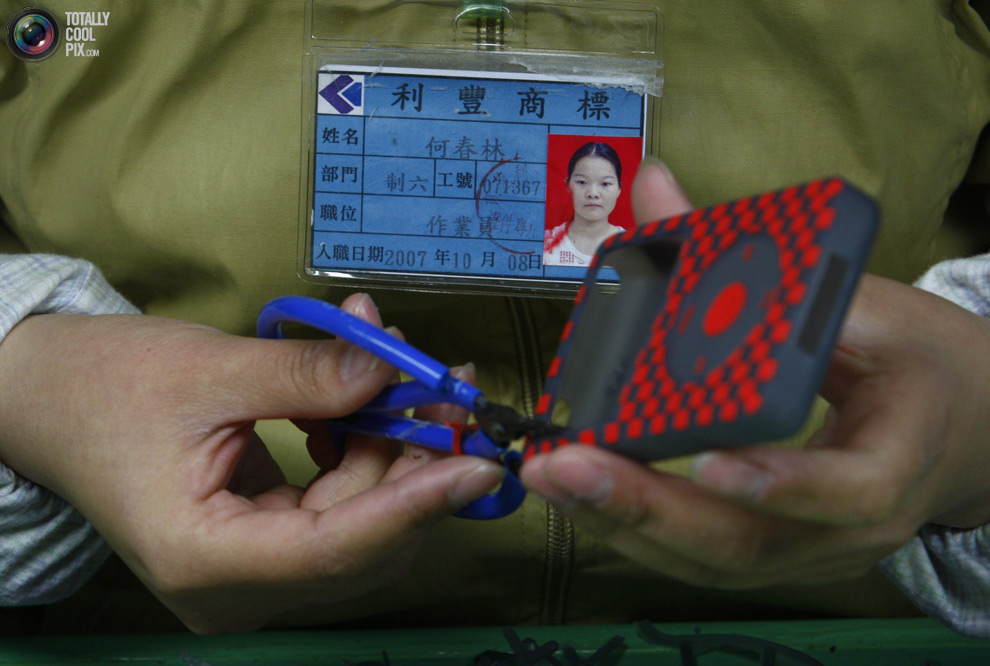 04. He Chunlin works at a label manufacturing factory in Dongguan, southern China's Guangdong province January 25, 2008. China's gross domestic product growth will probably slow to 10.8 percent this year from 11.4 percent in 2007 as the government implements a relatively tight monetary policy, the leading government think-tank has forecast. REUTERS/Jason Lee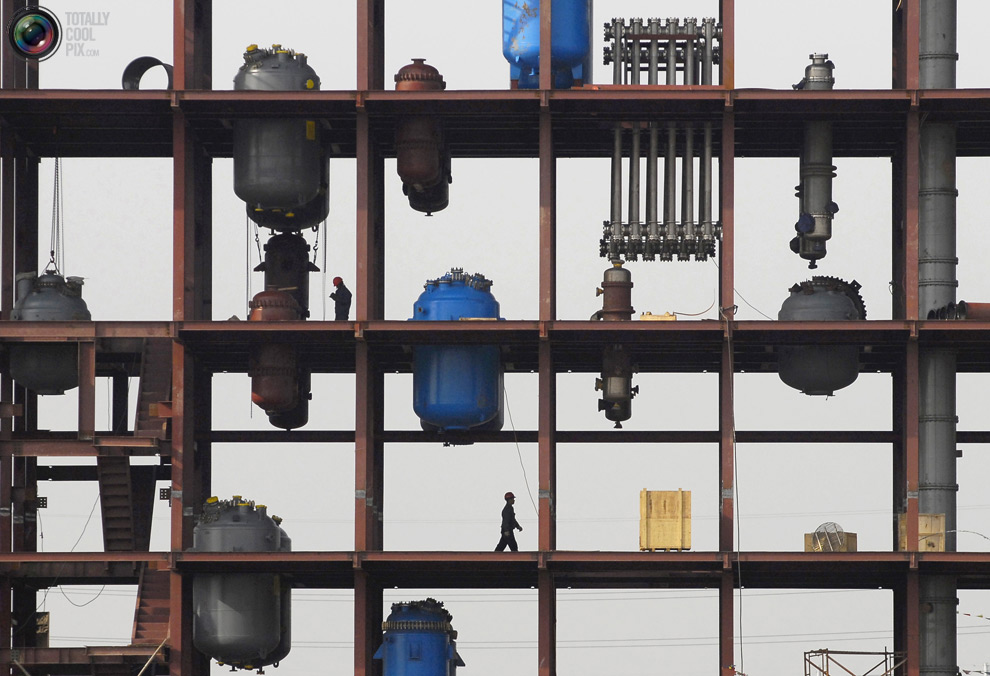 05. Labourers work at an under-construction chemical factory in Huai'an, Jiangsu province, March 2, 2008. REUTERS/Patty Chen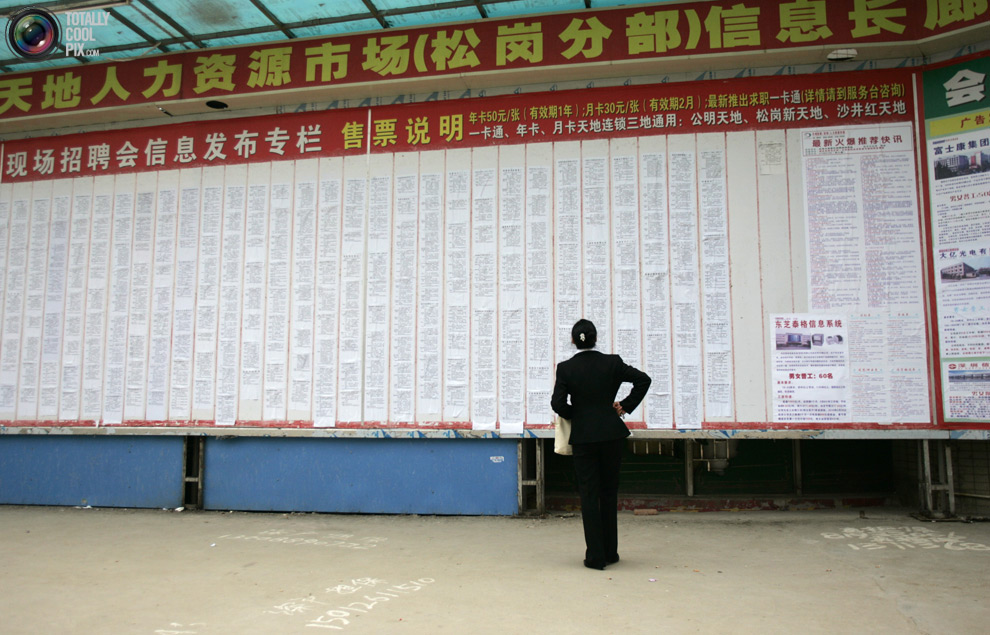 06. A job seeker looks for work at the near deserted Xintiandi employment centre, in Songgang town, Shenzhen January 22, 2010. Many factories in China's export hubs of the Pearl River Delta are scrambling to recruit and retain workers, sometimes illegally, as Western orders for Chinese goods gather pace again, while labour shortages loom. The annual Lunar New Year holidays in February are expected to bring a fresh wave of labour shortfalls which could curtail the potential and manufacturing capacity of China's vital export sector. Picture taken January 22, 2010. REUTERS/James Pomfret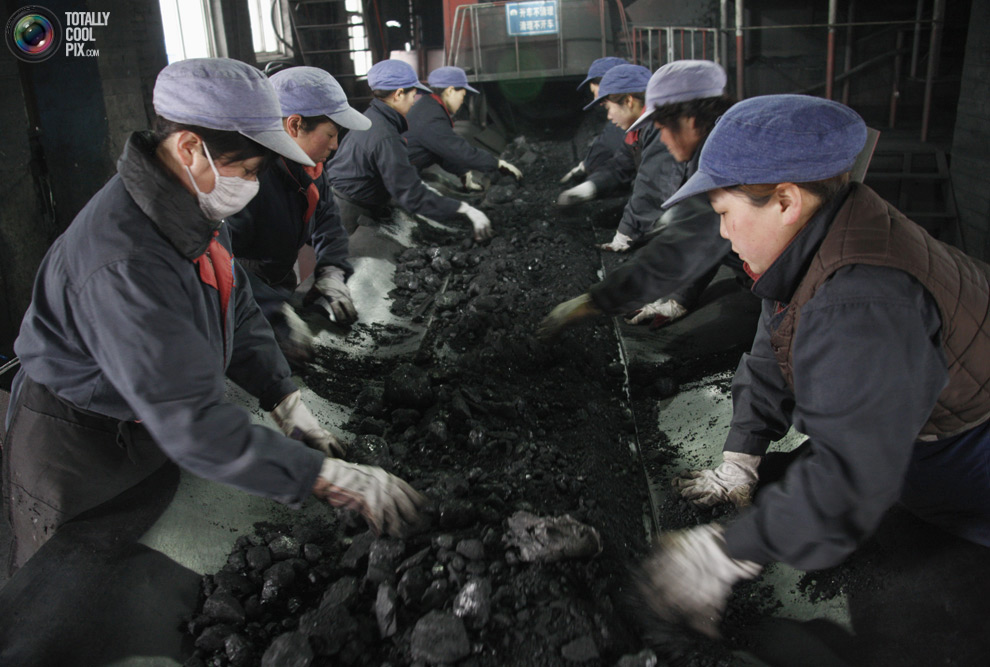 07. Labourers filter out stones from cinder at a workshop of a coal mine's coal washery in Huaibei, Anhui province March 8, 2010. This year China is targeting national coal output of 3.15 billion tonnes, a 3.3 percent increase, the country's economic planning ministry, the National Development and Reform Commmission, said in its annual economic plan on March 5. REUTERS/Stringer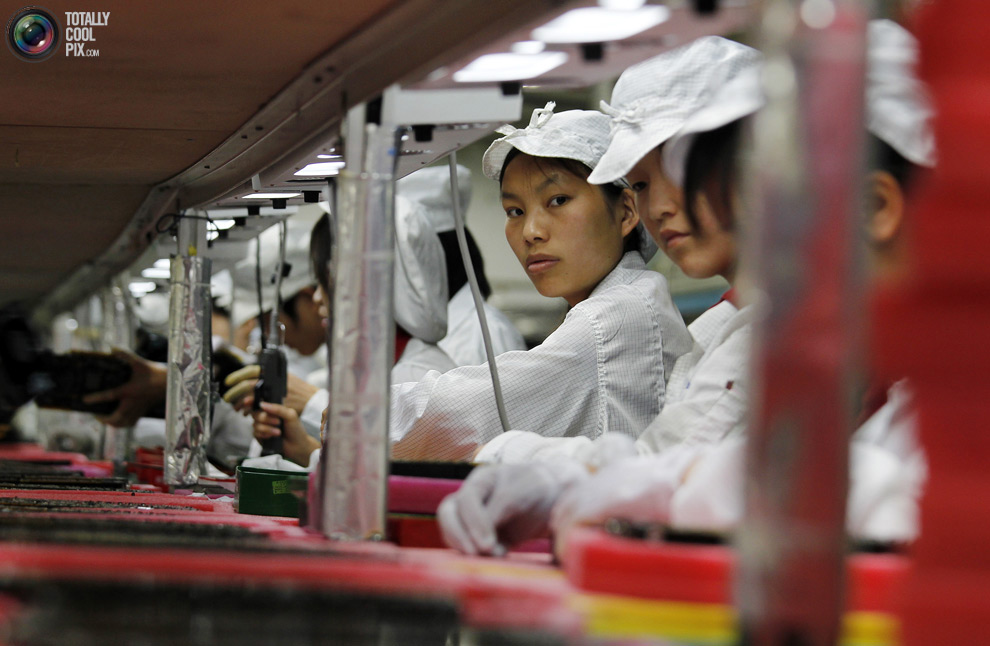 08. Workers are seen inside a Foxconn factory in the township of Longhua in the southern Guangdong province May 26, 2010. A spate of nine employee deaths at global contract electronics manufacturer Foxconn, Apple's main supplier of iPhones, has cast a spotlight on some of the harsher aspects of blue-collar life on the Chinese factory floor. REUTERS/Bobby Yip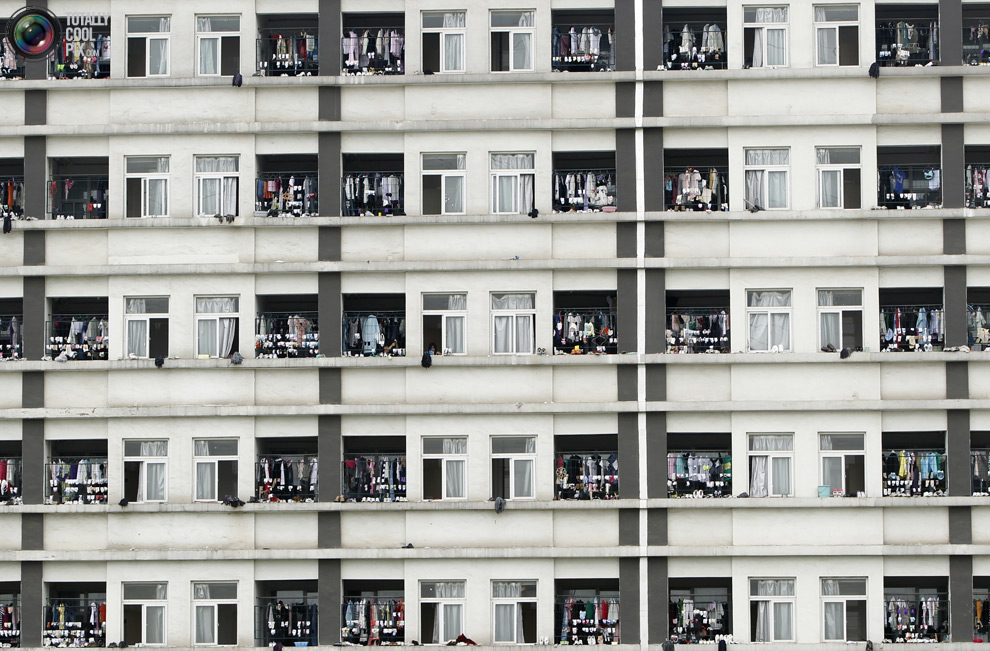 09. Clothes hang from windows at a dormitory for workers of an electronic factory in Suzhou, Jiangsu province June 8, 2010. REUTERS/Aly Song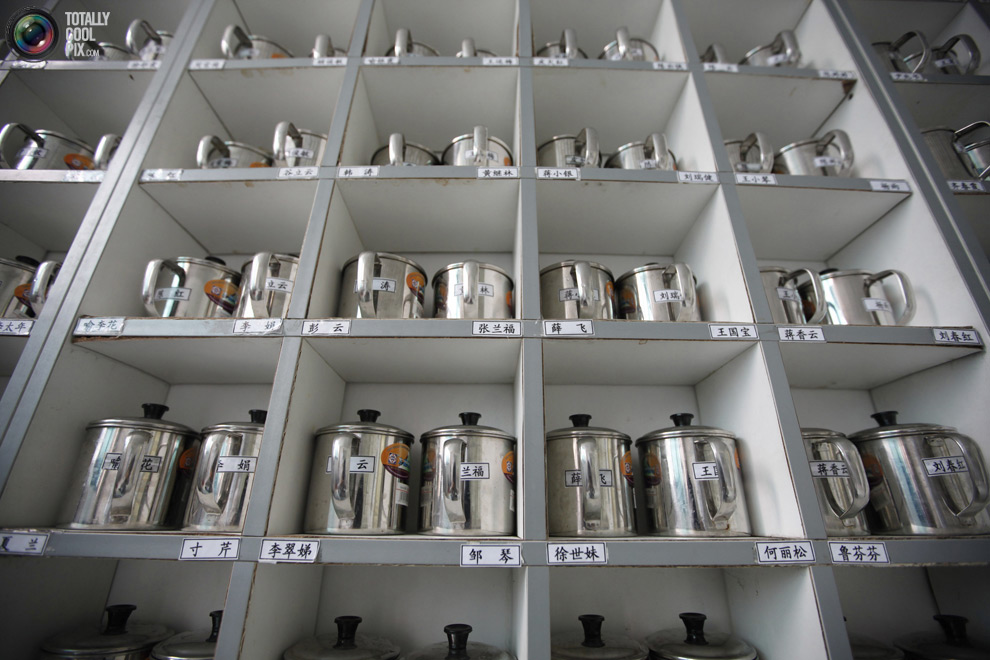 10. Employees' metal mugs are arranged in a cupboard at a resting area in Suzhou Etron Electronics Co. Ltd's factory in Suzhou, Jiangsu province June 8, 2010. The factory employs more than 200 workers and manufactures electronic products mainly for export to the U.S. and European markets. REUTERS/Aly Song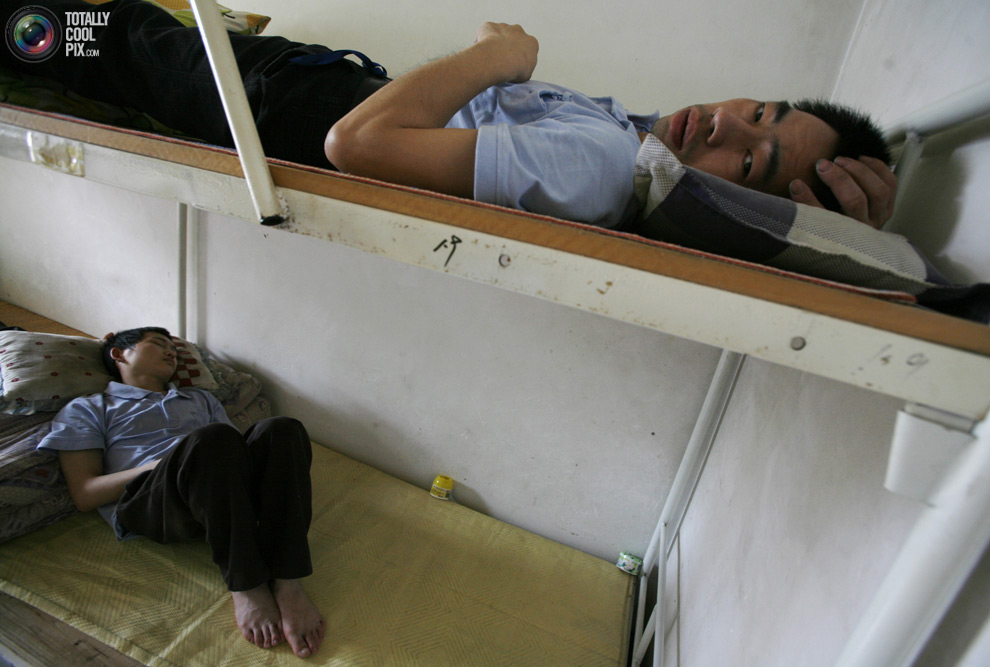 11. Workers rest inside their hostel after lunch inside a shoe factory in Ganzhou, Jiangxi province June 21, 2010. With the yuan now climbing again, factories in China's coastal export hubs are fretting that a stronger currency will compound a sharp rise in wage and production costs. But an abundant supply of cheaper workers means that plants sprinkled in the interior are somewhat insulated from the surging wage demands that have sparked a series of headline-grabbing strikes in the powerhouse province of Guangdong. Take Ganzhou, a newly emerging industrial region in Jiangxi province, just to the north of Guangdong. Picture taken June 21, 2010. REUTERS/Bobby Yip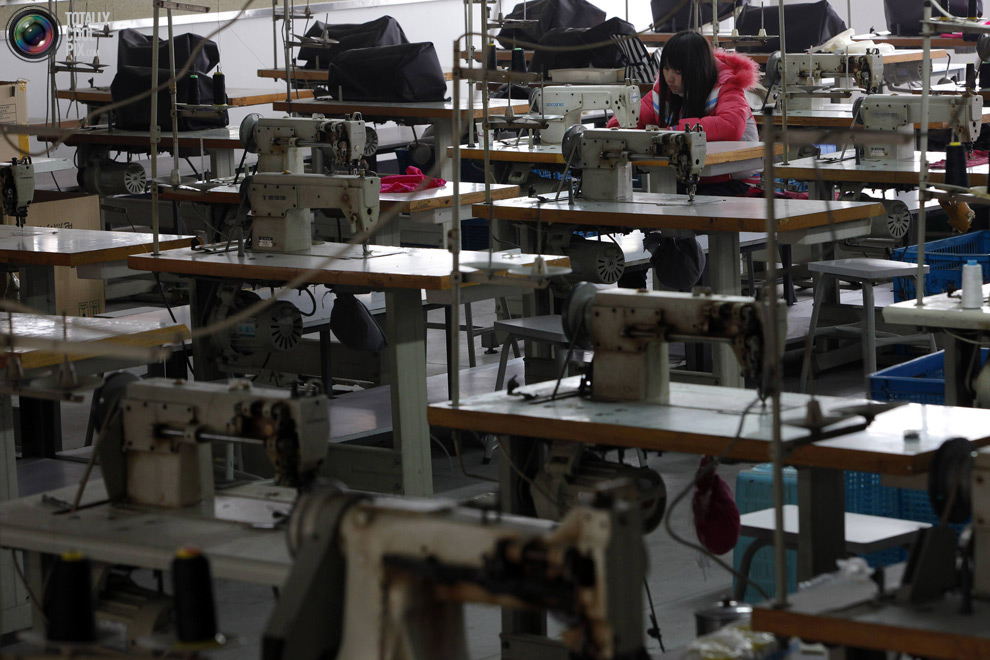 12. A worker works while surrounded by unmanned sewing machines at the production line of a bag factory in Yiwu, Zhejiang province, February 15, 2011. China's booming coastal provinces are facing a labour shortage after the Lunar New Year holidays as the seemingly endless flow of migrant workers dries up. More and more workers in the traditional manufacturing belts in the Pearl River and Yangtze River deltas are staying back in their home villages in the countryside due to rapid urbanisation and economic development in China's interior. The machines are unmanned due to labour shortage, according the factory management. REUTERS/Aly Song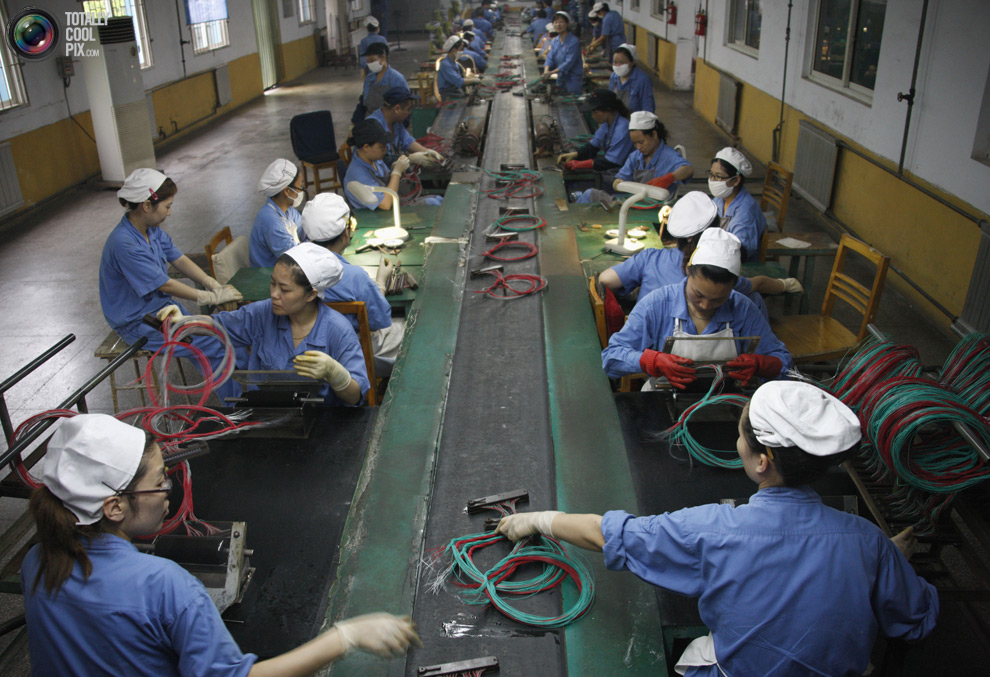 13. Employees make fuses at a dynamite production line of a chemical plant in Huaibei, Anhui province, July 1, 2010. The pace of Chinese manufacturing growth slowed in June as government steps to cool the red-hot property market and restrain bank lending combined with uncertainty over export prospects to dampen sentiment. REUTERS/Stringer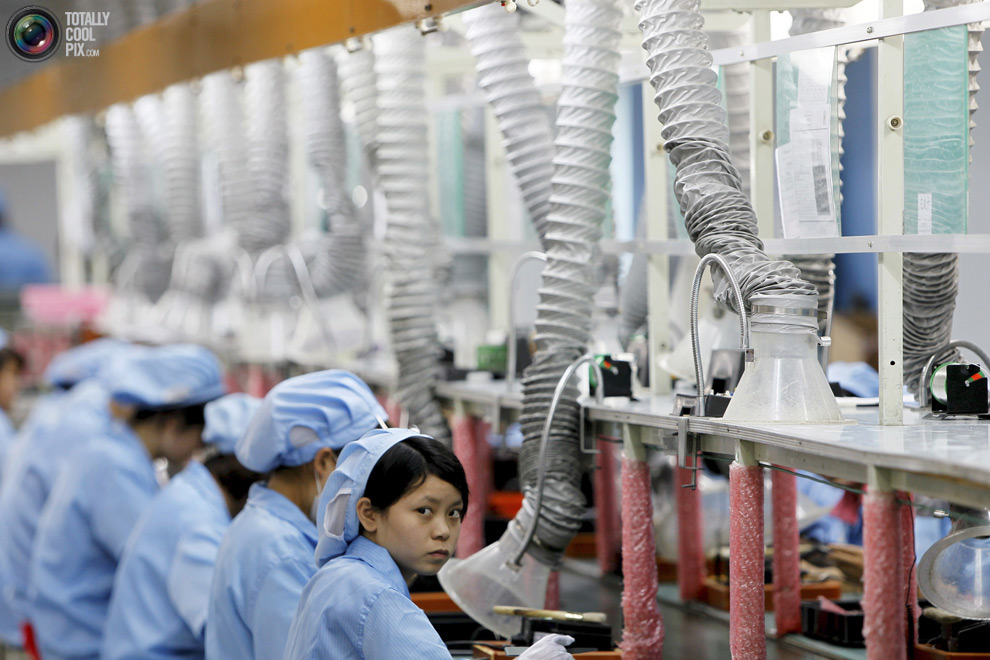 14. An employee looks up while working along a production line in Suzhou Etron Electronics Co. Ltd's factory in Suzhou, Jiangsu province in this June 8, 2010 file photo. China may be the workshop of the world, but young rural migrant workers are less accepting than their parents were of life in the factories — low pay, gruelling hours, and sometimes martial workplace rules. A spate of worker suicides at the tightly guarded factories that make gadgets for Apple and other electronics companies has also highlighted their plight, becoming a cause celebre for migrant workers who followed the stories online — as well as an embarrassment to the foreign companies that depend on the plants. REUTERS/Aly Song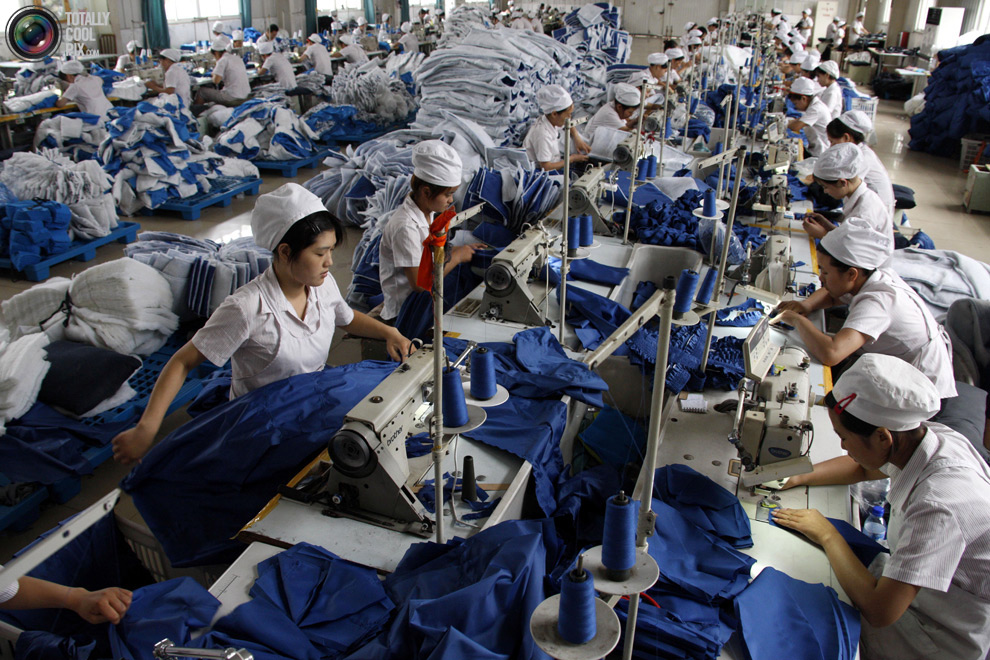 15. Employees work at a production line of a garment factory in Huaibei, Anhui province July 8, 2010. The International Monetary Fund upgraded its 2010 global growth forecast on Thursday, citing robust expansion in Asia and renewed U.S. private demand, but warned the euro area's debt crisis posed a big risk to recovery. REUTERS/Stringer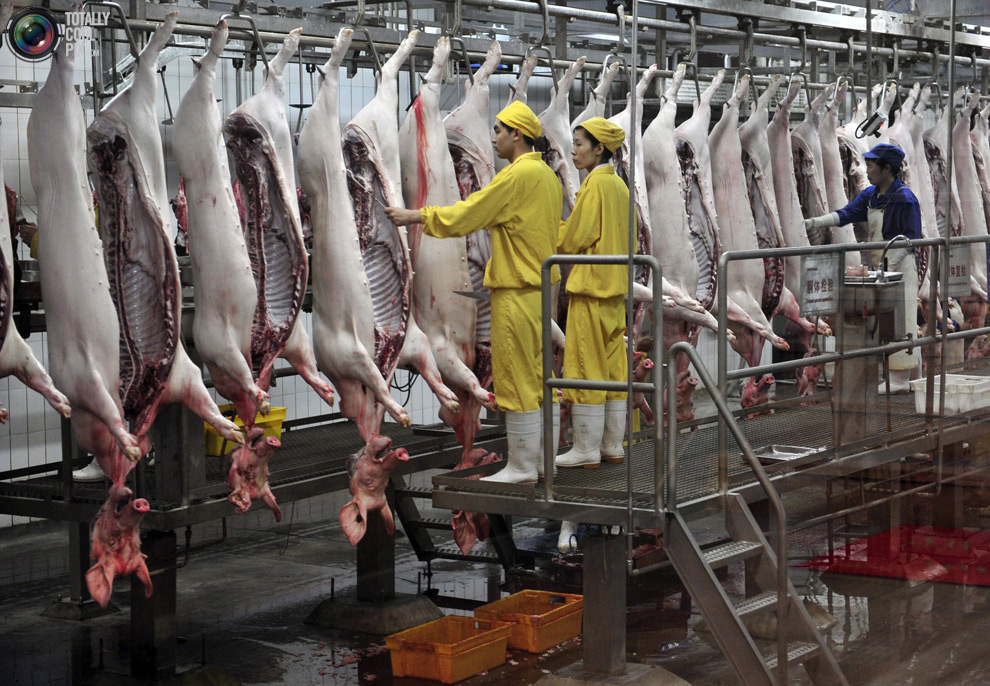 16. Employees inspect slaughtered pigs on a production line at a pork processing factory in Shenyang, Liaoning province July 15, 2010. China's economic growth slowed in the second quarter to 10.3 percent from a year earlier, a touch weaker than expected, in response to the fading of government fiscal and monetary stimulus. Picture taken through glass. REUTERS/Sheng Li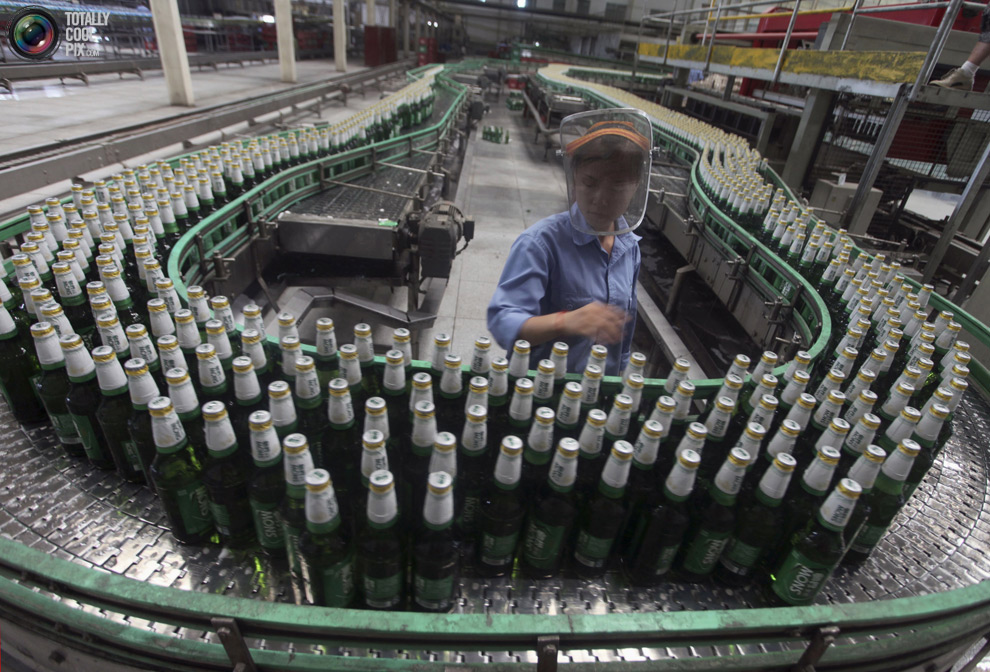 17. A labourer works at an assembly line in a factory of China Resources Snow Breweries Co., Ltd. in Lanzhou, Gansu province August 25, 2010. REUTERS/Stringer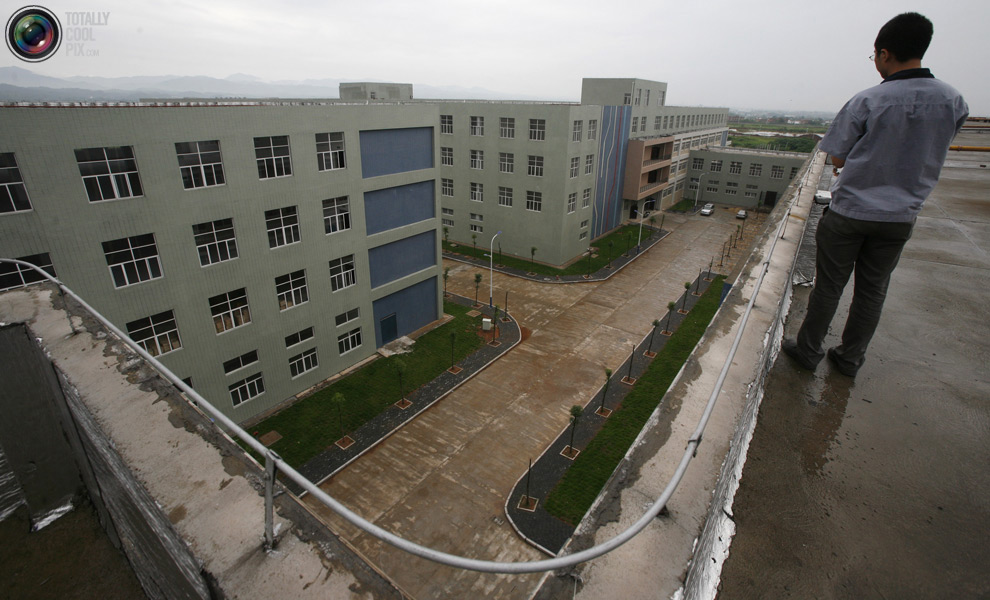 18. Newly built factory buildings are seen in Ganzhou, Jiangxi province June 22, 2010. Picture taken June 22, 2010. REUTERS/Bobby Yip/Files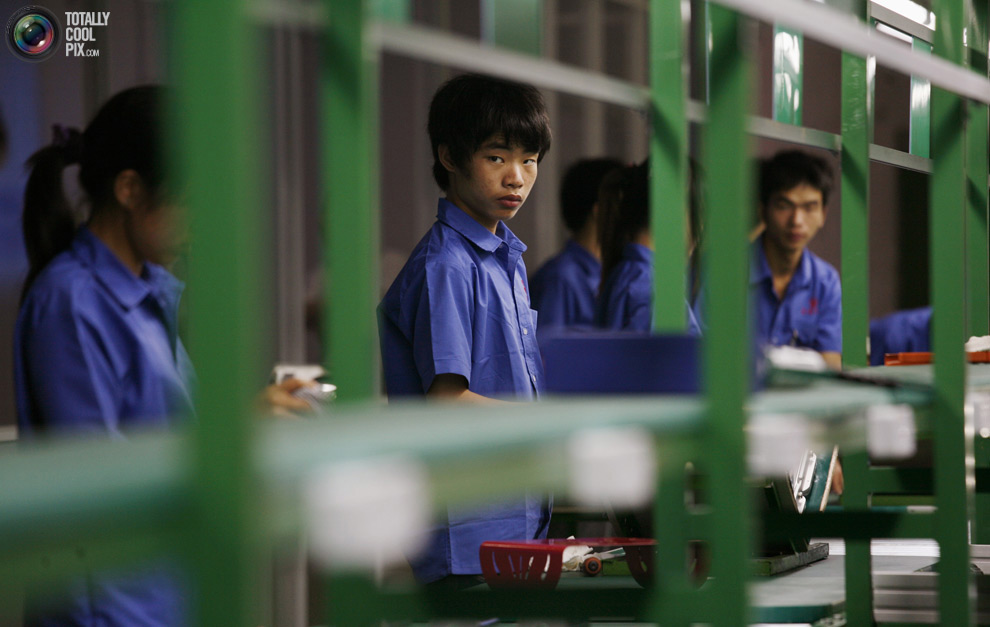 19. Workers are seen in a lighting factory in Ganzhou, Jiangxi province June 22, 2010. Picture taken June 22, 2010. REUTERS/Bobby Yip/Files )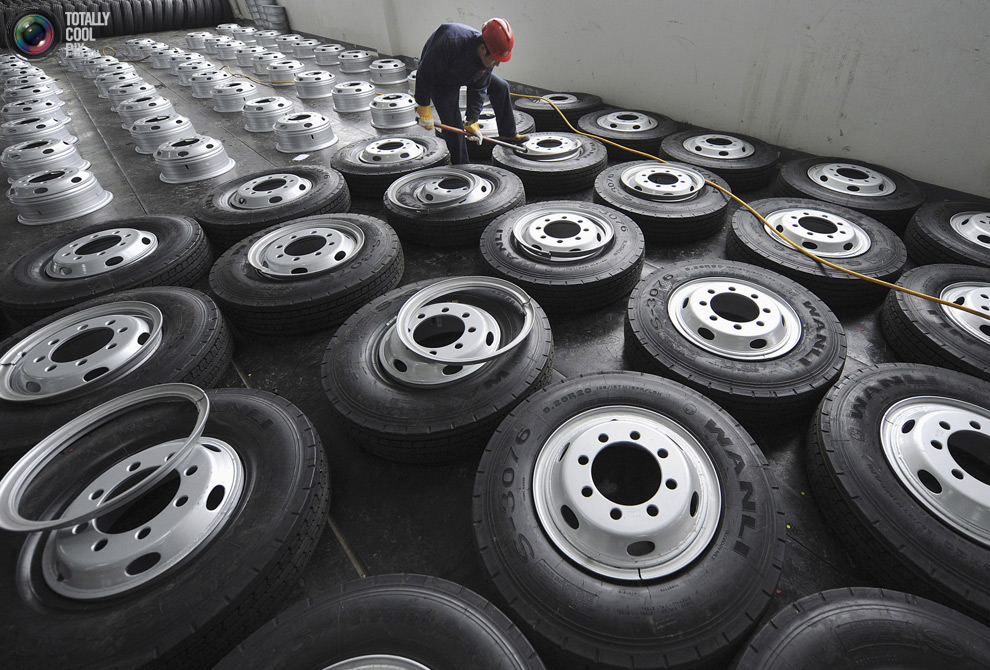 20. An employee installs tire rims at a factory of Zhengxing Wheel Group Co. Ltd in Hefei, Anhui province January 20, 2011. China finished 2010 with a bang, its growth soaring past expectations while inflation slowed just a touch, numbers that could prod the government to ratchet up its easy-does-it approach to tightening. Important December data, from factory output to investment, painted a picture of solid expansion, showing that the world's second-largest economy was still free from overheating, despite the surprise jump in growth. REUTERS/Stringer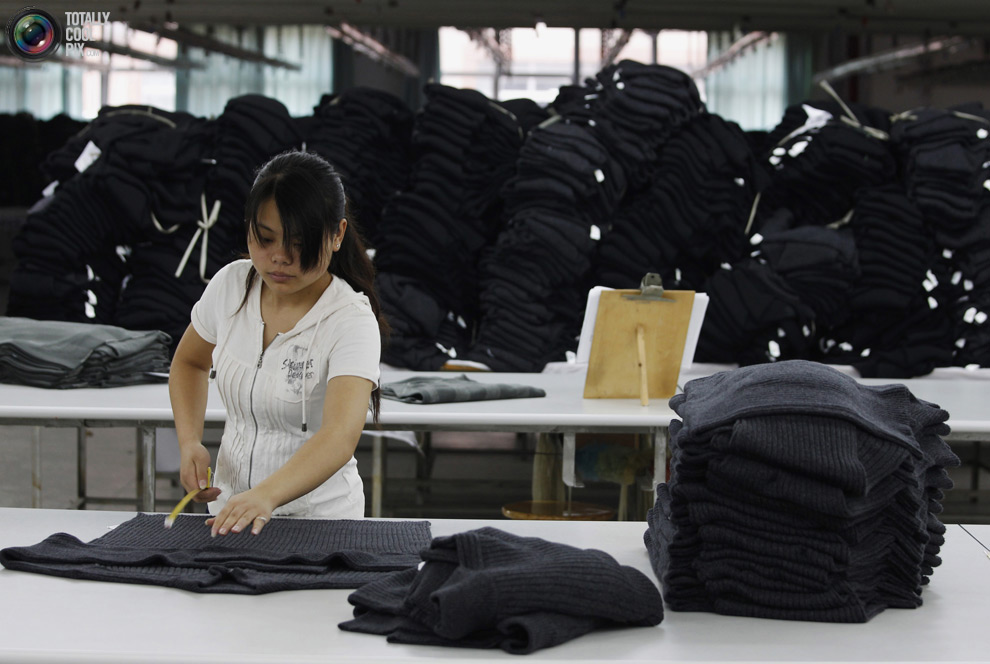 21. A worker is seen in a garment factory in Ganzhou, Jiangxi province June 22, 2010. Picture taken June 22, 2010. REUTERS/Bobby Yip/Files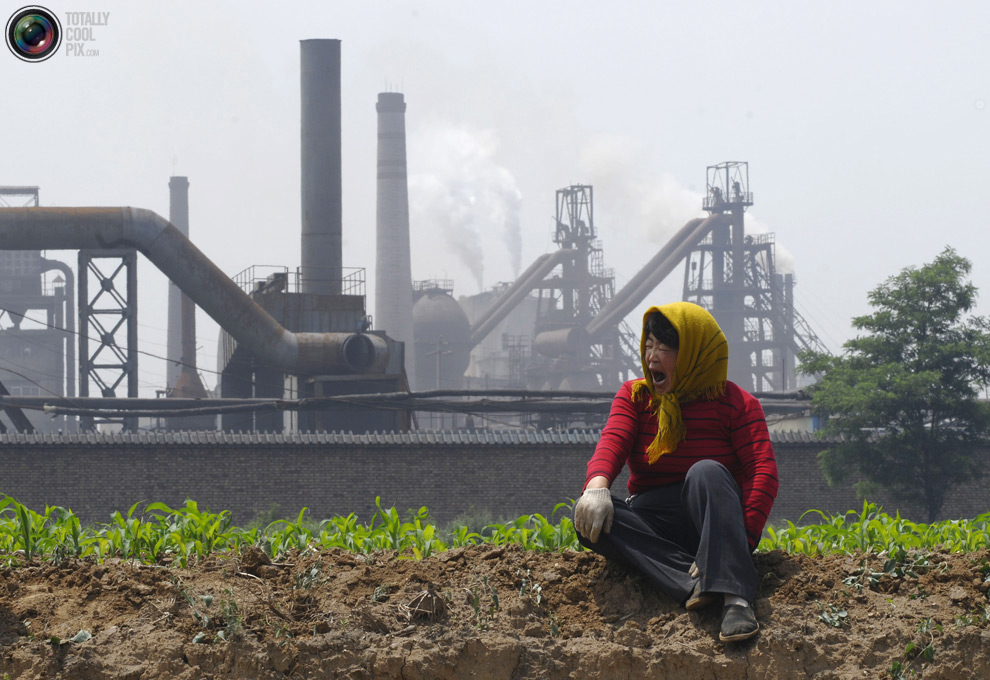 22. A farmer rests in her corn field near a coking factory in Changzhi, Shanxi province June 8, 2009. Global warming is fast rising in the pile of crises facing China as it pursues the unshakeable goal of economic growth while grappling with international pressure to curb its greenhouse gas output. REUTERS/Stringer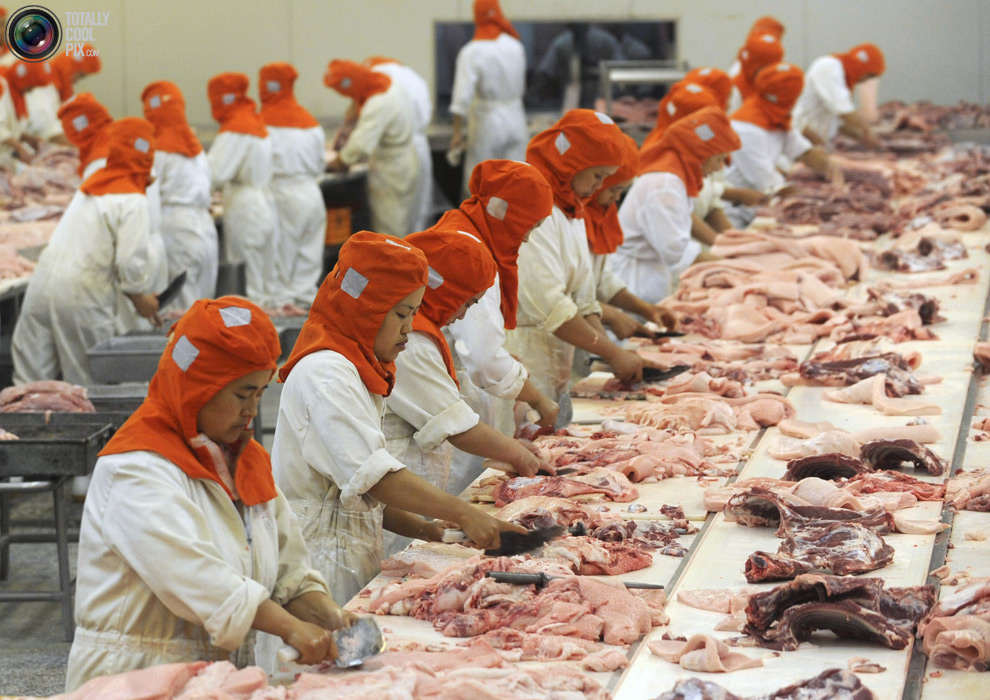 23. Employees work at a workshop of a pork processing factory in Chengdu, Sichuan province June 16, 2009. China, the world's largest pork producer and consumer, has initiated stockpiling of frozen pork to help support pork prices, the commerce ministry said. Picture taken June 16, 2009. REUTERS/Stringer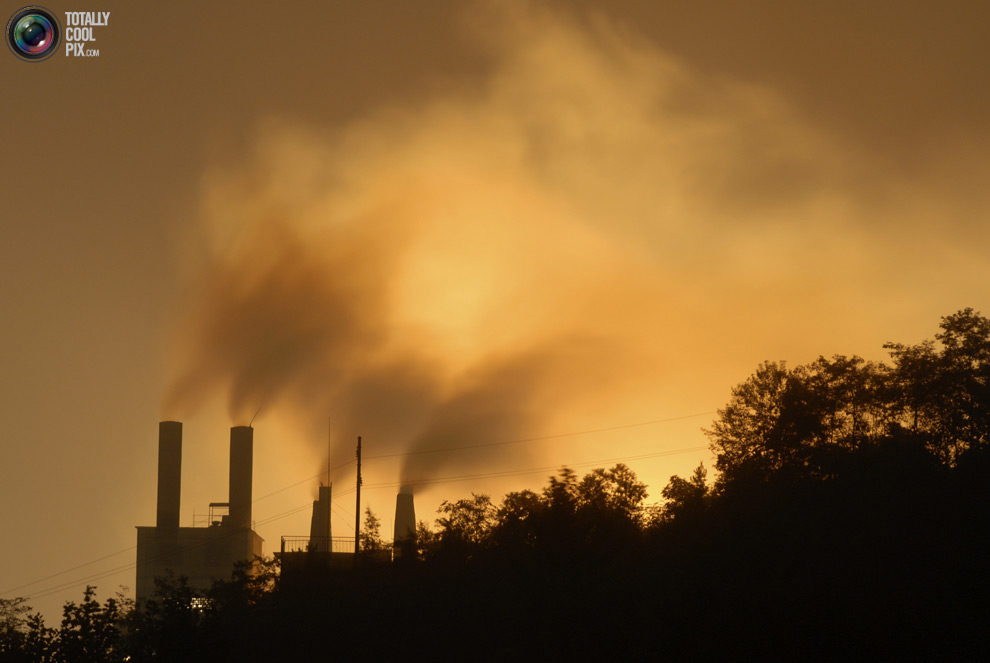 24. Smoke rises out of a cement plant in Baokang, Hubei province September 12, 2009. Picture taken September 12, 2009. REUTERS/Stringer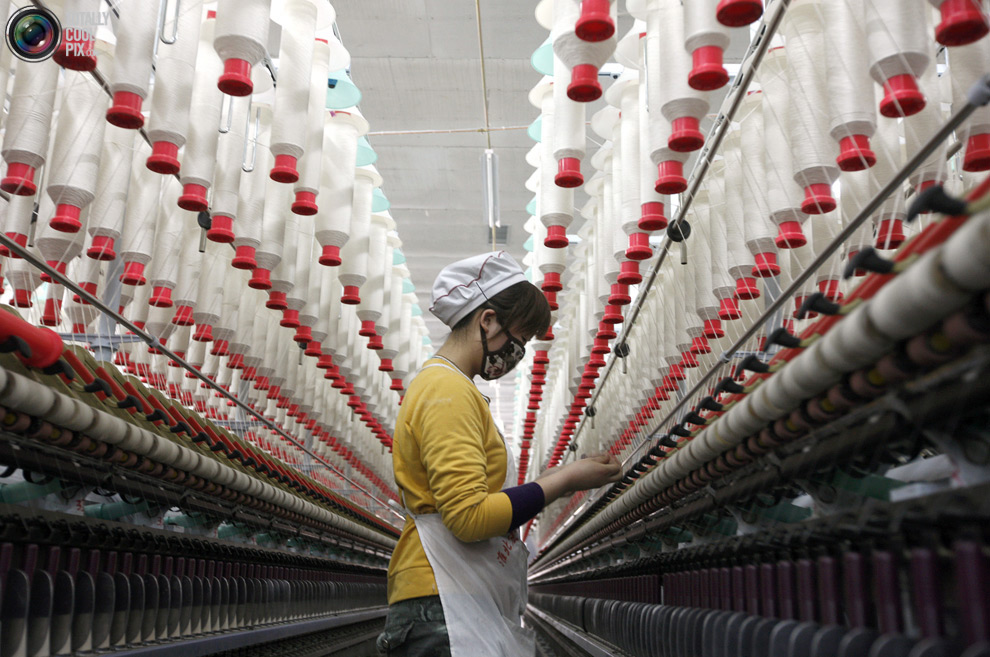 25. An employee works inside the workshop of a textile mill in Huaibei, Anhui province, February 4, 2010. Chinese President Hu Jintao on Wednesday called for the country to make a bigger effort to transform its economic growth model, state radio reported. REUTERS/Stringer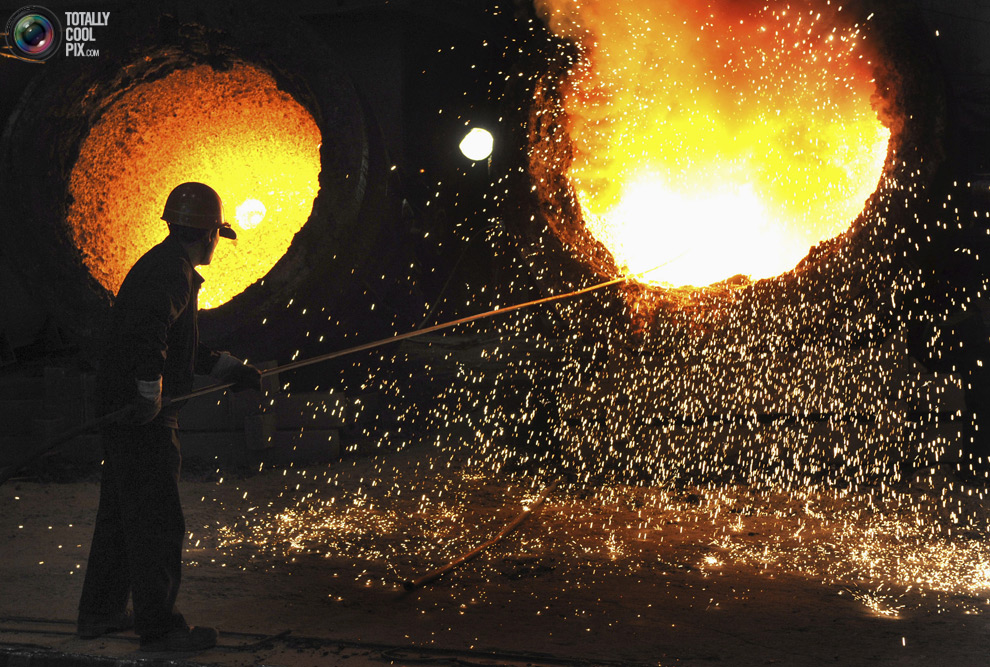 26. A labourer works at the Maanshan steel and iron factory in Hefei, Anhui province, January 21, 2010. REUTERS/Stringer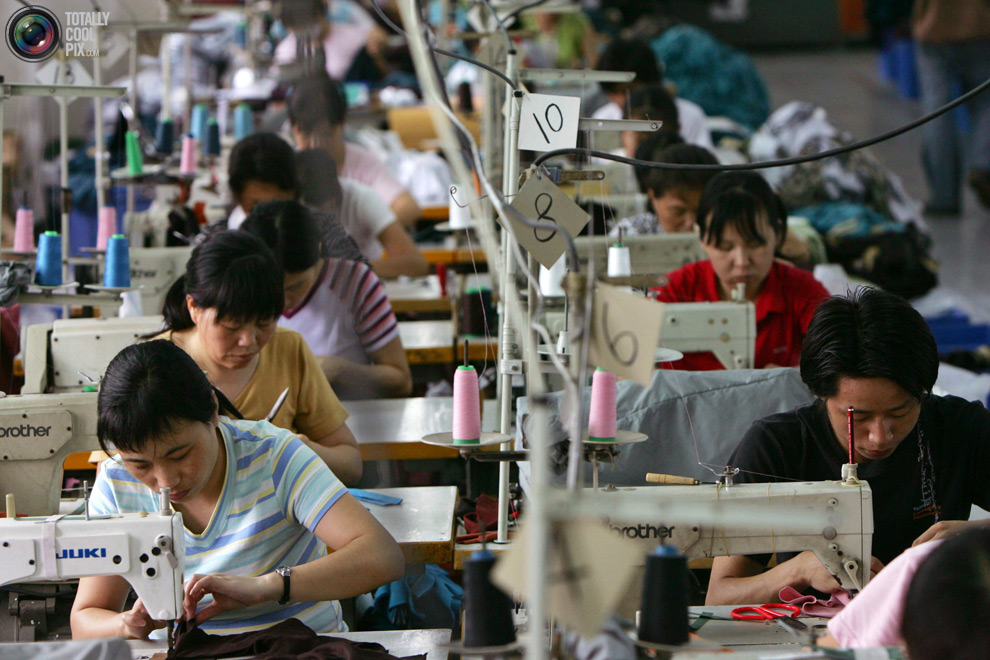 27. Chinese workers sew T-shirts at the Bo Tak garment factory in Dongguan city in Guangdong province, southern China. Chinese workers sew T-shirts at the Bo Tak garment factory in Dongguan city in Guangdong province, southern China May 27, 2005. U.S. Commerce Secretary Carlos Gutierrez arrived in Beijing on Thursday for a three-day visit to try to ease tensions in a growing trade row over surging textile exports from China. Picture taken on May 27, 2005. REUTERS/Kin Cheung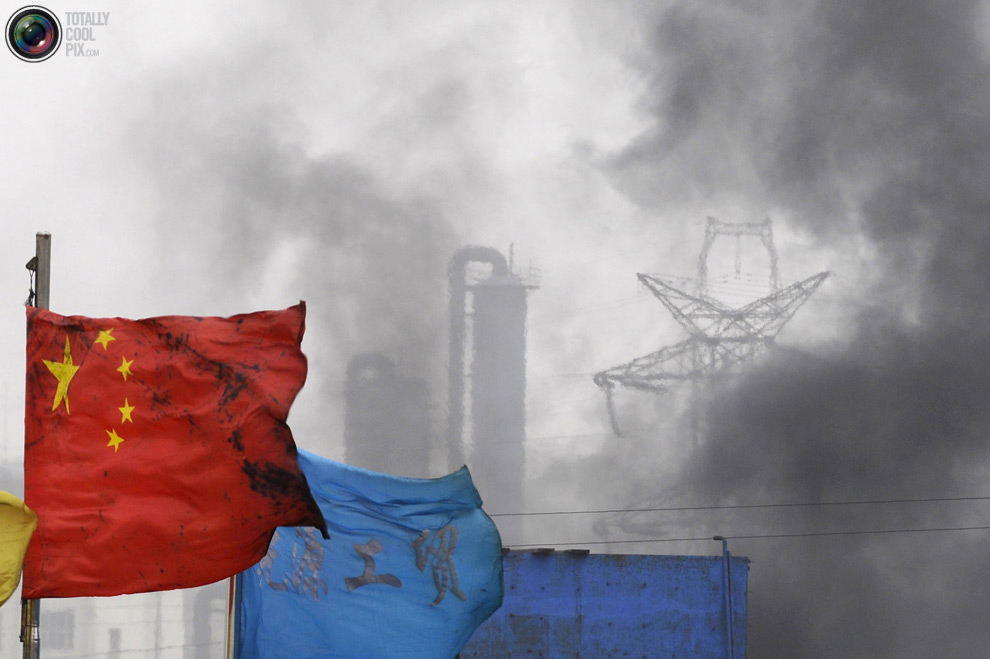 28. A Chinese national flag flutters outside a coking plant in Changzhi, Shanxi province May 29, 2008. The World Bank (WB) has approved loans of 441 million U.S. dollars to improve energy efficiency and reduce emissions from power plants in China, the China office of the WB said. REUTERS/Stringer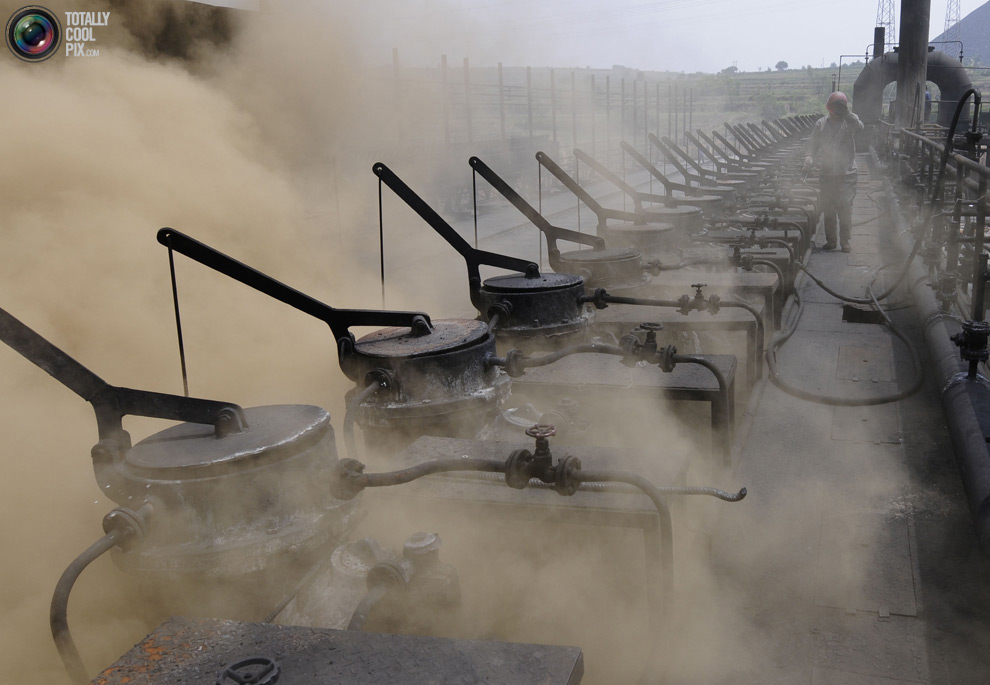 29. A worker walks past coking kilns at a coking plant on the outskirts of Changzhi, Shanxi province June 5, 2008. China faces serious water pollution and rural environmental deterioration, the country's Ministry of Environmental Protection said. REUTERS/Stringer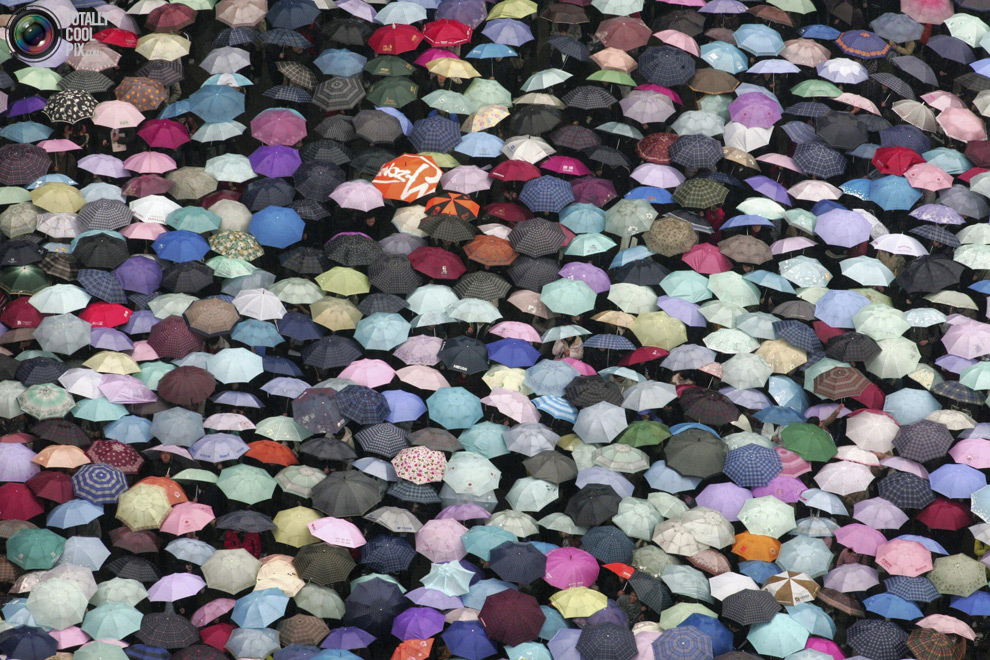 30. Job seekers holding umbrellas flock into a job fair in Hangzhou, Zhejiang province February 28, 2009. At least 20 million of China's 130 million migrant workers have become jobless after tens of thousands of labor-intensive export-oriented factories closed due to the global financial crisis, and job training schemes for migrant workers are springing up around China, Xinhua News Agency reported. REUTERS/China Daily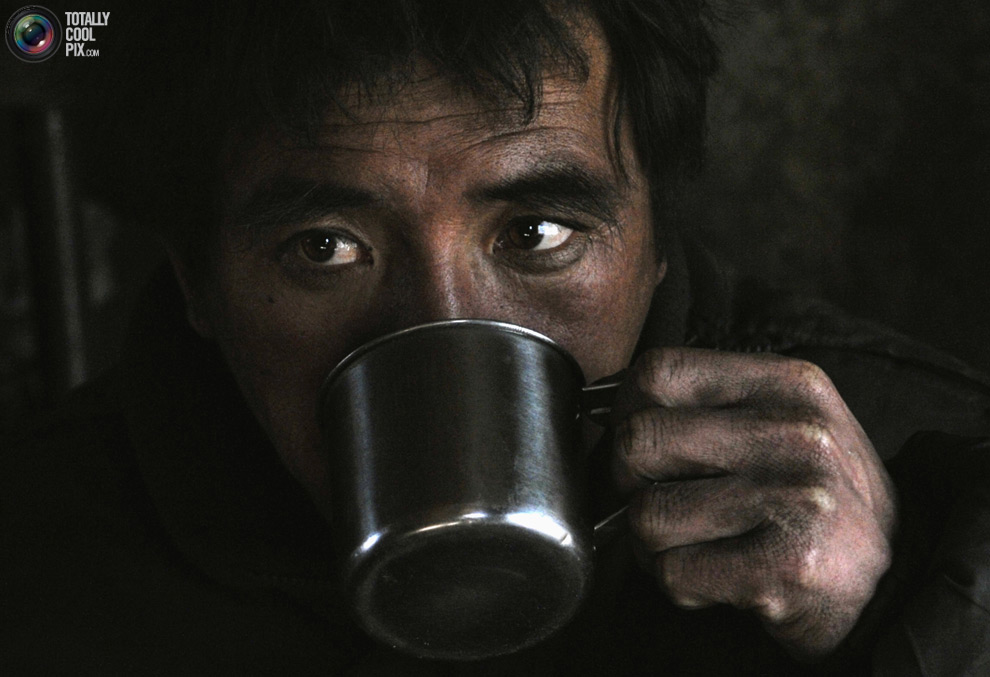 31. A labourer drinks water at a coal processing factory in Shenyang, Liaoning province March 19, 2009. The outlook for China's industrial output growth remains weak, due in part to flagging exports, and the government should respond with a flexible currency policy including yuan depreciation, a leading government think-tank said on Thursday. REUTERS/Sheng Li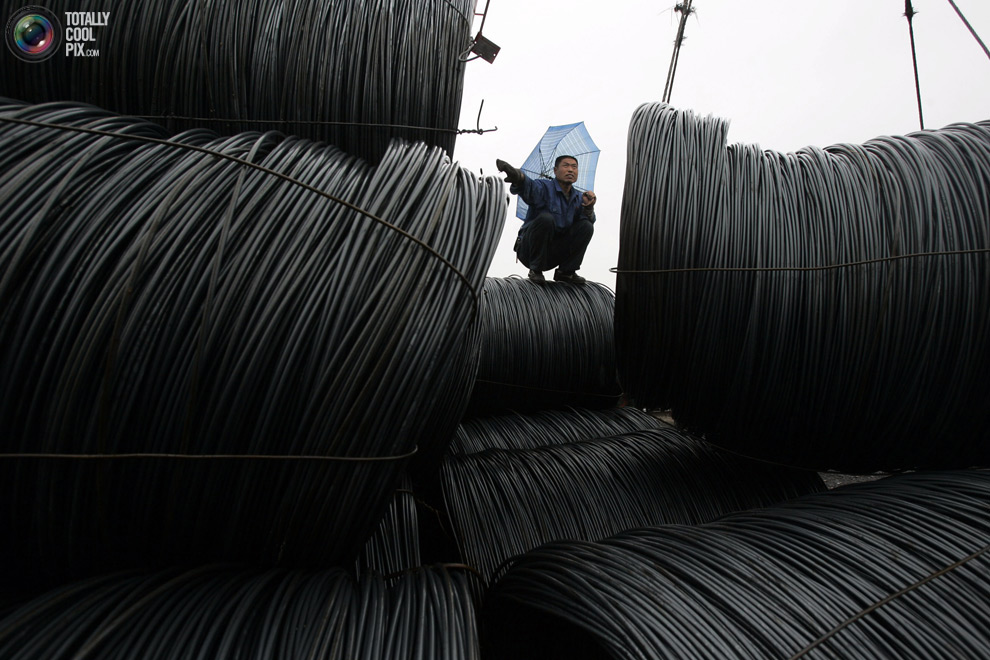 32. A worker squats on steel wire coils at a steel market in Taiyuan, Shanxi province May 14, 2009. The Chinese government is planning to crack down on steel producers that are still raising output despite a collapse in demand, Xinhua news agency reported. REUTERS/Stringer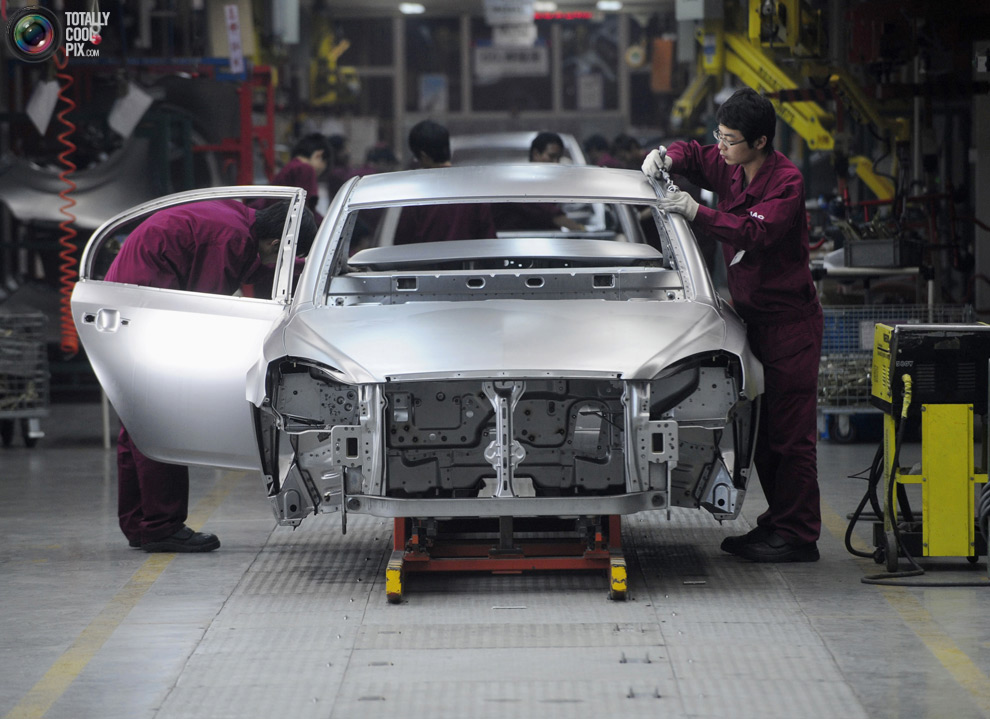 33. Employees work at the assembly line at Anhui Jianghuai Automobile Co. Ltd. in Hefei, Anhui province October 21, 2009. China's annual GDP growth accelerated to 8.9 percent in the third quarter from 7.9 percent in the second quarter as all sectors of the economy, apart from exports, performed strongly. Picture taken October 21, 2009. REUTERS/Stringer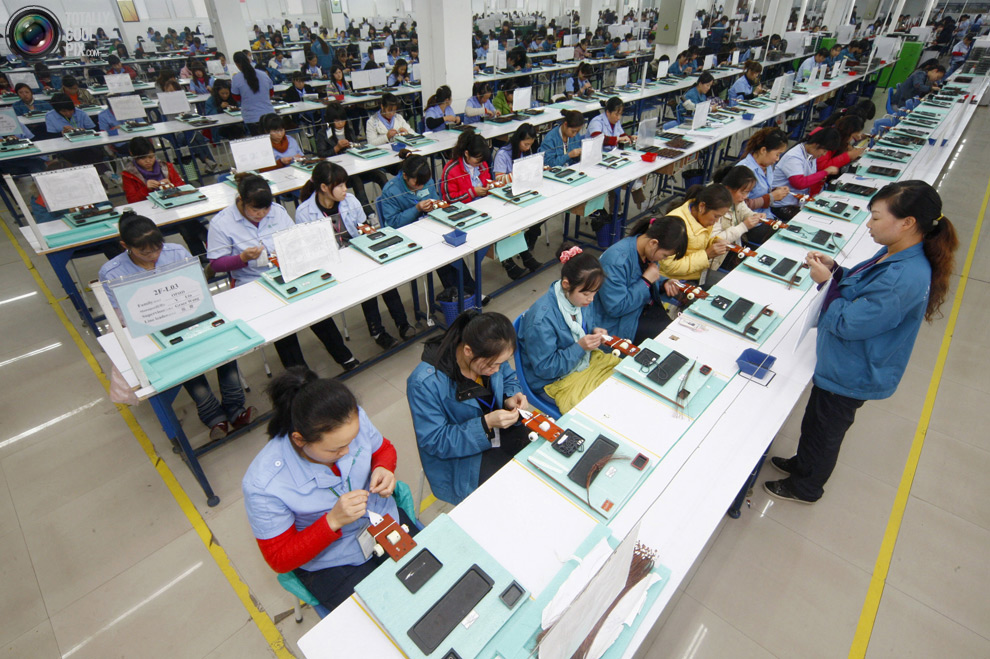 34. A supervisor (R) inspects as employees make electronic parts at a factory in Suining, Sichuan province, November 1, 2010. China's factories ramped up their production last month and were buoyed by an influx of new business, highlighting the strength of the world's second-largest economy but also pointing to price pressures. REUTERS/Stringer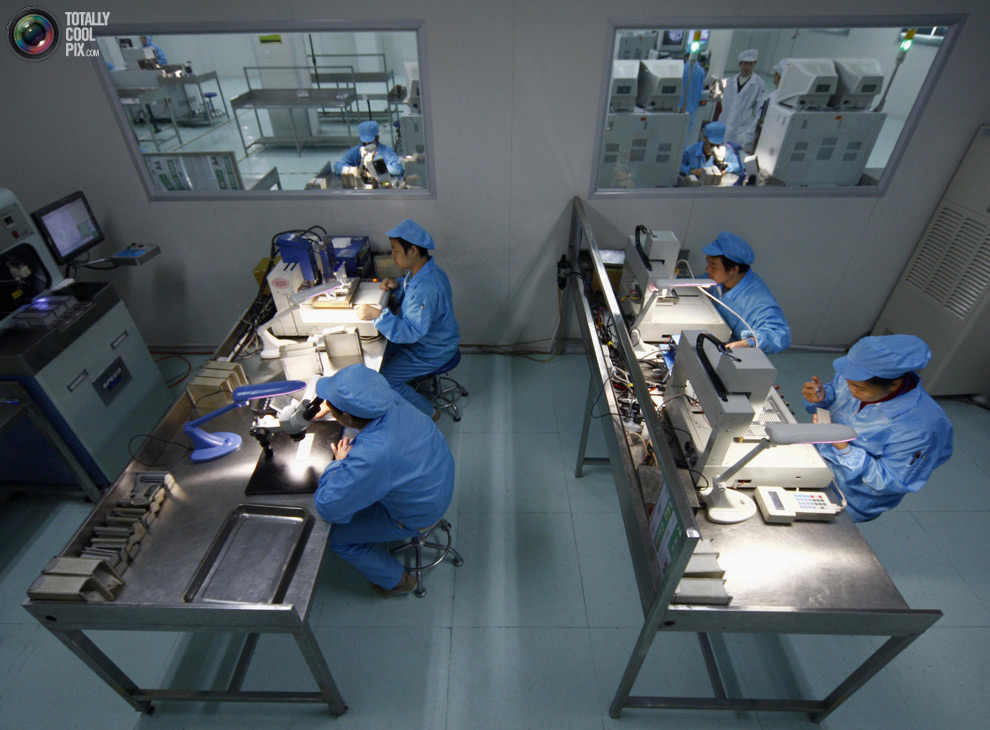 35. Employees work at a LED panel production line in a factory in Suining, Sichuan province November 11, 2010. China's industrial output in October missed expectations with a slowdown to 13.1 percent year-on-year growth from 13.3 percent in September. REUTERS/Stringer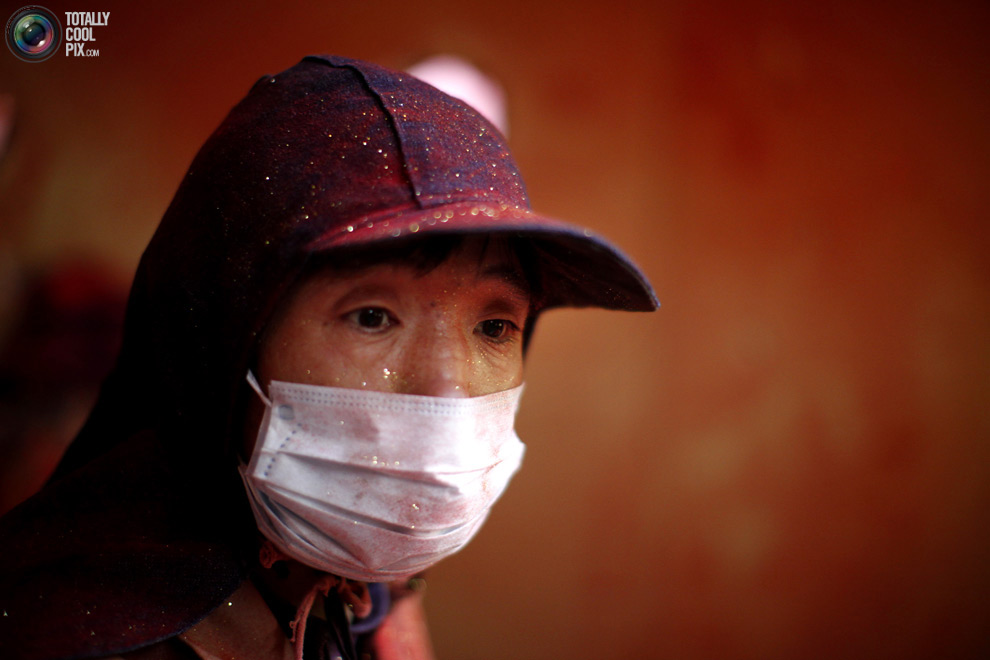 36. An employee pauses from his work at a Chinese new year merchandising factory in Yiwu, Zhejiang province January 11, 2011. REUTERS/Carlos Barria
Thanks to the cool guys at totallycoolpix for this post