AutoSilent scheduler app is an amazing application for iPhone. With its intelligent features, it gives too much convenience to its users. It is one of the best applications for iPhone and users are highly satisfied with it. Have a look at its given features and see how amazing they are:
It can disable the iPhone silent switch.
During meetings it can automatically turn your phone to silent mode.
When the meeting time is over, it automatically restores the settings.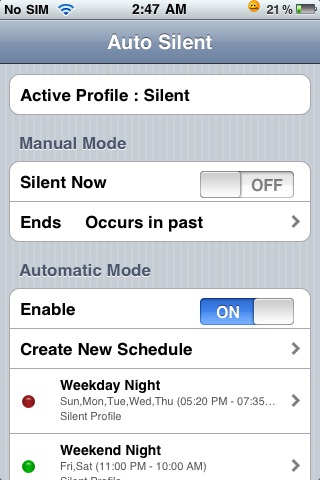 Benefits:
Having the above mentioned features, it endorses the users following benefits:
You don't need to put it in silent mode every time when you are in meeting.
It retains your configured settings, like alarm stays on even in silent mode. It allows you to turnoff particular sounds unlike silent mode which turnoff all the sounds.
There is no need to keep the application open. It works in background.
You can enjoy your sleep or attend the meetings without any interruption.
When you should use the application?
If you get disturbed by iPhone alerts
If silent switch of your iPhone is broken or loose
If you often forget to put your phone to silent mode or get it back from silent mode.