Here is quite possibly the best playground swing design ever.
The waterfall swing is made primarily of steel and provides unique experience that allows you to swing through a wall of water without even a droplet touching you and was designed by Andrew Witte, Andrew Ratcliff, Ian Charnas and Mike O'Tool. The functional mechanics of the swing ensures that  an opening is made in the wall of water when the user passes back and forth.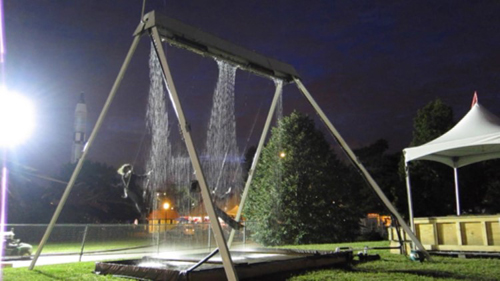 The steel frame holds a variety of mechanical solenoids which creates the wall of water that is made by the swing. The entire idea came about during a study on the interaction with water as space. It has been said that the Waterfall Swing is just the first of a series of release with the same method to be applied to amusement park rides.
The brilliance of this invention lies in the fact that users experience an adrenaline rush as they pass through the walls of water just narrowly escaping it.  Many of us may remember our childhood days when we experience the joy of swinging and reach quite high it was almost has if we could touch the clouds. A number of us would also have fond memories regarding water such as going to the beach, lake, pond, falls or even playing the 'water gun' game. If you have had any of those experiences you can just imagine the joy you would get from a combination of both.