There is an old saying that is often thrown around quite often – "That's so easy, a five year old could do it", well not many of us could actually hack an Xbox Account or at least find a security flaw in it. Kristoffer Von Hassel, a 5 year old child from San Diego did just that. He became one of the hottest topics globally after hacking into his father's XBox Account.
Five year old Hassel made the breakthrough after making several attempts to log into his father's Xbox account. In failing to do so he was directed to a password verification screen where he repeatedly tap the space bar before pressing enter which granted him full access to the consoles functionalities.  "I was like … yeah!" young Kristoffer told KGTV interviewers.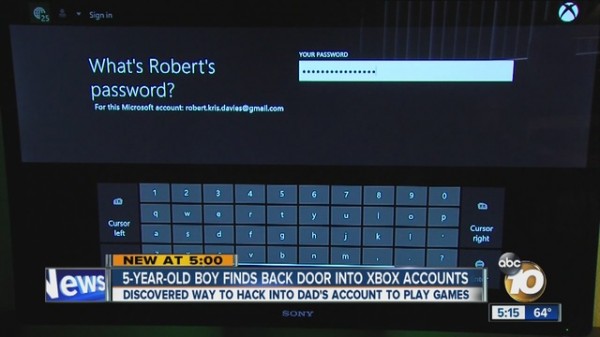 "How awesome is that! Just being 5 years old and being able to find a vulnerability and latch onto that. I thought that was pretty cool." beamed Kristoffer's dad who was delighted with his son discovery.
Kristoffer admitted that after discovering the Xbox's flaw he decided to keep the secret to himself but was afraid that someone would have found out and stole his father's console. Since then his father has reported the security flaw to Microsoft whom has reward the family with a free one year Xbox Live Account, four free games and US$50 cash.
"We're always listening to our customers and thank them for bringing issues to our attention. We take security seriously at Xbox and fixed the issue as soon as we learned about it." said Microsoft in a statement release.
Kristoffer apparently has an eye for game development in the future but a few more of these discoveries and we are sure he will be influenced to pursue a career in the computer security field.