Once, the over 50's had the image of being stuck in their ways, reluctant to learn, and reticent to embrace new technology. They may have believed they would not get to grips with tech viewed as unnecessary, or not relevant to them. But devices have quickly become more user-friendly, and cheaper. The introduction of tablets and smart phones has made surfing online more convenient, with apps and mobile sites making information more accessible and presented in an easier to digest format. Mobiles have become mini computers, with easy to navigate operating systems.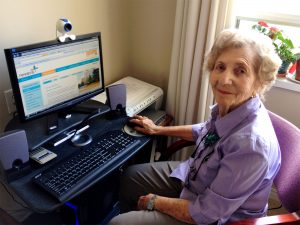 Games Consoles are no longer aimed exclusively at the young, thanks to the motion sensitivity built into the intuitive Xbox and Nintendo Wii. Researchers claim that computerised exercise games can give the over 50's a better workout than exercise alone; combining an interactive element enhances brain functioning.
It has become easier to shop, pay bills, and organise your time – for every facet of life, there is a way that new technologies can aid or improve. Resources such as online centres provide free access to computers, and offer help and advice on how to use them. Training is also available at many local libraries. There are websites that cater for the "silver surfer", encouraging participation with blogs, forums and articles. These range from charities such as Age UK to community based site like laterlife.com.
Advances in GPS and electronic mapping have been embraced by elder drivers, and both Sat Navs and cruise control are favoured by the over 50's. People in this age bracket may have children who have flown the nest, or loved ones in different parts of the world. Staying in touch with family and friends is easier with Skype, webcams, and technologies such as Apple's FaceTime and iMessage. Facebook users are getting older, as parents and grandparents increasingly take to social networking to stay in touch, and share photos and memories. The stereotype of the older generation struggling with technology is changing. And so the question, recently posted by  Castle Cover  is, whatever your age, be it 10, 20, 30, 40, 50. How much tech savvy are you? Just visit the following survey link to answer.