Officials from the Kenyan government have announced that they will step up their efforts in the fight against elephant and rhino poachers by introducing drones as a part of their strategy.
A new law will also see offenders handed tougher penalties such as longer jail terms and larger fines in order to suppress the ever increasing number of armed gangs whom slaughter elephants for their tusks and rhinos for their horns.
"We will start piloting the use of drones in the Tsavo National Park eco system, one of the largest national parks in the world," said Patrick Omondi, deputy director for wildlife conservation at the Kenya Wildlife Service.
Omondi did reveal that the drones would be imported but refused to disclosed the amount that would be purchase or the total cost associated with such an acquisition.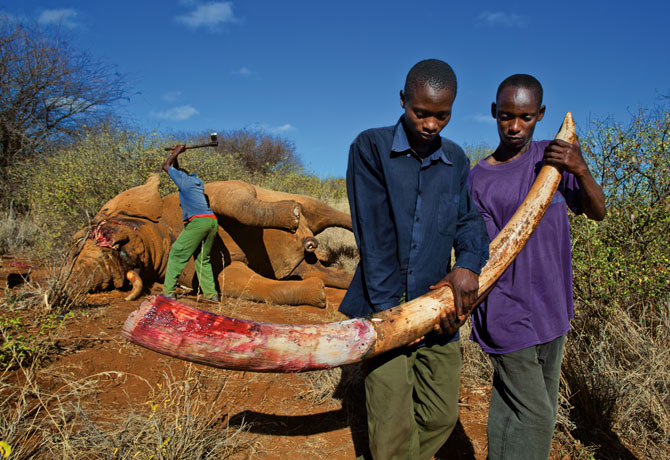 Conservationists are hopeful that the new law will deter criminal networks since Kenya has emerged as a major transit route for ivory destined for Asian markets from eastern and central Africa. The government also indicated that poaching is harming tourism, a major foreign exchange earner.
"We attribute the problem of poaching in Kenya and other African states to growing demand and high prices offered for rhino horn and elephant ivory in the Far East countries," William Kiprono, Kenya Wildlife Service's acting Director General told a news conference in Nairobi.
18 rhinos and 51 elephants had been killed by poachers in Kenya so far this year, said Kiprono. Last year, 59 rhinos and 302 elephants were killed, compared with 30 rhinos and 384 elephants in 2012.
Kenyan officers seized 13.5 tonnes of ivory at the port city of Mombasa last year with majority of the parcel originating from other countries in the region. Approximately 249 suspects have so far been arrested and prosecuted for various wildlife offences since the turn of the year.
In January, a Kenyan court convicted a Chinese man of smuggling ivory and slapped on him a fine of twenty million shillings (US$233,000) or serve seven years in jail. This level of punishment is the first of its kind since the new anti-poaching law was introduced by the government of Kenya.