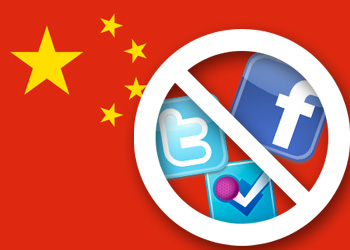 While less well-known than its stone-and-mortar counterpart, the "Great Firewall of China" which seeks to filter Internet content for an entire country still has its share of notoriety. Known officially as the "Golden Shield Project", It has attracted attention from free-speech advocates, human rights organizations and, of course, people who wish to circumvent it, from hackers to tech-savvy citizens.
One vocal Chinese businessman and blogger by the name of Charles Xue seems to have run afoul of this massive censorship and surveillance project, appearing on the People's Republic of China state television channel CCTV13 confessing to having "gratified my vanity" with his online activism, along with other mea culpas. Xue appeared on the ten minute spot wearing a prison vest, having been arrested in late August in what Chinese police claimed was a "prostitution bust".
Charles Xue had been using his audience of more than 12 million on the popular Chinese social media platform Sina Weibo to push awareness of numerous issues including child trafficking and the need for programs like school lunches in undeveloped areas. In his televised "confession", he said he "(firstly) didn't double-check my facts. Secondly, I didn't raise constructive suggestions to solve the problem. Instead, I just simply spread these ideas emotionally." He also urged other commentators to "deliver more positive and constructive messages" and "promote virtue and trust". Trust in the People's Republic of China's government, one assumes.
This is especially illuminating in light of the fact that Xue had three weeks before received a warning from the State Internet Information Office that, along with a number of other popular Chinese Internet personalities, he ought to keep his comments, "more positive." Despite this decidedly Big Brother atmosphere, online discussion of Xue's case was heated, with many asserting that the prostitution charges were clearly fabricated and being used to strong-arm his confession in a way reminiscent of similar infamous incidents under Mao Zedong. It helped, of course, that he had been denounced in a State-controlled publication just three days before his detention as being linked to an "online rumor-monger" who had been arrested for the wonderfully specific charge of "stirring trouble", among others.
China's online censorship has long been contentious even outside its borders: Internet search giant Google went through extensive controversy during the mid-00s over the extent of their cooperation with Chinese authorities in their efforts to control Chinese access to information through the company's search engine. Critics alleged that this was a decided violation of Google's "don't be evil" motto. Other Internet and communications companies have received similar criticisms.