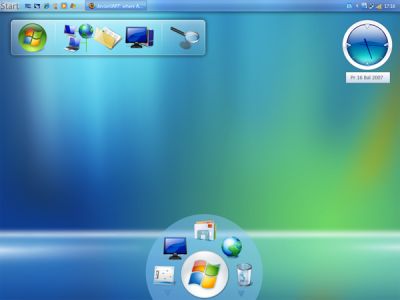 If you are looking to try Windows 7, look no further. The download links are right here.
The only clue that Windows 7 build 7000 is indeed a beta comes from About dialog of Windows Media Center, where the Windows 7 has the version build 6.1.7000.0 (winmain.win7beta.081212-1400). The build will expire on 02.07.2009.
Finally Long wait is over now as Windows 7 beta 1 DVD ISO Torrent Download has been leaked. As per our speculation the leak has been from Chinese County as well as Windows 7 Beta 1 has build 7000 (6.1.7000.0). Good news is that the Windows 7 Beta 1 Build 7000 is available as DVD ISO image which far easier to install.
File name of Windows 7 Beta 1 7000 is 7000.0.081212-1400_client_en-us_Ultimate-GB1CULFRE_EN_DVD.iso, has been leaked to internet. Also the windows 7 beta 1 file details and size and MD5 hash also matched with this leaked Windows 7 Beta 1 7000 DVD ISO Torrent.
Mirrors:
http://hotfile.com/dl/12544821/a61f6a4/Microsoft_windows_7_ultimate_RTM_x64_dvd_-65922.part01.rar.html
http://hotfile.com/dl/12546495/54fa09e/Microsoft_windows_7_ultimate_RTM_x64_dvd_-65922.part02.rar.html
http://hotfile.com/dl/12555018/18c82ca/Microsoft_windows_7_ultimate_RTM_x64_dvd_-65922.part03.rar.html
http://hotfile.com/dl/12555057/6e75a25/Microsoft_windows_7_ultimate_RTM_x64_dvd_-65922.part04.rar.html
http://hotfile.com/dl/12614787/7c18136/Microsoft_windows_7_ultimate_RTM_x64_dvd_-65922.part05.rar.html
http://hotfile.com/dl/12616497/c1a18de/Microsoft_windows_7_ultimate_RTM_x64_dvd_-65922.part06.rar.html
http://hotfile.com/dl/12617935/c60f2a9/Microsoft_windows_7_ultimate_RTM_x64_dvd_-65922.part07.rar.html
http://hotfile.com/dl/12627124/ad237b3/Microsoft_windows_7_ultimate_RTM_x64_dvd_-65922.part08.rar.html
http://hotfile.com/dl/12625798/0eb0eac/Microsoft_windows_7_ultimate_RTM_x64_dvd_-65922.part09.rar.html