Ladies and gentlemen its time to fulfill your dream of having a Lamborghini, Thanks to Chinese manufactures who build a replica of Lamborghini Murcielago LP64. The most surprising note is that the replica is about 99% as original as the Lamborghini Murcielago LP64 version. If you want to buy the original version you would have to pay a total sum of $400,000 but if you want to fulfil your dream in a short budget then these Chinese manufacturers are giving you the replica for $65,000 only.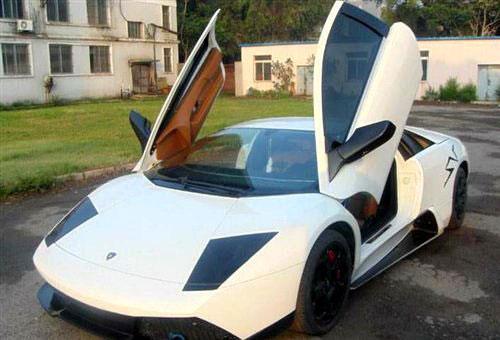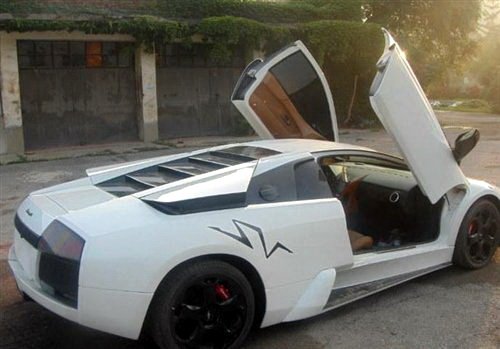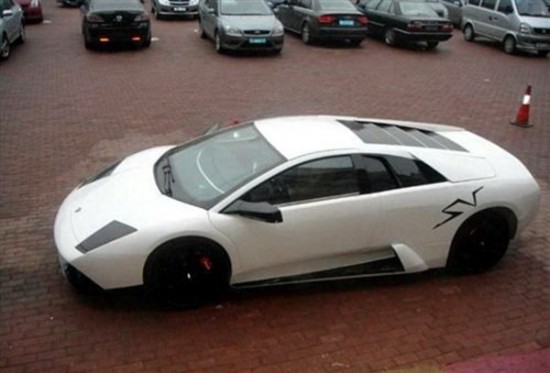 We have come to know that the exterior of the car is about 99% same as the original but the interior is 70% copy. Even then its a big deal and one could show off this beauty on road as an original Lamborghini. The new replica is being named as Shanzai Lamborghini in China. The car makers have their own workshop and are dedicated to build such cars and provide them in all over Asia. The reservation period of this replica is 5 months with an initial deposit of 210,000 yuan. The other detailed specs are narrated below.
"2.2 liter Toyota 5s and 2.0 t 3S engine, 100 kilo-meters in 9 seconds, top speed 200, 175 horse powers, sound decibel frequency can be more than 90% identical. Body is 1:1 ratio. Interior is Lamborghini style, dash board is not Lamborghini.
Cannot get license plate, reservation period is 5 month, order deposit is 50% of the total cost, 210,000 yuan.
Power window, power wings, GPS navigation, backup camera, real leather seats and leather interior.
Interior can be done upon customers' request, it is impossible to be 100% (identical as the real)
Interior and exterior color can be determined by customer.
Engine cover is not transparent, rims are custom made, original rims cost 50,000 extra
Car's front bumper is 2007 style
Original car key cost 9,000 extra
We did not make modification on the original beam, so car safety index is same as the original Toyota.
However we added stainless steel, steel pipe and steel plate in the driver and passenger side doors.
We also added 4 point racing seat belts.
This car cannot get license plate, but satisfies all driving capabilities. However our factor sells the car only for display.
Car symbol, glass, grille, tail lights and exterior accessions are all original factory parts. New style of LED tail lights cost 10,000 extra.
Steering wheel is racing car steering wheel with original Lamborghini symbol.
All buttons in interior are all original Lamborghini parts."
[youtube]http://www.youtube.com/watch?v=DyQX0hRaf-g[/youtube]