The task of buying or selling vehicles becomes a simpler one when it happens online. Consumers are increasingly finding that using the computer to find new or used cars for sale, and for selling their own used vehicles, offers many advantages over working with dealerships.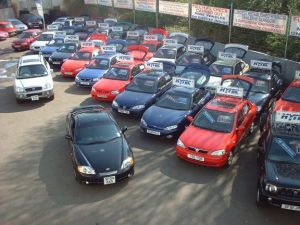 Convenience
Online, every dealership is within reach. There is no need for long drives to the edges of town or stops at the gas station. You can shop for a car anytime that fits your schedule, even at work or after business hours. Comparing vehicle specs and prices involves little more than opening a couple of browser tabs. Some auto sales aggregator sites save even that step by providing a built-in comparison function. On some sites, you can add cars to a list that allows you to compare features and prices on a single screen.
Similarly, selling a car online prevents wasted time and effort. A site that allows you to describe your vehicle and show multiple photos of it saves much explanation over the phone. It also allows you to make the best case for your vehicle by highlighting its most outstanding points. You can post photos and even a video of your car along with your own text. With the amount of information an online listing can provide, you can narrow your audience to truly interested parties.
Choice
The breadth of an online car or truck search gives you a range of choices impossible for a brick and mortar search to match. With around 200,000 vehicles, bookitout.com offers a much more accurate idea of industry-wide prices than visiting only a few dealerships can. Their dynamic search allows the user to narrow their choices geographically within just a few miles or hundreds. You can virtually visit dozens of dealers in the time it would take you to drive to one.
Seeing more cars and having more choices means that you make more informed decisions. Having the freedom to compare numerous vehicles at the same time lets you concentrate on finding the best deal, rather than hunting for a better deal.
No Pressure
When you look for cars online, you do not have an anxious salesperson hovering nearby, eager not to miss out on a commission. The dangers of being upsold, or being convinced to buy more than you really need, are great when a professional is on the job. Shopping for cars on the computer takes away the pressure, and allows you to make less hasty decisions. You can set a maximum price and stick with it.
Selling online also removes the need to negotiate with a dealer. Since no one else is taking a cut, you get the full asking price for your car.
Overall, buying and selling vehicles online gives you more control over the process. What could be a costly time sink as you travel from one dealership to another becomes much simpler, much more efficient and much less aggravating when you put yourself in charge online.