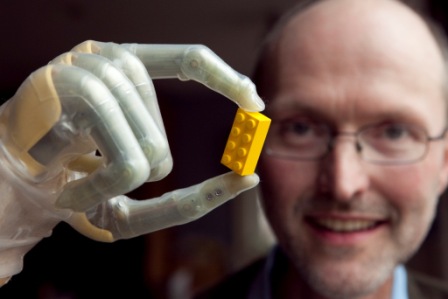 As Eric Jones fought off cancer a few years ago, his weakened immune system left him vulnerable to strep pneumonia and sepsis, which developed into the blood-clotting disorder known as Disseminated Intravascular Coagulation.
Without enough blood supply to his extremities, he wasn't expected to come out of a month-long, medical-induced coma and be able to keep his arms and feet.
Jones was fortunate to fare better than expected, but he did lose movement in his left hand, his right hand's fingers and thumb, his toes, and parts of his feet. Even with intensive physical therapy and the aid of crutches, his mobility was severely affected, and he was unable to do such previously simple tasks as walk while holding a coffee mug, play Legos with his kids, or perform on the piano.
Enter ProDigits, believed to be the world's first powered bionic finger solution, whose commercial launch developer Touch Bionics announced Tuesday. With a silicone skin designed specifically to fit around his right hand, the ProDigits prosthesis gave Jones, who began to use the latest model this summer, a movable thumb.
In other words, it gave him opposition, without which the hand is considered to be 40 percent impaired.
"I didn't want to wait even one more day before I could start using it," Jones says. "ProDigits offers me functionality that I can't get anywhere else; it offers me the ability to grasp… I can pick something up and walk out to the car with it, rather than have to put it in a bag. Most importantly, I'm able to take care of my kids–play games with my kids, take them to school, make dinner."
ProDigits can be powered by two types of control systems: myoelectric sensors that register muscle signals from the patient's remaining finger or palm, or a pressure sensitive switch input (touch pad) that responds to the tissue surrounding the metacarpal bone to provide enough pressure to activate the digit. A stall feature detects when digits close around an object, so users form different grip patterns.
Some day, of course, prosthetic devices will look, function, and feel like the real deal. And while a close look at the prosthetic in action reveals that work remains to be done before a partial-hand amputee has full and easy hand function again, ProDigits marks a significant step forward.
Touch Bionics reports that it is developing a clinical collaborator program in North America to partner with practitioners to fit each patient individually. It plans to distribute ProDigits to 40 countries worldwide from itsCentre of Excellence in Livingston, Scotland.
Each device runs between $57,000 and $73,000. Coverings come in robotic skins that are clear (which Jones chose) or black, as well as in "livingskin," a hi-def silicone solution designed to look like natural skin.