Talking of Aircraft with the concept of express train in sky is right now not more less than a fantasy. Imagine how cool it would be as you make a travel with small commercial air planes, land your self at a bigger flying dock and make your way to your destination when you are near it via some other commercial plane. Its just like talking of a Airborne Metro concept. Its just like you catch up small train or bus for making it to a main express train.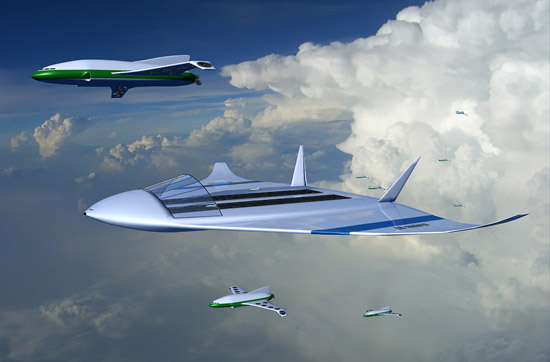 Talking about such planes, they are built with the bigger sizes, which carry run ways on it. So that other commercial planes can land and take off from it. It might be able to carry about 30000 passengers at a time. So it makes it a flying airport where people come via other planes and catch the next flight when the flying airport is near to their destination. Taking such huge flying giant to ground would make it very uneconomical so there is a nuclear reactor in them running the entire giant plane. It would be faster and reliable for the passengers as well as to the economy of the country as it would save overall 40% of fuel for a 600 mile trip and 80% to 6000 mile trip.
The Airborne Metro with a number of such planes on air is more than a trillions of dollar concept where we are also lagging far behind such technology. But in the future there might be such huge things flying around you.