Long-distance commuting can be tedious and not every car feature high-end navigation systems or infotainment services. However, you don't have to feel restricted and monotonous in your ride as car gadgets can provide an alluring experience whenever you hit the road.
As the connection between automotive and consumer electronics grows stronger, the gadgets are now offering ways to stay connected on the go and expand the capabilities of the ride.
The gadgets also serve a great purpose when it comes to used cars. Used automotive businesses report that 'add-on' gadgets can significantly increase the resale value of used cars. In fact, the Lakeside Auto Sales Erie PA blog claims that infotainment technology alone is transforming the automotive industry.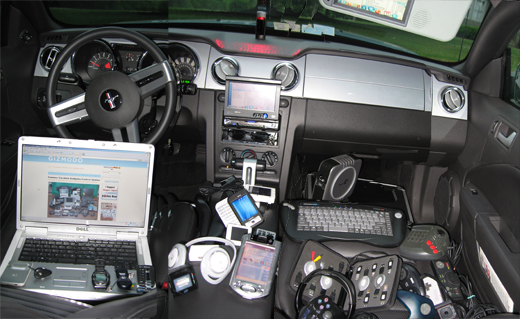 Here are the top 5 car gadgets of the year:
1.  SuperTooth HD
SuperTooth HD is a hands-free Bluetooth speaker device that has been exclusively built for car use. It comes with some D-amp speakers, dual microphones, a magnetic clip that attaches to the car's visor and a backlight that changes at night so the driver isn't distracted. There's a functional button at the front that can be used to answer calls, change volume levels and turn on voice dialing.
The gadget also has a voice command feature in English and French that can be used to dictate text and email messages. SuperTooth HD can pair with two devices at the same time and the user can also switch between them with ease.
2.  CarCam Voyager
CarCam Voyager is a great tool for recording vital information that can come in handy at many instances. It comes with a dash-mounted video camera that has the ability to record over 8 hours of video. The gadget runs on either 3 AAA batteries or a 12V DC power cord, and there's space for a 2GB removable memory card.
CarCam Voyager can therefore provide vital information in case of an accident to the police and insurance company. Using the batteries to power the gadget also allows you to use it as a portable camera.
3.  iTrail
This mini-device uses a GPS tracker to keep track of almost everything. You can attach it to the keychain or the car itself through its magnetic case for location history, real-time tracking and speed monitoring. The gadget logs the information and displays it on an interface that's supported by Google Earth and Maps.
iTrail will be most useful if your kids drive as it allows to implement parental control. The device has 64 MB RAM, Power/Memory LED light, USB 2.0 support and can constantly record 120 hours of data.
4.  Kensington Proximo
This gadget is one of the best car GPS tracker which is essentially a monitoring proximity system that can be used to locate your vehicle. You can leave it inside the car when parking in a congested space and use your smartphone to locate the exact spot where you left the car.
It can also be attached to your car key and other valuables. The Bluetooth 4.0 TAGS help you to keep track of essential items at all time. Up to 5 items can be tagged at a single using Proxio Tags so you can track your car, keys, luggage, smartphone and wallet at the same time.
5.  CarMD
This is a diagnostic tool integrated with the computer system of a car; it lets you identify potential problems before you head off to a repair shop. You also get access to the online database that shows tried and tested solutions from ASE certified professionals.
CarMD can save you money by estimating repair costs, which are broken down by region or labor. It can also be used to find out whether the car is going to pass inspection and does it have any loopholes that can cause problems on the next road trip.
What are your favorite car gadgets? Feel free to leave comments.