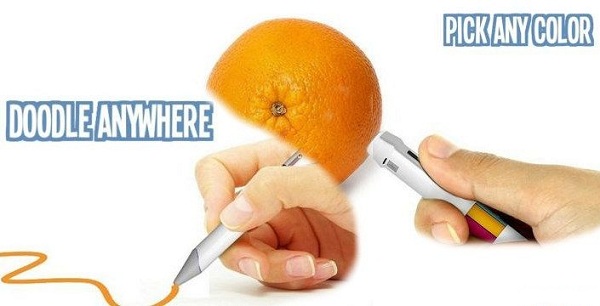 Have you ever wanted to get the right colour to draw an object but the drawing pencils or crayons that are provided in the average boxes are limited? Well, Scribble has developed a new pen and even a stylus for mobile devices that has over 16 million colours. The high-tech pen is able to scan an object and create an ink to replicate any object's colour. In no time you are able to transfer the colour directly to paper or even your iPhone, iPad or Android device.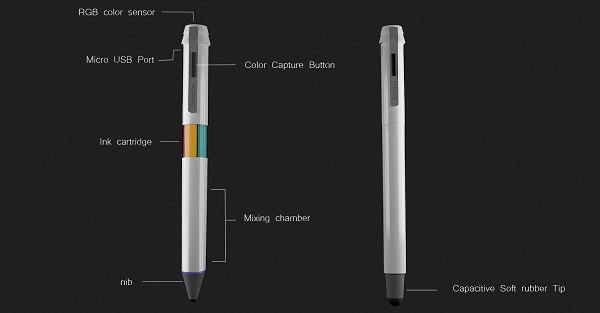 The novel Scribble Pen features a nib on one end with a 16 bit RGB colour sensor that is used to scan the colour of the object on the other end. In order to capture the colour of the object, the user must first point the colour sensor end towards the object and then press the colour capture button that is located on the pen's hook. The pen's ARM 9 microprocessor then mixes inks to create the exact colour as the surface. The produced ink is then saved to an internal memory bank in which can store approximately 100,000 created ink colours. If you transfer your colours to a device, you are also able to organize, tag and easily search for them.
The technology is powered by lithium ion batteries and features five refillable cartridges – cyan, yellow, magenta, black and white. While the stylus version of the device is available for touchscreen devices, the pen also includes Bluetooth 4.0 wireless technology and a micro USB port for connection.

The Scribble Ink Pen is currently unavailable for purchase, however creators Mark Barker and Robert Hoffman are planning to soon place the product on Kickstarter for marketing. The pen is expected to have a price tag of US$149.95, while the stylus for US$79.95.