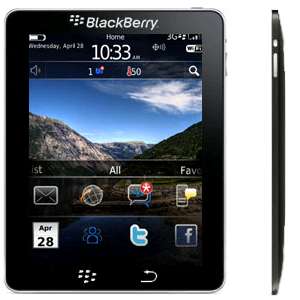 It's not unusual for rumors to pick up around the time of a big conference like the BlackBerry Developer Conference. Earlier today I mentioned RIM trademarking "SurfBook" and said we might see the rumoredBlackBerry Tablet by the end of the year. It looks like I wasn't too far off because some sources have toldThe Wall Street Journal that RIM could be unveiling it at DEVCON in San Francisco next week. These sources have also said the tablet "is scheduled for release in the fourth quarter of this year" which is right around the corner.
Last month we also found out that QNX Software Systems would be behind the tablet's dedicated OS. At the time it was thought that this unique OS would only be available for the tablet but WSJ's sources have said "RIM eventually plans to transition its BlackBerry smartphones to the QNX operating system", a very exciting bit of info.
Completely revamping the OS would definitely give RIM the edge they've needed in the smartphone race against competition like Apple and Google. If all goes well and these rumors hold up, we might just see a preview of the tablet and new OS next week
Feature Review, Availability and Price
The rumored price is USD 499. Blackpad will be available from September.
[youtube]http://www.youtube.com/watch?v=PQu-BfRri_w[/youtube]
Blackpad vs iPad