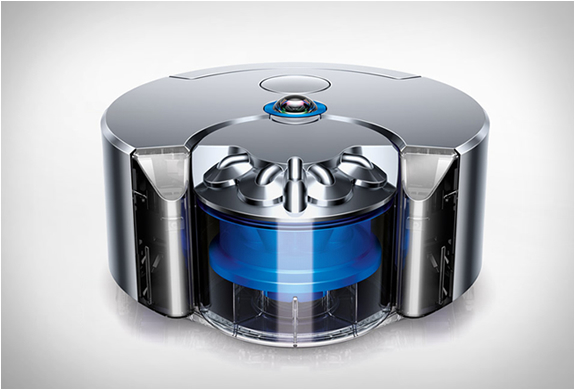 After 16 years of research and £28 million of investment, British technology company Dyson has announced their first robotic vacuum cleaner. The Dyson 360 Eye is able to map its way around the house, moving on caterpillar tracks as it uses a panoramic camera lens on the top of the machine. After it is finished cleaning, it automatically goes back to its docking station. The UK firm says that of all the robot vacuums on the market, the Dyson 360 Eye has the most powerful suction as it is powered by a V2 Dyson Digital motor that spins at 78,000RPM.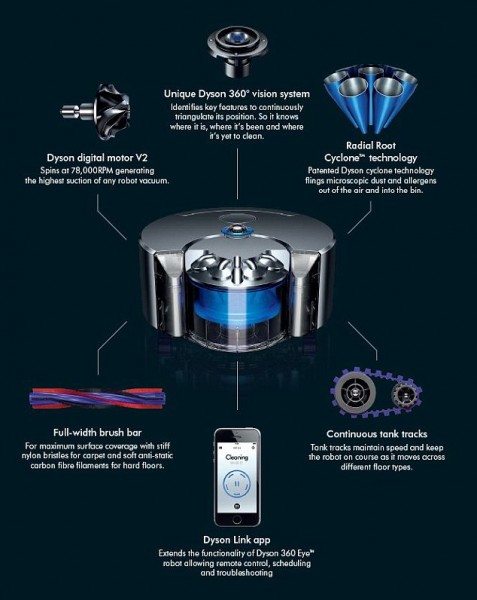 The machine's 360 degree eye feature gives it the ability to known where it has already cleaned and also where it still needs to be cleaned as it takes up to 30 images of the room every second. It also features 'simultaneous localisation' and a mapping software that can create a 360 degree view of the room.
In addition to the 'eye', there are also infrared sensors that can detect objects and prevent it from bumping into obstacles using proximity.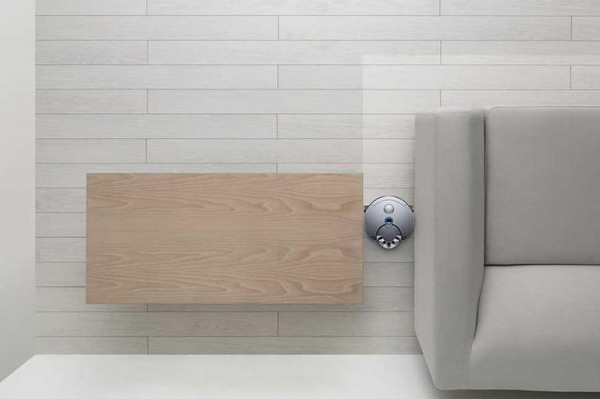 When the robot is cleaning, its Radial Root Cyclone technology pulls microscopic dust and allergens out of the air and into the bin. As it moves across the different floor types, its continuous tank tracks maintains the speed and keeps the machine on track. It has 20-30 minutes of battery life and when its runs out it will go back to its docking station to charge and then resume cleaning after it is finished.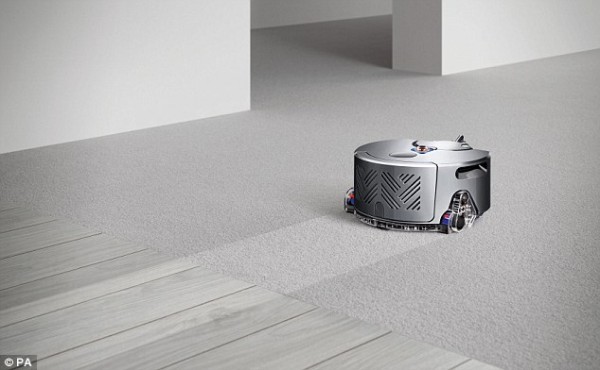 The cleaning technology also assures a thorough clean with full-width stiff nylon brush bars which are able to remove dust particles in carpets and a patented carbon fibre technology that can remove fine dust on hard floors.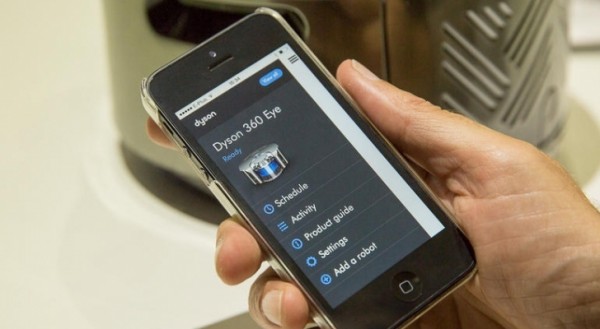 Users are able to remotely control the vaccum and also set its cleaning schedule via a smartphone app. When the dust bin is full, the machine will send a message to the paired smartphone that it is full.
The Dyson 360 Eye will go on sale in Britain in Summer 2015 and will carry a price tag in the region of £750.
[youtube]https://www.youtube.com/watch?v=OadhuICDAjk[/youtube]