A curious German audio-visual artist "Rainer Tautenhahn" has done some amazing research in visualizing sound waves in an artistic way. Every sound wave directed to you via any medium has a special type of frequency. Every tone, every pitch has a different shape. So, just like your fingerprints, every sound has its own pattern.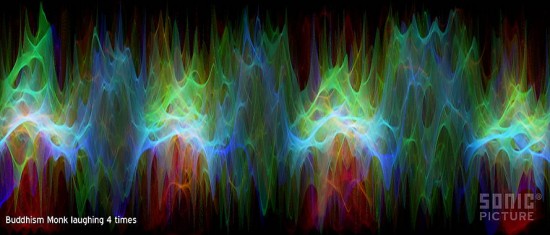 Tautenhahn actually wanted to find out the picture of every sound. The 47 years old artist began his artistic process by recording sounds with an ultra sensitive microphone, and once he was done, a computer software helped him process the sounds into images. After numerous experiments, Tautenhahn realized that the lower tones are usually blue, whereas the higher tones are red. Despite having performed hundreds of experiments and having previous experience with sound waves, he never knew how his images would look like.
The other things that he noticed was the moods in the voices. For example, sharp voices were different from soft ones. Similarly, aggressive voices 'looked' different from friendly ones. Rainer Tautenhahn has made a big name for himself in Sonic Artwork; different companies from all over Europe come to him to record and print the sounds in their workplace on glass or steel panels.
And now, the viewers can also listen to the images (made possible via attaching headphones to the picture.)