Wednesday saw more leaks that narrowed down the release schedule for new MacBook Air systems. The chances of shipment of these ultraportables in mid-July and possibly on July 14 have grown due to this. Rumor has it that the systems would be virtually identical in external design outside of the switch from Mini DisplayPort to Thunderbolt.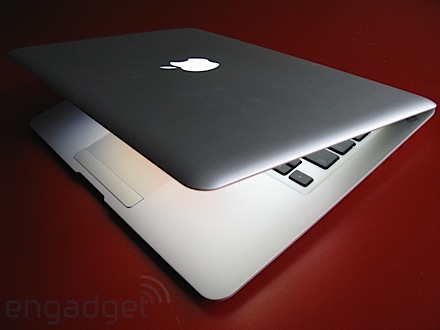 The systems are already believed to be shipping with Lion and hint that Apple will be making the new OS available on or near the same day. Intel's newly shipping low-voltage Core i5 and i7 chips are commonly presumed to be coming along, although Apple may only use these for the 11-inch Air and reserve existing, faster 2.1GHz and 2.3GHz processors for the 13-inch system.
The new Air is thought to be a major jump in performance. Another rumor has the 11-inch Air dropping to $899 to tempt more buyers. Apple's typical pattern is more often to upgrade features for the same price, and it may consider this a top priority given just 64GB of storage in its starter model.