The recent US$2 billion acquisition of Minecraft by Microsoft and the departure of founder Markus Persson from the company left many pundits speculating over the future of the Sandbox building game. One Youtuber believes the answer lies in Microsft Excel. In the video the Youtuber who goes by the casual moniker Minecraft SethBling or Seth for short shows how he believes crafting and woodcutting would be done.
The Minecraft mock-up is not just a clever video but in truth it's an actual fully functional game. The entire design is fully functional in spreadsheet and has all the basic look and feel of your typical Minecraft game minus the 2D specs. Whilst the game is not an official beta release by Microsoft it certainly does leave one thinking about the potential possibilities. Satya Nadella may come across this video in his "spare time" and who knows? He may actually consider the prospects of Minecraft in Excel.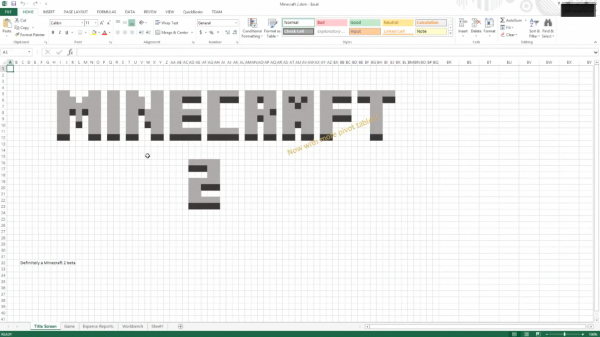 Steve Ballmer was accused of not being innovative enough to keep Microsoft ahead of the "game", but he was also chastised for taking them out of the "game" completely allowing Google and Apple to not only catch them but surpass them as well. The securing of Minecraft maybe the start of something revolutionary at Microsoft under Nadella's regime. In the mean time, Seth has offered a free version of his Minecraft by "Microsft" in Excel.