Facebook is one of the most active social networking websites. Millions of people across the globe are using it for interacting with their friends and other relationships. It is a great way of making more friends and widening the social circle. Friends are perfect unless they don't irritate or annoy you. If there is any, then removing a friend is very simple on the new version of Facebook. Just follow the given tips to delete the friend from your friend's list.
To delete a friend, go to the profile page of the friend you want to delete. Click on the option of unfriend given at the bottom of the left side.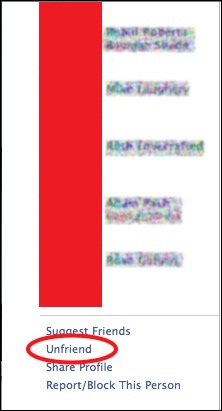 To delete multiple friends:
Open your Home page.
Click Friends on the left side bar
Tap the button of Edit Friends.
Press the X button given next to the name of the friend you want to remove and confirm deletion. Similarly, you can remove multiple friends.