Google began strictly as a search company, and it's still their bread and butter. However, as the company has grown, it's spread its tentacles like a giant octopus out to most parts of the Web. A benevolent giant octopus, providing lots of highly useful services, but a giant nonetheless. Try surfing the Web without touching a single Google service. It's impossible.
Google even shows up in places you'd never expect it to. For example, you know those "captchas" that websites and online forums use to verify that you're human? Google bought reCAPTCHA in 2009 and is currently using the captcha input from hundreds of millions of users to improve its text recognition software.
But that's just a tiny little service. Let's see where Google has a more dominant presence, starting with, but not ending with, search.
Search
That Google is the King of Search isn't a surprise. That's what they're known for. But just look at how dominant they are.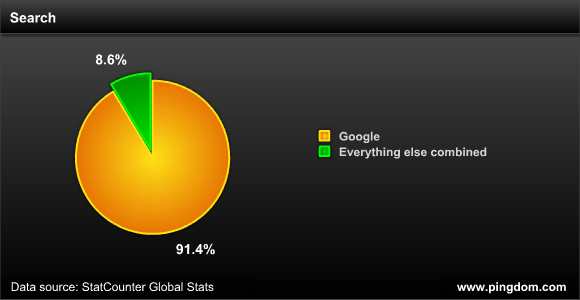 The search market share numbers will vary a bit depending on the data source, but regardless where you look, Google is crushingly dominant in all aspects of search. And most of all, in the mobile sector: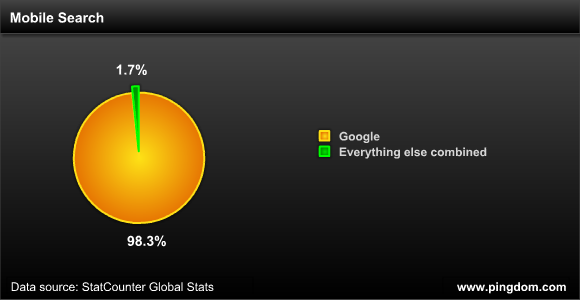 Online Ads
Aside from being a search giant, it's widely known that Google makes the vast majority of its money on ads. It's been a golden goose for the company ever since they came up with Adwords and Adsense, and makes up 97% of its revenue.
That's not so strange, when you consider that Google also serves ads on a huge number of websites in addition to its own very large web properties. Google actually serves ads on more websites than any other company.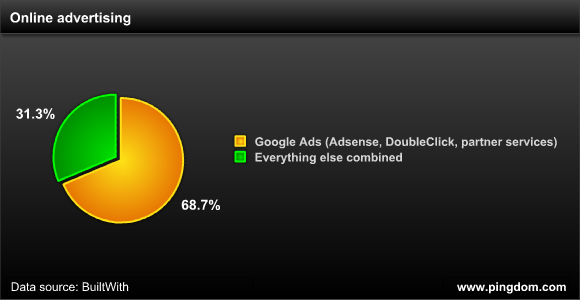 We couldn't find stats for mobile ads, but from what we understand, Google is at the top there as well, especially after buying AdMob last year.
Web Analytics
Google Analytics is the most-used web analytics service on the Web, by far. If you're visiting a website, there's more than a 50-50 chance that it's using Google Analytics. (This blog, for example. See, you've already touched Google, ever so lightly.)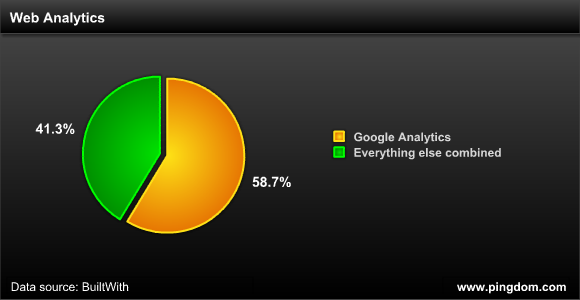 Online Media
Google's video site, YouTube, isn't just the biggest video site on the Web, its videos are also the most frequently included on other sites, for example embedded in blogs.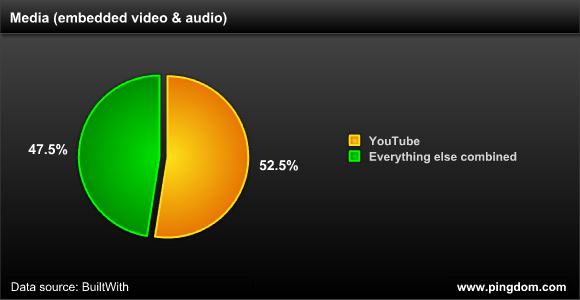 Feeds
Feedburner is used by a ton of blogs for publishing RSS feeds, and Google Reader is the most widely used feed reader service available. We didn't have exact stats for Google Reader, so in this case we settled for stats from our own blog. There will be some variations from blog to blog, but the overall ratio should be similar.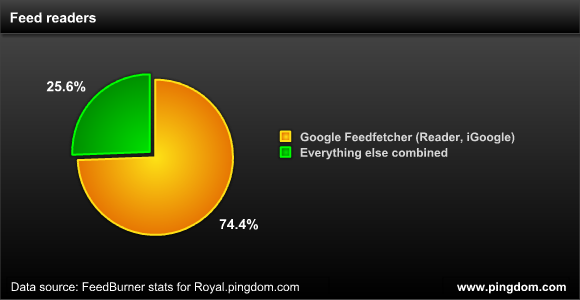 More areas where Google is huge
The examples so far were just some of the more known examples. Google has a very strong presence in a variety of other fields as well.
Google is also dipping its toes in a variety of other projects of interest, and any one of them may become a big factor in the future. Think of them as potential up-and-comers:
Google up-and-comers?
Operating systems. Aside from the already successful Android, Google also has the Chrome OS project that is being released this fall. It remains to be seen how successful it will be, but it certainly has potential.
DNS. Google has already launched support for people to use their DNS servers instead of that of their ISP. It's not unthinkable that Google will expand its Google Public DNS offerings down the line, competing more directly with services like OpenDNS.
Social. There's the possibility that Google may some day be really successful in social media, the one section right now where they can't really seem to get a good grip on the market. Orkut, while very popular in some regions (primarily Brazil), hasn't had quite the worldwide success Google would have wished, and Google Buzz has more or less flopped.
Television. There's been a lot of talk about the forthcoming Google TV. We'll see where that leads.
Our list here is far from complete, but you get the idea.
King Google
The exact numbers in this article really aren't the point. The point is that Google has an enormous presence on the Web and the Internet. Google is far from being just a search company anymore. It's become an ad-funded Internet leviathan.
Impressive, isn't it? ONE SINGLE COMPANY with such a dominating presence in so many areas online. It's not hard to see why people sometimes joke that Google IS the Internet.
Data sources: Google, BuiltWith, StatCounter and Wikipedia.