Are you a company or a startup thats struggling to keep up to customers inquiries and support requests? Well, look no further as today we review a new entrant in help desk software market. Introducing Hesk's help desk software powered by PHP.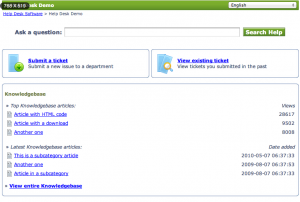 Companies usually struggle to keep up with the support requests and tickets that come their way from new and existing customers. Thanks to this new innovative solution by Hesk, managing help desk tickets has never been easy. Being a hosted help desk solution, it can be deployed on the sidelines of any company website. All you need to do is to deploy this ready made solution on your website and your help desk is ready to take in customers.
Customers can launch support tickets, attach files, see responses to ticket and browse knowledgebase for quick guidance. Thanks to this Integrated Knowledgebase, number of support requests are reduced by as much as 50% using the hesk's help desk solution.
On the administrator side, the admin panel offers unlimited administrative staff accounts, powerful ticket search tool, assign staff to tickets, post replies to tickets, run reports and much much more.
On top of this all, this is FREE. Yes, the base version of the software is free! However, sponsored links do come in with the free version. However, this can be removed by upgrading to premium license for a meagre 39.95 USD. For this price and the features offered, the offering is surely a bargain. So get your copy today and tell us your experience with the software.