In China, Shenzhen's airport, Bao'an Airport got a new terminal that is stretching for 1.5 kilometers.
The construction of this terminal requested that the lagoon was removed. Even if the building is enormous in size, the Italian firm that designed the architecture of the building dreamed to use natural light for it. Studio Fuksas, the ones who designed this project worth of 734 million dollars, imagined a ceiling that looks like a perforated honeycomb. This is present both for the interior and for the exterior of the building, and it helps saving energy.
The designers of this project assimilated their work with sculpting, instead of the architectural process, because it was quite difficult to put computers to work for what they have done.
Having offices in China, Paris and Rome, the architecture office from Rome is lead by Doriana Fuksas and her husband Massimiliano. They both admitted that because of the barriers they met when designing this ceiling, they had to first make the software that can process their request.
This was the moment when there appeared a modified version of Rhino CAD used by architects that allowed them to structure the movement made by the Sun in a course of a day to control how the light actually flows into the interior of the building.
They had to thin the structure in the north side of the building, so that the light can enter but not fall directly. There were used around 58,000 panels of glass that were shaped to be able to restrict or to allow the flowing of light. The firm considered that with 2 layers of ceiling it would help saving energy, because of the dispersing air within the building and around the 'ventilation trees' used on the ground level.
Studio Fuksas is working now on extending the airport in 2025 and 2035.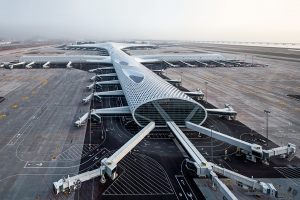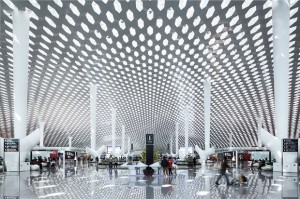 Source – Wired