[youtube]http://www.youtube.com/watch?v=JA5vEt_6zp4[/youtube]

PC gaming means taking video games to the extreme, which means Maingear's Shift Extreme may be the perfect fit. The Maingear Shift is crazy, high-end gaming rig, which isn't surprising when you look at the price tag. Those six Grover Clevelands will buy you one of the fastest gaming PCs on the market today. The three technologies that contribute to the system's speed and price are the Crucial c300 SSD (solid state drive), twin ATI Radeon 5970graphics cards, and the overclocked Intel Core i7-980Xprocessor. The SSD is $500 retail, the graphics cards about $1,400, and the processor about $1,000. What is the other $3K for? It went toward an innovative chassis, excellent workmanship, benchmark testing for the overclocking, and (a little) prestige factor. All of these together give us a high-end gaming PC.

RADICALLY REDESIGNED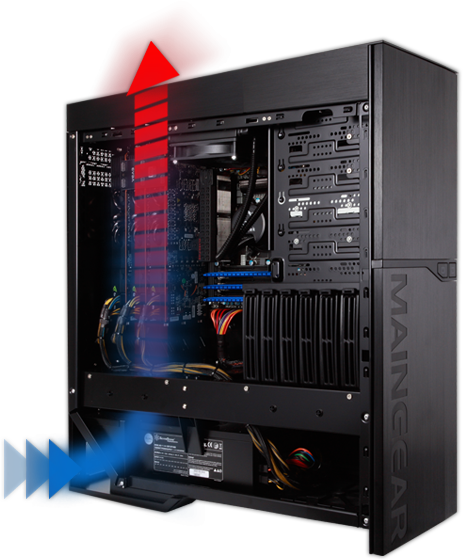 SHIFT uses the natural behavior of hot air as an advantage – by rotating the internal components of the PC so that all heat is radiated through the top vents and cool air is drawn in from the bottom, SHIFT can harness the most powerful hardware on the planet with ease. Heat is the enemy of electronic components, and hot-running components are more prone to failure. Large, slow moving fans assist with the airflow and are virtually silent, and also feature removable, washable air filters. Generous, inconspicuous ventilation grates and inlets allow for ample airflow without taking away from the design aesthetics of the SHIFT chassis.

MAXIMUM VERTICAL AIRFLOW
All peripheral connections for your monitors, keyboard, mouse, and speakers are made at the top of the SHIFT, and a cover is in place to protect and conceal them. The cover is machined with a grill to allow the hot air exhaust to escape the system. This completes the SHIFT's 90 degree design, ultimately making the SHIFT a visually stunning piece of hardware, and conveys a look unlike any other PC on the market.
NOT JUST A PRETTY FACE
The SHIFT's vertical cooling design allows us to cool multiple, high-heat graphics cards with ease and without requiring expensive watercooling. Your GPUs will run cooler, quieter, and last longer than in a chassis without proper airflow.
PROCESS FASTER THAN EVER BEFORE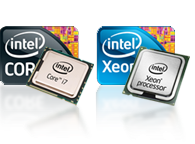 Featuring blistering performance from Intel's Core i7 and Xeon processors, there is literally no computing task that cannot be tackled by the Shift. Featuring advanced technologies such as HyperThreading, support for integrated dual- and triple-channel memory controllers, and PCI-Express 2.0 expansion, the Shift throws everything but the kitchen sink into an overclockable stack of raw computational power.
LOOKS ARE JUST AS IMPORTANT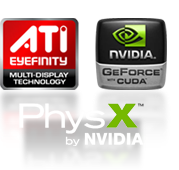 Add in the incredible GPGPU processing power of multiple NVIDIA and ATI consumer and professional graphics cards and you've got the building blocks for a personal supercomputer. Today's GPUs are powerhouses and contain hundreds of individual stream processors for massive parallel computing. Everything from video transcoding, encoding, and editing get a speed boost from stream processing. But there's plenty of room for play, too. With NVIDIA, leverage CUDA technology to enjoy gaming with PhysX – bringing realistic physics simulation to games. And 3D Vision – exclusive technology that throws you right into the middle of the game. Pick an AMD ATI Radeon HD 5000 series graphics card and you have access to the most eye candy with DirectX 11, and ATI EyeFinity technology delivers the ultimate in surround-vision with support for multi-monitor gaming.
YOU'RE NOT GOING TO RUN OUT OF SPACE ANYTIME SOON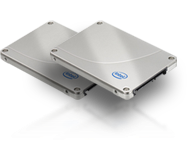 SSDs – solid state drives – the latest advancement in hard drive technology. Your PC is only as fast as its slowest component – and with SSDs you're no longer facing an HDD bottleneck. With no moving parts, SSDs are a densely packed collection of memory modules, with capacity into the hundreds of gigabytes. Absolutely silent. They run cool, and last long. And you can put 12 of them in the Shift. No kidding.
SPEED IS EVERYTHING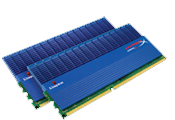 Quite simply the most reliable, highest performing memory we've ever used, Kingston's HyperX memory delivers where you need it the most. With speeds up to DDR3-2000 @ 2000MHz, we're making sure that we eliminate all bottlenecks in your PC.
?
BOLD DESIGN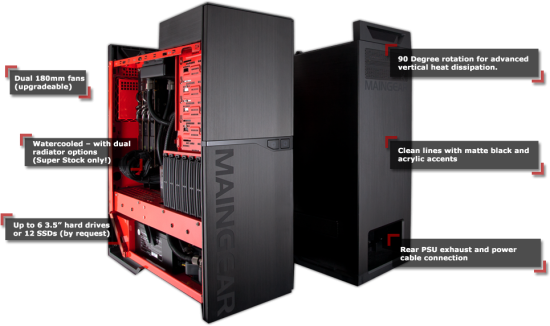 SHIFT is designed with strength and style in mind. That means a sublime blend of a steel skeleton for strength (up to 40% stronger than 100% aluminum enclosures), and beautiful brushed aluminum exterior to reduce weight and increase heat dissipation. SHIFT has confident yet refined lines, and exudes power and authority. Ultimately this makes the SHIFT a visually stunning piece of hardware, and conveys a look unlike any other PC on the market. This completes the SHIFT's innovative 90 degree design.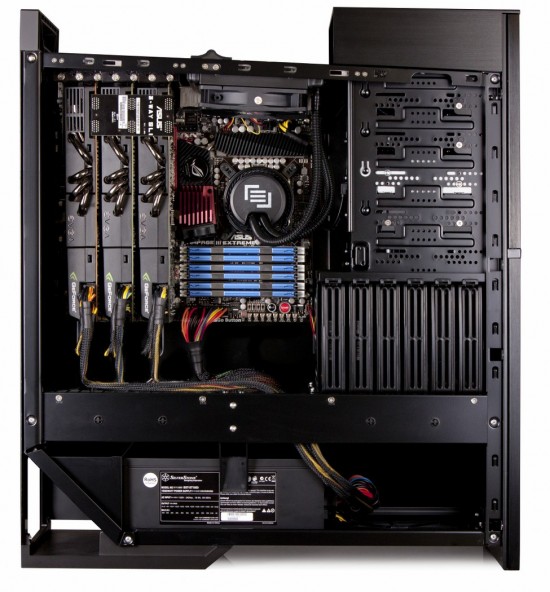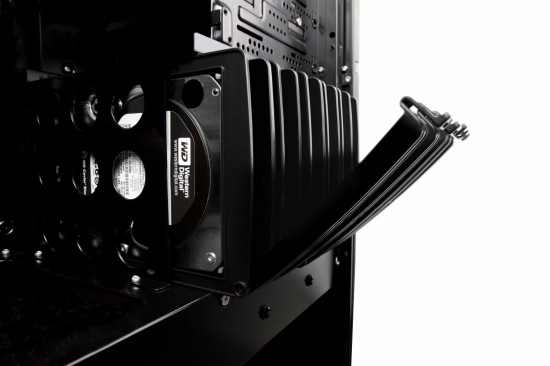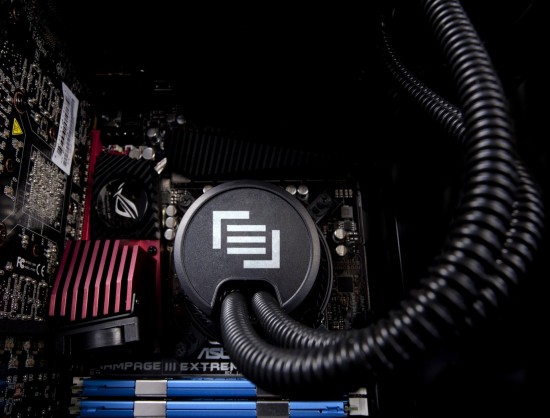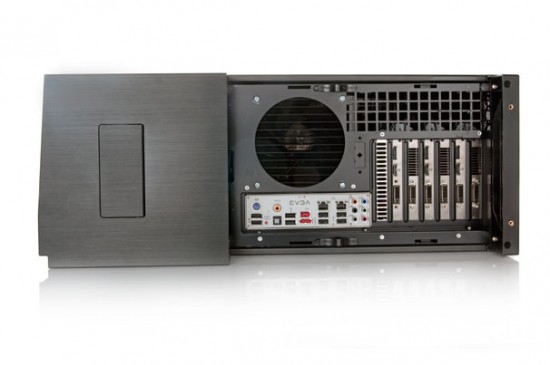 CONFIGURATION
• Chassis: MAINGEAR SHIFT Chassis with Advanced Vertical Heat Dissipation
• Exterior Finish: Brushed Black Aluminum with Acrylic and Matte Black Accents
• Power Supply: 1KW Silverstone Strider Modular Industrial Power Supply
• Graphics and GPGPU Accelerator: 2x NVIDIA® GeForce™ GTX 480 3.0GB GDDR5 Total w/ PhysX [ENTHUSIAST]
• Motherboard: Asus® P6X58D Premium Supporting SLI/CrossFire, USB 3.0, SATA 6Gb/s
• Processor: Intel® Core™ i7-980X Extreme Edition 3.33GHz (32nm) 6-core with Hyperthreading
• Processor Cooling: MAINGEAR / Asetek Maintenance-Free X120 Liquid Cooling
• Memory: 6GB Kingston HyperX Triple-Channel DDR3-1600MHz Low Latency
• MAINGEAR Redline Overclocking Service: Intel® Turbo Boost Advanced Automatic Overclocking
• Hard Drive Bay One: 750GB Western Digital Caviar Black SATA 7200rpm 32MB Cache
• Hard Drive Bay Two: Pre-Wired SATA Backplane Expansion Bracket For Easy Upgrades
• Hard Drive Bay Three: Pre-Wired SATA Backplane Expansion Bracket For Easy Upgrades
• Hard Drive Bay Four: Pre-Wired SATA Backplane Expansion Bracket For Easy Upgrades
• Hard Drive Bay Five: Pre-Wired SATA Backplane Expansion Bracket For Easy Upgrades
• Hard Drive Bay Six: Pre-Wired SATA Backplane Expansion Bracket For Easy Upgrades
• Memory Card Reader: All-in-One Integrated USB 2.0 Flash Card Reader & Writer
• Optical Drive One: 24X Dual Layer DVD RW Drive w/ LightScribe Technology
• Audio: 8-channel High Definition Surround Sound Support Coax and Optical S/DIF Out
• Network Adapter: Dual On-board Gigabit Ethernet
• Operating System: Microsoft Windows 7 Home Premium 64-bit
• The Final Finesse: Designed, Manufactured, and Supported in the United States – Flawless Craftsmanship and Wire Management
• Angelic Service Warranty: Lifetime Labor and Phone Support with 2 Year Angelic Service