The Average Selling Price of all three of Apple's most profitable product categories — the Mac, the iPhone, and the iPad – is considerably higher than a standard Windows PC.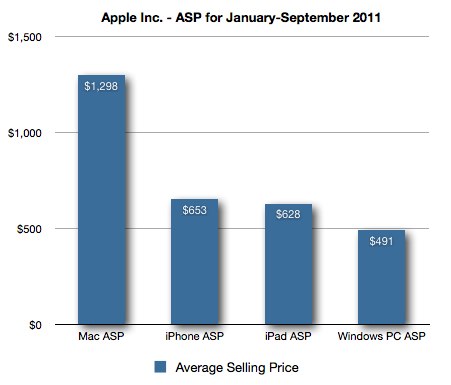 Analysts usually compare Apple's computer sales with Windows PC's, however, given that the Average Selling Price of the generic Windows PC is less than that of all Apple's major products in the US, perhaps a better comparison would be to add the sales numbers for iPhone, iPad, and Mac together.
The combined average selling price of the Mac and iPad is $852 for the first 9 months of 2011. On adding the iPhone, the Average Selling Price of Apple's three most popular products becomes $733, almost 50 percent higher than average selling price of a Windows PC sold in U.S.
In only 9 months, 12.6 million Macs, 25.1 million iPads, and 56.1 million iPhones  were sold by Apple making 93.7 million units for total sales of $68.7 billion dollars.