Car manufacturers face a multitude of hurdles to survive in today's economic and environmental climates. They must adhere to ever-tightening government restrictions on fuel economy while fighting to keep ahead of the competition's latest high-tech developments. This is a make-or-break era for auto manufacturers, because they must produce cars that are affordable as well.
Autos are not only becoming more efficient, they are sporting an array of exciting new safety features. Since the world population is increasing, and becoming more mobile, these safety options greatly affect the car insurance industry. Safer vehicles translate to fewer accidents, which translates to lower insurance premiums. This is of benefit to both the auto insurance companies and to drivers.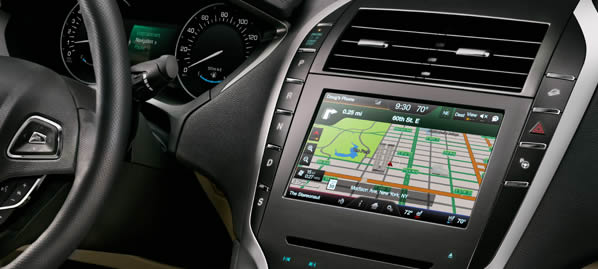 Moreover, when accidents happen, there is less injury to the occupants as well as less damage to the car. Furthermore, the new driver-assist technology is easy to use with most of it requiring minimal aid from the driver.
Awesome safety features on new cars
Perhaps the most life-saving new safety feature is electronic stability control (ESC.) This amazing development allows the car's functional system to respond to the driver's steering, by individually applying brake pressure to each wheel, which prevents most rollovers and reduces spinouts. This is possible through advanced communication between the automobile's microprocessor and various state-of-the-art sensors. Starting with the new cars for 2012, the federal government requires ESC as a mandatory feature. However, the regulations only apply to vehicles under 10,000 pounds.
Another safety option is adaptive cruise control, which monitors the driving environment and automatically adjusts the speed, unaided by the driver. Additionally, collision prevention technology keeps a safe amount of space between the auto and anything in front of it, including other moving vehicles, pedestrians, and stationary objects.
Headrests that instantly move forward, absorbing impact energy, reduce the potential for whiplash of the neck, which is the most common injury for crash victims. Head restraints are quite effective at reducing neck and head injuries, as shown by crash studies. In addition, better airbag systems adjust themselves to inflate where they are needed.
High-tech Gizmos For The Car Enthusiast
New car owners of some higher-end vehicles can forget using buttons or touch screens to control their climate, audio and global positioning system, (GPS) because now the driver can activate them through voice recognition commands. There is no longer a need for drivers to take their eyes off the road to select a setting. By using hands-free technology, drivers are less prone to distraction, as research has shown. Another new feature is tires, called run-flats, which retain their shape after a flat.
This gives the ability to drive for at least another 50 miles without needing to stop and fix or change the flat tire. What a welcome relief for those who are driving in desolate areas, or cannot easily stop for other reasons.
Night vision, using an infrared application, lets the driver see objects that are beyond the lit area of headlights. Light-emitting diode (LED) headlights are also new and improve nighttime vision as well. In addition, other exciting developments are rolling off today's auto assembly lines with many added as standard equipment.