US Department of Defence's famous agency "DARPA" (Defense Advanced Research Projects Agency) has produced a sonic fire extinguisher. It is used to extinguish light fires, for example flames in contained areas such cockpits. The whole concept around which this device revolves is sound. Shown below is an experiment conducted by the DARPA team in which they installed two speakers on either side of the liquid fuel flame. This successfully demonstrated the controlling of fire by amping up the acoustic field. The sound increased the air velocity, which in turn thinned the area of flame. In other words, "boundary of flame"; the particular area available for fire for combustion, shrank. From here on, the thinned flame was relatively easier to extinguish.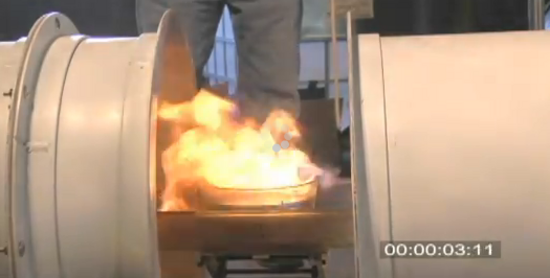 Acoustics on the same time also helped in disturbing the pool of fuel which caused higher fuel vaporization. This all worked towards reducing the fire boundary, which gradually became smaller and smaller.
Here is a video of the experiment.