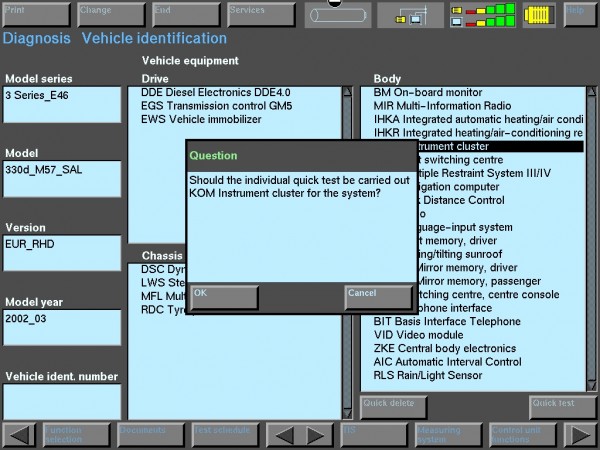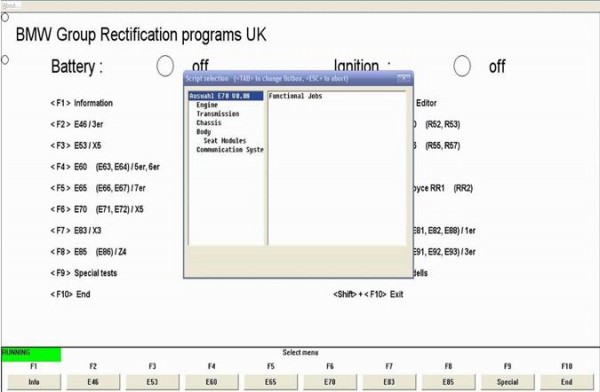 If you are reading codes from specific BMW modules, you may find you get a code. Most of BMW diagnostic softwares like DIS, INPA, EDIABAS, IBUS, CANBUS, CARSOFT, give an error code but no or limited explanation.
If you don't recognize the codes, this list will help you. The code reader or diagnostic tool will ask the module for any stored codes, and it will receive a number in hex format.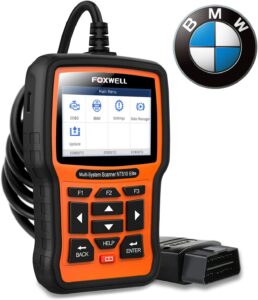 Hex format is a hexadecimal number, used by computers to count in base 16, so there are 16 numbers before "10", instead of our ten. The extra numbers are A,B,C,D,E and F. 0-10 in hex is 1,2,3,4,5,6,7,8,9,A,B,C,D,E,F,10, but Hex's 10 is Decimal's 15.
To search for your code, follow the list below, or press ctrl+f to search within this page.
will jump you to the correct section.
All codes from DDE4 onwards are listed as the HEX value. All codes before that here are decimal
BMW DME M1.1, M1.2, and M1.3
The BMW DME M1.1 (and similar, 1.2 and 1.3) is an early Bosch Motronic ECU, used on all of the 6 Cylinder BMWs up until 1990, and a few more after that.
M1.1 and M1.3 was used on the M20, M30 and M40 engines, whilst M1.2 was used on the S38 and M70, which are the early E34 M5 engines and the early V12s.
BMW DME M1.7, M1.7.1, M1.7.2, M3.1 and M3.3
The Motronic 1.7 and subfamilies, and the M3 and it's variants are the next generation of BMW ECUs. The M1.7 was used on the M40, M42 and M70, the M1.7.1
was used solely for the S70, used in the BMW 850CSi. M1.7.2 was used for the M42 and M43 4 Cylinders. The M3.1 is a 6cyl ECU, used on the early M50 24v engines without VANOS. The M3.3 family were used to run the later 3.8 litre S38b38, the S50 3.0 M3, and the M60 V8s. M3.3.1 included VANOS control, and is used on M50 engines with VANOS, introduced to the E34 and E36 in 1992.
BMW MS40
MS40 was a new ECU for BMW, manufactured by Siemens instead of the previous Bosch Motronics. BMW split the M50 24v engines and used Siemens for some of the 2.0 litres, and Bosch continued on with the 2.5l.
MS40.0 is a rare ECU used on non VANOS 2.0l, and MS40.1 introduced VANOS control.
MS41, MS42 and MS43
The next generation Siemens MS ECUs introduced many of the OBD2 features. This includes Catalytic Converter monitoring and Long / Short term Fueling and Ignition Adaptation. The MS41 was used on the M52 series of engines, MS42 on the M52TU series, and MS43 on the M43 4 Cylinders.
The OBD2 P codes fault protocol was not activated in European markets on this group, as currently it was not required by law.
MSS50
The MSS50 is a special ECU designed solely for the European E36 M3 3.2. Designed by Siemens, it integrates full Vanos control for both Intake and Exhaust Cams inside a single ECU, unlike the previous M3.3 which required a separate VNC Vanos Controller
MSS52 and MSS54
The MSS52 is an M Power ECU designed to run the E39 M5, the Z8 Roadster, and also the Wiesmann Roadsters. The MSS54 is used on the E46 M3 and on some Z3Ms. The system uses an Electronic Throttle to accurately control Air intake instead of the more common Cable throttles used on earlier vehicles
DME M5.2 and M5.2.1
DME M5.2 and M5.2.1 are Bosch ECUs, used on the M44 4cyl engine, and the M62 V8, and the M72 V12
BMS43 and BMS46
The Bosch BMS46 is a Hybrid ECU, created from a joint effort with Siemens, and is used in later M43 engines used in the Z3 and E46 series.
DME 7.2
The Bosch DME 7.2, also known as ME7.2, can be found on a number of V8 Petrol engines, used in the 5 and 7 Series amongst others. It uses Torque modeling to control the engine torque output depending on Throttle Pedal Position.
DME 9
DME 9 or ME9 is used on Valvetronic BMW engines. Valvetronic removes the need for a throttle butterfly, passing air control directly onto fully controlable valves.
DDE 1
The first series of Diesel engines used the DDE1 control unit, and was found in the M21 powered E30 324d and td, and the E28 524d and 524td. It also found its way into a few rare Lincoln Continentals.
DDE 2 and DDE 2.1
DDE stands for Digital Diesel Electronics, and these were used on BMW's Diesel engines. DDE2 is used on M41 and M51 engines. DDE 2.1 uses an updated Air Mass Meter with an Internal Air Temperature Sensor, whilst DDE2 has a separate sensor in the manifold.
DDE 2.2
This is an Updated version of the previous DDE 2.1, and was introduced in 1995. This system was used on the M51TU engines.
DDE 3
DDE 3 is the BMW name for the ECUs used on the M47 range on Diesel engines, also known as he Bosch EDC15. These are 4 Cylinder diesels, used in the E46 320d, and uses Common Rail Injection. Common Rail systems use a high pressure fuel rail with diesel injectors, as opposed to the mechanical injection systems, or the PD (Pumpe Düse) system where each injector also acts as a high pressure pump.
DDE 4 and DDE 4.1
DDE4 is another Common Rail system, using the EDC15 range of Bosch ECUs. DDE4 is seen in the M57 range of 6 Cylinder engines, from 2.5 to 3.0l displacement, and the DDE4.1 was used in a twin Master / Slave arrangement in the M67 V8 diesels, with each ECU controlling one bank of the engine.
DDE 5, DDE 6, DDE 6.2 and DDE 6.3
DDE5 is another update to the M57 and M67 diesel engine control range. DDE5 is a second generation Common rail system with Rail pressures increasing from 1350bar in DDE4 to an amazing 1600bar, and is also known as Bosch EDC16, and complies with the European EU3 emissions standard. DDE 6 is used on M57 and M67 engines from 2005, using the same 1600 bar Common Rail System, and now meeting the European EU4 emissions standard.
Body Modules
ABS 1 Teves
The first BMW ABS system, This was a 3 channel system, controlling braking to the front wheels,
and a single line for both rear wheels. The wheel speed info could be passed via data lines to traction control systems, which could
determine if the vehicle speed signal given from the rear driven axle did not match with the front wheel speed signals and
request torque reduction intervention from the ASC (Anti Skid Control) throttle body.
ABS 2 Teves
The updated version of BMW's ABS system, this was more advanced. Improvements include a 4 channel
system for independent rear wheel braking, which allowed a more active ASC system. With individual braking, not only could a
torque reduction be requested via the ASC secondary throttle body, but independent wheel braking could be used
to control individual wheel slip as part of a stability program.
ABS 3 / DSC
The ABS 3 system added yet more features to the previous systems, such as individual
wheel speed comparison over long terms. Gathering the wheel rotation data, and comparing it
is accurate enough to identify differences in tyre tread wear, but its main use was as part of a tyre pressure monitoring
system. Decreases in the rolling circumference of the tyre from tyre deflation could be monitored
as a passive system to identify low pressure in Run Flat Tyres which would often be
hard to notice otherwise.
BMW Code Database
DME M1.1, M1.2 and M1.3
Decimal
1 DME Fault
3 Fuel Pump Relay EKP
4 Idle Speed Controller
5 EVAP Canister Valve
6 Air Flow Sensor
7 Air Flow Sensor
8 "CHECK ENGINE" Light
10 Lambda Regulation
12 Lambda Sensor
15 "CHECK ENGINE" Light Failure
16 Injectors Cyl 1,3,5
17 Injectors Cyl 2,4,6
22 Idle Speed Controller
23 Lambda Sensor Heating, or Aux Air Pump Relay
28 Lambda Sensor
29 Vehicle Speed Sensor (VSS)
32 Injectors 2/4
33 Solenoid Valve Kickdown (Automatic Transmission)
37 System Voltage
38 ASC/DWA (EML Vehicles)
40 AirCon Compressor
43 Idle Speed Setting – CO Adjustor
44 Inlet Air Temperature Sensor
45 Coolant Temperature Sensor
50 Engine Torque Regulation (EML)
51 Ignition Angle Regulation (EML)
52 Idle Speed Switch
53 Wide Open Throttle (WOT) Switch
54 Torque Converter Lockup Clutch
55 Ignition System
100 DME Control Unit Final Stage
101 DME Plausibility – Engine Inoperable
252 DME Control Unit
255 DME Control Unit -Internal Error
1 Fuel Pump Relay or RPM Signal
2 Idle-Speed Controller
3 Injectors (4cyl-1,3; 6/8cyl-1,5; 12cyl 2,4,6 or 8,10,12)
4 Injectors (DME 3.3.1 Cyl 4,6)
5 Injectors (DME 3.3.1 Cyl 3,5)
6 Injectors- General
7 VANOS Relay or Injector cyl6 (DME 1.7.2)
8 "CHECK ENGINE" Light Failure
12 TPS or Lambda Sensor (M3.3.1)
13 Lambda Probe
15 Knock Sensor 1 (DME 1.7/DME 3.1)or Ignition Fault (DME 1.7.2)
16 Ignition System or Cam/Crank Position Sensor
17 Cam Position Sensor
18 DISA Valve (DME 1.7.2)
19 Electric Fan Output Stage
20 Cruise Control
22 Ignition Fault Cyl 7
23 Ignition Fault Cyl 4 or 6
24 Ignition Fault Cyl 4 or 6
25 Ignition Fault Cyl 1 or 5
26 Voltage Supply
29 Idle Speed Controller
31 Injector on Cyl 3 or 5
32 Injectors (4cyl 2/4; 6cyl 2/6; 8cyl 8/2; 12cyl 1,3,5 or 7,9,11)
33 Injector on Cyl 1 or 3
35 Injector on Cyl 2
36 EVAP Canister Valve
37 Lambda Heater Relay
38 Lambda Heater Relay
41 Air Flow Sensor
42 Speed Signal or Knock Sensor 2 (DME 1.7.x or 3.3.1)
46 Electric Fan
48 AirCon Compressor Shut Off Relay
49 Injector on Cyl 2
50 Ignition Fault on Cyl 1 or 3
51 Ignition Fault on Cyl 2 or 8
52 Ignition Fault on Cyl 5 or 3
54 Voltage Supply
55 Ignition (Final Stage)
62 Signal (EML)
63 Torque Converter Lockup Clutch
64 EGS/DME Connection Error
65 AirCon Compressor
66 Theft Warning System (DWA)
67 Crank Position Sensor or Knock Sensor 4 (DME 3.3)
68 Knock Sensor 3
69 Knock Sensor 2
70 Lambda Sensor (DME 1.7.x or 3.1) or Knock Sensor 1
73 Vehicle Speed Signal (VSS) or TPS
76 Idle Speed Setting – CO Adjustor
77 Intake Air Temperature Sensor
78 Coolant Temperature Sensor
81 Theft Warning System (DWA)
82 MSR Engine Torque Regulation or AirCon Compressor (1.7.2)
83 ASC (EML)
85 AirCon Compressor Relay
100 Amplifier 1 in DME Control Unit
101 Amplifier 2 in DME Control Unit
150 Knock Sensor 1
151 Knock Sensor 2
152 Knock Control
153 Knock Control Voltage
200 DME Control Unit
201 Lambda Regulation
202 Control unit
203 Ignition system or Lambda Sensor
204 Idle Speed (EML)
205 Ignition Timing Intervention
206 Knock Control Test Pulse/Control Modules
207 Knock Control Regulated Voltage
210 CAN Interface
220 EWS 2 Immobilisation
252 EVAP Canister Valve
255 Control Unit -Internal error
333 Control Unit -Internal error
1 Ignition Fault Cylinder 1
2 Ignition Fault Cylinder 3
3 Ignition Fault Cylinder 5
5 Injector Fault Cylinder 6
6 Injector Fault Cylinder 4
8 Park/Neutral Switch
9 AirCon Compressor
10 AirCon Pressure Switch
12 Vehicle Speed Signal
14 EGS/DME Connection Error
15 EWS
22 Injector Fault Cylinder 3
23 Injector Fault Cylinder 1
24 AirCon Compressor
25 Vanos
27 Idle Speed Controller
29 Ignition Fault Cylinder 2
30 Ignition Fault Cylinder 4
31 Ignition Fault Cylinder 6
33 Injector Fault Cylinder 5
49 Power Supply Control Unit
50 Injector Fault Cylinder 2
51 Tank Ventilation
52 Fuel Pump
53 Lambda Sensor Heater
62 Ignition Signal Resistor
63 Knock Sensor Fault Bank 2
64 Knock Sensor Fault Bank 1
68 Air Flow Sensor (HFM)
75 Lambda Sensor Voltage
77 TPS
79 Cam Position Sensor
81 Coolant Temperature Sensor
84 Camshaft Sensor
85 Intake Air Temperature Sensor
97 Tank Ventilation Valve
98 Idle Speed Controller
99 Lambda Regulation
100 Control Unit Fault
200 Lambda Sensor Control
201 Idle Speed Controller
203 TPS
204 Ignition Signal Resistor
206 Vanos Mechanical Fault
207 Vehicle Speed Signal VSS
209 EWS Intervention
1 Ignition coil Cyl 2
2 Ignition coil Cyl 4
3 Ignition coil Cyl 6
5 Fuel injector Cyl 2
6 Fuel injector Cyl 1
8 Air Flow Meter (HFM)
10 Coolant Temperature Sensor
11 Tank Pressure Sensor (EVAP System) or Radiator Outlet Temp (MS43)
12 TPS or Plausibility – Maximum Coolant Temp (MS43)
13 Plausibility- Radiator Outlet Temp
14 Intake Air Temperature Sensor
15 Plausibility – Cut Out Time
16 AirCon Compressor – PWM Signal or Plausibility Intake Air Temp (MS43)
17 Plausibility – Engine Coolant Temp
18 EWS Signal or Camshaft Sensor (MS43)
19 Activation VANOS Inlet Valve or Exhaust Valve (MS43)
20 "CHECK ENGINE" Light Failure
21 VANOS -Electrical Fault or Activation VANOS Inlet Valve (MS43)
22 Fuel Injector Cyl 3
23 Fuel Injector Cyl 6
24 Fuel Injector Cyl 4
25 Lambda Sensor Heater -Bank 1
27 Idle Control Valve – Malfunction
29 Ignition Coil Cyl 1
30 Ignition Coil Cyl 3
31 Ignition Coil Cyl 5
33 Fuel Injector Cyl 5
35 Aux. Air Injection System Relay
36 DME Main Relay
37 DME Main Relay : Delay
38 Clutch Switch -Plausibility
39 Brake Light Switch or Brake Light Test Switch
40 Brake Light Switch or Pedal Value Signal
42 Multi Function Steering Wheel- Plausibility
43 Multi Function Steering Wheel: Button
45 Multi Function Steering Wheel: Port
47 Temp Sensor -Downstream of Pre-Cat or Torque Limitation Level 1 (MS43)
48 DME Control Unit -Self Test 1
49 DME Control Unit or Torque Monitoring Level 2 (MS43)
50 EVAP Control Valve or Response Monitoring Level 2 (MS43)
51 Shut-off Valve -Charcoal Filter or Request Control Unit Reset (MS43)
52 Solenoid Valve -Exhaust Flap
53 Idle Speed Actuator
55 Lambda Sensor Heater -Bank 2
56 Ignition Current Feedback Resistor – Open Circuit
57 Knock sensor -Bank 1
58 DME Control Unit -Self Test 2
59 Knock Sensor -Bank 2
61 Lambda Sensor Heater -Bank 2 Post Cat
62 Aux. Air Injection System -Switching Valve
63 DME Control Unit or Ambient Temp Signal via CAN (MS43)
64 Plausibility – Ambient Temperature
65 Camshaft Position Sensor (Inlet MS43)
66 DME Control Unit
67 DME Control Unit
68 Tank Venting Valve
69 Fuel Pump Relay
70 DME Control Unit
71 DME Control Unit
72 DME Control Unit
74 AirCon Compressor Relay
75 Lambda Sensor Voltage -Bank 1
76 Lambda Sensor Voltage -Bank 2
77 Lambda Sensor Voltage -Bank 1 Post Cat
78 Lambda Sensor Voltage -Bank 2 Post Cat
79 Lambda Sensor Heater -Bank 1 Post Cat
80 ABS/ASC interface
81 MSR Signal -Active too Long
82 ABS/ASC Interface -Advance Adjustment
83 Crankshaft Sensor
90 Exhaust Temperature Pre Cat Conv – Bank 1
91 Exhaust Temperature Pre Cat Conv – Bank 2
92 Exhaust Temperature Post Cat Conv -Bank 1
93 Exhaust Temperature Post Cat Conv -Bank 2
94 Auxiliary Air -Air Mass Flow Sensor
95 Auxiliary Air Valve or Auxiliary Air Hose Blocked
96 Auxiliary Air Pump – Function
97 Auxiliary Air -Flow Rate too Low
98 Auxiliary Air -Flow Rate too High
99 Auxiliary Air Valve Jammed Open
100 DME Control Unit -Self-Test Failed
103 VANOS Error -Inlet Camshaft
104 VANOS Error -Exhaust Camshaft
105 VANOS Error -Position Inlet Camshaft
106 VANOS Error -Position Exhaust Camshaft
109 Throttle Valve Plausibility
110 Pedal Sensor Value Potentiometer 1
111 Pedal Sensor Value Potentiometer 2
112 TPS Potentiometer 1
113 TPS Potentiometer 2
114 Throttle Valve Final Stage
115 Reference Voltage -Voltage Regulator 1 or Throttle Pedal Adaptation (MS43)
116 Reference Voltage -Voltage Regulator 2
117 Plausibility -Pedal Position Sensor 1/2
118 Plausibility -TPS 1/2 or TPS1/Airflow Plausibility (MS43)
119 Throttle Valve Sensor -Mechanical Error or TPS2/Airflow Plausibility (MS43)
120 Plausibility Pedal Sensor or TPS
122 Engine Oil Temperature
123 Map Cooling Thermostat Control
124 Activation DISA Solenoid
125 Activation Electric Fan
126 Activation Tank Leak Pump Solenoid
127 Activation Pump Solenoid
128 DME/EWS Communication
129 CAN Signal SMG 1
130 CAN Signal ASC -Timeout
131 CAN Signal Instrument Cluster -Timeout
132 CAN Signal Instrument Cluster -Timeout
133 CAN Signal ASC -Timeout
134 SMG Intervention -Plausibility
135 Throttle Valve Re-Adaptation Required
136 Throttle Valve -Spring Test and Limp-home Position Failed
137 CAN Signal -Steering Angle Sensor
139 CAN Signal -Tank Level Sensor
140 Tank Leak Pump Solenoid – Reed Switch Open or Output Stage (MS43)
141 Tank Leak Pump Solenoid – Reed Switch Stuck Closed or Tank Level Sensor (MS43)
142 Tank Leak Pump Solenoid – Reed Switch Stuck Open or DMTL Module (MS43)
143 Tank Ventilation or Tank Leakage (MS43)
144 Fuel System – Large Leak Recognised
145 Fuel System – Small Leak Recognised
146 EVAP System Leak Detected (Small Leak) or Pedal Sensor Supply Voltage Pot 1 (MS43)
147 Pedal Position Sensor Potentiometer Supply Channel 1 (Pot 2 MS43)
149 Air Flow Sensor or Pedal Value Sensor Mismatch
150 Lambda Post Cat Bank 1 Max Limit
151 Lambda Post Cat Bank 2 Max Limit
152 Lambda Post Cat Bank 1 Min Limit
153 Lambda Pre Cat Bank 2 Max Limit
154 Lambda Pre Cat Bank 2 Min Limit
155 Lambda Pre Cat Bank 2 No Signal
156 Lambda Pre Cat Bank 1 No Signal
157 Lambda Post Cat Bank 1 Min Limit
159 Lambda Post Cat Bank 2 Max Limit
160 Lambda Post Cat Bank 2 (MS41) or Throttle Valve Stuck
161 Throttle Valve – Stuck
162 Throttle Valve -Control Deviation
168 Pedal Position Sensor Pot Supply 1 or MAP Cooling Thermostat Jammed (MS43)
169 Throttle Valve Output Stage Cut off after Fault
170 DME Control Unit -Self Test Failed
171 Plausibility – Throttle Valve
172 Pedal Sensor Potentiometer 1/2 Short Circuit
173 TPS Potentiometer 1/2 Short Circuit
174 Throttle Valve Potentiometer 1/2 Adaptation
175 Pedal Sensor 1 Adaptation
176 Pedal Sensor 2 Adaptation
186 Voltage Post Cat Bank 1
187 Voltage Post Cat Bank 2
188 Voltage Pre Cat Bank 1
189 Voltage Pre Cat Bank 2
190 EVAP -Reed Switch Open or Voltage Post Cat Bank 1 (MS43)
191 EVAP -Reed Switch Closed or Voltage Post Cat Bank 2 (MS43)
192 EVAP -Reed Switch Open
193 EVAP -Check Hoses
194 EVAP -Large Leak Detected
195 EVAP -Small Leak Detected
196 EVAP -Electrical Valve from LDP Pump or Barometric Pressure Sensor (MS43)
197 EVAP -Barometric Pressure Sensor
198 Cat Efficiency during Start -Bank 1
199 Cat Efficiency during Start -Bank 2
200 Lambda Regulation Bank 1 Pre Cat
201 Lambda Regulation Bank 2 Pre Cat
202 Lambda Regulation Bank 1 Post Cat
203 Lambda Regulation Bank 2 Post cat
204 Idle Control System -Idle speed not plausible
208 EWS -RPM Signal Error
209 EWS -Message Error
210 Ignition Feedback Resistor (ZSR)
211 Idle Speed Actuator -Mechanical
212 VANOS Bank 1 -Mechanical
214 Vehicle Speed Signal (VSS)
215 Lambda Sensor Bank 1 or ASC/MSR/EML -Interface not plausible
216 Lambda Sensor Bank 2 or EGS Position Signal
217 CAN bus error -EGS Signal not present
218 CAN module -Warning
219 CAN module -CAN Offline
220 Lambda Voltage Range Bank 1 Sensor 1
221 Lambda Voltage Range Bank 2 Sensor 1
222 Low Coolant Temperature or Lambda Sensor Control (MS43)
223 Lambda Sensor Switching Bank 1 Sensor 2
224 Lambda Sensor Switching Bank 2 Sensor 2
225 Cat Efficiency Bank 1
226 Cat Efficiency Bank 2
227 Mixture Deviation Bank 1
228 Mixture Deviation Bank 2
229 Lambda Sensor Switching Bank 1
230 Lambda Sensor Switching Bank 2
231 Lambda Sensor Switching Bank 1 Pre Cat
232 Lambda Sensor Switching Bank 2 Pre Cat
233 Catalytic Converter Overall Efficiency Bank 1
234 Catalytic Converter Overall Efficiency Bank 2
235 Lambda Heater Bank 1 Post Cat or Pre Cat Signal (MS43)
236 Lambda Heater Bank 2 Post Cat or Pre Cat Signal (MS43)
238 Misfire Cyl 1
239 Misfire Cyl 2
240 Misfire Cyl 3
241 Misfire Cyl 4
242 Misfire Cyl 5
243 Misfire Cyl 6
244 Crankshaft Interval Timing
245 Aux Air Injection System Bank 1
246 Aux Air Injection System Bank 2
247 Aux Air Injection System -Incorrect Flow Detected
248 Pre Cat Converter Efficiency -Bank 1
249 Pre Cat Converter Efficiency -Bank 2
250 Tank Venting Valve -Function
251 Tank Ventilation Diagnosis Error
252 Tank Ventilation System Vacuum
253 Activated Charcoal Filter Shut-off Valve Stuck Shut
254 Tank Ventilation System -Large Air Leak
255 Tank Ventilation System -Valve Stuck Open
1 Fuel Pump Relay
2 Idle Speed Actuator- Closing Coil
3 Fuel Injector Cyl 1
4 Fuel Injector Cyl 3
5 Fuel Injector Cyl 2
7 Intake Cam Position Sensor
8 Fault Lamp (MIL)
9 Ignition Current- Bank 2
10 Exhaust Cam Position Sensor
12 Lambda Sensor 1
13 Lambda Sensor 2
15 Ignition Current- Bank 1
19 Aux. Air Pump Relay
21 VANOS Retard Valve- Exhaust
22 VANOS Advance Valve- Exhaust
23 Ignition Coil- Cyl 2
24 Ignition Coil- Cyl 3
25 Ignition Coil- Cyl 1
29 Idle Speed Actuator- Opening Coil
31 Fuel Injector Cyl 5
32 Fuel Injector Cyl 6
33 Fuel Injector Cyl 4
36 Tank Vent Valve
37 Lambda Sensor Heater Relay
41 Mass Air Flow Sensor
42 Road Speed Signal VSS
44 Oil Level Sensor
46 Fuel Consumption Signal ti
47 Engine Speed Signal TD
48 AirCon Compressor Relay
50 Ignition Coil- Cyl 4
51 Ignition Coil- Cyl 6
52 Ignition Coil- Cyl 5
53 Electric Fan Relay
54 Vehicle System Voltage
48 AirCon Compressor Relay
67 VANOS Advance Valve- Intake
68 Knock Sensor 3
69 Knock Sensor 2
70 Knock Sensor 1
72 VANOS Retard Valve- Intake
73 Throttle Position Sensor TPS
77 Intake Air Temperature Sensor
78 Engine Coolant Temperature Sensor
80 Gear Recognition Switch
82 Starter Motor Solenoid
86 CAN: Signal Missing
66 EWS Signal Faulty
130 EWS Signal
136 Idle Speed Control Valve
137 CAN Protocol Fault
138 CAN Timeout Message 1
139 CAN Timeout Message 2
140 CAN Timeout Message 3
144 Lambda Sensor Control Limit- Bank 1
145 Lambda Sensor Control Limit- Bank 2
150 MSS50 Control Module Fault- Memory Test RAM Master
151 MSS50 Control Module Fault- Driver Fault
152 MSS50 Control Module Fault- Internal Communication Fault Master
155 MSS50 Control Module Fault- Fault Memory Master
156 MSS50 Control Module Fault- Fault Memory Slave
157 MSS50 Control Module Fault- Memory Test RAM Slave
158 MSS50 Control Module Fault- Internal Communication Fault Slave)
159 Internal SG Fault- Knock Conditioning 1
160 Internal SG Fault- Knock Conditioning 2
161 Internal SG Fault- Knock Conditioning 3
162 Camshaft Synchronisation
163 MSS50 Control Module Fault- Internal
1 Fuel Pump Relay
2 Idle Speed Actuator- Closing Coil
3 Fuel Injector Cyl 1
4 Fuel Injector Cyl 3
5 Fuel Injector Cyl 2
7 Intake Cam Position Sensor Bank 1
8 Intake Cam Position Sensor Bank 2
9 Knock Sensor- Cyl 1-2
10 Exhaust Cam Position Sensor Bank 1
11 Exhaust Cam Position Sensor Bank 2
12 Lambda Sensor Signal- Pre Cat Bank 2
13 Lambda Sensor Signal- Pre Cat Bank 1
14 DMTL Heating
15 Camshaft Sensor Bank 1 Synchronisation
16 Crankshaft Sensor
19 Aux Air Pump Relay
20 Starter Relay
21 VANOS Retard Valve- Exhaust Bank 1
22 VANOS Advance Valve- Exhaust Bank 1
23 Ignition Coil- Cyl 2
24 Ignition Coil- Cyl 3
25 Ignition Coil- Cyl 1
26 Ignition Coil- Cyl 8
27 DMTL Changeover Valve
29 Idle Speed Control Valve NC Coil
30 Internal DME Fault
31 Fuel Injector Cyl 5
32 Fuel Injector Cyl 6
33 Fuel Injector Cyl 4
34 Fuel Injector Cyl 7
35 Fuel Injector Cyl 8
36 Tank Vent Valve
37 Lambda Sensor Heater Pre Cat Bank 1
38 Lambda Sensor Heater Pre Cat Bank 2
39 Lambda Sensor Heater Post Cat Bank 1
40 Lambda Sensor Heater Post Cat Bank 2
41 Mass Air Flow Sensor Right
42 Road Speed Signal
43 Temperature Sensor Signal- Radiator Outlet
44 Oil Level Sensor Signal
45 Electronic Throttle Motor MDK
47 Engine Speed Signal TD
48 AirCon Control Module
49 Internal Index 95
50 Ignition Coil- Cyl 4
51 Ignition Coil- Cyl 6
52 Ignition Coil- Cyl 5
53 Electric Fan
54 System Voltage Main Relay
55 Ignition Coil- Cyl 7
57 Mass Air Flow Sensor Left
58 Sensor Voltage Supply
59 Sensor Voltage Supply
60 Throttle Pedal Position Sensor 1
61 Throttle Pedal Position Sensor 2
63 Aux Air Valve
65 Throttle and Electric Throttle Actuator Potentiometer
66 DME-EWS Communication
67 VANOS Advance Valve- Inlet Bank 1
69 Knock Sensor Cyl 3-4
70 Knock Sensor Cyl 7-8
71 Knock Sensor Cyl 5-6
72 VANOS Retard Valve- Inlet Bank 1
73 Mass Air Flow Sensor Implausible
74 VANOS Advance Valve- Inlet Bank 2
75 VANOS Retard Valve- Inlet Bank 2
76 Ambient Air Pressure Sensor (DME Internal)
77 Intake Air Temperature Sensor
78 Engine Coolant Temperature Sensor
79 Exhaust Gas Temperature Sensor
80 Switch Chain Frictional Connection
81 Multifunction Steering Wheel(E39)/Steering Column Lever(Z8)
83 VANOS Advance Valve- Exhaust Bank 2
84 VANOS Advance Valve- Exhaust Bank 2
85 Throttle Position Sensor
86 CAN Bus Signal
87 Lambda Sensor Post Cat Bank 1
88 Lambda Sensor Post Cat Bank 2
89 Internal DME Fault
92 Lambda Sensor Post Cat Bank 1 Voltage Monitoring
93 Lambda Sensor Post Cat Bank 2 Voltage Monitoring
99 Internal DME Fault
100 Tyre Pressure Front Left
101 Tyre Pressure Front Right
102 Tyre Pressure Rear Right
103 Tyre Pressure Rear Left
105 Engine Coolant Temperature Implausible
106 Brake Light Switch
107 Electronic Throttle Self Test
108 Oil Circuit Changeover Valve Left
109 Oil Circuit Changeover Valve Right
110 Function Light Switch Vehicle Dynamics
111 Throttle Pedal Position Sensor Comparison
112 Throttle Pedal Position Sensor Comparison
113 Inlet VANOS Bank 2 Function
114 Exhaust VANOS Bank 2 Function
115 Control Module Temperature or Tyre Pressure Control Button
116 Servotronic Valve
117 Servotronic- Road speed Signal
118 Electronic Throttle Potentiometer Bank 1
119 Electronic Throttle Potentiometer Bank 2
120 Electronic Throttle Potentiometer Comparison
121 Electronic Throttle Both Potentiometers Faulty
122 DME Internal Processor Check
125 Oil Level Sensor Lamp
126 Electric Fuel Pump Crash Deactivation
127 DMTL Module
128 Deviation Idle Speed
129 Cat Protection Function- Empty Tank or Low Fuel
130 EWS 3.3 Anti Tampering Protection
131 DSC Intervention Implausible
132 CAN Timeout DSC
133 CAN Timeout Steering Angle Sensor
134 CAN Timeout Instrument Cluster
135 Road Speed Signal
136 Idle Speed Control Function
139 Interruption Cruise Control Operation
140 Knock Control Deactivated/Knock Protection
141 Tank Fill Level Implausible
143 E-box Fan
144 Lambda Sensor Control Bank 1
145 Lambda Sensor Control Bank 2
149 Fuel Level
150 DME Memory Fault
151 Internal DME Fault
155 Saving Adaptation Values not Possible
156 Saving Adaptation Values not Possible
157 DME Memory Fault
158 Reset DME Over Speed
159 Internal DME Fault Knock Control
160 Internal DME Fault Knock Control
161 Internal DME Fault Knock Control
162 Camshaft Sensor Bank 2 Synchronisation
163 Reset DME Over Speed
170 Aux Air Quantity too Low
171 Aux Air Valve Jammed
172 VANOS Admission Pressure Pump
173 Continuous Signal Starter Switch
174 Fuel System Diagnosis Bank 1
175 Fuel System Diagnosis Bank 2
176 Abort Tank Leak Diagnosis due to Moisture
178 Catalytic Converter Efficiency Bank 1
179 Catalytic Converter Efficiency Bank 2
180 Tank Leak Detected
181 Fuel Filler Cap Open
182 Internal DME Fault
183 Internal DME Fault
184 Inlet VANOS Bank 1 Function
185 Exhaust VANOS Bank 1 Function
194 Electronic Throttle Limp Mode from Cruise Control
195 Deviation Setpoint Torque from Actual Torque
196 Misfire Cyl 1 with Cyl Cutout
197 Misfire Cyl 2 with Cyl Cutout
198 Misfire Cyl 3 with Cyl Cutout
199 Misfire Cyl 4 with Cyl Cutout
200 Misfire Cyl 5 with Cyl Cutout
201 Misfire Cyl 6 with Cyl Cutout
202 Misfire Cyl 7 with Cyl Cutout
203 Misfire Cyl 8 with Cyl Cutout
204 Misfire Multiple Cylinders with Cyl Cutout
205 Misfire Cyl 1 without Cyl Cutout
206 Misfire Cyl 2 without Cyl Cutout
207 Misfire Cyl 3 without Cyl Cutout
208 Misfire Cyl 4 without Cyl Cutout
209 Misfire Cyl 5 without Cyl Cutout
210 Misfire Cyl 6 without Cyl Cutout
211 Misfire Cyl 7 without Cyl Cutout
212 Misfire Cyl 8 without Cyl Cutout
213 Misfire Multiple Cylinders without Cyl Cutout
214 Lambda Sensor Pre Cat Bank 1 Period Duration
215 Lambda Sensor Pre Cat Bank 2 Period Duration
216 Lambda Sensor Pre Cat Bank 1 Flip Time
217 Lambda Sensor Pre Cat Bank 2 Flip Time
218 Lambda Sensor Pre Cat Bank 1 Signal Excursion
219 Lambda Sensor Pre Cat Bank 2 Signal Excursion
220 DME Internal Processor Check
228 Electronic Throttle Limit Violation
230 Electronic Throttle Setpoint/Actual Value Deviation
231 DME Internal Processor Check
232 Tank Vent Valve Function Check
247 VANOS Pressure Accumulator Valve
1 Activation -Solenoid Valve, Leakage Diagnosis Pump
2 Activation -Solenoid Valve, Fuel System Changeover
3 Leakage Diagnosis Pump
4 Lambda Sensor Heater Post Cat Bank 2
5 Lambda Sensor Heater Pre Cat Bank 2
6 CAN Instrument Cluster
7 Engine Coolant Temperature -Radiator
8 Misfire from Low Fuel
10 Lambda Sensor Pre Cat Bank 1 Sensor 1
12 Lambda Sensor Post Cat Bank 1 Sensor 2
13 Lambda Sensor Heater Pre Cat -No Signal Bank 1 Sensor 1
14 Lambda Sensor Heater Post Cat
15 Lambda Sensor Switching TP Pre Cat Bank 1 Sensor 1
16 Lambda Sensor Switching Pre Cat Bank 1
17 Lambda Sensor Switching Post Cat Bank 1 Sensor 2
18 Lambda Sensor Pre Cat Bank 2
19 CAN Communication with Heated Catalyst (EKAT)
20 Lambda Sensor Post Cat Bank 2
21 Lambda Sensor Switching TP Pre Cat Bank 2
22 Lambda Sensor Switching Duty Cycle Pre Cat Bank 2
23 Lambda Sensor Switching Post Cat Bank 2
24 AirCon Compressor Function
25 Multiplicative Mixture Adaptation Part Load Bank 2,
26 Multiplicative Mixture Adaptation Part Load Bank 1
27 Additive Mixture Adaptation Idle Bank 1
28 Additive Mixture Adaptation Idle Bank 1
29 Switching Solenoid for Aux Air Injection Control Circuit Bank 1
30 Additive Mixture Adaptation Idle Bank 1
31 Additive Mixture Adaptation Idle Bank 1
32 Idle Speed Control
33 Camshaft Inlet Bank 1
34 Camshaft Inlet Bank 2
35 Additive Mixture Adaptation Idle Bank 2
36 Additive Mixture Adaptation Idle Bank 2
39 EWS Immobiliser
40 Cat Efficiency Bank 1
42 EKAT -Heater Disconnected Cat 1
43 EKAT -Operating Condition Switch Cat 1
44 EKAT -Power Cat 1
45 Cat Efficiency Bank 2
46 EKAT -Heater Disconnected Cat 2
47 EKAT -Operating Condition Switch Cat 2
48 EKAT -Power Cat 2
50 Misfire Cyl 1
51 Misfire Cyl 2
52 Misfire Cyl 3
53 Misfire Cyl 4
54 Misfire Cyl 5
55 Misfire Cyl 6
56 Misfire Cyl 7
57 Misfire Cyl 8
58 Misfire Cyl 9
59 Misfire Cyl 10
60 Misfire Cyl 11
61 Misfire Cyl 12
62 Misfiring in Various Cyls
63 Misfiring with Cylinder Cutout Cyl 1
64 Misfiring with Cylinder Cutout Cyl 2
65 Misfiring with Cylinder Cutout Cyl 3
66 Misfiring with Cylinder Cutout Cyl 4
67 Misfiring with Cylinder Cutout Cyl 5
68 Misfiring with Cylinder Cutout Cyl 6
69 Misfiring with Cylinder Cutout Cyl 7
70 Misfiring with Cylinder Cutout Cyl 8
71 Misfiring with Cylinder Cutout Cyl 9
72 Misfiring with Cylinder Cutout Cyl 10
73 Misfiring with Cylinder Cutout Cyl 11
74 Misfiring with Cylinder Cutout Cyl 12
75 Misfiring in Various Cyls
77 Switching Solenoid for Aux Air Injection Control Circuit Bank 2
78 Crankshaft Sensor
79 Activation Aux Air Pump Bank 2
80 Aux Air Pump Function
81 EKAT Battery Temperature Sensor 1
82 EKAT Battery Temperature Sensor 2
83 EKAT Comparison Battery voltages of Power Switches Plausibility
84 Activation Aux Air Pump Bank 2
85 Activation Aux Air Pump Bank 1
91 Activation Tank Venting Valve Bank 2
93 Tank Venting System Function
94 Tank Venting System Large Leak
97 Tank Venting System Small Leak
98 Activation Tank Venting Valve
99 Tank Venting System -Pressure Sensor/Switch Range/Performance
101 DME Internal RAM
102 DME Internal RAM
103 DME EPROM
104 Fault Memory Error
105 Internal Control Module -RAM/ROM Error
107 DME Relay Voltage Supply
108 Voltage Supply B+
108 Battery Voltage
111 Crankshaft Position Signal
112 Camshaft Position Signal
113 Camshaft Position Signal Bank 1
114 Camshaft Position Signal Bank 2
115 Air Flow Meter HFM Signal
117 TPS Sensor/Switch 'A' Circuit
118 TPS Signal 1
119 TPS Signal 2
120 Vehicle Speed Signal VSS
121 Air Flow Meter HFM Load Measurement
123 Coolant Temperature Signal
124 Intake Air Temperature Signal
125 Output Temperature Signal
130 Lambda Sensor Pre Cat
131 Throttle Valve Stuck
132 Activation Throttle Valve
133 Activation Throttle Valve
134 Tank Level Switch
135 Specified Engine Torque -EGS Intervention
136 Throttle Valve
138 Compressor Intervention
139 Activation Map Cooling
140 Engine Torque -Bank Comparison
141 Dynamic Stability Control DSC Intervention
143 Engine Torque Control MSR Intervention
144 Automatic Stability Control ASC Intervention
147 Map Cooling Function
148 EWS Interface
149 Inlet Camshaft Setting, Bank 2
150 Fuel Injector Cyl 1
151 Fuel Injector Cyl 2
152 Fuel Injector Cyl 3
153 Fuel Injector Cyl 4
154 Fuel Injector Cyl 5
155 Fuel Injector Cyl 6
156 Fuel Injector Cyl 7
157 Fuel Injector Cyl 8
158 Fuel Injector Cyl 9
159 Fuel Injector Cyl 10
160 Fuel Injector Cyl 11
161 Fuel Injector Cyl 12
163 Fuel Pump Relay EKP
165 "CHECK ENGINE" Warning Lamp
167 Fuel Pump Relay EKP
168 Idle Speed Control Valve -Opening
169 Idle Speed Control Valve -Closing
170 AirCon Compressor Control
174 Camshaft Control Bank 1
175 DISA Control Circuit Electrical
178 Camshaft Control Bank 2
179 AirCon Compressor Control Bank 2
183 EVAP Emission System Leak Detected (Small)
184 Leakage Diagnostic Pump Clamped Hose
188 Emissions Warning Lamp, Bank 2(US)
189 Inlet Camshaft Bank 1
203 Ignition Circuit Monitoring
204 EWS Rolling Code Storage
208 Aux Air Injection System
210 Knock Sensor 1
211 Knock Sensor 2
212 Knock Sensor 3
213 Knock Sensor 4
214 CAN Interface -Version No.
215 CAN Interface DME Timeout
216 CAN Interface DSC Timeout
217 CAN Interface EML Timeout
220 Knock Control
222 Knock Control Bank 1
225 EKAT Power Switch Temperature Sensor Plausibility
226 Heated Catalyst Comparison Battery Voltage of Power Switches Plausibility
228 Automatic Start -Output Stage 2
233 Automatic Start -Output Stage
234 Automatic Start -Input
236 CAN Interface EGS Timeout
237 Automatic Start Module
250 Aux Air Injection System Bank 1
253 Coolant Fan Final Stage
500 EKAT Module
1 Fuel Pump Relay
2 Idle Speed Controller
3 Injector Cylinder 2
4 Injector Cylinder 4
12 TPS
14 Air Flow Meter HFM
15 Knock Sensor 1
16 Camshaft Sensor
18 Unknown Failure or Stall
24 Ignition Cylinder 3
25 Ignition Cylinder 1
29 Idle Speed Controller
31 Injector Cylinder 3
32 Injector Cylinder 1
36 Tank Ventilation
37 Lambda Sensor Heater Relay
41 Air Flow Meter HFM
42 Knock Sensor 1
44 Camshaft sensor
46 Electric Fan Relay
48 AirCon Compressor Shut Off Relay
51 Ignition Cylinder 4
52 Ignition Cylinder 2
54 DME Power Supply
59 DME Power Supply
67 Crankshaft Sensor
68 Crankshaft Sensor
70 Lambda Sensor
71 Lambda Sensor
73 Vehicle Speed Signal
74 RPM Signal TD
76 Idle CO Potentiometer
77 Inlet Air Temperature Sensor
78 Coolant Temperature Sensor
81 DWA / EWS
83 AirCon Signal
85 AirCon Compressor Relay
86 AirCon Switch
87 DLC Connector
100 Ignition Cylinder 1
101 Ignition Cylinder 2
102 Ignition Cylinder 3
103 Ignition Cylinder 4
104 Injector Cylinder 1
105 Injector Cylinder 2
106 Injector Cylinder 3
107 Injector Cylinder 4
108 Electric Ventilator
110 AirCon Compressor
111 Fuel Pump
112 Air Inlet Regulator Valve
113 EVAP Solenoid Valve
114 Outlet Valve
115 Coolant Temperature Sensor
117 Idle Speed Controller
118 Lambda Sensor Heating Pre Cat
119 TPS
120 Air Mass Meter HFM
121 Inlet Air Temperature Sensor
122 Coolant Temperature Sensor
123 Coolant Temperature Sensor
124 Battery Voltage
125 Lambda Sensor Pre Cat
126 CAN Signal ASC
127 CAN Signal ASC
128 CAN Signal EGS
129 CAN Signal EGS
130 CAN Signal Instrument Cluster
131 Vehicle Speed Signal VSS
132 Air Mass Meter HFM -Reference Voltage
133 TPS Reference Voltage
135 Camshaft Sensor
136 Crankshaft sensor
137 Knock Sensor 1
138 Knock Sensor 2
139 Lambda Sensor Post Cat
140 DWA /EWS
141 Lambda Regulation
142 Knock Regulation
143 DME Control Unit
144 EWS Manipulation
145 Misfire / Detonation Cylinder 1
146 Misfire / Detonation Cylinder 2
147 Misfire / Detonation Cylinder 3
148 Misfire / Detonation Cylinder 4
149 Aux. Air Pump Valve
150 Aux. Air Pump
151 Aux. Air Pump -Plausibility
152 Aux. Air Pump -Test Error
153 Lambda Sensor Heating Post Cat
155 Misfire Detected -Various Cylinders
156 Misfire / Detonation Cylinder 1
157 Misfire / Detonation Cylinder 2
158 Misfire / Detonation Cylinder 3
159 Misfire / Detonation Cylinder 4
160 Misfire Detected -Various Cylinders
165 Catalytic Converter
166 Lambda Sensor Pre Cat
169 Lambda Sensor 1 Heating Pre Cat
170 Lambda Sensor 2 Heating Pre Cat
171 Fuel Supply / Mixture Control
200 DME Control Unit
201 Lambda Regulation
202 DME Control unit
203 Ignition System
204 Idle Speed RPM
206 Knock Regulation
216 CAN Signal ASC
220 EWS No Signal
236 CAN Signal EGS
1 Leak Diagnosis Pump
2 DMTL Output Stage Solenoid Valve
3 Lambda Sensors Pre Cat Swapped
4 Lambda Sensor Heater Post Cat Bank 2
5 Lambda Sensor Heater Pre Cat Bank 2
10 Lambda Sensor Pre Cat Bank 1 Signal
12 Lambda Sensor Post Cat Bank 1 Signal
13 Lambda Sensor Heater Pre Cat Bank 1
14 Lambda Sensor Heater Post Cat Bank 1
15 Lambda Sensor Timing Pre Cat Bank 1 (TP)
16 Lambda Sensor Timing Pre Cat Bank 1 (TV)
17 Lambda Sensor Timing Pre Cat Bank 1
18 Lambda Sensor Pre Cat Bank 2 Signal
20 Lambda Sensor Post Cat Bank 2 Signal
21 Lambda Sensor Timing Pre Cat Bank 2 (TP)
22 Lambda Sensor Timing Pre Cat Bank 2 (TV)
23 Lambda Sensor Timing Post Cat Bank 2
24 Multiplicative Adaptation Bank 1 Control Limit Reached
25 Multiplicative Adaptation Bank 2 Control Limit Reached
26 Multiplicative Adaptation Bank 1 Control Limit Reached
27 Multiplicative Adaptation Bank 2 Control Limit Reached
28 Additive Adaptation Bank 1 Control Limit Reached
29 Additive Adaptation Bank 2 Control Limit Reached
30 Short Term Additive Adaptation Bank 1 Control Limit Reached
31 Short Term Additive Adaptation Bank 2 Control Limit Reached
32 Idle Speed Control
33 Inlet Camshaft Control Bank 1
34 Inlet Camshaft Control Bank 2
39 EWS 3.3 Anti Tampering Protection
40 Catalytic Converter Efficiency Bank 1
45 Catalytic Converter Efficiency Bank 2
50 Misfire Detection Cyl 1
51 Misfire Detection Cyl 5
52 Misfire Detection Cyl 4
53 Misfire Detection Cyl 8
54 Misfire Detection Cyl 6
55 Misfire Detection Cyl 3
56 Misfire Detection Cyl 7
57 Misfire Detection Cyl 2
62 Misfire at Multiple Cylinders
80 Aux Air System Bank 1
81 Aux Air System Bank 2
82 Aux Air System Valve
84 Aux Air Pump Relay
85 Aux Air System Valve
93 Tank Venting System
98 Tank Vent Valve
101 Torque Monitoring
102 Multifunction Steering Wheel Signal
103 Control Unit Monitoring
104 Clutch Switch Signal
105 Control Unit Fault (RAM)
106 Brake Switch Signal
107 Control Unit Fault (ROM)
108 Reset DME / Voltage Supply
109 Battery Voltage
110 Torque Monitoring
111 Crankshaft Sensor Signal
112 Crankshaft Sensor Signal
113 Camshaft Position Sensor Bank 1
114 Camshaft Position Sensor Bank 2
115 Mass Air Flow Sensor Signal
117 Throttle Potentiometer Signal
118 Throttle Potentiometer 1 Signal
119 Throttle Potentiometer 2 Signal
120 Vehicle Speed Signal
121 CAN Signal Wheel Speed
122 Ambient Temperature Signal
123 Engine Coolant Temperature Sensor
124 Intake Air Temperature Sensor
125 Radiator Outlet Temperature Sensor
127 TxD Plausibility
130 Throttle Actuator
131 Throttle Actuator Jammed
132 Throttle Actuator Activation
133 Throttle Actuator Spring Check
134 Throttle Actuator Adaptation Lower Stop
135 Throttle Potentiometer Booster Adjustment
136 Throttle Emergency Operation Point
139 Thermostat Jammed
140 Map Cooling Thermostat Activation
141 Electric Fan Activation
142 Exhaust Flap Activation
148 Interface DME-EWS
150 Fuel Injector Activation Cyl 1
151 Fuel Injector Activation Cyl 5
152 Fuel Injector Activation Cyl 4
153 Fuel Injector Activation Cyl 8
154 Fuel Injector Activation Cyl 6
155 Fuel Injector Activation Cyl 3
156 Fuel Injector Activation Cyl 7
157 Fuel Injector Activation Cyl 2
163 Throttle Mass Air Flow Adjustment Diagnosis
164 Ambient Pressure Sensor
165 Inlet VANOS Bank 1
166 Inlet VANOS Bank 2
167 Electric Fuel Pump EKP Relay
168 MIL Fault Lamp
170 AirCon Compressor Control
182 Tank Leakage Detection Minor Leak
183 Tank Leakage Detection
184 Tank Leakage Detection Blocked Line
185 Tank Leakage Diagnosis Pump
186 DMTL Pump Motor
187 DMTL Minimal Leak (0.5mm)
188 DMTL Minor Leak (1.0mm)
189 DMTL Module
201 DMTL Heating
204 EWS 3.3 Random Code Storage
210 Knock Sensor Signal 1
211 Knock Sensor Signal 2
212 Knock Sensor Signal 3
213 Knock Sensor Signal 4
214 Knock Control Zero Test
215 Knock Control Offset
216 Knock Control Test Pulse
219 CAN Timeout TCU
220 CAN Timeout (EGS/AGS)
221 CAN Timeout ASC/DSC
222 CAN Timeout Instrument Cluster
223 CAN Timeout ACC
224 MSR Intervention Plausibility
225 ACC Intervention Plausibility
226 Tank Fill Level Plausibility
229 Pedal Travel Sensor Comparison
230 Pedal Travel Sensor Signal
231 Pedal Travel Sensor Signal Potentiometer 1
232 Pedal Travel Sensor Signal Potentiometer 2
233 Automatic Start Activation
234 Ignition Lock Signal (T50)
236 Intake Flap Activation
237 Automatic Start Activation
2712 DMTL Solenoid Valve Activation
2713 Lambda Sensors Pre Cat Swapped
2714 Lambda Sensor Heater Post Cat Bank 2
2715 Lambda Sensor Heater Pre Cat Bank 2
2716 Lambda Sensor Heater Post Cat Bank 1
2717 Lambda Sensor Heater Post Cat Bank 2
2718 Crankshaft Sensor Reference
2719 Crankshaft Sensor Period
271A Lambda Sensor Pre Cat Bank 1- Signal
271C Lambda Sensor Post Cat Bank 1- Signal
271D Lambda Sensor Heater Pre Cat Bank 1
271E Lambda Sensor Heater Post Cat Bank 1
271F Lambda Sensor Timing Period
2720 Lambda Sensor Timing Switching Time
2721 Lambda Sensor Timing Post Cat Bank 1
2722 Lambda Sensor Pre Cat Bank 2- Signal
2724 Lambda Sensor Post Cat Bank 2- Signal
2725 Lambda Sensor Timing Bank 2- Period
2726 Lambda Sensor Timing Bank 2- Switching Time
2727 Lambda Sensor Timing Post Cat Bank 2
272A Multiplicative Adaptation Bank 1- Control Limit Reached
272B Multiplicative Adaptation Bank 2- Control Limit Reached
272C Additive Adaptation Bank 1- Control Limit Reached
272D Additive Adaptation Bank 2- Control Limit Reached
2731 Inlet Camshaft Control
2734 Throttle Valve Potentiometer 1- Signal Implausible to Mass Air Flow Sensor
2735 Throttle Valve Potentiometer 2- Signal Implausible to Mass Air Flow Sensor
2737 EWS 3.3 Anti Tampering Protection
2738 Catalytic Converter Efficiency Bank 1
2739 Catalytic Converter Efficiency Bank 1
273A Catalytic Converter Efficiency Bank 2
273D Catalytic Converter Efficiency Bank 2
2740 Pedal Position Sensor 1- Voltage Supply
2741 Pedal Position Sensor 2- Voltage Supply
2742 Misfire Detection Cyl 1
2743 Misfire Detection Cyl 3 (4cyl) or 5 (6 cyl)
2744 Misfire Detection Cyl 4 (4cyl) or 3 (6 cyl)
2745 Misfire Detection Cyl 2 (4cyl) or 6 (6 cyl)
2746 Misfire Detection Cyl 2
2747 Misfire Detection Cyl 4
274E Misfire Detection All Cyls
2750 Throttle Position Controller- Jammed Briefly
2751 Throttle Position Controller- Jammed Permanently
2752 Throttle Position Controller- Jamming
2753 Ignition Coil Cyl 1
2754 Ignition Coil Cyl 3 (4cyl) or 5 (6 cyl)
2755 Ignition Coil Cyl 4 (4cyl) or 3 (6 cyl)
2756 Ignition Coil Cyl 2 (4cyl) or 6 (6 cyl)
2757 Ignition Coil Cyl 2
2758 Ignition Coil Cyl 4
2760 Aux Air System Bank 1
2761 Aux Air System Bank 2
2764 Aux Air Pump Relay
2765 Solenoid Valve- Aux Air- Activation
2766 Inlet Camshaft Sensor- Signal Duration
2767 Exhaust Camshaft Sensor- Signal Duration
2768 Inlet Camshaft Sensor- Phase Position
2769 Throttle Actuator Spring Test
276C Exhaust Camshaft Sensor- Phase Position
276D Tank Venting System
2770 Aux Air Mass Air Flow Sensor
2772 Tank Vent Valve Output Stage
2774 CAN Message- Engine Shutdown Time
2775 Engine Torque Monitoring Level 2
2776 Multifunction Steering Wheel Interface
2777 DME Self Test: Monitoring AD Converter
2778 Clutch Switch
2779 DME Self Test RAM
277A Brake Light Switch
277B DME Self Test ROM
277C DME Self Test RESET
277D Battery Voltage
277E Engine Torque Monitoring Level 1
277F Crankshift Sensor Speed
2780 Crankshift Sensor Reference
2781 Camshaft Sensor Intake
2782 Camshaft Sensor Exhaust
2783 Mass Air Flow Sensor
2786 Throttle Valve Potentiometer 1
2787 Throttle Valve Potentiometer 2
2788 Vehicle Speed
2789 Rough Running Detection
278A Ambient Temperature Sensor
278B Engine Coolant Temperature Sensor
278C Intake Air Temperature Sensor
278D Radiator Outlet Temperature Sensor
278E Differertial Pressure Sensor- Intake Manifold
278F Alternator – Under-Excitation
2790 Radiator Outlet Temperature
2791 Throttle Adaptation Required
2792 Throttle Actuator Position Monitoring
2793 Throttle Actuator Control Range
2794 Throttle Actuator Activation
2795 Throttle Actuator Spring Test
2796 Throttle Actuator Test Lower Stop
2797 Throttle Actuator Booster Adjustment
2798 Throttle Actuator Emergency Operating Point
2799 Throttle Actuator Adaptation Aborted Environmental Conditions
279A Throttle Actuator Relearn Abort
279B Map Cooling Thermostat Mechanism
279C Map Cooling Thermostat Output Stage
279D Electric Fan Output Stage
279E Exhaust Flap Output Stage
27A0 E-Box Fan Activation
27A1 Throttle- Starting Test
27A4 Interface DME-EWS
27A5 Throttle Adaptation
27A6 Fuel Injector Cyl 1
27A7 Fuel Injector Cyl 3 (4cyl or 5 (6cyl)
27A8 Fuel Injector Cyl 4 (4cyl or 3 (6cyl)
27A9 Fuel Injector Cyl 2 (4cyl or 6 (6cyl)
27AA Fuel Injector Cyl 2
27AB Fuel Injector Cyl 4
27B2 Brake Light Switch- Signal
27B3 Throttle – Mass Air Flow Adjustment Plausibility
27B4 Ambient Pressure Sensor
27B5 Inlet Camshaft Control Output Stage
27B7 Fuel Pump Relay Output Stage
27B8 Differential Pressure Sensor Intake Manifold Plausibility
27B9 Lambda Sensor Pre Cat Bank 1- Voltage Excursion
27BA Lambda Sensor Pre Cat Bank 2- Voltage Excursion
27BB Exhaust Camshaft Control
27BD Exhaust Camshaft Control Output Stage
27C1 All Camshaft Sensors Failed
27C2 AirCon Compressor Control Output Stage
27C3 Oil Level Sensor
27C4 Main Relay
27C5 Brake Light Test Switch- Signal
27C7 Main Relay Switching Time
27CA DMTL Pump Motor- Activation
27CC DMTL Leakage
27CD DMTL Module Failure
27CE Load Monitoring
27CF Firing Cyl 1
27D0 Firing Cyl 5
27D1 Firing Cyl 3
27D2 Firing Cyl 6
27D3 Firing Cyl 2
27D4 Firing Cyl 4
27D6 Idle Speed Control Valve- Activation – Position Closed
27D7 Idle Speed Control Valve- Activation – Position Open
27D9 DMTL Heater- Activation
27DA Alternator BSD Fault
27DB Accelerator and Brake Pedals- Signal
27DC EWS 3.3 Random Code Storage
27DD Engine Coolant Temp Sensor- Gradient
27DE Engine Coolant Temp Sensor- Signal
27DF Engine Coolant Temp Sensor- Signal Constant
27E0 Crank Position Sensor- Segment Timing
27E1 Pedal Travel Sensor Monitoring
27E2 Knock Sensor 1
27E3 Knock Sensor 2
27E6 Knock Control Zero Test
27E7 Knock Control Offset
27E8 Knock Control Test Pulse
27EB CAN message EGS
27EC CAN message EGS
27ED CAN message ASC/DSC
27EE CAN message Instrument Cluster
27F2 Tank Fill Level
27F3 CAN message Valvetronic Control Unit
27F7 Pedal Travel Sensor Potentiometer 1
27F8 Pedal Travel Sensor Potentiometer 2
27FB Radiator Shutter
2800 CAN message Instrument Cluster
2804 Cruise Control Request
2805 Cruise Control Switch Signal
2806 Cruise Control Data Transmission
2807 Throttle Position Sensor Implausible- 1 vs. 2
2808 Throttle Position Sensor Implausible- Ratio
2809 CAN message Instrument Cluster
280B CAN message DSC
280C CAN message DSC
280D CAN message Steering Angle Sensor
280E CAN message SMG
280F CAN message DSC
2811 Local CAN Communication Error
2812 Oil Temperature
2813 DME Monitoring Group A
2814 DME Monitoring Group B
2815 DME Monitoring Group C
2816 DME Monitoring Speed Sensor or ECU Fault
281A CAN No Message TxU
281C BSD Interface Signal
281D BSD Signal
281E DISA Intake System Output Stage
2823 Lambda Sensor Heater Pre Cat Bank 1
2824 Lambda Sensor Heater Pre Cat Bank 2
2825 Lambda Sensor Timing Bank 1
2826 Lambda Sensor Timing Bank 2
282F CAN Communication Fault
2830 DME Self Test Checksum
2831 DME Self Test Processor Monitoring
283A Oil Condition Sensor
283D PT-CAN Communication Error
283E Variable Valve Gear Output Stage Enable Line
283F Oil Pressure Switch Implausibility
2850 Variable Valve Gear Guide Sensor
2852 Variable Valve Gear Reference Sensor
2854 Variable Valve Gear Plausibility Sensor
2856 Variable Valve Gear Voltage Supply
2858 Variable Valve Gear Adaptation Function
285A Variable Valve Gear Servomotor Monitoring
285C Variable Valve Gear CAN Communication
285E Variable Valve Gear Control Unit Internal Fault
2860 Variable Valve Gear Servomotor Output Stage
2862 Variable Valve Gear Voltage Supply Power Output Stage
2865 Variable Valve Gear Torque Limitation- Limp Mode
2866 Variable Valve Gear Adaptation Needed
2867 Variable Valve Gear Overload
286A DME Self Test- Knock Sensor Module
286B DME Self Test- Multiple Output Module
2882 Fuel Trim Bank 1
2883 Fuel Trim Bank 2
2892 Misfiring
2893 Control Module Temperature
2894 Control Module Fault
2895 Crankshaft Sensor- Signal
2896 Inlet Camshaft Sensor- Signal
2897 Exhaust Camshaft Sensor- Signal
2898 Lambda Sensor Post Cat- Bank 1 Signal
2899 Lambda Sensor Post Cat- Bank 2 Signal
289A Lambda Sensor Heater Pre Cat- Bank 1 Function
289B Lambda Sensor Heater Pre Cat- Bank 2 Function
289C Lambda Sensor Heater Post Cat- Bank 1 Function
289D Lambda Sensor Heater Post Cat- Bank 2 Function
289E Lambda Sensor Pre Cat Bank 1
289F Lambda Sensor Pre Cat Bank 2
28A1 Cruise Control -Monitoring
28A2 Air Flow -Monitoring
28A4 Engine Speed -Monitoring
28A5 Pedal Position Sensor -Monitoring
28AA Idle Control -Monitoring
28AB External Torque Request -Monitoring
28AC Specified Torque -Monitoring
28AD Actual Torque -Monitoring
28B1 Speed Limitation -Monitoring
28B2 Speed Limitation -Reset
28B3 Throttle -Continuous Adaptation
28B4 Button -Driving Dynamics Control
28B5 Sound Flap -Signal
28B6 Inlet Camshaft -Mechanical
28B8 Exhaust Camshaft -Mechanical
28BA Inlet Camshaft -Stiff
28BC Exhaust Camshaft -Stiff
28BD Inlet Camshaft Sensor -Locking
28BE Exhaust Camshaft Sensor -Locking
28C1 Lambda Sensor Pre Cat Bank 1
28C2 Lambda Sensor Pre Cat Bank 2
28C3 Lambda Sensor Heater Pre Cat Bank 1 Function
28C4 Lambda Sensor Heater Pre Cat Bank 2 Function
28C5 Lambda Sensor Post Cat Bank 1 System Check
28C6 Lambda Sensor Post Cat Bank 2 System Check
28CA Ozone Conversion- Too Low
28CB Ozone Sensor 2
28CC Ozone Sensor 1
28CF Fuel Pump- Emergency Shutoff
28D0 Fuel Pump- Monitoring
28D6 Process Error- Coding
28D7 Alternator Communication
28D8 RAM Backup
28DB Variable Valve Gear Minimum Lift Adaptation Exceeded
28DD Air Mass System
28E6 Evaluation Module Lambda Sensor Bank 1 On-board Diagnosis
28E7 Evaluation Module Lambda Sensor Bank 2 On-board Diagnosis
28E8 Lambda Sensor Bank 1 Trim Control
28E9 Lambda Sensor Bank 2 Trim Control
28EA Lambda Sensor Post Cat Bank 1 Signal
28EB Lambda Sensor Post Cat Bank 2 Signal
28EC Lambda Sensor Post Cat Bank 1 Signal at Full Load
28ED Lambda Sensor Post Cat Bank 2 Signal at Full Load
28F0 Lambda Sensor Post Cat Bank 1 System Check
28F1 Lambda Sensor Post Cat Bank 2 System Check
28F2 Lambda Sensor Bank 1 Trim Control
28F3 Lambda Sensor Bank 2 Trim Control
28F4 Lambda Sensor Pre Cat Bank 1 Cold Test
28F5 Lambda Sensor Pre Cat Bank 2 Cold Test
28F6 Lambda Sensor Post Cat Bank 1 Cold Test
28F7 Lambda Sensor Post Cat Bank 2 Cold Test
28F9 Rough Running- Segment Time Measurement
28FA CAN Torque for Switching Phase
28FB Active Cruise Control (ACC)
28FF DME Self Test
2900 DME Self Test
2960 Lambda Sensor Pre Cat Bank 1
2961 Lambda Sensor Pre Cat Bank 2
2962 Lambda Sensor Pre Cat Bank 1 Dynamics
2963 Lambda Sensor Pre Cat Bank 2 Dynamics
2964 Lambda Sensor Pre Cat Bank 1 Ceramic Temperature
2965 Lambda Sensor Pre Cat Bank 2 Ceramic Temperature
2966 Lambda Sensor Pre Cat Bank 1 Signal
2967 Lambda Sensor Pre Cat Bank 2 Signal
296A Lambda Sensors Pre Cat Swapped
296B Lambda Sensors Post Cat Swapped
2972 Jet Pump for Brake Servo
2973 Lambda Sensor Pre Cat Bank 1 Lines
2974 Lambda Sensor Pre Cat Bank 2 Lines
2986 Lambda Sensor Pre Cat Bank 1 System Check
2987 Lambda Sensor Pre Cat Bank 2 System Check
2988 Lambda Sensor Pre Cat Bank 1 System Check
2989 Lambda Sensor Pre Cat Bank 2 System Check
299A CAN Fault Management EGS
299B Battery Sensor
299C Battery Sensor
299D Battery Sensor
299E Lambda Sensor Post Cat Bank 1 Signal
299F Lambda Sensor Post Cat Bank 1 Signal
29A0 Lambda Sensor Post Cat Bank 2 Signal
29A1 Lambda Sensor Post Cat Bank 2 Signal
29A2 Lambda Sensor Pre Cat Bank 2 Signal
29A3 Lambda Sensor Pre Cat Bank 2 Signal
29A4 Lambda Sensor Heater Pre Cat Bank 1 Activation
29A5 Lambda Sensor Heater Pre Cat Bank 2 Activation
29A6 Lambda Sensor Pre Cat Bank 1 Signal
29A7 Lambda Sensor Pre Cat Bank 1 Signal
29A8 Power Management Vehicle Electrical System
29A9 Power Management Battery
29AB Torque Request via CAN
29AE Tank Cap
29B5 Aux Air System
29B6 Cylinder Cutout
29CC Misfire Several Cylinders
29CD Misfire Cyl 1
29CE Misfire Cyl 2
29CF Misfire Cyl 3
29D0 Misfire Cyl 4
29DD Rough Running Detection
29E5 Mixture Adaptation 1 Air Density Upper Speed Range
29E6 Mixture Adaptation 2 Air Density Upper Speed Range
29E7 Mixture Adaptation 1 Air Leak
29E8 Mixture Adaptation 2 Air Leak
29ED Mixture Adaptation 1 Air Density Lower Speed Range
29EE Mixture Adaptation 2 Air Density Lower Speed Range
29F4 Catalytic Converter Efficiency 1
29FE Aux Air System
29FF Aux Air System
2A03 Aux Air Pump Relay
2A19 Tank Venting Valve
2A59 Valvetronic Eccentric Shaft Sensor 1
2A5B Valvetronic Eccentric Shaft Sensor 1
2A5D Valvetronic Eccentric Shaft Sensor 1
2A5F Valvetronic Eccentric Shaft Sensor 1
2A61 Valvetronic Adaptation 1
2A63 Valvetronic Servomotor 1
2A67 Valvetronic Internal Fault
2A69 Valvetronic Voltage Supply Servomotor 1
2A6B Valvetronic Power Limitation Servomotor
2A6C Valvetronic Adaptation
2A6D Valvetronic Electrical Overload Protection 1
2A6F Valvetronic Minimum Lift Exceeded
2A70 Valvetronic Servomotor
2A71 Valvetronic Relief Relay
2A80 Inlet VANOS Activation 1
2A83 Inlet VANOS 1
2A85 Exhaust VANOS Activation 1
2A88 Exhaust VANOS 1
2B5C Crankshaft Sensor
2B5D Crankshaft Sensor
2B62 Camshaft Sensor 1 Inlet
2B63 Camshaft Sensor 2 Exhaust
2B66 Camshaft Sensor
2B70 Variable Intake System
2B7F Idle Speed Control
2B80 Idle Speed Control
2B8A Control Module- Internal Fault Knock Control
2B8B Control Module- Internal Fault Knock Control
2B8C Control Module- Internal Fault Knock Control
2B98 Control Module- Internal Fault RAM
2B99 Control Module- Internal Fault RAM
2B9A Control Module- Internal Fault RAM
2B9B Control Module- Internal Fault ROM
2B9C Control Module- Internal Fault Reset
2BA7 Engine Torque too High
2C24 Lambda Sensors Pre Cat Swapped
2C45 Lambda Sensor Pre Cat 1
2C46 Lambda Sensor Pre Cat 2
2C6A Lambda Sensor Post Cat Swapped
2C6D Lambda Sensor Post Cat 1 Timing
2C6E Lambda Sensor Post Cat 2 Timing
2C6F Lambda Sensor Post Cat 1
2C70 Lambda Sensor Post Cat 2
2C71 Lambda Sensor Post Cat 1
2C72 Lambda Sensor Post Cat 2
2C9C Lambda Sensor Heater Pre Cat 1
2C9D Lambda Sensor Heater Pre Cat 2
2CA0 Lambda Sensor Heater Pre Cat 1
2CA1 Lambda Sensor Heater Pre Cat 2
2CA2 Lambda Sensor Heater Pre Cat 1
2CA3 Lambda Sensor Heater Pre Cat 2
2CA8 Lambda Sensor Heater Post Cat 1
2CA9 Lambda Sensor Heater Post Cat 2
2CEF Throttle Valve Actuator
2CF0 Throttle Valve Actuator
2CF1 Throttle Valve Actuator
2CF8 Throttle Valve Potentiometer
2CF9 Throttle Valve Potentiometer 1
2CFA Throttle Valve Potentiometer 2
2CFF Throttle Valve Actuator
2D00 Throttle Valve Actuator
2D01 Throttle Valve Actuator
2D02 Throttle Valve Actuator
2D03 Throttle Valve Actuator
2D04 Throttle Valve Actuator
2D05 Throttle Valve Actuator
2D08 Throttle Actuator
2D0F Mass Air Flow Sensor Signal
2D19 Accelerator Pedal Module
2D1A Accelerator Pedal Module
2D1B Accelerator Pedal Module Signal 1
2D1C Accelerator Pedal Module Signal 2
2D28 Intake Manifold Pressure Sensor Signal
2D29 Intake Manifold Pressure Sensor Plausibility
2D6E Control Module Internal Fault Torque Monitoring
2D6F Load Sensor Monitoring
2D70 Control Module Internal Fault
2D71 Control Module Internal Fault
2D72 Control Module Internal Fault
2D73 Fuel Pressure Sensor
2D74 Fuel Pressure Sensor
2D75 Crankshaft Sensor
2D76 Accelerator Pedal Module
2E24 Ignition Coil Cyl 1
2E25 Ignition Coil Cyl 2
2E26 Ignition Coil Cyl 3
2E27 Ignition Coil Cyl 4
2E30 Fuel Injector Cyl 1
2E31 Fuel Injector Cyl 2
2E32 Fuel Injector Cyl 3
2E33 Fuel Injector Cyl 4
2E68 Knock Sensor Signal 1
2E69 Knock Sensor Signal 2
2E95 Generator
2E97 Generator
2EE0 Engine Coolant Temperature Sensor Signal
2EEA Radiator Outlet Temperature Sensor Signal
2EF4 Map Thermostat Mechanism Jammed
2EF5 Map Thermostat Activation
2EFE Electric fan
2F08 Intake Air Temperature Sensor Signal
2F12 AirCon Compressor Relay
2F17 Engine Oil Temperature too High
2F44 EWS Intervention
2F45 EWS Data Line
2F46 EWS Calibration
2F4E Road Speed Signal
2F62 Brake Light Switch
2F67 Clutch Switch
2F76 Control Module Internal Fault Ambient Pressure Sensor
2F85 Control module Internal fault Internal Temperature Sensor
2F8A Power Supply
2F94 Fuel Pump Relay Activation
2F99 External Temperature Sensor Plausibility
2F9E Oil Level Sensor
2FA3 Coding Error
1 RPM Sensor
2 Fuel Temperature Sensor
3 Coolant Temperature Sensor
4 Pedal Position Sensor
5 Boost Pressure Sensor
6 TPS
7 Boost Pressure Regulator
8 Air Mass Meter
10 Speed Regulator
11 DDE Error
12 Inlet Air Temperature Sensor
13 RPM Signal
14 Injection Phasing Sensor
15 Exhaust Gas Recirculation
16 Injection Phasing Regulator
17 Brake Light Test Switch
36 Coolant Level Sensor
1 Injection Pump Mass Positioner
3 Shut off Valve
5 Injection Start Sensor Cyl4
6 Glow Plug Timing Control
8 Exhaust Gas Recirculation
10 Injection Phasing Control Deviation
15 Voltage Supply DDE
20 Cruise Control Switch
21 Injection Pump Position Potentiometer
28 Clutch switch
29 Vehicle Speed Signal
31 Brake Switch
35 Fuel Temperature Sensor
36 Fuel Filter Water Trap
37 Pedal Position Sensor
41 Glow Plug Timing Control
45 DWA Immobiliser
47 RPM Sensor
52 Charge Air Temperature Sensor
53 Coolant Temperature Sensor
54 Boost Pressure Sensor
56 DDE Internal Fault
58 DDE Output Stage Error
59 Boost Pressure Deviation
01 Delivery Controller Deviation
03 Shut off Valve
04 Glow Plug Indicator Lamp)
05 Needle Motion Sensor
06 Exhaust Gas Recirculation Deviation
07 Exhaust Gas Recirculation
08 Glow Plug Timing Control
09 DDE Error
10 Injection Phasing Control Deviation
11 DDE Error
15 DDE Power Supply -Main Relay
16 Voltage Supply B+
20 Cruise Control Operation
21 DDE Error
23 AirCon Signal
25 Pedal Position Sensor
26 Brake Light Switch or Brake Light Test Switch
28 Auto Gearbox Selector Switch
29 Vehicle Speed Signal
30 EGR Switch
31 Brake Light Test Switch
32 Multifunction Steering Wheel Cruise Control
35 Fuel Temperature Sensor
36 Oil Temperature Sensor
37 Pedal Position Sensor
38 Air Flow Meter HFM
42 ADS
44 AirCon Switch
45 DWA Signal
46 DDE Error
47 RPM Sensor
49 Signal to Instrument Cluster
52 Intake Air Temperature Sensor
53 Coolant Temperature Sensor
54 Boost Pressure Sensor
56 Injection Pump Position Sensor
58 Injection Quantity
59 Boost Pressure Control
60 DDE Power Supply
63 Cruise Control Adjustment
64 DDE Error
66 Fuel Supply
67 Air Supply Deviation
100 Cruise Control Adjustment Fault
101 Boost Pressure Control Deviation
102 DDE Error
103 DDE Error
104 DDE Error
105 DDE Error
106 DDE Output Stage
108 Variant Coding
109 Variant Coding
110 AirCon Poor Operation
111 EEPROM checksum Injection Pump Adaptation
112 CAN Error – EGS Control Unit
113 CAN Error – ASC Control Unit
114 CAN Error – Instrument Cluster
01 Fuel Quantity Regulator
03 Shut off Valve
05 Needle Motion Sensor
06 Exhaust Gas Recirculation Deviation
08 Glow system
0A Delivery Control Deviation
10 DDE Power Supply
11 DDE Low Voltage
12 DDE Voltage Supply
13 DDE Main Relay
1A Brake Light Switch or Brake Light Test Switch
1B Electric Auxiliary Heater
1C Clutch Switch
1D Vehicle Speed Signal
20 Cruise Control Operation
23 Fuel Temperature Sensor
24 Oil Temperature Sensor
25 Pedal Position Sensor
26 Air Flow Meter HFM
2D EWS
2E Injection Pump RPM Sensor
2F Crankshaft Sensor
34 Temperature Sensor
35 Coolant Temperature Sensor
36 Boost Pressure Sensor
40 DDE Error
41 Solenoid Shut off Valve
42 DDE Error -EEPROM or Coding
43 Injection Pump Control Unit
44 Solenoid Valve
45 DDE Error -CAN Control
46 Injection Pump Signal
47 RPM Sensor Synchronicity
48 Fuel Injection Regulation
49 RPM Sensor Injection Pump
50 Boost Actuator
52 ECU Ventilator Fault
56 Coolant Fan Fault
64 DDE Error
65 Boost Pressure Regulation
6B Atmospheric Pressure Sensor
72 CAN BUS
73 RPM Sensor Injection Pump
74 Air Flow Meter Signal
75 Alternator Load Signal
77 Ambient Temperature Sensor
78 Air Flow Meter Signal
85 Coolant Fan Fault
0100 Air Flow Sensor HFM
0105 Atmospheric Pressure Sensor
0110 Intake Air Temperature Sensor
0115 Coolant Temperature Sensor
0120 Pedal Position Sensor 1
0190 Rail Pressure Sensor
0200 Injector Cylinder 1
0201 Injector Cylinder 5
0202 Injector Cylinder 3
0203 Injector Cylinder 6
0204 Injector Cylinder 2
0205 Injector Cylinder 4
0220 Pedal Position Sensor 2
0235 Boost Pressure Sensor
0335 Crankshaft RPM
03E6 Exhaust Gas Recirculation Regulation
0400 Exhaust Gas Recirculation
0404 Exhaust Gas Recirculation 2
0480 Electric ECU Fan
0500 Vehicle Speed Sensor Signal
0560 Internal Reference Voltage
0600 DDE Error CAN Controller
0605 DDE Error
1190 Rail Pressure Regulation
1195 Rail Pressure Sensor
1250 Delivery Pump Relay
1255 Delivery Pump Pressure Sensor
1260 Delivery Pump Control System
1470 Boost Pressure Regulation
1612 DME Incorrectly Coded
1613 MAP Control
1640 DDE Error EEPROM or Coding
1A04 Aux. Heater
1DF0 Engine Stall
1DF5 EWS – Timeout
1E00 CAN Communication to ASC
1E05 Vehicle Speed Sensor
1E25 RPM Regulation
1E30 Boost Pressure Regulation or Actuator
1E31 Boost Pressure Regulation
1E35 Error During Switch off
1E40 A/D Converter
1E45 Capacitor Voltage 1 for Cyl 1, 2, 3
1E50 Capacitor Voltage 2 for Cyl 4, 5, 6
1E55 RPM Control
1E60 Power Supply Pedal Sensor 1
1430 Boost Pressure or Actuator
2800 DDE Power Supply
3000 Brake Light or Brake Light Test Switch
3005 Voltage Supply KL15
3505 Glow Plug System
3506 Glow Plug System 2
3510 DDE Main Relay
3515 AirCon Power Output
3520 Engine Boost Actuation
3565 High Pressure Pump
3580 High Pressure Pump Shut Off Valve
3596 Brake Light Switch
3600 Atmospheric Pressure Sensor
3605 Air Flow Meter HFM 1 or 2
3610 Exhaust Gas Recirculation System
3615 Exhaust Gas Recirculation System -Regulation
3620 Air Flow Meter HFM Signal
3E90 Crankshaft RPM – No Signal
3E91 Crankshaft RPM – Wrong Signal
3E95 Intake air Temperature Sensor
3EA0 Crankshaft Position Sensor
3EA1 Crankshaft Position Sensor
3EA5 Intake air Temperature Sensor
3EA6 Intake air Temperature Sensor
3EB0 RPM Calculation
3EB5 Air flow Sensor 2
3EB6 Air flow Sensor 2
3EC0 Camshaft Sensor – No Signal
3EC1 Camshaft Sensor – Wrong Signal
3EC7 Camshaft Sensor
3ED0 Camshaft Sensor – No Signal
3ED1 Camshaft Sensor – Wrong Signal
3ED5 Air Flow Sensor 2
3ED6 Air Flow Sensor 2
3EDC Variant Coding
3EDD Variant Coding
3EE0 Coolant Temperature Sensor -Short Circuit to B+ or Open
3EE1 Coolant Temperature Sensor -Short Circuit to B-
3EE2 Coolant Temperature Sensor
3EE3 Coolant Temperature Sensor
3EE5 Air Mass Flow Sensor 2
3EE6 Air Mass Flow Sensor 2
3EE7 Air Mass Flow Sensor 2
3EED Power Management Closed Circuit Current
3EF3 Coolant Temperature Sensor not Plausible
3EF5 Intake Air Temperature Sensor 2 (HFM Reference Signal)
3EF6 Intake Air Temperature Sensor 2 (HFM Reference Signal)
3EF7 Intake Air Temperature Sensor 2 (HFM Reference Signal)
3EFB Thermal Oil Level Sensor
3EFC Thermal Oil Level Sensor
3EFD Thermal Oil Level Sensor
3F00 Boost Pressure Sensor -Short circuit to B+
3F01 Boost Pressure Sensor -Short circuit to B- or Open
3F02 Boost Pressure Sensor
3F03 Boost Pressure Sensor -Plausibility
3F05 MIL OFF
3F10 Pedal Position Sensor 1
3F11 Pedal Position Sensor 1 – Short circuit to B-
3F13 Pedal Position Sensor 1 – Potentiometer Plausibility
3F15 MIL ON
3F20 Pedal Position Sensor 2
3F21 Pedal Position Sensor 2 – Short Circuit to B-
3F23 Pedal Position Sensor 2 – Potentiometer Plausibility
3F25 Input Air Flow Control
3F30 Rail Pressure Sensor – Short Circuit to B+
3F31 Rail Pressure Sensor – Short Circuit to B-
3F35 Input Air Flow Control at Idle Speed
3F40 Rail Pressure Sensor – Max for Compensation
3F41 Rail Pressure Sensor – Min for Compensation
3F47 Brake Light or Brake Light Test Switch
3F48 Brake Light or Brake Light Test Switch
3F50 Vehicle Speed Signal – Too High
3F51 Vehicle Speed Signal
3F52 Vehicle Speed Signal
3F53 Vehicle Speed Signal
3F60 Pedal Position Sensor Ref. VSS
3F62 Vehicle Speed Signal from CAN
3F67 Filling Pressure Modulator 2
3F70 Intake Air Temperature Sensor
3F71 Intake Air Temperature Sensor
3F72 Intake Air Temperature Sensor
3F77 Boost Pressure Modulator 1
3F82 Ambient Temp Sensor
3F87 Boost Pressure Modulator 2
3F97 Boost Pressure Modulator 1
3FB0 Air Flow Meter – Signal too High or Short circuit to B+
3FB1 Air Flow Meter – Signal too Low or Short circuit to B-
3FB5 Control Master/Slave
3FB6 Control Master/Slave
3FB7 Control Unit – Internal Master
3FC0 Air Flow Meter – Deviation too High at Idle Speed
3FD0 Air Flow Meter – Deviation too High
3FE0 Air Flow Meter
3FE1 Air Flow Meter
3FF0 Air Flow Meter
3FF1 Air Flow Meter
4000 Fuel Temperature Sensor
4001 Fuel Temperature Sensor
4010 Exhaust Gas Pressure Sensor -Short Circuit to B+
4011 Exhaust Gas Pressure Sensor -Short Circuit to B-
4020 EGT -Short Circuit to B+
4021 EGT -Short Circuit to B-
4030 EGT Before Cat -Short Circuit to B+
4031 EGT Before Cat -Short Circuit to B-
4032 Exhaust Gas Pressure Sensor
4060 Atmospheric Pressure Sensor DDE-Short Circuit to B+
4061 Atmospheric Pressure Sensor DDE-Short Circuit to B-
4062 Atmospheric Pressure Sensor DDE
4063 Atmospheric Pressure Sensor DDE-Plausibility Ref. Boost
4072 Automatic Gearbox Switch Signal
4080 Brake Light or Brake Light Test Switch
4082 Brake Light or Brake Light Test Switch
4083 Brake Light or Brake Light Test Switch
40A1 Alternator Signal
40E0 Alternator
4100 AirCon Power Output
4101 AirCon Power Output
4102 AirCon Power Output
4103 AirCon Power Output
4108 Control Master/Slave
410C Swirl Flap Actuactor
4117 Control Master/Slave
4118 Control Master/Slave
4120 DDE Main Relay is Switching too Late or too Early
4121 DDE Main Relay is Switching too Late or too Early
4125 Power Supply
4126 Power Supply
4130 Swirlflaps – Short Circuit to B+
4135 Power Supply
4136 Power Supply
4140 Swirlflap
4141 Swirlflaps – Short Circuit to B-
4145 Power Supply
4146 Power Supply
4152 Swirlflaps – Open Circuit
4153 Swirlflaps – Plausibility, Overtemp of Output Stage
4155 Exhaust Flap Actuator
4156 Exhaust Flap Actuator
4157 Exhaust Flap Actuator
4158 Exhaust Flap Actuator
4160 Raise Pressure Pump – Short Circuit to B+
4161 Raise Pressure Pump – Short Circuit to B-
4162 Raise Pressure Pump – Activation Interrupted
4163 Raise Pressure Pump – Plausibility, Overtemp of Output Stage
4165 DPF -Flow Resistance too High
4166 DPF -Flow Resistance too Low
4175 Exhaust Gas Temp Sensor before DPF
4180 Boost Pressure Actuator – Short Circuit to B+
4185 Exhaust Gas Temp Sensor before Cat
4186 Exhaust Gas Temp Sensor before Cat
4188 Exhaust Gas Temp Sensor before Cat
4190 Boost Pressure Actuator
4191 Boost Pressure Actuator – Short Circuit to B-
419A Atmospheric Pressure Sensor DDE
419B Atmospheric Pressure Sensor DDE
41A0 Boost Pressure Actuator
41A1 Boost Pressure Actuator – Adjustment
41A2 Boost Pressure Actuator – Open Circuit
41A3 Boost Pressure Actuator – Plausibility, Overtemp of Output Stage
41A6 Message CBS Reset
41A7 Message CBS Reset
41AA Boost Pressure Sensor
41AB Boost Pressure Sensor
41B0 Exhaust Gas Recirculation -Short Circuit to B+
41B5 Transmission Fluid Temperature Sensor
41BA Exhaust Backpressure Sensor
41BB Exhaust Backpressure Sensor
41C0 Activation -Fan
41C1 Activation -Fan- Short Circuit to B-
41C2 Activation -Fan- Activation Interrupted
41C3 Activation -Fan- Plausibility, Overtemp of Output Stage
41CD Exhaust Backpressure Sensor – Plausibility
41D0 Exhaust Gas Recirculation Regulation
41D1 Exhaust Gas Recirculation -Short Circuit to B-
41D5 Lambda Sensor Bias -Short Circuit to B+
41D6 Lambda Sensor Bias -Short Circuit to B-
41D7 Lambda Sensor Bias -Open Circuit
41E0 Exhaust Gas Recirculation Regulation
41E2 Exhaust Gas Recirculation – Open Circuit
41E3 Exhaust Gas Recirculation -Plausibility, Overtemp of Output Stage
41E5 Lambda Sensor -Short Circuit to B+
41E6 Lambda Sensor -Short Circuit to B-
41E7 Lambda Sensor -Open Circuit
41F0 Electric Ventilator – Short Circuit to B+
41F1 Electric Ventilator – Short Circuit to B-
41F2 Electric Ventilator – Activation Interrupted
41F3 Electric Ventilator – Plausibility, Overtemp of Output Stage
41F5 Lambda Sensor Virtual Earth -Short Circuit to B+
41F6 Lambda Sensor Virtual Earth -Short Circuit to B-
41F7 Lambda Sensor Virtual Earth -Open Circuit
4203 Glow Module Communication
4205 Lambda Sensor Heating -Short Circuit to B+
4206 Lambda Sensor Heating -Short Circuit to B-
4207 Lambda Sensor Heating
420B EGR in Regen Mode
4211 Glow Plug Cyl 1 – Short Circuit to B+
4212 Glow Plug Cyl 1 – Activation Interrupted
4213 Glow Plug Cyl 1 – Plausibility, Overtemp of Output Stage
4217 Lambda Sensor
4221 Glow Plug Cyl 2 – Short Circuit to B+
4222 Glow Plug Cyl 2 – Activation Interrupted
4223 Glow Plug Cyl 2 – Plausibility, Overtemp of Output Stage
4225 Lambda Sensor -Signal
4226 Lambda Sensor -Signal too Low
422A EGR in Regen Mode
4231 Glow Plug Cyl 3 – Short Circuit to B+
4232 Glow Plug Cyl 3 – Activation Interrupted
4233 Glow Plug Cyl 3 – Plausibility, Overtemp of Output Stage
4235 Control Unit Internal 21
4236 Control Unit Internal 21
4241 Glow Plug Cyl 4 – Short Circuit to B+
4242 Glow Plug Cyl 4 – Activation Interrupted
4243 Glow Plug Cyl 4 – Plausibility, Overtemp of Output Stage
4245 Control Unit Internal 22
4246 Control Unit Internal 22
4251 Glow Plug Cyl 5 – Short Circuit to B+
4252 Glow Plug Cyl 5 – Activation Interrupted
4253 Glow Plug Cyl 5 – Plausibility, Overtemp of Output Stage
4258 Control Unit Internal 23
425D Accelerator Pedal Potentiometer Plausibility
4261 Glow Plug Cyl 6 – Short Circuit to B+
4262 Glow Plug Cyl 6 – Activation Interrupted
4263 Glow Plug Cyl 6 – Plausibility, Overtemp of Output Stage
4267 Lambda Sensor Shunt Detection
4271 Glow Plug Cyl 7 – Short Circuit to B+
4272 Glow Plug Cyl 7 – Activation Interrupted
4273 Glow Plug Cyl 7 – Plausibility, Overtemp of Output Stage
4275 Lambda Sensor Heater
4276 Lambda Sensor Heater
4281 Glow Plug Cyl 8 – Short Circuit to B+
4282 Glow Plug Cyl 8 – Activation Interrupted
4283 Glow Plug Cyl 8 – Plausibility, Overtemp of Output Stage
4288 Lambda Sensor Heater
428B Boost Pressure Control of Large Turbo Control Deviation
4293 Control Unit Internal Error 16
4296 Lambda Sensor
4298 Lambda Sensor
429A Boost Pressure Control of Large Turbo Control Deviation
42B5 RPM Control
42C0 Oil Pressure Indicator Lamp – Short Circuit to B+
42C1 Oil Pressure Indicator Lamp – Short Circuit to B-
42C2 Oil Pressure Indicator Lamp – Activation interrupted
42C3 Oil Pressure Indicator Lamp – Plausibility, Overtemp of Output Stage
42D5 Injector Cylinder 7
42D6 Injector Cylinder 7
42D7 Injector Cylinder 7
42D8 Injector Cylinder 7
42E2 Changeover Rail Pressure Control
42F2 Changeover Rail Pressure Control
42F5 Injector Cylinder 8
42F6 Injector Cylinder 8
42F7 Injector Cylinder 8
42F8 Injector Cylinder 8
4302 Quantity Regulation Valve – Activation interrupted
4303 Quantity Regulation Valve – Plausibility, Overtemp of Output Stage
4310 Quantity Regulation Valve – Short Circuit to B+
4321 Quantity Regulation Valve – Short Circuit to B-
4332 Rail Pressure Regulation Valve – Activation Interrupted
4333 Rail Pressure Regulation Valve – Plausibility, Overtemp of Output Stage
4340 Rail Pressure Regulation Valve – Short Circuit to B+
4351 Rail Pressure Regulation Valve – Short Circuit to B-
4360 Rail Pressure Regulation Valve – Current Regulation
4361 Rail Pressure Regulation Valve – Current Regulation
4362 Rail Pressure Regulation Valve – Current Regulation
4373 Air Flow Mass not Plausible
4378 Rail Pressure Regulation Valve – Defect
4382 Rail Pressure Valve Position Test
4390 Boost Air Temperature Sensor – Short Circuit to B+
4391 Boost Air Temperature Sensor – Short Circuit to B-
4392 Boost Air Temperature Sensor
4397 Position Test Volume Adjust Valve
43A0 Start-block Relay
43A1 Start-block Relay
43A2 Start-block Relay
43A3 Start-block Relay
43C0 Throttle Valve Actuator -Short Circuit to B+
43D1 Throttle Valve Actuator -Short Circuit to B-
43E2 Throttle Valve Actuator -Open Circuit
43E3 Throttle Valve Actuator -Plausibility, Overtemp of Output Stage
43F0 Electrical Aux Heater – Short Circuit to B+
43F1 Electrical Aux Heater – Short Circuit to B-
43F2 Electrical Aux Heater – Activation Interrupted
43F3 Electrical Aux Heater – Plausibility, Overtemp of Output Stage
4403 Control Unit Internal Error 17
4410 Injector Cylinder 1- Activation
4411 Injector Cylinder 1- Activation
4412 Injector Cylinder 1- Activation
4413 Injector Cylinder 1- Activation
4417 Control Master/Slave
441C Injector Cylinder 1 – Earth Side Activation or Open Circuit
4420 Injector Cylinder 2- Activation
4421 Injector Cylinder 2- Activation
4422 Injector Cylinder 2- Activation
4423 Injector Cylinder 2- Activation
4428 Control Master/Slave
442C Injector Cylinder 2 – Earth Side Activation or Open Circuit
4430 Injector Cylinder 3- Activation
4431 Injector Cylinder 3- Activation
4432 Injector Cylinder 3- Activation
4433 Injector Cylinder 3- Activation
4438 Control Master/Slave
443C Injector Cylinder 3 – Earth Side Activation or Open Circuit
4440 Injector Cylinder 4- Activation
4441 Injector Cylinder 4- Activation
4442 Injector Cylinder 4- Activation
4443 Injector Cylinder 4- Activation
444C Injector Cylinder 4 – Earth Side Activation or Open Circuit
4450 Injector Cylinder 5- Activation
4451 Injector Cylinder 5- Activation
4452 Injector Cylinder 5- Activation
4453 Injector Cylinder 5- Activation
445C Injector Cylinder 5 – Earth Side Activation or Open Circuit
4460 Injector Cylinder 6- Activation
4461 Injector Cylinder 6- Activation
4462 Injector Cylinder 6- Activation
4463 Injector Cylinder 6- Activation
446C Injector Cylinder 6 – Earth Side Activation or Open Circuit
4473 Control Unit Internal Error 18
4480 Control Unit Internal Error 19
4491 Control Unit Internal Error 20
44A0 Injectors: Activation Cylinder. 1, 2, 3
44A1 Injectors: Activation Cylinder. 1, 2, 3
44A3 Injectors: Activation Cylinder. 1, 2, 3
44AC Injectors: Activation Cylinder. 1, 2, 3
44B0 Injectors: Activation Cylinder. 1, 2, 3
44B1 Injectors: Activation Cylinder. 4, 5, 6
44B3 Injectors: Activation Cylinder. 4, 5, 6
44BC Injectors: Activation Cylinder. 4, 5, 6
44C0 Number of Requested Injections Limited
44C1 Number of Requested Injections Limited
44C2 Number of Requested Injections Limited
44D0 Alternator
44D2 Alternator
44D3 Alternator
44E2 Alternator
44E3 Alternator
44F0 Rail Pressure not Plausible
4500 Exhaust Gas Recirculation- Deviation
4501 Exhaust Gas Recirculation- Negative Deviation or Air Mass too High
4506 Exhaust Gas Recirculation- Deviation
4507 Exhaust Gas Recirculation- Posative Deviation or Air Mass too Low
4512 Thermal Oil Level Sensor
4513 Thermal Oil Level Sensor
4521 Boost Pressure Actuator – Regulation Pressure too High
452A DPF System
4530 Boost Pressure Actuator – Regulation Pressure too Low
4536 Power Management
453B PT Can Bus
453C PT Can Bus
453D PT Can Bus
4541 Thermal Oil Level Sensor
454B Private CAN bus(master)
454C Private CAN bus(master)
454D Private CAN bus(master)
4550 Boost Pressure Modulation 2
4560 Rail Pressure Sensor – Plausibility -Pressure too Low
4570 Rail Pressure not Plausible
4580 Rail Pressure Sensor – Plausibility -Pressure too High
4587 Fuel Filter
4590 Rail Pressure not Plausible
45A0 Rail Pressure Sensor – Plausibility -Pressure too High
45A5 Boost Air Temp Sensor 2- Signal
45A6 Boost Air Temp Sensor 2- Signal
45C0 Rail Pressure not Plausible
45E3 Control Master/Slave
45F2 Control Master/Slave
45F3 Control Master/Slave
4600 Rail Pressure Sensor – Plausibility -Pressure too Low
4605 DPF System
4610 Rail Pressure not Plausible
4618 DPF -Plausibility -Pressure Reference
4620 Rail Pressure Sensor – Plausibility -Pressure too High
4628 DPF System
4630 Rail Pressure not Plausible
4640 Rail Pressure not Plausible
4645 EGR Controller
4650 Rail Pressure not Plausible
4656 Control Unit Internal 24
4660 Power Supply
4661 Power Supply
4665 DPF Bank 1
4666 DPF Bank 1
4667 DPF Bank 1
4670 Power Supply 1 – Short Circuit to B+
4671 Power Supply 1 – Short Circuit to B-
4677 Throttle Valve Actuator
4680 Power Supply 2 – Short Circuit to B+
4681 Power Supply 2 – Short Circuit to B-
4687 Throttle Valve Actuator
4690 Power Supply
4691 Power Supply
4697 Throttle Valve Actuator
46A0 Control Unit Internal Error 1
46A1 Control Unit Internal Error 1
46A2 Control Unit Internal Error 1
46A3 Control Unit Internal Error 1
46A7 Swirl Flap Actuator
46B0 Control Unit Internal Error 2
46B1 Control Unit Internal Error 2
46B2 Control Unit Internal Error 2
46B3 Control Unit Internal Error 2
46B7 Swirl Flap Actuator
46C0 Control Unit Internal Error 3
46C1 Control Unit Internal Error 3
46C2 Control Unit Internal Error 3
46C3 Control Unit Internal Error 3
46C7 Swirl Flap Actuator
46D0 Control Unit Internal Error 4
46D1 Control Unit Internal Error 4
46D2 Control Unit Internal Error 4
46D3 Control Unit Internal Error 4
46D5 Compressor Bypass Activation
46D6 Compressor Bypass Activation
46D7 Compressor Bypass Activation
46D8 Compressor Bypass Activation
46E0 Control Unit Internal Error 5
46E1 Control Unit Internal Error 5
46E2 Control Unit Internal Error 5
46E3 Control Unit Internal Error 5
46E5 Wastegate Valve Activation
46E6 Wastegate Valve Activation
46F0 Control Unit Internal Error 6
46F1 Control Unit Internal Error 6
46F2 Control Unit Internal Error 6
46F3 Control Unit Internal Error 6
4700 Control Unit Internal Error 7
4701 Control Unit Internal Error 7
4702 Control Unit Internal Error 7
4703 Control Unit Internal Error 7
4707 Wastegate Valve Activation
4708 Wastegate Valve Activation
4710 Control Unit Internal Error 8
4711 Control Unit Internal Error 8
4712 Control Unit Internal Error 8
4713 Control Unit Internal Error 8
4720 Control Unit Internal Error 9
4721 Control Unit Internal Error 9
4722 Control Unit Internal Error 9
4723 Control Unit Internal Error 9
4730 Quantity Regulation Current Regulation
4731 Quantity Regulation Current Regulation
4732 Quantity Regulation Current Regulation
4740 Control Unit Internal Error 11
4747 Injectors – Amplifier Adjustment(control unit internal)
4750 Control Unit Internal Error 12
4753 Control Unit Internal Error 12
475A Exhaust Backpressure Sensor- Bank 2
475B Exhaust Backpressure Sensor- Bank 2
4763 Control Unit Internal Error 13
4765 Injector Cyl 1 – Activation
4766 Injector Cyl 1 – Activation
4767 Injector Cyl 1 – Activation
4768 Injector Cyl 1 – Activation
476A Injector Cyl 4/5/6 Buffer Voltage Measurement(control unit internal)
476B Injector Cyl 4/5/6 Buffer Voltage Measurement(control unit internal)
4770 Control Unit Internal Error 14
4771 Control Unit Internal Error 14
4772 Control Unit Internal Error 14
4773 Control Unit Internal Error 14
477C Injectors Activation Duration(control unit internal)
4780 Control Unit Internal Error 15
4781 Control Unit Internal Error 15
4782 Control Unit Internal Error 15
4783 Control Unit Internal Error 15
4785 Injector Cyl 2 – Activation
4786 Injector Cyl 2 – Activation
4787 Injector Cyl 2 – Activation
4788 Injector Cyl 2 – Activation
478C Injector Activation Duration(control unit internal)
4792 Monitoring Master/Slave
4793 Monitoring Master/Slave
4795 Injector Cyl 3 – Activation
4796 Injector Cyl 3 – Activation
4797 Injector Cyl 3 – Activation
4798 Injector Cyl 3 – Activation
47A5 Injector Cyl 4 – Activation
47A6 Injector Cyl 4 – Activation
47A7 Injector Cyl 4 – Activation
47A8 Injector Cyl 4 – Activation
47AB Private CAN Bus(Slave)
47AC Private CAN Bus(Slave)
47AD Private CAN Bus(Slave)
47B5 Injector Cyl 5 – Activation
47B6 Injector Cyl 5 – Activation
47B7 Injector Cyl 5 – Activation
47B8 Injector Cyl 5 – Activation
47BB Power Train CAN Bus(Slave)
47BC Power Train CAN Bus(Slave)
47BD Power Train CAN Bus(Slave)
47C5 Injector Cyl 6 – Activation
47C6 Injector Cyl 6 – Activation
47C7 Injector Cyl 6 – Activation
47C8 Injector Cyl 6 – Activation
47D5 Injector Cyl 7 – Activation
47D6 Injector Cyl 7 – Activation
47D7 Injector Cyl 7 – Activation
47D8 Injector Cyl 7 – Activation
47E5 Injector Cyl 8 – Activation
47E6 Injector Cyl 8 – Activation
47E7 Injector Cyl 8 – Activation
47E8 Injector Cyl 8 – Activation
4803 Torque Control ACC
480A DPF -Bank 1
4810 Torque Control ACC
481A DPF -Bank 1
4830 Intake Air Temperature Sensor
4831 Intake Air Temperature Sensor
483D Throttle Actuator
4841 Exhaust Gas Recirculation Regulation 2
484A Accelerator Pedal Potentiometer -Signal
4850 Exhaust Gas Recirculation Regulation 2
4857 Swirl Flap Actuator
4863 Vehicle Speed Regulation
4867 Swirl Flap Actuator
486D Control Unit Software Fault
4877 Swirl Flap Actuator
487A Lambda Sensor Bank 2 – Bias Voltage
487B Lambda Sensor Bank 2 – Bias Voltage
487C Lambda Sensor Bank 2 – Bias Voltage
4887 Swirl Flap Actuator
488A Lambda Sensor Bank 2 – Pump Current
488B Lambda Sensor Bank 2 – Pump Current
488C Lambda Sensor Bank 2 – Pump Current
4896 Swirl Flap Actuator
489A Lambda Sensor Bank 2 – Virtual Ground
489B Lambda Sensor Bank 2 – Virtual Ground
489C Lambda Sensor Bank 2 – Virtual Ground
48A2 CAN Communication with ASC
48A3 CAN Communication with ASC
48B2 CAN Communication with ASC
48B3 CAN Communication with ASC
48B5 Injectors Voltage Measurement(control unit internal)
48B6 Injectors Voltage Measurement(control unit internal)
48B7 Injectors Voltage Measurement(control unit internal)
48BC Lambda Sensor Bank 2
48C2 CAN Communication with EGS
48C5 Injectors Voltage Measurement(control unit internal)
48C6 Injectors Voltage Measurement(control unit internal)
48C7 Injectors Voltage Measurement(control unit internal)
48CA Lambda Sensor Bank 2
48CB Lambda Sensor Bank 2
48D2 CAN Communication with Instrument Cluster
48D3 CAN Communication with Instrument Cluster
48DA Control Unit Internal 25
48DB Control Unit Internal 25
48EA Control Unit Internal 26
48EB Control Unit Internal 26
48F2 CAN BUS Hardware
48F3 CAN BUS Hardware
48F7 Injectors Wiring Loom
48FD Control Unit Internal 27
4900 DSC Torque Intervention
4907 Injectors Selector Switch(control unit internal)
490B Control Unit Internal 28
4912 CAN BUS Hardware Defect in Operation
4913 CAN BUS Hardware Fault in Initialisation
4917 Injectors Charge Switch(control unit internal)
4920 Transmission Link
4925 Throttle Valve Actuator 2 Activation
492A Lambda Sensor Bank 2 Heater
492B Lambda Sensor Bank 2 Heater
4936 Throttle Valve Actuator 2 Activation
493D Lambda Sensor Bank 2
4947 Throttle Valve Actuator 2 Activation
4948 Throttle Valve Actuator 2 Activation
494D Lambda Sensor Bank 2
4957 Throttle Valve Actuator 2
495A Exhaust Temp Sensor before DPF Bank 2
495B Exhaust Temp Sensor before DPF Bank 2
4967 Throttle Valve Actuator 2
496A DPF Bank 2
497A DPF Bank 2
4991 Message : Instrument Cluster
4992 Message : Instrument Cluster
4997 Throttle Valve Actuator 2
49A2 Message : Ambient Temperature
49B0 Message : Torque Request
49C0 Message : Torque Request
49D2 Message : Torque Request
49E0 Message : Torque Request
49E7 Throttle Actuator
49F2 Message : Vehicle Speed
49F3 Message : Vehicle Speed
4A02 Terminal 15
4A03 Terminal 15
4A07 Alternator
4A08 Alternator
4A10 BSD Interface
4A13 BSD Interface
4A15 Alternator
4A17 Alternator
4A18 Alternator
4A22 Boost Air Pressure Actuator 2 Activation
4A23 Boost Air Pressure Actuator 2 Activation
4A25 Intelligent Battery Sensor
4A27 Intelligent Battery Sensor
4A28 Intelligent Battery Sensor
4A30 Multifunction Steering Wheel- Toggle Bit
4A31 Multifunction Steering Wheel- Frequency Counter
4A32 Multifunction Steering Wheel- No Signal
4A33 Multifunction Steering Wheel- Signal not Plausible
4A35 Intelligent Battery Sensor
4A37 Intelligent Battery Sensor
4A38 Intelligent Battery Sensor
4A41 EWS Interface
4A42 EWS Interface
4A43 EWS Interface
4A45 Intelligent Battery Sensor
4A47 Intelligent Battery Sensor
4A48 Intelligent Battery Sensor
4A50 EWS Code Storage
4A51 EWS Code Storage
4A56 Power Management Battery
4A58 Power Management Battery
4A60 EWS Manipulation
4A61 EWS Manipulation
4A62 EWS Manipulation
4A63 EWS Manipulation
4A65 Power Management Vehicle Electrical System
4A66 Power Management Vehicle Electrical System
4A67 Power Management Vehicle Electrical System
4A70 Reference Values Incorrect
4A80 Intake Air Hose
4AA2 CAN Communication with EGS
4AA3 CAN Communication with EGS
4AB0 Electrical Aux Heater
4AD5 Zero Quantity Adaptation Injector 1
4AD6 Zero Quantity Adaptation Injector 1
4AE0 E-Box Ventilator -Short circuit to B+
4AE1 E-Box Ventilator -Short circuit to B-
4AE2 E-Box Ventilator -Activation Interrupted
4AE3 E-Box Ventilator -Plausibility, Overtemp of Output Stage
4AE5 Zero Quantity Adaptation Injector 2
4AE6 Zero Quantity Adaptation Injector 2
4AF0 Control Unit Temperature Sensor
4AF1 Control Unit Temperature Sensor
4AF5 Zero Quantity Adaptation Injector 3
4AF6 Zero Quantity Adaptation Injector 3
4B00 Control Unit Temperature
4B05 Zero Quantity Adaptation Injector 4
4B06 Zero Quantity Adaptation Injector 4
4B10 Smooth Running Regulation -Correction Quantity too High
4B11 Smooth Running Regulation -Correction Quantity too Low
4B15 Zero Quantity Adaptation Injector 5
4B16 Zero Quantity Adaptation Injector 5
4B20 Electro ventilator -Blocked
4B22 Electro Ventilator
4B25 Zero Quantity Adaptation Injector 6
4B26 Zero Quantity Adaptation Injector 6
4B35 Oil Sensor
4B36 Oil Sensor
4B37 Oil Sensor
4B38 Oil Sensor
4B45 Injector Cyl 1 Energy Consumption Measurement
4B50 Quantity Compensation
4B55 Injector Cyl 2 Energy Consumption Measurement
4B60 Quantity Compensation
4B65 Injector Cyl 3 Energy Consumption Measurement
4B75 Injector Cyl 4 Energy Consumption Measurement
4B80 Rail Pressure not Plausible
4B85 Injector Cyl 5 Energy Consumption Measurement
4B90 Rail Pressure Control at Engine Start
4B95 Injector Cyl 6 Energy Consumption Measurement
4BA0 Intake Air Temperature Sensor -Signal too High or Short
4BA1 Intake Air Temperature Sensor -Signal too Low
4BB0 Air Flow Sensor Power Supply
4BB1 Air Flow Sensor Power Supply
4BB5 Air Flow Meter -Signal too Low
4BB6 Air Flow Meter -Signal too High
4BC0 Air Flow Meter -Signal too Low
4BC1 Air Flow Meter -Signal too High
4BC2 Air Flow Meter -Short Circuit
4BC5 Intake Air Temperature Sensor
4BC6 Intake Air Temperature Sensor
4BC7 Intake Air Temperature Sensor
4BD2 ARS Torque Request
4BD5 Engine Support
4BD6 Engine Support
4BD7 Engine Support
4BD8 Engine Support
4BE2 Message : Transmission data
4BE7 Message : Transmission data 2
4BF2 Message : Air Conditioning
4BF7 Message : Range
4C00 Message : Cruise Control
4C01 Message : Cruise Control
4C02 Message : Cruise Control
4C06 Message : ARS Status
4C07 Message : ARS Status
4C12 Message : DSC Status
4C15 Message : Terminal 15
4C16 Message : Terminal 15
4C17 Message : Terminal 15
4C20 Message : DSC Torque
4C21 Message : DSC Torque
4C22 Message : DSC Torque
4C23 Message : DSC Torque
4C27 Message : Vehicle Speed
4C28 Message : Vehicle Speed
4C45 Injector Cyl 7 Energy Consumption Measurement
4C55 Injector Cyl 8 Energy Consumption Measurement
4C65 Zero Quantity Adaptation Injector 7
4C66 Zero Quantity Adaptation Injector 7
4C75 Supply Voltage Air Mass Flow Sensor 2
4C76 Supply Voltage Air Mass Flow Sensor 2
4C95 Zero Quantity Adaptation Injector 8
4C96 Zero Quantity Adaptation Injector 8
4CA2 Message : Power Management
4CB2 Message : Power Management
4CB3 Message : Power Management
4CF3 DPF -Plausibility -Exhaust Gas Pressure
4D00 Exhaust Backpressure Sensor Bank 1
4D03 Exhaust Backpressure Sensor Bank 1
4D25 Exhaust Temp Sensor before Catalytic Converter Bank 2
4D26 Exhaust Temp Sensor before Catalytic Converter Bank 2
4D45 Exhaust Temp Sensor before DPF Bank 2
4D46 Exhaust Temp Sensor before DPF Bank 2
4D56 DPF Bank 2
4D65 DPF System
4D75 DPF System
4D81 Boost Pressure Actuator 2 Activation
4D98 Exhaust Backpressure Sensor Bank 2
4DA3 Boost Pressure Control
4DA5 Exhaust Backpressure Sensor Bank 2
4DA8 Exhaust Backpressure Sensor Bank 2
4DB0 EGR Controller 2 Activation
4DC1 EGR Controller 2 Activation
4DD2 EGR Controller 2 Activation
4DD3 EGR Controller 2 Activation
4DD5 Exhaust Temp Sensor before DPF Bank 2
4DE0 Monitoring Master/Slave – Private CAN
4DE1 Monitoring Master/Slave – Private CAN
4DE3 Monitoring Master/Slave – Private CAN
4DF0 Message : Transmission Torque
4DF1 Message : Transmission Torque
4DF2 Message : Transmission Torque
4DF3 Message : Transmission Torque
4DF5 Exhaust Temp Sensor before DPF Bank 2
7073 Automatic Gearbox Switch Signal
CD87 CAN Bus Communication Error
CD8B CAN Bus -Control Module has Left the Bus
1 ABS Hydraulic Unit
2 TPS
3 Ignition Timing Error
4 Rear Left Speed Sensor or ABS Inlet Valve
5 Rear Right Speed Sensor or ABS Inlet Valve
6 Front Right Speed Sensor or ABS Inlet Valve
7 Front Left Speed Sensor or ABS Inlet Valve
8 Rear Left ABS Valve
9 Rear Right ABS Valve
10 Front Right ABS Valve
11 Front Left ABS Valve
12 EGS Intervention
13 Idle Speed RPM Increasing
14 Valve Relay Fault
15 ABS Delivery Pump Fault
16 Throttle Valve Reduction
17 Front Left Wheel Sensor
18 Front Left Wheel Sensor
19 Accumulator -Pressure Limit
20 Front Left Wheel Sensor or EGS-Intervention Error
21 Front Left Wheel Sensor or ABS/ASC ECU Fault
22 Speed Sensor Signal
23 Equipment ERROR (Automatic/Manual)
24 Incorrect Pulse Generator
25 Brake Light Switch
27 Idle Speed Signal
30 Left Rear Wheel Speed Sensor Cable
31 Right Rear Wheel Speed Sensor Cable
32 Right Front Wheel Speed Sensor Cable
33 Left Front (E38/E39) or Right (E46) Wheel Speed Sensor Cable
34 Front Right Wheel Sensor or ASC Switch Over Valve
35 Brake Fluid Level Signal
36 Front Right Wheel Sensor or Ignition Signal Error
37 Front Right Wheel Sensor or ABS/ASC Control Unit -Internal Error
38 Gas Valve Adjustment Error
39 Servo Motor – Electrical Error
40 Gas Valve – Potentiometer Error
41 Steering Angle Sensor Error
47 Outlet Valve – Rear Left
48 Outlet Valve – Rear Right
49 Wheel Sensor – Rear Left or Outlet Valve – Front Right
50 Wheel Sensor – Rear Left or Outlet Valve – Front Left
51 Inlet Valve – Rear Left
52 Wheel Sensor – Rear Left or Inlet Valve – Rear Right
53 Wheel Sensor – Rear Left or Inlet Valve – Front Right
54 Inlet Valve – Front Left
55 ASC Shutoff Valve
56 CAN ERROR (Short Circuit)
57 Throttle Valve Signal from DME
58 CAN ERROR (Open Circuit)
59 ASC Shutoff Valve
60 Signal Fault – Pin 30
61 Central Wheel-Blocking
62 Max Anti Blocking Adjustment Time
63 Processor Fault ECU
64 Continuous Control due to Undefined Signal Interference
65 Wheel Sensor – Rear Right or Feedback Signal
66 Wheel Sensor – Rear Right or Wheel Speed Sensor Power Supply
67 CAN ERROR
68 Wheel Sensor – Rear Right
69 Wheel Sensor – Rear Right
70 Error 70
75 ASC Indication Lamp
81 Inlet Valve Front Left
82 Inlet Valve Front Right
83 Inlet Valve Rear Left
84 Inlet Valve Rear Right
85 Outlet Valve Front Left
86 Outlet Valve Front Right
87 Outlet Valve Rear Left
88 Outlet Valve Rear Right
89 Power Supply Low
90 TimeOut – Passive Switching
91 CAN ERROR
92 Pressure Sensor Pre Charge Pump
94 RPM Sensor (Test)
95 Activation
96 Actuator Test
97 ASC Intake Valve / Steering Angle Sensor
98 Separate Valve
99 Electro Magnetic Switch Over Valve
100 Electro Magnetic Switch Over Valve
103 Brake Light Switch
104 Steering Angle Sensor
105 Brake Light Switch
106 Lateral Acceleration Sensor
107 RPM sensor (Gradient)
113 ABS /ASC Feed Back Pump
115 ABS/ASC Control Unit – Internal Error
118 Electromagnetic or Mechanical Interference -Wheel Speed Signals
120 Power Supply too High (> 18V)
129 ABS/ASC Main Relay Circuit
130 Power Supply – Solenoid Valves
131 Wrong Current – Solenoid Valves
133 Power Supply – too High
145 CAN chip in the ABS/ASC control unit
146 CAN ERROR
147 CAN ERROR – Engine Intervention
148 CAN ERROR – Engine speed (RPM)
149 CAN ERROR – DME/DDE connection
150 CAN ERROR – EGS
151 Coding Error
152 DSC Button
161 RPM Sensor
162 RPM Signal
163 Lateral Acceleration Sensor
164 Lateral Acceleration Sensor
165 Pressure Sensor 1
166 Pressure Sensor 2
167 Pressure Sensors
168 Pressure Sensors Power Supply
177 Pre Charge Pump
178 Pre Charge Pump
180 Steering Angle Sensor -Signal 1
181 Steering Angle Sensor -Identification
182 Steering Angle Sensor -CAN
183 Steering Angle Sensor -Internal
184 Steering Angle Sensor -Offset
2 EML Interface Fault
3 DME Interface Fault
4 Sensor Fault Rear Left
5 Sensor Fault Rear Right
6 Sensor Fault Front Right
7 Sensor Fault Front Left
8 ABS Valve Fault Rear Left
9 ABS Valve Fault Rear Right
10 ABS Valve Fault Front Right
11 ABS Valve Fault Front Left
12 Solenoid Valve Fault Rear Left
13 Solenoid Valve Fault
14 ABS Valve Relay Fault
15 Rear Feed Pump Fault
16 ASC+T Storage Valve Fault
17 Wheel Sensor / Inlet Valve Front Left
18 Wheel Sensor / Outlet Valve Front Left
20 Wheel Sensor / Inlet Valve Front Right
24 Wheel Sensor / Outlet Valve Front Right
33 Wheel Sensor / Inlet Valve Rear Left
34 Wheel Sensor / Outlet Valve Rear Left
36 Inlet Valve Rear Right
37 Front Right Wheel Speed Sensor
40 Rear Output Valve
49 Power Supply Solenoids
50 Throttle Valve Mechanical Fault
56 ASC Separator Valve Fault
65 ASC Computer Fault
66 DME RPM signal Fault
68 Control Unit Defect
72 Internal Fault
81 Speed Sensor Front Left Connection
82 Speed Sensor Front Right Connection
84 Speed Sensor Rear Left Connection
88 Speed Sensor Rear Right Connection
97 Speed Signal Front Left
98 Speed Signal Front Right
100 Speed Signal Rear Left
104 Speed Signal Rear Right
113 Speed Information Front Left
114 Speed Information Front Right
116 Speed Information Rear Left
120 Speed Information Rear Right
129 DME Connection
130 TPS
132 Brake Pedal Travel Sensor
133 Valve Power Supply too High
136 Brake Hydraulics -Quality
145 Hydro Pump Failure
146 Coding Faulty
148 Motor Temperature over CAN bus
152 Brake Pedal Travel Sensor -Hydraulics
161 Outlet Valve Front Left or Front Left Wheel Sensor
162 Outlet Valve Front Right or Front Right Wheel Sensor
164 Rear Left Output Valve or Rear Left Wheel Sensor
168 Rear Right Output Valve or Rear Right Wheel Sensor
177 Valve Power Failure
184 CAN ERROR
193 DME Ignition Signal
255 Accumulator Fault
5D90 Left Front Wheel Speed Sensor : Accident Recognition
5D91 Left Front Wheel Speed Sensor : Extrapolation
5D92 Left Front Wheel Speed Sensor : Periodical Control
5D93 Left Front Wheel Speed Sensor : Accident Recognition
5D94 Left Front Wheel Speed Sensor : Long Term Control
5DA0 Right Front Wheel Speed Sensor : Accident Recognition
5DA1 Right Front Wheel Speed Sensor : Extrapolation
5DA2 Right Front Wheel Speed Sensor : Periodical Control
5DA3 Right Front Wheel Speed Sensor : Accident Recognition
5DA4 Right Front Wheel Speed Sensor : Long Term Control
5DB0 Left Rear Wheel Speed Sensor : Accident Recognition
5DB1 Left Rear Wheel Speed Sensor : Extrapolation
5DB2 Left Rear Wheel Speed Sensor : Periodical Control
5DB3 Left Rear Wheel Speed Sensor : Accident Recognition
5DB4 Left Rear Wheel Speed Sensor : Long Term Control
5DC0 Right Rear Wheel Speed Sensor : Accident Recognition
5DC1 Right Rear Wheel Speed Sensor : Extrapolation
5DC2 Right Rear Wheel Speed Sensor : Periodical Control
5DC3 Right Rear Wheel Speed Sensor : Accident Recognition
5DC4 Right Rear Wheel Speed Sensor : Long Term Control
5DF0 Pump Motor
5DF2 Internal Error, Valve/ECU Hardware Error, ROM/RAM Check
5DF4 Power Supply too Low
5DF5 Control Unit Internal Error
5DF7 Power Supply too High
5E00 Tyre Test Active
5E01 Tyre Test Timeout
5E02 Tyre Test Gyration Sensor Justification Error
5E03 Tyre Test Gyration Sensor Error
5E04 Tyre Test Lateral Acceleration Sensor Error
5E05 Tyre test Lateral Acceleration Sensor Error and Gyration Sensor
5E06 Tyre Test Gyration Sensor Fault
5E07 Tyre Test Lateral Acceleration Sensor Error and Gyration Sensor Fault
5E08 Tyre Test Steering Angle Sensor Error
5E11 Internal Error CAN-Controller
5E14 CAN Timeout DME/DDE
5E15 CAN Timeout EGS
5E16 CAN Timeout Instrument Cluster
5E18 CAN DME/DDE Message
5E19 CAN DME/DDE Torque Reduction Not Possible
5E1A CAN DME/DDE Signal Error
5E1E CAN Timeout LWS
5E1F Steering Angle Sensor – not Initialised
5E59 Coding Error
5E5B Switch Pressed Longer than 10s or Faulty
5E5D Brake Fluid Level Switch
5E5E Brake Light Switch
5E20 Pressure Sensor 1 Accident Recognition
5E21 Pressure Sensor 2 Accident Recognition
5E24 Pressure Sensor 1/2 not Plausible
5E26 Sensor Power Supply
5E2F Temperature Sensor
5E30 Lateral Acceleration Sensor Accident Recognition
5E32 Lateral Acceleration Signal not Plausible
5E38 Wheel Speed Sensor Accident Recognition
5E3C Wheel Speed not Plausible
5E40 Lateral Acceleration Signal not Plausible, Offset
5E43 Lateral Acceleration Internal Error
5E4E DSC Sensor Offset Check
5E4F Long Time Regulation DSC