There are many interesting cultures in Asia that have sparked the imagination of artists around the world. The Serpentine Dragon is one of the most frequently mentioned creatures in myths with its powerful and unwavering persona. So, it comes as no surprise that some artists have perfected the art of 'Hitofude Ryuu' which sees the creation of multi-coloured dragons done in a single stroke.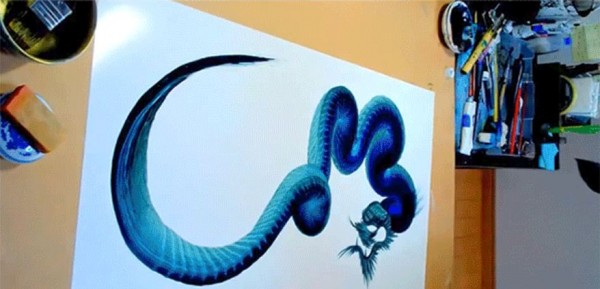 In actuality, each dragon takes more than just one stroke to complete. The head, whiskers, tongue and other intricate details are added separately. The true beauty and mystery behind the art is that the dragon's multi-coloured body is executed within a single stroke.
The artists in the videos below are from a Japanese studio called Kouyuuya. They have mastered the art of Hitofude Ryuu and each have their own style that allow their creation to stand out from each other.
The dragon in the video above owes its distinction to two colours – blue and green. The artist was able to achieve this mixture in one single stroke before adorning it with pink and gold.
We don't mean to start a debate, but it can be argued that the second video showed the drawing of a dragon that required more skill and dexterity. In this instance, three different patterns were made – red, black and white. This artwork was also finished with the trademark gold design.