CH-47 Chinook (NO.7)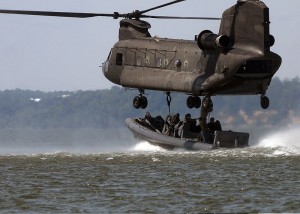 The Boeing-Vertol CH-47 Chinook is a versatile, twin-engine, tandem rotor heavy-lifthelicopter. Its top speed of 170 knots (196 mph, 315 km/h) was faster than contemporary utility and attack helicopters of the 1960s. It is one of the few aircraft of that era such as the C-130 and the UH-1 'Huey' that is still in production and front line service with over 1,179 built so far. Its primary roles include troop movement, artillery emplacement and battlefield resupply. It has a wide loading ramp at the rear of the fuselage and three external-cargo hooks.
The Chinook was designed and initially produced by Boeing Vertol in the early 1960s. The helicopter is now produced by Boeing Integrated Defense Systems. Chinooks have been sold to 16 nations. Although some nations operate larger helicopters such as the Russian Mil Mi-26, the Chinook remains the heaviest lifting helicopter used by its largest operators, the U.S. Army and the Royal Air Force, see Boeing Chinook (UK variants).
General characteristics
Crew: 3 (pilot, copilot, flight engineer)
Capacity: ** 33-55 troops or

24 litters and 3 attendants
28,000 lb (12,700 kg) cargo

Length: 98 ft 10 in (30.1 m)
Rotor diameter: 60 ft 0 in (18.3 m)
Height: 18 ft 11 in (5.7 m)
Disc area: 2,800 ft² (260 m²)
Empty weight: 23,400 lb (10,185 kg)
Loaded weight: 26,680 lb (12,100 kg)
Max takeoff weight: 50,000 lb (22,680 kg)
Powerplant: 2× Lycoming T55-GA-712 turboshaft, 3,750 hp (2,796 kW) each
Performance
Maximum speed: 170 knots (196 mph, 315 km/h)
Cruise speed: 130 kt (137 mph, 220 km/h)
Range: 400 nmi (450 mi, 741 km)
Ferry range: 1,216 nmi (1,400 mi, 2,252 km[54])
Service ceiling: 18,500 ft (5,640 m)
Rate of climb: 1,522 ft/min (10.1 m/s)
Disc loading: 9.5 lb/ft² (47 kg/m²)
Power/mass: 0.28 hp/lb (460 W/kg)
Armament
M240 7.62 mm (0.308 in) machine gun(s)
Avionics
Rockwell CAAS (MH-47G/CH-47F)