6. Nessus Security Scanner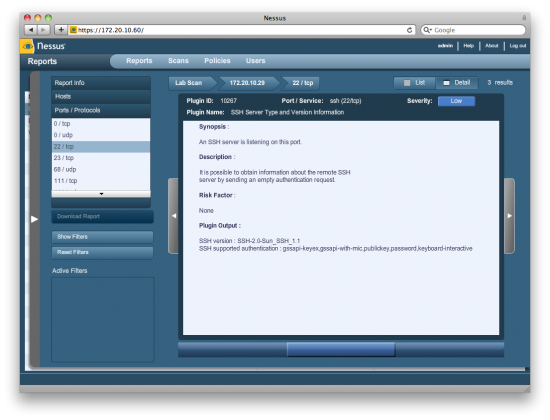 [youtube]http://www.youtube.com/watch?v=3RgOtjv4v8E[/youtube]
This tool has been the best tool for both network administrators and hackers because of its wide implimentation. The Nessus® vulnerability scanner is the world-leader in active scanners, featuring high-speed discovery, configuration auditing, asset profiling, sensitive data discovery and vulnerability analysis of your security posture. Nessus scanners can be distributed throughout an entire enterprise, inside DMZs and across physically separate networks.
5. fsCrack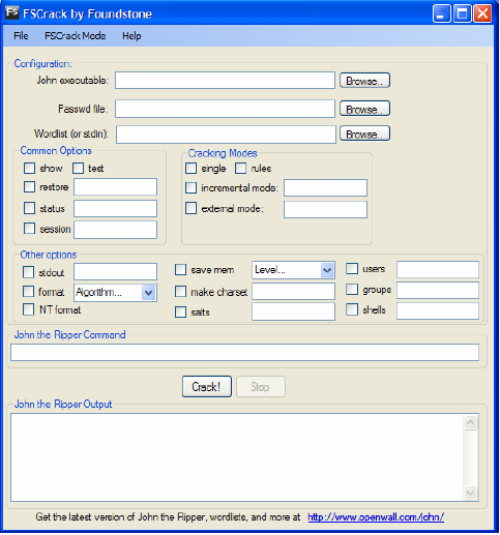 FSCrack is a front end for John the Ripper (JtR) that provides a graphical user interface (GUI) for access to most of JtR's functions. John the Ripper is a fast password cracker, currently available for many flavors of Unix (11 are officially supported, not counting different architectures), DOS, Win32, BeOS, and OpenVMS. Its primary purpose is to detect weak Unix passwords. Besides several crypt (3) password hash types most commonly found on various Unix flavors, supported out of the box are Kerberos AFS and Windows NT/2000/XP/2003 LM hashes, plus several more with contributed patches.
4. Cain and Abel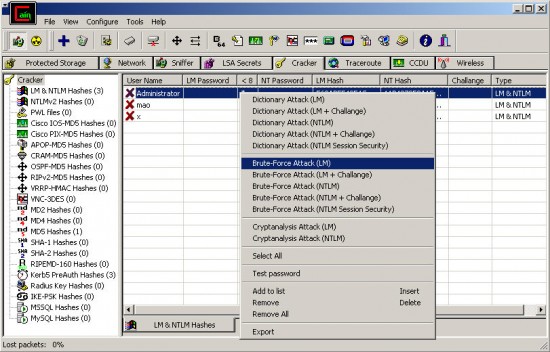 Cain & Abel is a password recovery tool with lot of features like APR (Arp Poison Routing) which enables sniffing on switched LANs and Man-in-the-Middle attacks. The sniffer in this version can also analyze encrypted protocols such as SSH-1 and HTTPS, and contains filters to capture credentials from a wide range of authentication mechanisms. The new version also ships routing protocols authentication monitors and routes extractors, dictionary and brute-force crackers for all common hashing algorithms and for several specific authentications, password/hash calculators, cryptanalysis attacks, password decoders and some not so common utilities related to network and system security.