No. 7: Walther WA2000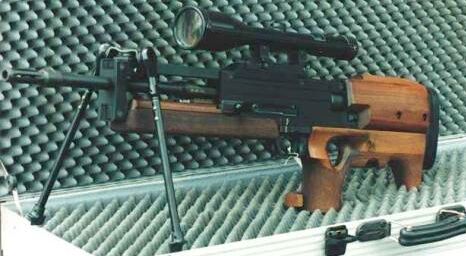 The Walther WA-2000 sniper rifle was developed by Carl Walther Waffenfabrik (Germany) during the 20th century as a highly specialized police sniper rifle. For the first time it was introduced in the year 1982 was adopted by some dedicated police units in Germany, but the cost of rifle was unbearable to accomplish extensive sales, and that's way the fabrication was fairly limited. It is believed that only about 176 WA-2000 rifles were ever made.
| | |
| --- | --- |
| Standard Caliber | .300 Win mag |
| Optional Calibers | .308 (7.62x51mm NATO) or 7.5x55mm Swiss |
| Operation | Gas Operated, Rotating Bolt, Semi-Auto (Bullpup) |
| Length | 35.62″ (90.5 cm) |
| Weight Unloaded | 15.9 lbs 5oz (6.95 kg) (Less optics) |
| Barrel Length | 25.59″ (65 cm) |
| Barrel | Fluted, with muzzle brake |
| Stock | Thumb-hole (Wood) – Fully adjustable |
| Magazine | 6 round detachable box |
| Trigger | Fully adjustable |
| Standard Sight | Schmidt & Bender 2.5-10x56mm |
| Max Effective Range | 1000+ meters with .300 win mag |
[youtube]http://www.youtube.com/watch?v=hGN6E8vN42c[/youtube]
No. 6: Mauser SP66

The SP66 was planned and proposed for both Martial and Law Enforcement utility. It is a fine made rifle, with a stunning and very realistic contoured lumber stock. The SP66 is comparable to, and can mark out some of its ancestry back to, some rivalry rifles.
Caliber:
7.62x51mm NATO (.308 Win)
.300 Win.
Operation:
Manual bolt action
Scope:
Zeiss-Diavari ZA 1.5-6x standard, others may be fitted
Feed:
3 round integral box magazine
Weight (Loaded):
13.64lbs (6.2 kg)
Length:
44.85″ (114cm)
Barrel:
26.75″ (68 cm) – 4 Groves, right hand twist.
Stock:
Fully adjustable, thumbhole, target style wood stock.
No. 5: Mauser 86 SR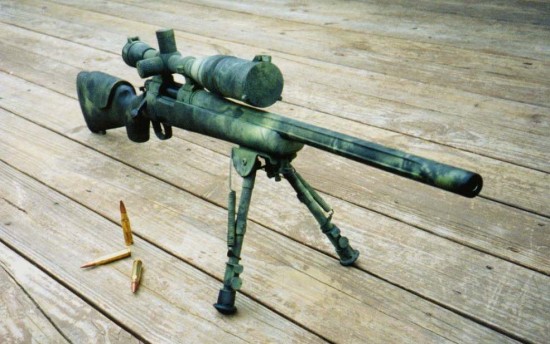 The Mauser 86SR sniper rifle was urbanized by Mauser Werke during the mid of 20th century, it was a mordenized version of Mauser 66 SP sniper rifle. It features a new bolt, and a different stock which is ventilated to help dissipate heat from the barrel. The rifle as comparable to SP66 was longer in length and was lighter than the SP66. But the accuracy is no less than the SP66.
Caliber:
7.62x51mm NATO (.308 Win)
.300 Win.
Operation:
Manual bolt action
Scope:
Any may be fitted
Feed:
9 round double row box magazine
Weight (No Sight):
10.8 lbs (4.9 kg)
Length:
47.7″ (121cm)
Stock:
Fully adjustable, thumb-hole, Ventilated target style wood stock.
No. 4: Blaser R93 Tactical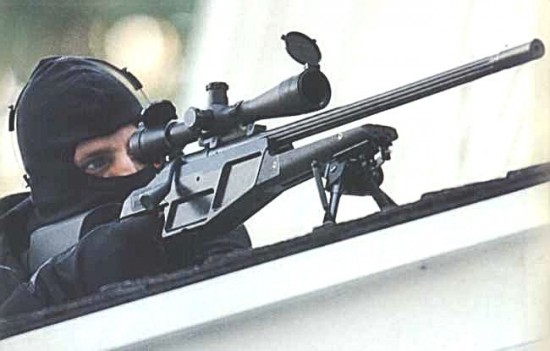 The rifle is based on the Blaser typical straight pull achievement, and is loosely connected to their target rifle. But this edition is designed particularly for the tactical group of people. The rifle includes all of the essential specifications and also includes some of the latest features, like the muzzle-break, adjustable stock, and detachable magazine.
Calibers:
7.62x51mm NATO (.308 Win)
Operation:
Straight pull bolt action
Scope Mount:
Prepared for the Blaser Saddle Mount.
Feed:
10 round detachable box magazine
Weight:
11.88lbs (5.4 kg)
Barrel:
Chrome-Molybdeum-Nickel-Steel, thermally destressed, fluted.
Barrel Lengh:
23.6″ (600mm), 30″ (762mm) with extension.
Trigger:
First and second stages adjustable for weight, takes up, and overtravel.
Trigger blade can be moved horizontally.
Stock:
Fully adjustable cheekpiece. Aluminium stock with skeleton architecture.
Butt-stock and forend finished in a black systhetic coating for grip.
Options/Features:
Bipod, Muzzle brake, Butt stock trail spade, Mirage band
[youtube]http://www.youtube.com/watch?v=GWvS_fw7LLo[/youtube]