Stuck somewhere without your car? In a hurry to get to a place? Can't find a taxi to pick you up or Missed your bus back home? All you need to do is phone your car up and it'll pick you up where ever you are!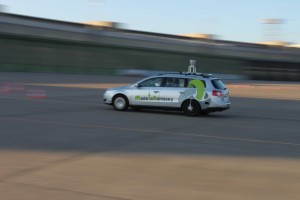 German scientists have unveiled the latest in self-driving car technology — an autonomous vehicle named "MadeInGermany" (MIG), which passengers can even call for a lift. Better know as MadeInGermany(MiG) is a modified Volkswagen Passat Variant 3c. This experimental car has been developed by Computer scientist Raul Rojas and his team at Berlin's Free University, hoping to revolutionize the future of driving. People can phone their MIG using an iPad or smartphone and the caller's location is revealed, via the Global Positioning System(GPS) integrated into these devices, to the car, which then works out the best route and tells the passenger how long it will take it to get there and directs the vehicle towards the directed the location. MIG uses the Latest LIDAR/ RADAR sensor technology, as well as cameras, help to overview its surrounding area . It also uses sensor technology to create a three-dimensional image of the street on the car's computer so that the car is able to detect bikes, pedestrians, road markings and signs. This technology helps it to recognize traffic lights, the traffic around it and then respond to them accordingly.
Most of the required electromechanical modifications and integration of the sensors were performed by the Volkswagen Research Garage. The car's intelligence depends on a software, which is implemented in a computer located in the trunk compartment of the car. The software was the basic focus of Computer scientist Raul Rojas and his team at Berlin's Free University (FU). So far they have been quite successful in doing there job. They other main project being run by the team is with the name Spirit Of Berlin. How fascinating would it be, whenever you need a your car, all you have to do is give it a phone call, or how you can call your car by just using an Ipad or a smartphone!
[youtube]http://www.youtube.com/watch?v=Kyk1VLTSH_U&fmt=37[/youtube]
[youtube]http://www.youtube.com/watch?v=oHDwKT564Kk[/youtube]