Just second after beginning, a world record breaking solo tightrope walk almost ended in tragedy as the stuntman slipped off the rope, nearly falling to his death. As he hung more than 950ft in the air above the Chief North Gully in Canada, highwire artist Spencer Seabrooke lost his footing on the lifeline beneath his feet. The 26-year-old was luckily able to compose himself and climb back onto the rope.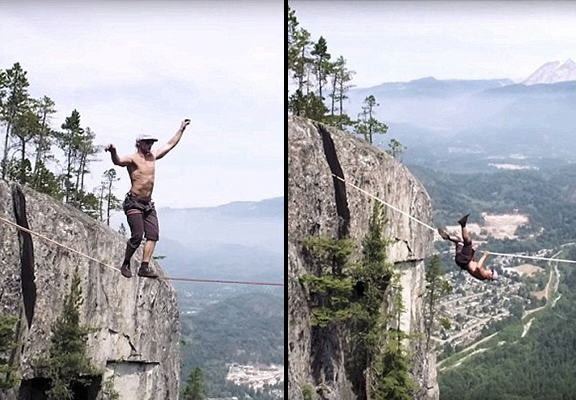 After the incident, Spencer went on to complete his death-defying stunt and even smash the world record of walking 210ft across the chasm in Squamish, British Columbia.
In the video that captured the moment, Seabrooke lost his balance and narrowly averted catastrophe by clinging to the rope for dear life about 20 seconds into the video of the incredible 951ft slackline walk below. He regained his composure and continued with the terrifying challenge, breaking the world record by 7ft.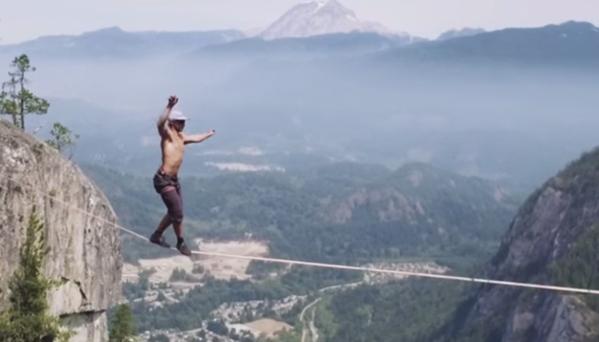 In an interview with Huffington Post after breaking the record, Seabrooke said: "Without a doubt, it's the fear of falling that keeps you alive. There's no lines at all, so if I hadn't caught the line in those moments, I would've been mashed potatoes after a seven-second free fall."
Seabrooke who is a seasoned slackliner, likes to add the element of danger to the normally safe sport by walking without using a safety rope.
Watch the intense video below.
[youtube]https://www.youtube.com/watch?v=EzrI8BeOw_0[/youtube]