The tech guys at Interflora have created something really innovative and genuinely unique and it comes in the form of their new online floristry design tool: My Interflora Creation.
What makes this tool one of a kind is the more than apparent effort the marketers and designers have put in to create this virtual world in which bouquets and hampers can not only be purchased but created by the hand of the consumer.
It brings the world of ecommerce to a new level and really raises the bar for any online retailer of any kind. The tool is perfect for any occasion and does not side line any recipient based on gender; with both a hamper and a bouquet of flowers to be created.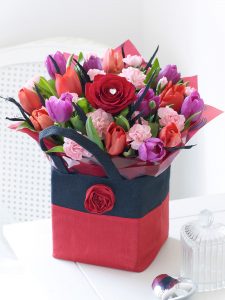 Different Gift Options
On visiting the online floristry tool the user can choose either the bouquet option which contains everything from foliage, vases, accessories and the flowers themselves, or the hamper option which can be filled with all sorts of goodies from cakes, sweets, drinks and jars of condiments.
No matter who you are buying for or what the occasion is you will be hard pushed to be let down by the selection on offer from this tool.
Simple to Use
It couldn't be easier to use, both options allow the user to log in and create an account. This is a great feature because it means you can save unfinished creations for a later date and view gifts you have created in the past to help inspire you in the future.
Choosing from the drop down menus that appear on both the bouquet and hamper sides of the screen, you simply drag and drop the items you desire. This action adds much more to the user experience than simply selecting and buying a gift, you really feel like you have been part of the creation process.
Share Your Creation
There are more interesting features that are noteworthy, the share button which allows you to post your creation across social media is one of them and the handy price tag that keeps a running total of your creation is another.
The innovation of the tool is fairly clear and is worth a try if you would like to send a gift that is a little more personal.
The bespoke options of the Interfloracreations on offer really do make this tool steps ahead of the online florist's competitors not to mention it makes for an entertaining and engaging purchase process for the user.