2. Fire Balloons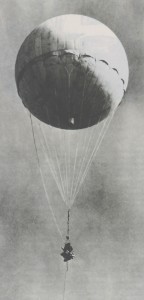 A fire balloon, balloon bomb, or Fu-Go was an experimental weapon launched by Japan during World War II. A hydrogen balloon with a load varying from a 12-kilogram (26 lb) incendiary to one 15 kg (33 lb) antipersonnel bomb and four 5 kg (11 lb) incendiary devices attached, they were designed as a cheap weapon intended to make use of the jet stream over the Pacific Ocean and wreak havoc on Canadian and American cities, forests, and farmland.
The balloons were relatively ineffective as weapons and were used in one of the few attacks on North America during World War II.
Between November 1944 and April 1945, Japan launched over 9000 fire balloons. About 300 balloon bombs were found or observed in North America, killing six people and causing a small amount of damage.
1. Bat Bomb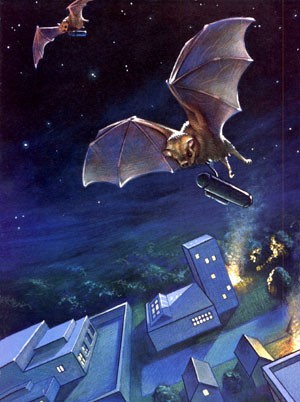 Bat bombs were bomb-shaped casings with numerous compartments, each containing a Mexican Free-tailed Bat with a small timed incendiary bomb attached. Dropped from a bomber at dawn, the casings would deploy a parachute in mid-flight and open to release the bats which would then roost in eaves and attics. The incendiaries would start fires in inaccessible places in the largely wood and paper construction of the Japanese cities that were the weapon's intended target.
Developed by the United States during World War II, four biological factors gave promise to this plan. First, bats occur in large numbers (four caves in Texas are each occupied by several million bats). Second, bats can carry more than their own weight in flight (females carry their young — sometimes twins). Third, bats hibernate, and while dormant they do not require food or maintenance. Fourth, bats fly in darkness, then find secluded places (often in buildings) to hide during daylight.
The plan was to release bat bombs over Japanese cities having widely-dispersed industrial targets. The bats would spread far from the point of release due to the relatively high altitude of their release, then at dawn they would hide in buildings across the city. Shortly thereafter built-in timers would ignite the bombs, causing widespread fires and chaos.
Here is a documentry made by History Channel on Bat Bombs