Artists rely solely on their creativity. When most of us think of artists we often picture a person with a painting canvas, paint and their brushes. Art is more than that and spans across many disciplines though in its purest form it deals with the mastery of hand made work.
Laura Jenkinson, a hair and make-up artist who resides in London, England has taken her creativity up a notch by creating a new form of lipstick art. Her design utilizes lipstick and paint to create famous cartoon characters that adorn the lips. Ms. Jenkinson style is not limited to a colour or specific character but varies depending on her client's requests.
Tasmanian Devil – A famous Warner Bros. character, Tas is known for his vicious spins and angry face. He isn't spinning here, but that doesn't stop him from appearing any less vicious on these lips with the tongue protruded.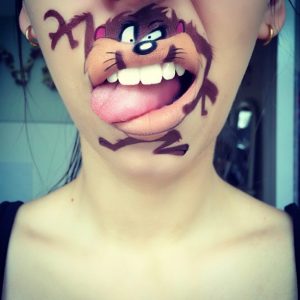 Aladdin's Genie – There is no genie in a bottle here. It's just Aladdin's genie as happy as ever. The white paint on the lips serve as a reminder of his free spirited nature.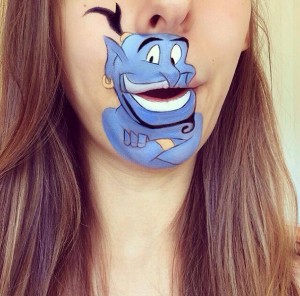 Popeye, no not the fastfood restaurant 😉 – Let's not get it confused here, this is Popeye the cartoon character who was famous for eating spinach not chicken. This artwork covers more facial area than the others with Popeye's biceps making use of the cheeks.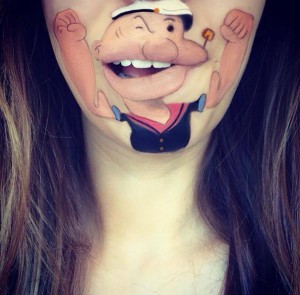 I think we've found Nemo – I don't think we'll need to look very far to find Nemo on this occasion. Let's "face" it, these lips can't hide the truth.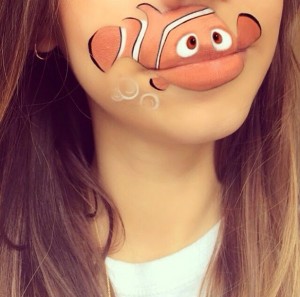 Bugs Bunny – A list of recognizable cartoon characters would not be complete without everyone's favourite rabbit. This lip art sets itself apart from the rest incorporating teeth design and a carrot in hand. It's the trademark of one of the most famous cartoon characters of all time.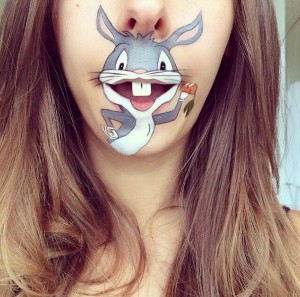 Cartoon lip art may not be everyone's  cup of tea, however it certainly makes for a good story or headline grabber. We're sure you wont find anyone wearing this to a formal dinner or on a first date any time soon. It will probably be most appropriate on Halloween night or at a costume party.