No 2. Victorinox SWISSCHAMP XAVT 80 Function Swiss Army Knife
This one costs a hefty 220 pounds but also packs tools for a massive number of functions, 80 functions as the name suggests. Touted as the "Ultimate Knife Collector Centerpiece" this knife comes with a digital clock, altimeter, barometer, thermometer, metal saw, multi-purpose hook, bit Phillips 0 (pozidrive), bit Phillips 1 (pozidrive), reamer, pruning blade, altimeter and barometer among other numerous features.
No 1. Wenger Swiss Army Giant Knife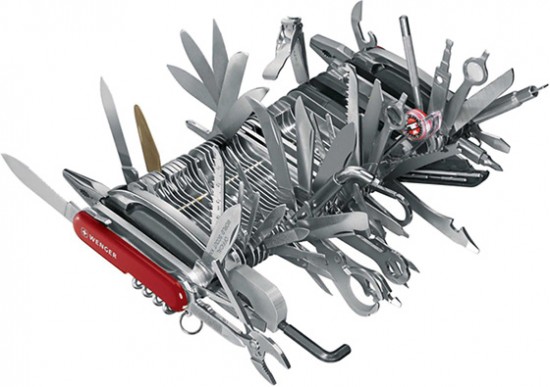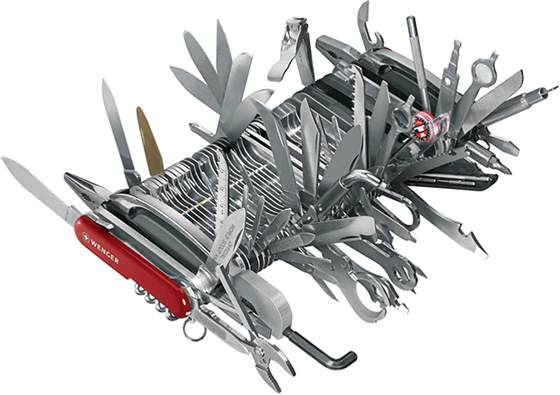 Price: £484
Costing more than double the previous knife, this one from Wenger comes with 85 different gadgets for a massive 105 features. This knife weighs around 3 pounds and understandably so. Below the video find the list of some features it packs.
[youtube]http://www.youtube.com/watch?v=mm_ncvsvICg[/youtube]
10 mm detachable hexagonal wrench – Screwdriver – Spoke key (3.3 mm and 3.5 mm) openings – Extension lever
All-purpose wrench (exclusivity)
Bit holder
Blade with blunt point
Can opener
Case opener
Chain rivet setter
Cigar cutter (patented)
Club face cleaner (exclusivity)
Combination tool : Screwdriver with safety lock system (exclusivity) – Can opener – Cap lifter
Corkscrew
Curved hexagonal key
Detachable marker
Fish scaler – Fish disgorger – Lineguide
Flat Phillips screwdriver
Flat pliers
Flat screwdriver 3.5 mm with safety lock system (exclusivity)
Flat screwdriver with safety lock system – Cap lifter – Wire bender
Graduated tread depth gauge (mm/inch) uses detachable sliding bit holder
Green repair tool
Green repairer
Integrated holder
Integrated swivelling compass with sight line (exclusivity) – Ruler cm + inch (exclusivity)
Junior round blade
Large blade
Laser pointer
Magnifying glass – Precision screwdriver
Medium screwdriver – Cap lifter – Wire bender
Metal file – Metal cutting saw
Nail clipper (exclusivity)
Nail file – Nail cleaner – Screwdriver for small cross head screws
Needle nose pliers / Wire-cutter / Nut wrench
Phillips screwdriver
Phillips screwdriver with safety lock system (exclusivity)
Reamer
Reamer – Eye
Reamer – Needle – Cuticle pen
Ring
Safety lock system (patented)
Semi-round-nose pliers – Wire-cutter – Nut wrench
Serrated-edge scissors and lever (patented exclusivity)
Shackle opener – Marlin spike – Ruler inch/cm – Needle
Shoe spike wrench
Slip-joint pliers (exclusivity) – Wire crimper – Inside and outside wire cutters – Nut wrench
Small blade
Small blade 65 mm
Small screwdriver
Snap hook
Special blade
Spot light
Stroke counter with 12 graduations
Toothpick
Tweezers
Wood saw